Lots of boatbuilders say they have a success on their hands if they sell a couple dozen, or especially a few hundred, of any boat model. But how many builders can say they've sold so many hulls of the same design that the clothing company Lands' End had to create an entire website page devoted to the model's logo?
This is the case with the Catalina 42, which found more than 1,000 owners during her 22-year production run. Lands' End has an official Catalina 42 International Association Store on its website where, for $5.95, you can add the official C42 Diamond to any shirt, jacket or other product the company sells.
What's that you ask? Oh, yes, there is a Catalina 42 International Association—an entire fan community devoted not only to the Catalina Yachts brand, but to the specific boat model. Its members will tell you that even though the Catalina 42 went out of production in 2011, it is still owned by people living in 37 of the 50 U.S. states (it's especially beloved in California), in six of the 10 Canadian provinces, in five of the six Australian states and, overall, in nearly 20 countries worldwide.
"A lot of people buy a Catalina 42 because they've traded up from other Catalinas they've already owned," says Bill Wertz of Seattle, who edited the association's Mainsheet magazine from 2006 through 2014. "I'm a case in point: My first Catalina was a 22. I had that for two years, and then I had a Catalina 25 for two years. Then a Catalina 34 for 11 years, then a Catalina 36 for about a dozen years. The final boat we bought was the Catalina 42—and we lived aboard for several years.
"I'm not unique," he adds. "There's a tremendous amount of continuity within the Catalina family of owners. When you own one, you think you can own them all."
The Catalina 42 was introduced in 1989 under the watch of Gerry Douglas, who has been Catalina's chief engineer since the 1970s and retains the title today, having moved with the builder from its original home in California to its current production facility in Largo, Florida. Douglas brought a hefty education to the company, having graduated from both the Parsons School of Design and the Westlawn School of Yacht Design. For the Catalina 42, he combined his experience with that of heavyweight America's Cup yacht design firm Nelson/Marek in creating an adapted hull.
Buyers couldn't get enough of the boat's handling characteristics; some 700 of the Catalina 42s had been sold by 2002, with hundreds more yet to find owners in the years beyond. Boaters also loved that she was the first American-built sailing yacht in her size range to come with a three-stateroom layout, helping her achieve the sweet spot where true performance handling meets serious creature comforts.
"From the waterline down, from the very first Catalina 42 in 1989 to the very last boat, it's the same boat," Wertz says. "They can all be one-design racing, if you will. The boat changed over the years dramatically on the inside. Like with many boats, they carried the beam further aft from the waterline up to give you more storage room, cockpit room, and living space, and they added a wing keel to the fin keel, so there were different variations."
For Catalina's marketing purposes, there were two versions of the yacht. The Catalina 42 MkI was built until Hull No. 477, which launched in February 1995. The Catalina 42 MkII followed until the end of the series. Differences included a rounded-off transom on the Catalina 42 MkII, along with extra cockpit stowage, a new rudder design, and the option of a two-stateroom layout. Pullman berths were optional in both the two- and three-stateroom versions of the Catalina 42, so a variety of layouts are on the water today.
Auxiliary power options also changed over the years, with some Catalina 42s having a 44 HP Yanmar diesel and others being offered with a 50 HP Yanmar engine.
"It was the first Catalina to use a non-universal engine," Wertz says. "It used the Yanmar engine. That's a beautiful engine. You give it clean fuel and change the oil, and it'll run almost forever."
Given that more than 1,000 of the Catalina 42s are on the water today, having 48 currently available on the brokerage market represents just five percent or so of the global inventory. Brokerage prices vary widely, as you might expect of any model that was in production for more than two decades. The priciest right now is also one of the newest, a 2008 that came on the market in May 2015 at $195,000, while the least expensive is a 1989 whose owner is asking $64,796.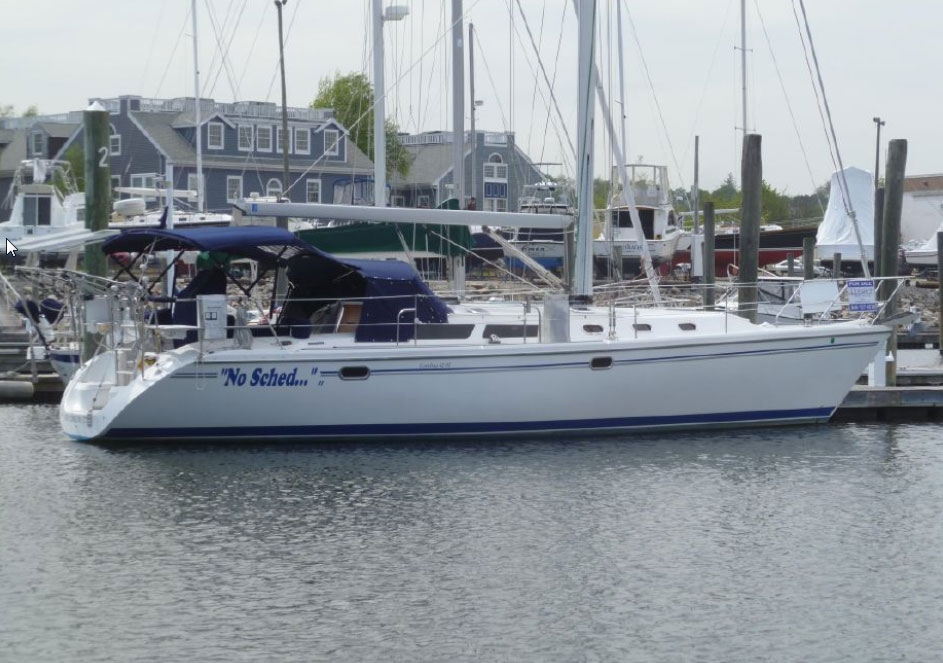 The 2008 with the top-dollar price tag, christened No Sched…, is for sale with Prestige Yacht Sales in New London, Connecticut, where broker John Zomermaand says the boat is loaded with extras including a 54-horsepower Yanmar engine, Kato Marine dinghy davits, a Raymarine helm electronics suite, a pair of Sharp solar panels, a bow thruster, and more.
"The owner put a lot of new stuff on it in preparation for a trip down the Intracoastal Waterway last fall, and then over to the Bahamas," Zomermaand says. "He wanted to make sure the boat was outfitted with AIS, EPIRB, a new Fusion stereo and so forth. She was really, really top-notch outfitted, and the trip went off without a hitch."
No Sched… is a two-stateroom version of the Catalina 42 that can sleep six, thanks to a convertible dinette in the salon. She's Hull No. 1,008 of about 1,020 believed to have been built.
But you can't trust every hull number, Wertz says—at least not the one on his boat, AirWaves, which appears at first glance to be the highest-numbered and thus the last Catalina 42 ever built.
"Our hull that we ordered new at the Annapolis boat show in 2005, we negotiated with [Catalina Yachts founder] Frank Butler that ours was to be built as Hull Number 1065," Wertz says. "Why? That was the frequency of the first FM radio station that I bought in Kalamazoo, Michigan, in 1972. Frank agreed to do it, and from then until today, it was the only hull that he ever built out of sequence."
The 42 may no longer be in production, but her soul lives on and will take new shape in April 2016, when Catalina Yachts unveils its new 425. There's no telling whether the new model will be as well-received as the 42 was during her run, but Gerry Douglas says many of the boaters who love the 42 will feel at home aboard the newest Catalina. "I have tried to incorporate the features that owners tell us they love about their 42s—big cockpits, comfortable interiors and well-thought-out and accessible systems—and combine this with a modern hull form, a high level of fit and finish, and all the features that have made our current  5 Series boats successful."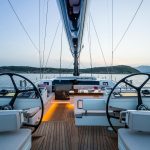 Check out these not-to-be-missed sailing films and boat movies.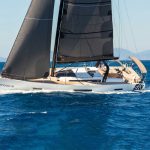 Zuzana Prochazka reviews the Dufour 61, a sailor-friendly, bluewater cruiser.