A love affair with a sailboat is like a relationship you never quite let go. You may have moved on but you'll never forget it, and although I eventually bought another boat, I've been a fan of the classic Catalina 38 for years. With its sleek lines and terrific performance, this one continues to hold a spot in the heart of many and actually has lived up to the promotional literature that boasted of "enduring desirability." In fact, when it was introduced in 1979, it was thought to have brought an East Coast sensibility to the West Coast production market at the right time and at the right price. Today you can still see these hulls on club racing circuits and in quiet anchorages around the country.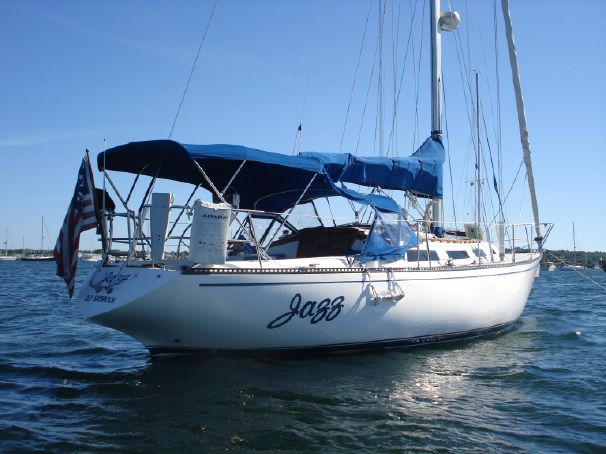 Design, Construction and Performance
This boat was designed as a racer by Sparkman & Stephens and was originally put into production and sold as the Yankee 38. One look at its sleek lines and round tumblehome and you can tell it's an S&S IOR design from the 1970s. Some years later, Catalina bought the molds and Frank Butler made several changes including replacing the flush deck with a cabin house to make the sailboat more appealing to a coastal cruising market.
These boats were bare boned at first and definitely racing-oriented, with tillers instead of the Edson wheel steering that was introduced later, and gas engines instead of the four-cylinder Universal diesels that became standard. The interior originally featured pipe berths and Spartan décor with none of the teak trim that later made the accommodations more appealing. Together, these changes brought the boat into the racer-cruiser category, fit for both, a racing crew or a cruising family, and it became so popular that some 365 hulls were produced between 1979 and 1989. The boat even became a famous Congressional Cup contender.
The hull was originally a two-piece construction with a poured lead keel. It was two pieces, because unlike the designs of today, that kind of a tumblehome made it impossible to get the boat out of the mold. The broad beam (over 11 feet) was swept gracefully back to a narrow wineglass transom. The original S&S design included a very sleek swept-back keel that maximized good performance to weather. Catalina later offered an optional shoal-draft version to expand the market to areas with skinny water. The keel-stepped, double-spreader, high-aspect ratio rig and fine entry made the 38 extremely fast to weather and able to outpoint many competitors of its time.
Standard equipment varied. Propellers were either two or three-bladed fixed, standard winches became self-tailing, and deck hardware came from different manufacturers depending on the purchasing agents. But the basic 38 remained mostly intact and sold very well for over 10 years, which speaks volumes about its design and appeal.
Layout and Accommodations
The layout is representative of the design's time and heritage. Aft of the anchor locker is a comfortable v-berth followed by a head and shower combination to port with a hanging locker to starboard. The saloon follows with a U-shaped settee to port and a straight settee to starboard. The galley originally came with a two-burner stove, a double sink and an icebox that many owners later replaced with true refrigeration. The nav station is just forward of the quarter berth (which forms the nav seat) to starboard. At a stretch the design can sleep seven, but for cruising, it's a perfect couple's boat.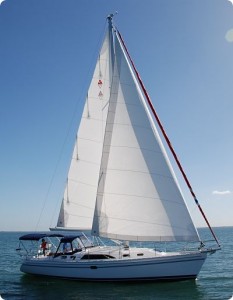 Racing and Cruising
It's much debated today, but it's rumored that the last of the 38s actually came out of the mold in 1989 and may have been sold in 1990. They seem to have been supplanted by the original Catalina 36 that ran concurrently in the mid 1980s, but the more modern boats finally won out because they provided the market with a more sought-after layout including a separate aft cabin instead of a quarter berth, and a wider transom and cockpit for more room and cruising comfort.
The racing and cruising heritage of these boats has lead a long and healthy life. The Catalina 38s have performed consistently in club races and done very well in PHRF races over the years. There are many of the old classics still out there. They typically range in price from $35,000 to $55,000, which is remarkable since they sold for around $70,000 to $80,000 when new.
Many of these boats have made their way to Mexico and the Caribbean. With some beefing up of old rigging and other deck hardware and systems, I wouldn't hesitate to take this boat on an extended cruise. And although I love my current boat, as I see myself write these words, I wonder what would have been if only I had bought a Catalina 38…
See current Catalina 38 listings.
LOA: 38'2″ * Beam: 11'10" * Draft: 6'9″ * Displacement: 15,900 lbs. * Sail Area: 639 sq. ft. * Water Capacity: 40 gal. * Fuel Capacity: 35 gal.
Related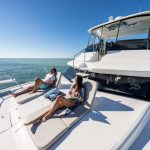 Aquila 42 Power Catamaran: A Cruising Sweet Spot
Category:
Power Catamaran
A new power catamaran model launches Aquila right into the cruising sweet spot.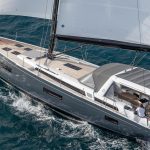 Beneteau Oceanis Yacht 60 Boat Review
French builder Beneteau introduces new flagship in their premium Oceanis line.
A Solo Voyage: Stumbling Upon An Island Of Naked Hippies
Category:
Cruising Under Sail
Cala de San Pedro, a secret location in the Med, a summer retreat drawing in naturist hippies.