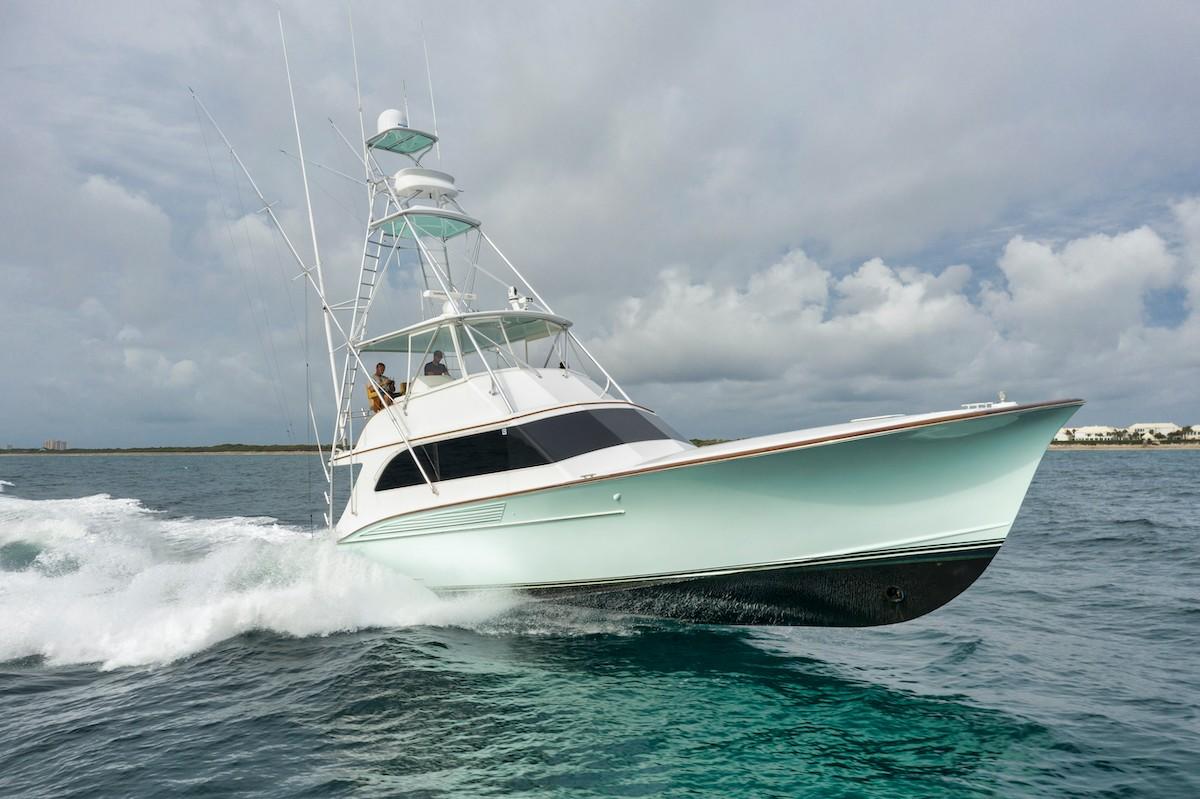 1991 Sportsman Blackwell Custom Carolina (photo via MacGregor Yachts Inc in Florida)
You've heard of Carolina Flare? We thought so. Few parts of the nation are as well-known for the unique boats they produce as the Carolinas are, and few traits on those boats are as famous as Carolina Flare.
Whether you're looking at production fishing boats like Albemarles and Regulators, or more custom-built battlewagons like Jarrett Bays and Scarboroughs, Carolina boats are known world-wide as some of the most rugged, capable, and seaworthy craft on the face of the planet. This is no accident. Aptly named the "Graveyard of the Atlantic," the waters off the Carolina's Outer Banks feature big waves, shifting shoals, and unpredictable conditions that would put any boat to the test. As a result, the people who live here and build boats intended for these waters — often a multi-generational endeavor — have developed a class of boats unique to the Carolinas.
What Is A Custom Carolina Boat?
So, just what constitutes a Custom Carolina boat, or simply a Carolina boat? The short answer: a boat that's designed and built in the Carolinas. The long answer, of course, gets a bit more complex.
Since both commercial and recreational fishing is huge in the North Carolina and South Carolina, naturally, the vast majority of the Carolina boats out there are designed for fishing. They can come in all shapes and sizes, in a mix of production (molded fiberglass), semi-custom and custom Carolina boats (mostly cold-molded or fiberglass over plank-on-frame construction) builds. And the most recognizable trait is the one you probably already know about: Carolina Flare.
So Why The Flared Hull?
Many boat designs have some amount of flare (the angle at which the hull curvature transitions from vertical to horizontal at the bow), to help throw water down and off to the sides. Flare can also provide increasing buoyancy as more and more of the bow is submerged, which helps keep the bow up and prevent "stuffing" the bow into the waves. But on a boat with Carolina genes the flare is extremely pronounced. This allows the builder to use a very fine, sharp entry down low near the waterline to cleave open the waves, yet still rise up over them, all while keeping the boat's occupants dry.
Interior Cabin Design
If it's so good for seaworthiness, why don't all boats have lots of Carolina flare? There is a down-side, in that very fine bows have less volume inside. As a result many Carolina boats have less cabin space, especially in the forward section of the boat, as compared to boats with more voluminous bows. This reflects the priority of Carolina fishermen, and as custom boat-builder Paul Mann (who has built fishing boats in Manns Harbor, NC for over three decades) once put it, "We had to be able to fish when it was rough, and we wanted to come home at the end of the day." So in this case, seaworthiness trumps interior cabin volume without any question.
Carolina boats have some other commonalities that may be found on some, though not all, makes and models that fall into the same genre. They tend to have a larger proportion of the boat dedicated to open cockpit space than to cabin space, as compared to boats built in other areas where fishing may have less emphasis. Many have a broken sheerline that drops where the cabin meets the cockpit. And tumblehome at the stern is a design feature that most custom builds and even some production boats boast. Tumblehome, the rounding of the boat's aft hullsides as they grow narrower at the top, can be very difficult to design into molded boats as it often requires "split" molds or molds that otherwise open to allow the larger midsection of the hull to come free. Yet despite the extra work and expense this causes, it's such a distinctive trait that many builders consider worth the additional effort.
True Fishing Yachts
When it comes to fishing features, again, there are some constants you'll see in many, though not all, Carolina-style models. Copious fishbox space is one, often both in the transom and in integrated deck boxes. And of course, most have plenty of rodholders, integrated tackle stowage, and on larger models also outriggers, towers or fly bridges with upper stations, and bait freezers.
Interestingly enough, although today most production and custom Carolina boats have livewells now, that hasn't always been the case. Decades ago live-baiting wasn't nearly as popular in Carolina waters as it was in other areas of the nation and thus many Carolina boats didn't bother with them. As market demands shifted, however, and Carolina-built boats became sought after nation-wide, local builders began integrating them, usually into the transom where they could serve double-duty as a livewell or as a fishbox depending on the day's fishing plan.
Another change that's taken place in the Carolina fleet is how these boats perform. Traditional Carolina boats were built more for efficiency than speed. The fishing grounds off of the Outer Banks are relatively close to the inlets as compared to much of the coast (Florida being one big exception) and since many Carolina boats went into charter service, they were intended to minimize expenses. As the popularity of these boats expanded geographically, however, and people from ports all around the nation became interested in them, larger engines and faster cruising speeds became the norm rather than the exception. And today Carolina boats that can run 40 knots aren't just available, in many cases they're expected.
Production Carolinas Versus Custom Carolinas
Carolina boats are one of the few types of boats that are widely available in both custom and production models and while they share many traits, in reality these are two very different types of boats. (Although many newer models have begun to blur the lines with semi-custom options on production-built Carolina-style boats). In fact, one could argue that setting aside the superyacht market, no other niche in the boat market has been so successful on the custom-built side of the scale as Carolina-style boats – to the point that some custom builders turn out almost as many LOA as some production builders. Both types of boats are Carolina born and bred and both share characteristics like Carolina flare and a penchant for fishing, but there are some major differences between them. Let's take a closer look at each type.
Custom Carolina Boats
Custom Carolina boats are built the old-fashioned way: with wood. But then they're encapsulated in fiberglass. There are several methods of construction that Carolina builders use, most commonly cold-molding or plank-on-frame construction. In both cases, the boat's stringers (which more or less act as its backbone) are crafted from a solid, light wood such as fir. Then the hull bottom and sides are usually built from multiple layers of diagonally planked wood that's also very light but incredibly strong, such as Okoume ply. Each and every inch of it then gets encapsulated in multiple layers of fiberglass cloth and epoxy.
Wait a second — we've all been told for years and years that wood in a boat is bad. So, why do these custom builders use it? In a production boat it's true that wood often leads to rot, but production boats are built on a production line. Even if the wood is encapsulated it rarely gets the same attention to detail and craftsmanship as a custom boat. And wood is, in fact, an excellent boatbuilding material when it's used properly. It provides maximum strength with little weight, absorbs impact and sound, and provides excellent attachment points. On top of all that, it's buoyant. Fiberglass is not.
Once the structure of the boat is built, most Carolina custom boats are finished off with top-notch hand-crafted furniture and cabinetry. It's common to see touches like book-matched grain, teak covering boards, and teak toe-rails, on a custom Carolina. And while these boats were originally developed for use as charter boats, most of those built today are true works of art from stem to stern. They're also usually performance-focused, and are outfitted with large inboard diesels that give them cruising speeds up into the 30-plus-knot range and top-ends that often break 40 knots.
The downside to building boats like this is exactly what one would expect: cost. Custom Carolina boats don't come cheap, and the price for most new ones is measured by the millions. Size isn't even as much of a factor as one would think, because of the high-skill man-hours required to build these boats. In fact, most of the custom Carolina boats built today are over the 40-foot mark because smaller ones are so expensive to build in comparison to production boats that the pricing they command becomes uncompetitive.
See listings for Custom Carolina boats for sale on YachtWorld.
Production Carolina Boats
Alongside the custom Carolina builders, there are many production brands being built today. Most, though not all, are also fishing boats or are at least family boats that have basic fishing abilities. And like virtually all other production boats, they're built with the molded fiberglass construction method. From there the methods used to build them can vary quite a bit; some have molded stringer grids while others are glass over foam, some utilize vacuum-molding techniques while others are hand-laid in an open mold; and some have solid glass hulls and decks while others are cored.
There are production Carolina boats of all sizes, ranging from Carolina skiffs to convertible battlewagons of 60-plus feet such as the iconic Hatteras 60 Convertible. So naturally, there's also a lot of variation in how they're outfitted, powered, and priced. There's also a lot more variation in the form they take, as opposed to custom Carolina boats. While most of the custom crowd consists of expresses and convertibles, you can find production Carolina boats of both these types plus you can even find carolina-style center consoles, walkarounds, dual consoles, bay boats and skiffs.
One interesting sub-category that might be dubbed semi-custom are the production boats that are built to more or less look and act like custom Carolina boats. These are molded fiberglass, yet have unusual Carolina-style touches like tumblehome at the stern, teak covering boards, and hand-crafted wood interiors, which sets them apart from the rest of the production crowd. You'll often see these with outboard power, and they may serve as a bridge for small boat owners who aren't yet ready to pull the trigger on a big custom fishing machine but love the look, feel, and seakeeping abilities of Carolina boats.
Is A Carolina Boat Right For You?
Would a Carolina boat be the best pick for you and your family? That's a tough call — it's never easy to pick out the perfect boat — and it's one that only you and you alone can make. But if you like the idea of owning a boat with gobs of flare in the bow, tremendous seakeeping abilities, and a fishing-oriented attitude, there's a good chance that there's a Carolina boat in your future.
Related