We were not the only ones to hot-foot it around the festival. At one point I almost considered jumping the marina bridge barriers between one sea trial and a boat debut. It's fair to say there were more than enough boat debuts and innovative technology to keep us away from the bar.
We cherry-picked six boat debuts that stood out among the dozen or so global launches at the first big show of the season. Newly released long-range cruiser models emerged lighter, faster, and stronger than ever.
Azimut 30 Metri Magellano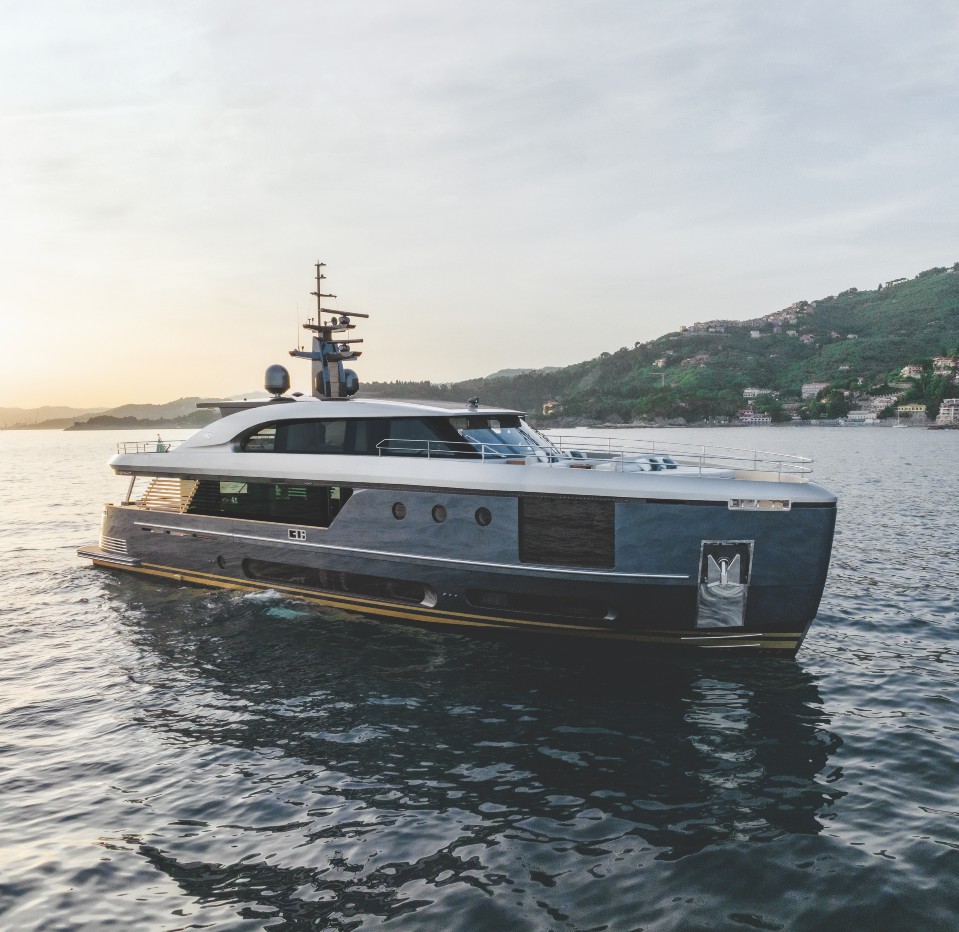 Azimut 30 Metri Magellano. Azimut prove that trawlers can be elegant. Image credit: Azimut.
The Magellano series, the new Grande flagship line, is characterized by low-emission yachts designed for modern boat owners. Magellano is an explorer-style yacht inspired by the culture of trawlers and is a hot trend proliferating the large cruiser market.
Equipped with a Dual Mode Hull, the Magellano 30 meter offers high stability at sea, and 15 percent reduced fuel consumption compared to traditional hard chine planing hulls to provide a smoother entry into the water, and a 20% reduction in carbon emissions.
Sanlorenzo SP110
Sanlorenzo SP110 cruising through the ocean. The unusually shaped exterior lets the bow take center stage. Image credit: Sanlorenzo.
The SP110 is the first in the shipyard's 'Smart Performance' series, Sanlorenzo's entry into the sports yacht market, and their speediest model yet, thanks to the jet drive propulsion system and MAN 2000 hp V-12 engines. She is capable of reaching up to 40 knots.
There is an impressive two-story open atrium with unobstructed views of the aft deck. The model's most striking feature is her unusually shaped hull, designed with geometrical features that optimize drag in the water. The hull shape could be likened to Marmite; some embrace the fresh look, while others prefer a more traditionally proportioned hull.
Sanlorenzo's Tilli Antonelli led a team that included naval architect Marco Arnaboldi. Bernardo Zuccon designed the exteriors and interiors. Piero Lissoni was responsible for the super sleek interior styling and decor.
Baglietto Dom 133 "Attitude"
Attitude is the first of six Baglietto DOM 133 models to be released. The highlight of this yacht is the split-level beach club with an infinity pool. The adoption of a modular design can be seen; the most notable feature is the pool's floor, which you can raise or lower to increase the use of space in the cockpit as needed. Stefano Vafiadis is responsible for the exterior design, and Ezequiel Fracas designed the interiors.
Gulf Craft Majesty 120
Majesty 120 was designed for tropical waters. Image credit: Gulf Craft.
Majesty was constructed using lightweight materials made up of vinyl ester and carbon fiber. Gulf Craft's in-house Design Studio is responsible for her naval architecture and exterior design Cristiano Gatto is accountable for the interior design. The unique selling point is the spacious sundeck, since it is 30 percent larger than other yachts in her class. The Majesty 120 is ideal for traversing shallow waters with a draft of just over six feet. Majesty is designed with extensive outside space for owners who want to navigate tropical waters.
Grand Banks 85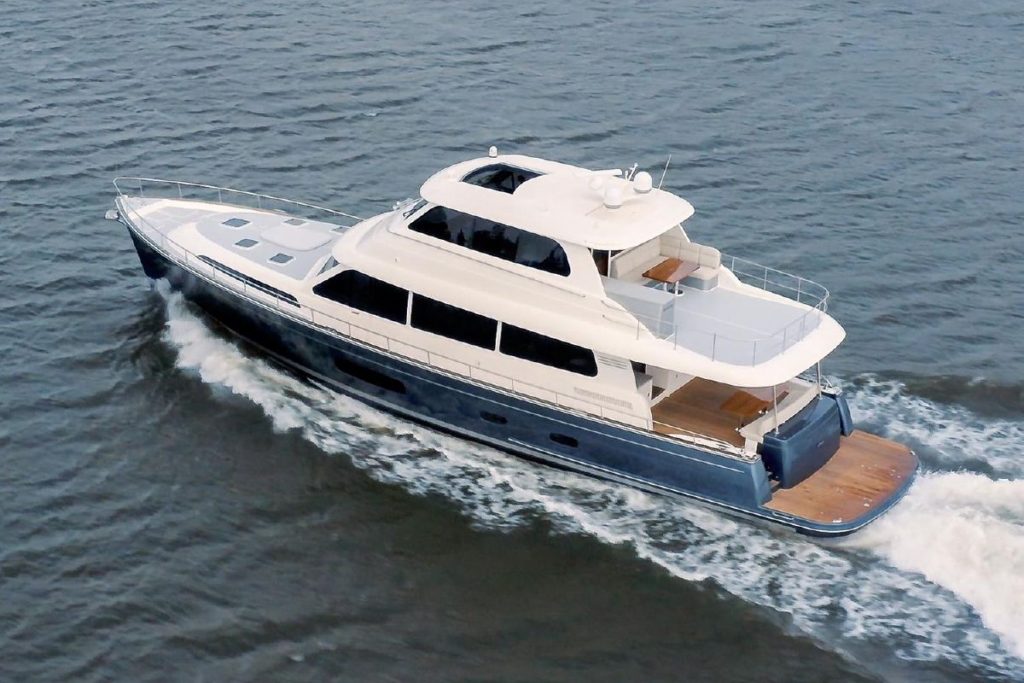 Grand Banks 85's interiors are blend traditional and modern aesthetics. This family cruisers is efficient and comfortable. Grand Banks have designed their most spacious yacht yet. Image credit: Grand Banks 85.
Grand Banks 85 first caught our eye when it made its global debut at the Palm Beach show in March. Grand Banks has introduced its new 85 flagships to Europe, and it's their biggest model to date! Characterized by its V-Warp hull form, this long-range cruiser uses carbon fiber for a more robust, lighter finish. The model comes in an enclosed flybridge or open sky lounge configuration
You need to see a full video walkthrough to appreciate what this yacht offers. Check it out on our YachtWorld YouTube channel Grand Banks GB85 Yacht: Biggest Ever! Full Walkthrough Video. Spoiler alert: there is a surprise waiting for Ryan McVinney in the master cabin! Or, you can read Grand Banks 85 yacht Review: Biggest Grand Banks Cruiser Ever.
Browse Grand Banks 85 yachts for sale on YachtWorld.
Apreamare Gozzo 45
Apreamare Gozzo 45. The aquamarine hull lining looks striking in the water. Image credit: Apreamare.
Apreamare's rich heritage is evident in Gozzo 45. This Mediterranean-style cruiser has an open layout and seafaring capability, ideal for long days out at sea. Marco Casali designed the deck, making an impact by eliminating the use of steps. The result is clean, seamless, and flush in true Casali style. Below deck you will find two cabins with a dinette and two bathrooms.
If you couldn't make the show but want to see footage of some of the latest new release models, check out our YachtWorld YouTube channel to see some of our latest boat reviews on superyachts, day boats, dual consoles, pilothouses, wooden boats, and electric boats.
Related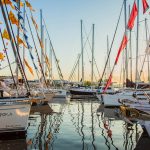 Annapolis Boat Show 2023 Preview
Zuzana Prochazka provides a preview of the 2023 Annapolis Powerboat and Sailboat Shows.
Newport Boat Show 2023: Event Guide And Boat Debuts
Rounding up the highlights at this year's Newport Boat Show in Rhode Island.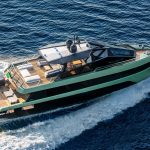 Cannes Yachting Festival 2023 Guide
Rounding up some top yacht debuts and highlights for Cannes Yachting Festival 2023.