Cannes Yachting Festival: The World's Most Eclectic Trade Show
On 7th– 12th of September, the Cannes Yachting Festival will host an extraordinary collection of 3 to 45-meter in-water boats at the heart of the French Riviera. As Europe's leading in-water boating event, it hosts 600 boats, 430 exhibitors and over 140 previews with new and major players in the pleasure yachting sphere coming from all over to showcase their new premieres.
What kind of boats will the festival showcase? There will be a mixture of cabin cruisers, day boats, tenders and RIB's. The boats are monohull or multihull, sailing or motor boats, with hard or semi-rigid hulls. The festival will be split across two exhibition spaces – Vieux Port and Port Canto. The length of the boats on display ranges from less than 5 meters to 50 meters. The average length of the majority of boats at the festival range between 32 to 49 ft (10 to 15 meters) and 114 to 131 ft (35 to 40 meters). Innovation is at the heart of the festival with world premieres and product launches taking place every year.
Brands to Watch Out For
Fountaine Pajot Motor Yachts
Stand – QML059, QML181
Vieux Port
Exclusive to the Cannes festival this year, Fountaine Pajot are unveiling their brand-new motor yacht The MY4.S. This yacht is a sportop motor catamaran with an exceptional range of features, including spectacular power (reaching speeds of up to 22 knots), excellent fuel efficiency, panoramic views from the cabins, and world-class safety.
Fountaine Pajot are unveiling their brand-new motor yacht The MY4.S. Image credit: Fountaine Pajot.
Hanse Yacht AG/ RYCK
Stand – QML359
Vieux Port
HanseYacht AG's new power yacht brand, will release their first model – the RYCK 280, which will be presented at Cannes. RYCK boats are customisable to suit your taste. Their sporty and modern look makes heads turn. Some of the many features available to choose from include spotlights to illuminate the deck in the dark, one of the largest stepless cockpits, rod holders, and tow bars. RYCK can build any combination of features you choose, but if you don't know exactly what you want they offer six basic configurations to help you get started.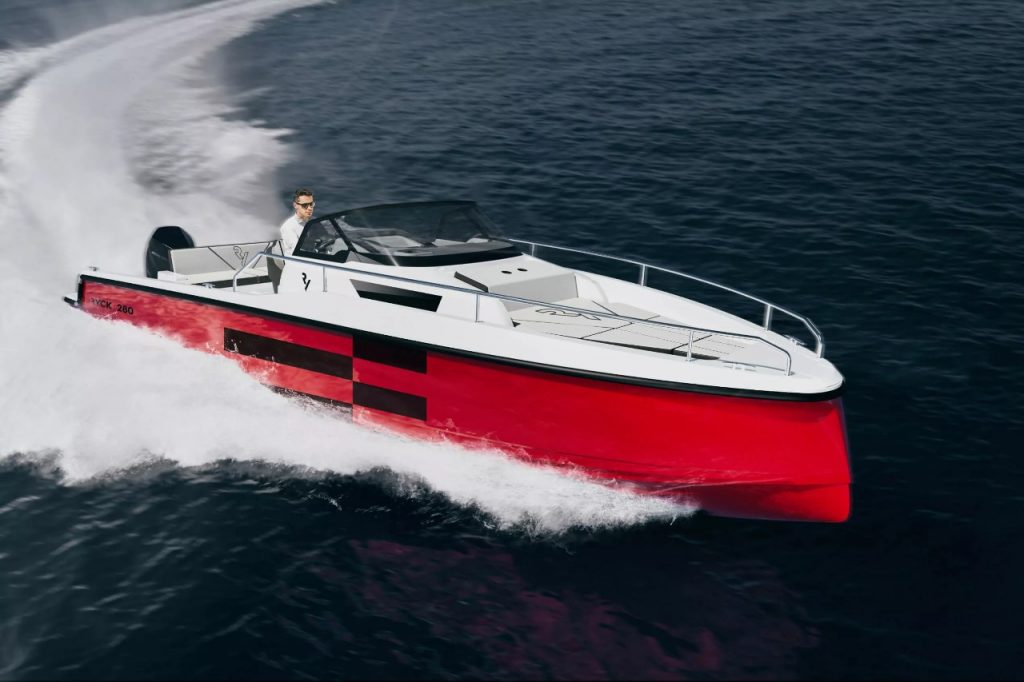 HanseYacht AG's new power yacht brand, the RYCK 280. Image credit: RYCK
Sunreef Yachts
Stand – SAIL019, SAIL138, QML074, QML197
Port Canto & Vieux Port
Bespoke. Designer. Visionary. Sunreef Yachts is the leading designer of luxury sailing and power multihulls. Their vision is to design and deliver luxury, style and comfort in each of their bespoke creations. Be it motor yacht, catamaran, or superyacht, every Sunreef is their vision brought to life. Sunreef Yachts is a stand out exhibitor at this year's festival, so be sure to go and pay them a visit if you want to get a taste of just one of the big players in the yacht world.
Galeon Yacht France
Stand – PAN105, PAN003
Vieux Port
Galeon has been making yachts since 1982. They specialise in designing and making yachts up to 25 meters, with unique interiors that reflect you and your passions. Each of their builds are distinctive and customisable. This privately owned company has more than 1,200 specialized employees, and a 36,000 m² production and assembly site.
Prestige Yachts
Stand – PAN002, PAN103
Vieux Port
The world premiere of the prestige 690 will take place at the festival this year. The French builder will showcase it alongside their other models, including the X70.
Prestige will launch the 690 at the festival. Image credit: Prestige
JEANNEAU
Stand – SAIL044, QML309, SAIL188, QML040, QML166
Port Canto & Vieux Port
Jeanneau will be doubling up and adding the Jeanneau Yacht 60 to strengthen their range of flagship sailing yachts. The French builder will be bringing both classic and cruiser models as a showcase to the festival this year.
Brands To Look Out For
There are many recognisable brands coming to the Cannes Festival this year offering a variety of specifications and styles. Some other brands to look out for include Axopar, Beneteau, Greenline Yachts, Princess Yachts, Prestige, Arcadia Yachts, Mangusta, and Palumbo Superyachts. For an extensive list of exhibitors coming to the Cannes Festival 2021 visit the official to find out more.
Watch Out For New Exhibitors Coming To The Festival In 2021
A Sea Venture Yachting
Stand – QML183
Vieux Port
A Sea Venture Yachting will present its first model, the Seavy11, for this year's festival. The Seavy11 is a 11m long catamaran and has a 4.35m wide motor. It can cruise at 35 knots and can reach a maximum speed of 45 knots. The Seavy11 stands out for its exterior sporty design, and in each of its cabins it includes a double bed, bathroom, and plenty of storage. 
Opera Prima Mare
Stand – PAN044
Vieux Port
Opera Prima Mare mission is to respect the environment whilst building their boats to be a unique work of nautical art. Their builds are electric only, no noise, with zero emissions, reduced maintenance and low consumption. They are also designed in 100% recyclable material and fireproof.
Port D'hiver Yachting/RAND Boats
Stand – QSP002, QSP103
Vieux Port
If you're interested in electric models, RAND Boats at the Port D'hiver Yachting stand is one you will want to visit. They produce user-friendly motorboats from 18 to 40 ft and offer all their models with optional electric engines. The luxury Danish brand is innovative and re-thinking motorboat design.Their goal is to push boundaries with a strong focus on social interaction and sleek, innovative design.
Catathai
Stand – SAIL122
Port Canto
Reliability is one of the things Catathai Co LTD values most. Catathai manufactures catamarans built to be light, robust, and they range from 36 to 60 ft. Constantly in search of new technologies, Catathai has made their catamarans to offer safety and comfort when cruising around the globe along with outstanding value for money.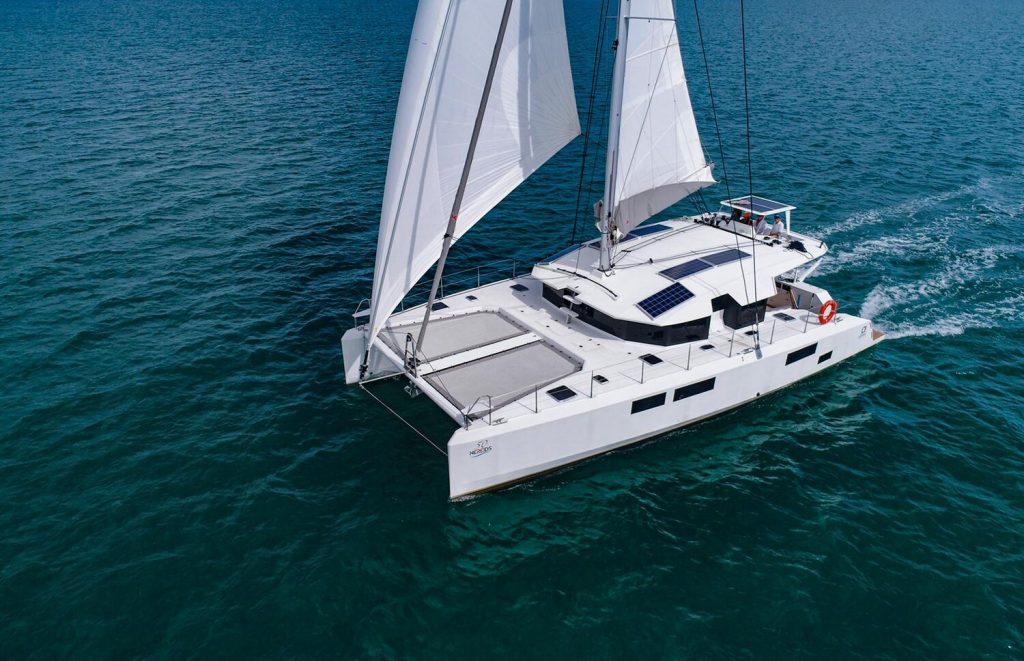 Catathai specilaise in high-end, high-performing catamarans. Image credit: Catathai.
Visitors Wellbeing
To make the event run smoothly measures have been put in place to ensure the health and safety of guests. As stated on the festival website, "Before the Yachting Festival access check, all visitors must imperatively show a valid health pass accompanied by ID as required by the decrees in force" so come prepared. The Cannes Yachting Festival is home to the latest boating innovations in the world – you don't want the pandemic to ruin the fun.
YachtWorld will be attending the Cannes Yachting Festival in September. Find out more about the award winning mega yachts on display by following YachtWorld's social media pages Facebook and Instagram.
Related
Monaco Yacht Show 2021
Do you have one of the golden tickets? Find out everything you need to know about Monaco Yacht Show.

Cannes Yachting Festival 2021: Sunreef Yachts Does The Cannes-Cannes
Sunreef Yachts will showcase five of their custom catamarans are the Cannes Yachting Festival 2021.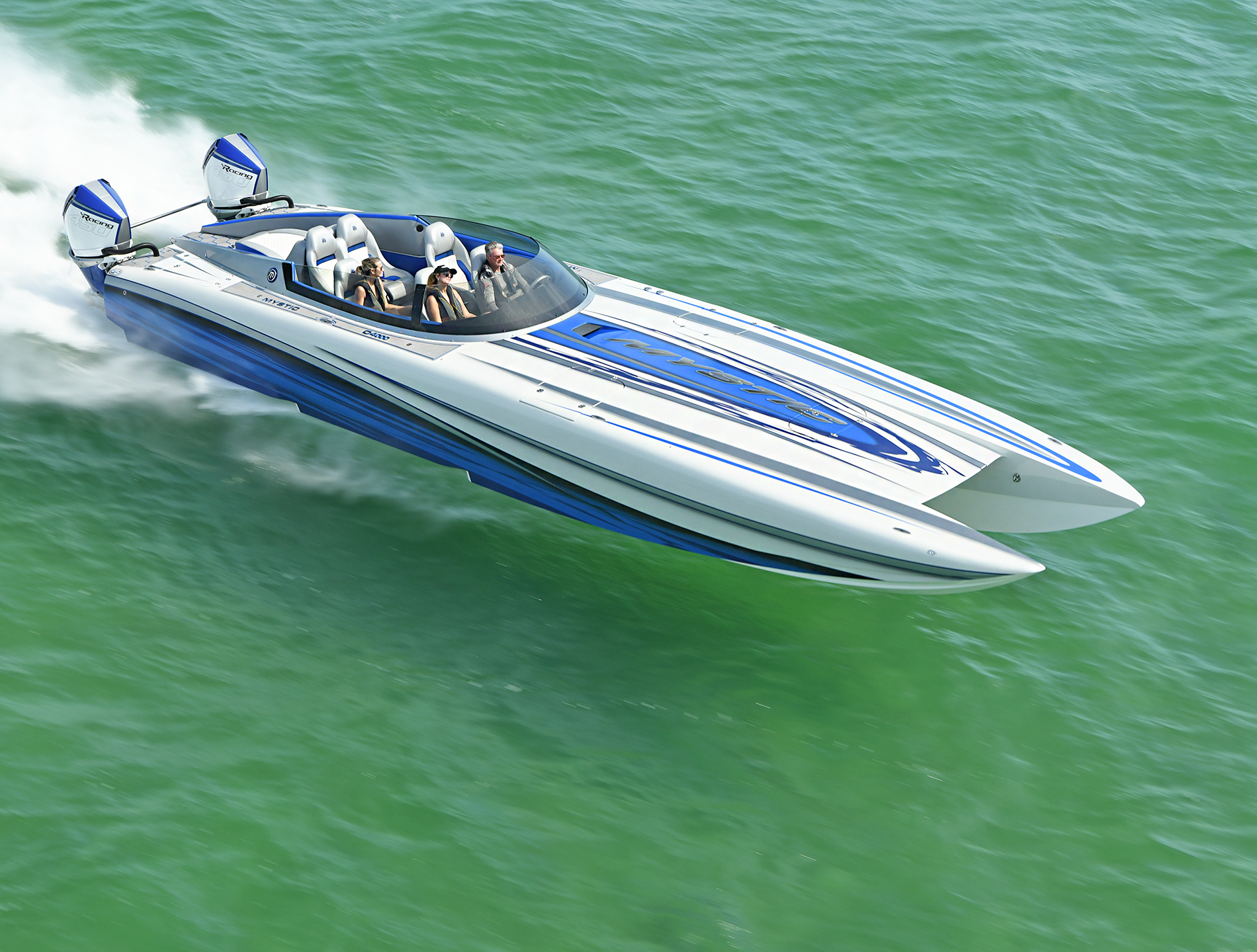 Fast Speed Boats Galore: Miami Boat Show Poker Run 2021 Recap
All the big names in powerboat racing high-performance speed boats in one place!