As a neuropsychologist in Connecticut with a specialty in post-traumatic stress disorder, Rebecca Scalera had seen more than her fair share of suffering. She'd served as an expert witness in criminal trials, treated police officers who responded to the Sandy Hook school shooting in Newtown, and worked with first responders who ran toward the burning towers in Manhattan on 9/11.
Then, in 2015, the married 43-year-old—with two elementary-school children at home—was diagnosed with breast cancer. It had already spread to her lymph nodes by the time she could feel a lump. By the end of 2017, it had progressed to stage four.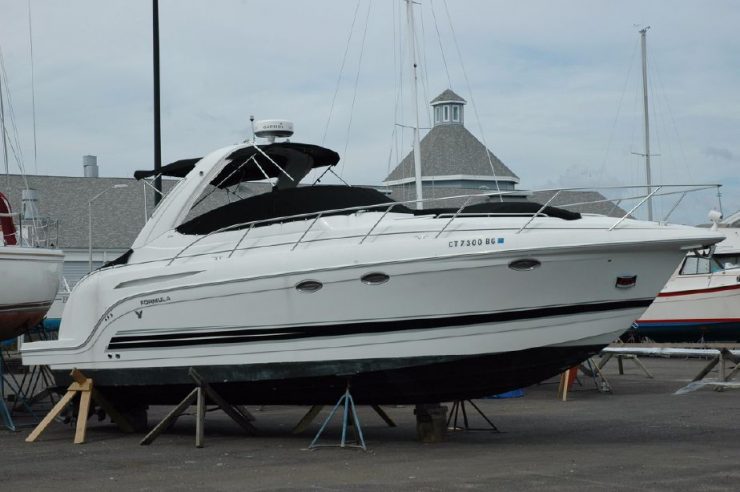 "If I listened to statistics, I'd have about a year to live," she said in January. "But there is not an atom in my body that believes that."
Three things, she decided, needed to change in her life: her day-to-day job had to go on hold, she had to start The Cancer Couch Foundation to raise money for research into metastatic cancer treatments, and she had to sell her beloved boat, the 2004 Formula 34 PC Lady S.
Choosing to sell the boat, she says, was one of the hardest decisions of all.
She'd just bought it in 2015, right before doctors found the cancer, and invested $60,000 on upgrades—she kept the Garmin helm electronics and installed many other items new, from an engine to carpeting and interior décor to custom reclining chairs on the bow. She had the boat purring, with its twin 496 Mags getting the hull up to 46 mph.
Then she had a double mastectomy, followed by a complication that led to a perforated colon and septic shock. She was in the hospital for months. She got to spend six weeks, tops, cruising aboard her newly refurbished ride.
"Boating became hard," Scalera says. "I used to run this boat by myself. My husband barely knows how to drive it. This was my boat. I was having people on the boat who didn't know anything about boating, and I just couldn't physically do it myself anymore."
For now, the boat is winterized and in storage at Captain's Cove Seaport in Bridgeport, Connecticut. And Scalera is home from the hospital—having raised $1.7 million so far for her foundation, still fighting to help others as she continues to fight her own cancer battle.
She hopes the next owner of Lady S will appreciate how wonderful a boat it is.
"I want somebody good to have this boat," she says. "Somebody who will enjoy it."
Related