Michel Karsenti knows something about luxury, performance and yachting. As an offshore powerboat racer, former publisher of luxury yachting magazines and now yacht builder, Karsenti was keen to create a line of yachts with European flair combined with a DNA for performance and a taste of luxury. He got the opportunity when the historied Canados Shipyard became available. The company has been building yachts since 1946 after its military interceptor boats were spotted by some royal family figures who wanted the distinctive Italian carpentry for personal yachting. Since then over 800 yachts were built.
Above: Join YachtWorld and Marilyn DeMartini for a full walkthrough of a 2022 Canados Gladiator 493 at SLT Collection in Fort Lauderdale, Florida.
Vessel Overview
Karsenti chose to maintain the traditional Oceanic exploration and Canados Flybridge range of yachts from 76-180' and then added the Gladiator models from 41-82' to expand into the non-crewed yacht alternative. The Gladiator crosses between the big-powered center consoles and a full motoryacht, can be put on a lift, sit at a dock and travel from the Northeast to South Florida or to the islands. A 96' version, the 961 is on the drawing board for Summer of 2023.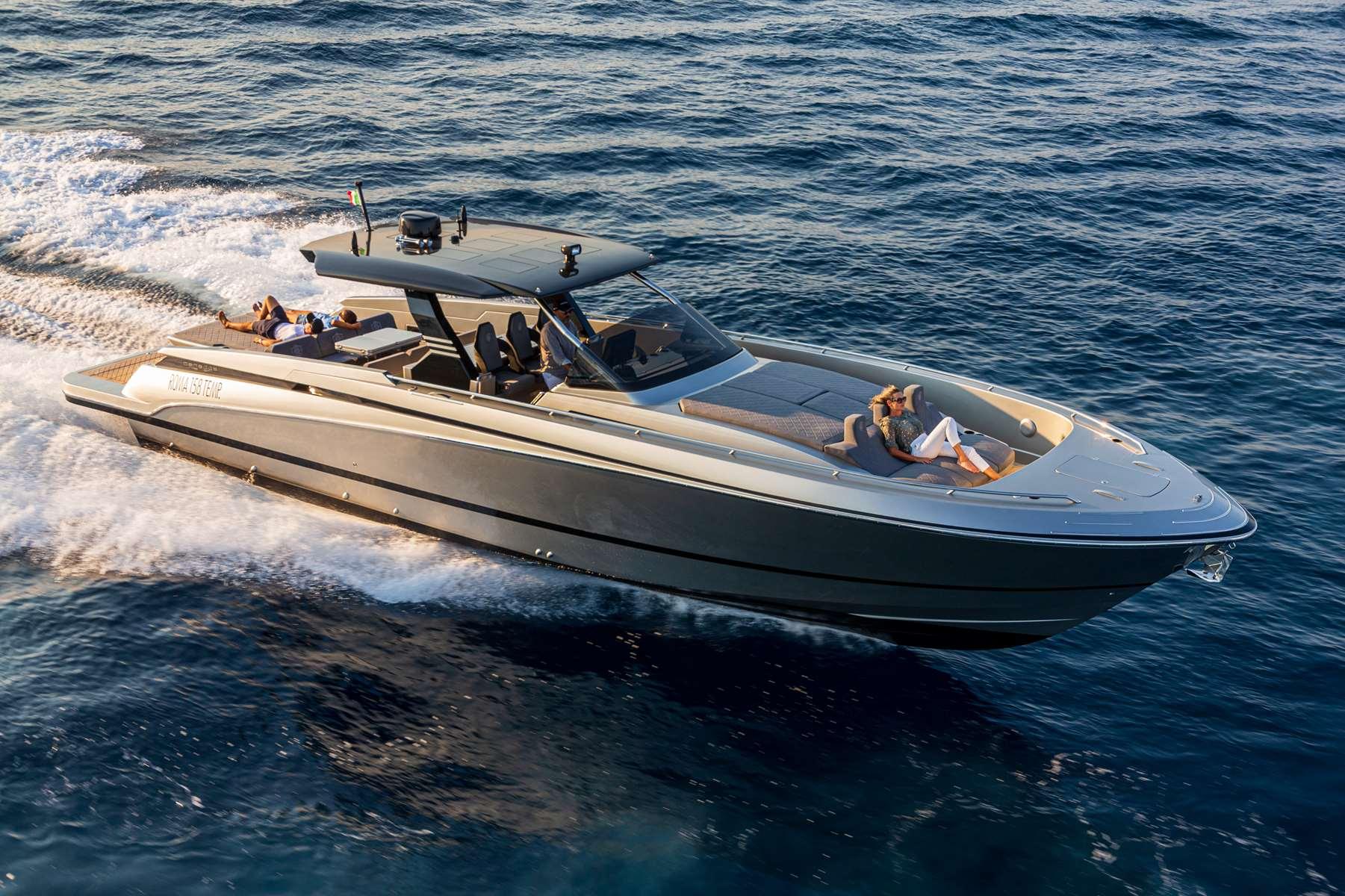 Above: A 2022 Canados Gladiator 493 on the water running. Photo via OMV Yachting in Grimaud, France.
The Canados Gladiator 493 followed the 431, making its U.S. debut through North American distributor SLT Collection in Fort Lauderdale where we sea trialed the sleek and sexy new yacht. This boat was purpose built for day chartering so its bright orange hull and black carbon fiber accents give it a Harley-esque look with enough muscle and grace to appeal to adventurers or luxury cruisers.
Design And Style
Rich with Italian design, the Canados 493 uses carbon fiber throughout for low weight strength as well as beauty. From the dash and T-top to the boat hook, ladder, sunshade poles and even an aft deck portable shower head, carbon fiber gives a masculine, dark fashion feel to each surface.
Power Options
The triple 450 Mercury Racing outboards also give it guts and a 55-mph top speed. Quads would kick it up a notch. Mercury 600 outboards are also a high-powered option. Since the Gladiator was originally planned as an inboard diesel—another option–the engine compartment becomes a giant two-tiered garage under a huge aft deck sun pad. The upper-level lifts from the sun pad where fenders, lines and other gear can be stowed.
When it comes to performance, the Canados 493 shows its muscle, even fully loaded with fuel—up to 620 gallons. The yacht is nimble, handling chop, wakes and waves seamlessly and turning on a dime when needed. We were eager to get into rough blue water, but the weather was too calm for the rush we craved. We'll have to wait for the next delivery of the Gladiator 493 with triple Mercury 600s to flex even more muscle.
Generator And Battery Storage
A deeper area beneath opens electrically and houses a Dynamica 9 kW Diesel Generator, Quick MC2 gyro and batteries which are protected by a stainless rail, providing plenty more room for luggage, water toys and provisions for longer cruises.
Aft Deck Features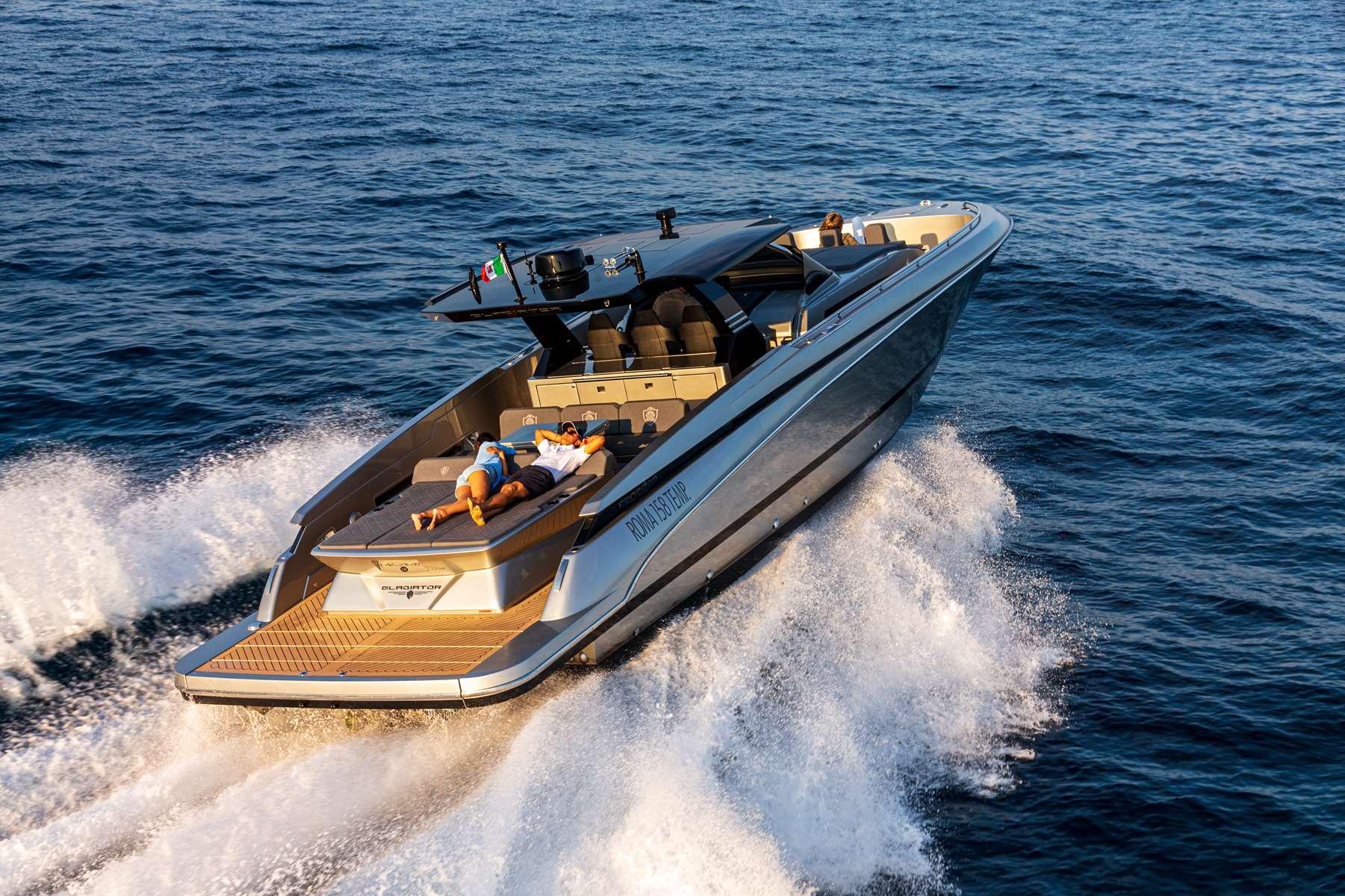 Above: The aft deck on the 2022 Canados Gladiator 493 is a great place to lounge in the sun. Photo via OMV Yachting in Grimaud, France.
The blond Esthec synthetic teak deck provides a cool feel and look and the swim platform provides ample room between the sun pad and engines for easy boarding, water access and walk-around space. A hinged hatch provides engine rigging access. A hydraulic swim platform or boarding stairs are also options. Italian SeaSmart hardware is used throughout, showing a designer approach to fuel and water fills. The curved cleats maintain the gentle lines of the gunwales which at midship, protect the convertible dining/cocktail table and aft and forward-facing seating for 12 in this ample entertainment space. The headrest of the sun pad is the backrest for the forward-facing bench seats, so there is room for many friends and family. The Sunbrella upholstery covers open cell foam making the softer interior-feeling fabric both water resistant and quick drying.
At The Helm
The large T-top's skylights provide natural light and weather protection to the summer kitchen with two drawer refrigerators, an icemaker, sink, cutting board and Kenyon grill. Its dark gray angled supports are notched with a contrast light gray, matching the gunwales and upholstery, adding the designer touch that raises the décor standards, as does the designer recessed T-top LED lighting. Those aesthetic touches are carried forward to the helm where three racing style bolter seats, all embroidered with the Gladiator helmet, welcome the pilot and passengers.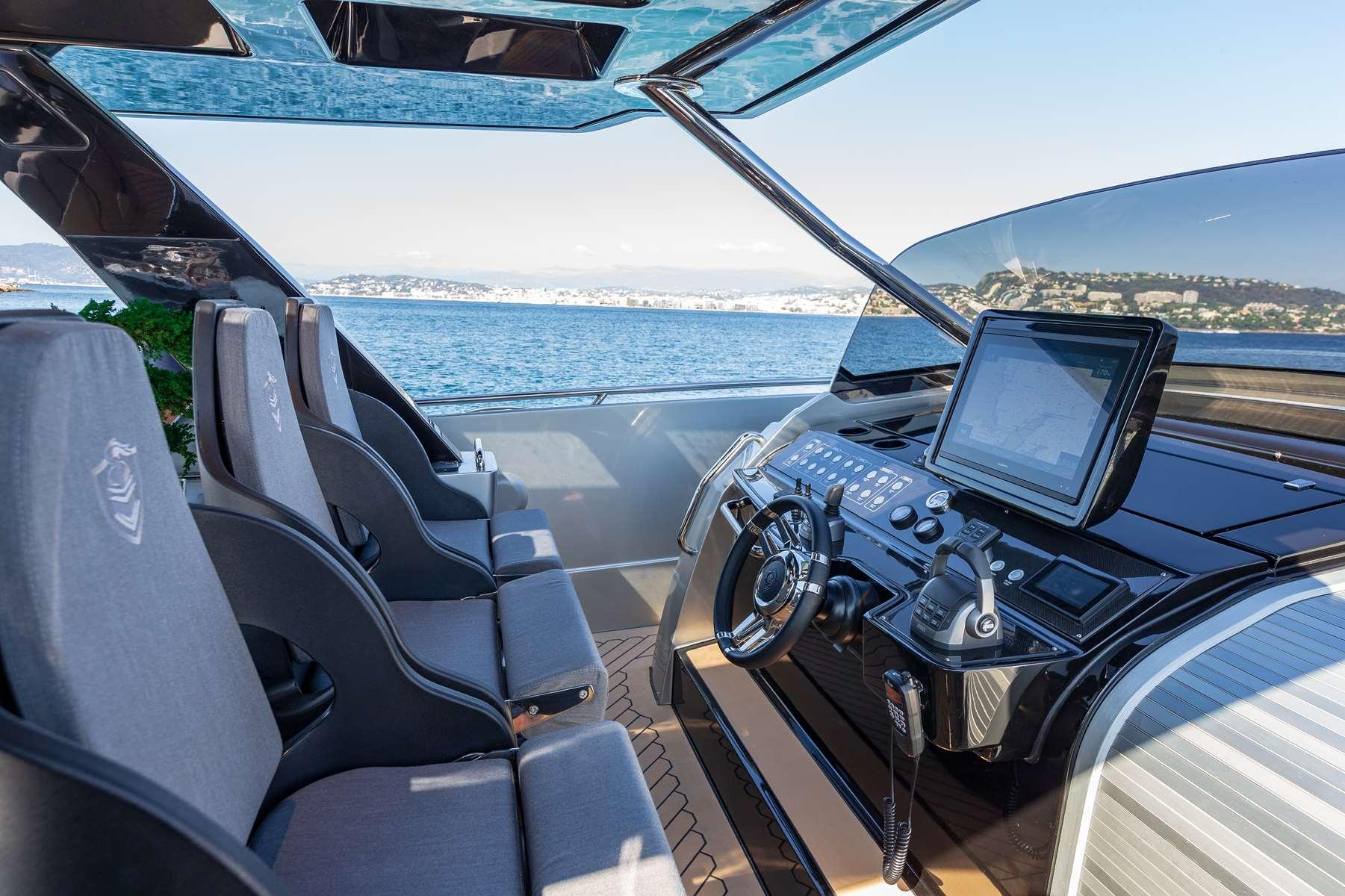 Above: The helm station on the 2022 Canados 493 Gladiator yacht. Photo via OMV Yachting in Grimaud, France.
Curved arm rests add comfort and easy access to the carbon fiber helm where all instrumentation, joystick, trim tabs and Fusion sound system controls are laid out below one or two 17" Garmin screens, depending on the owner's preference. The screen is ergonomically tilted and raised to eye level and a large storage area hatch lifts beneath the curved windshield where stainless T-top supports blend into the boat and provide 360-degree visibility. A ventilated or full windshield are the owner's option.
Interior Cabin Features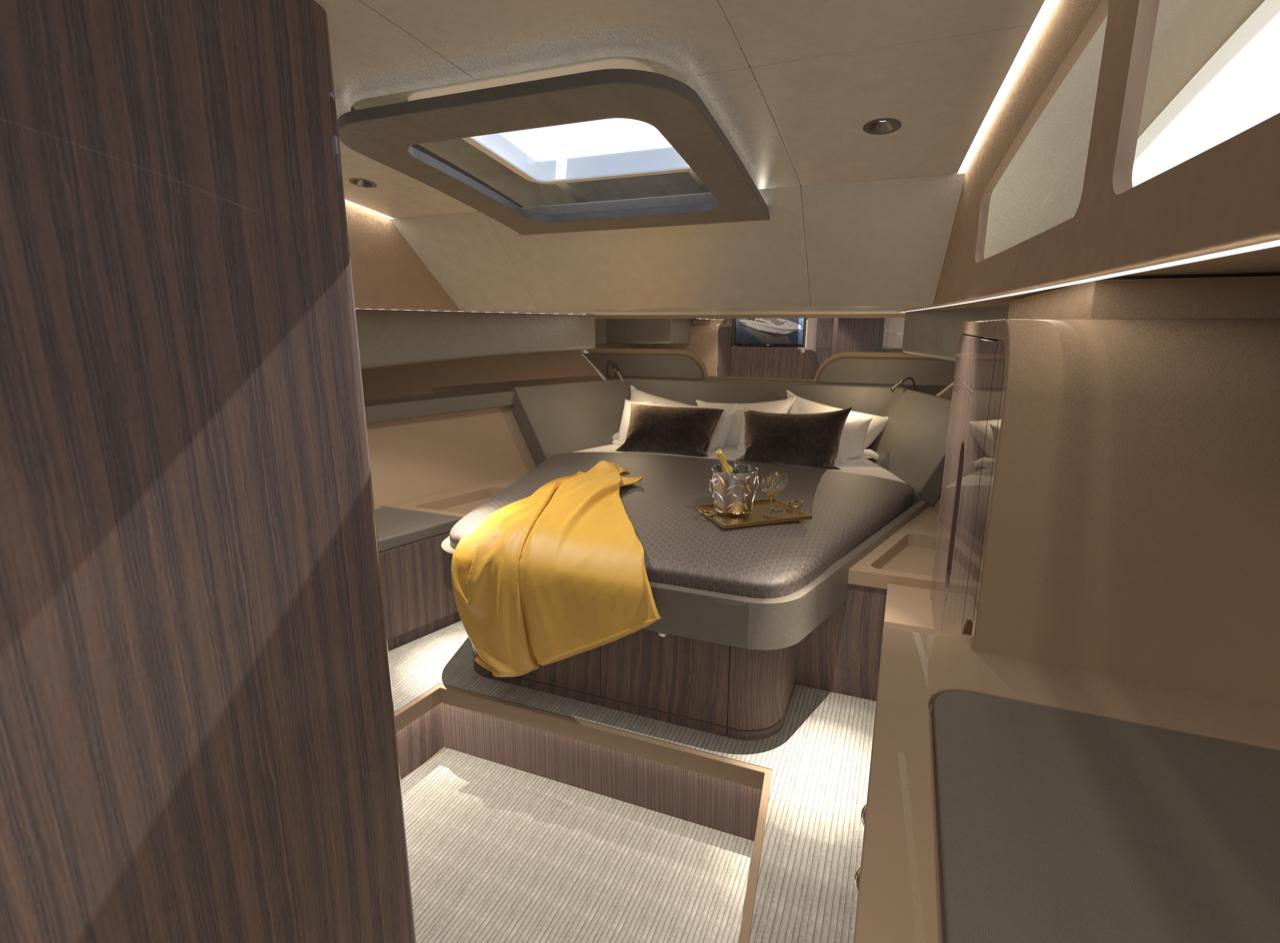 Above: The interior cabin down below on the 2022 Canados 493 Gladiator. Photo via OMV Yachting in Grimaud, France.
To starboard of the helm, a manual door lifts for a three-step cabin entry and below, more design details and carbon fiber abound in this single stateroom version; two staterooms with a shared head is an option. A sumptuous Italian leather header easily accommodates an over 6' tall person and recessed and LED lighting complements natural light, adding warmth to the multi-colored, diagonally patterned wood veneer walls and cabinets throughout. The separate ultra-modern head boasts a carbon fiber sink, shower and door handles and a shaded window adds light or privacy. The raised queen berth leaves walkaround space, storage cabinets, a bench seat and hanging closet. An easy weekend getaway on the water with all the comforts and class of a posh hotel!
Bow Area
Forward a huge sun pad faces another sunning area where three ergonomically styled lounges look over the bow where a windlass anchor locker provides more deep storage.
Specifications:
Length Overall: 49.31′
Beam: 13.94′
Fresh Water Capacity: 79.25 gallons
Fuel Capacity: 356.63 gallons
View Canados Gladiator 493 yachts for sale on YachtWorld
Related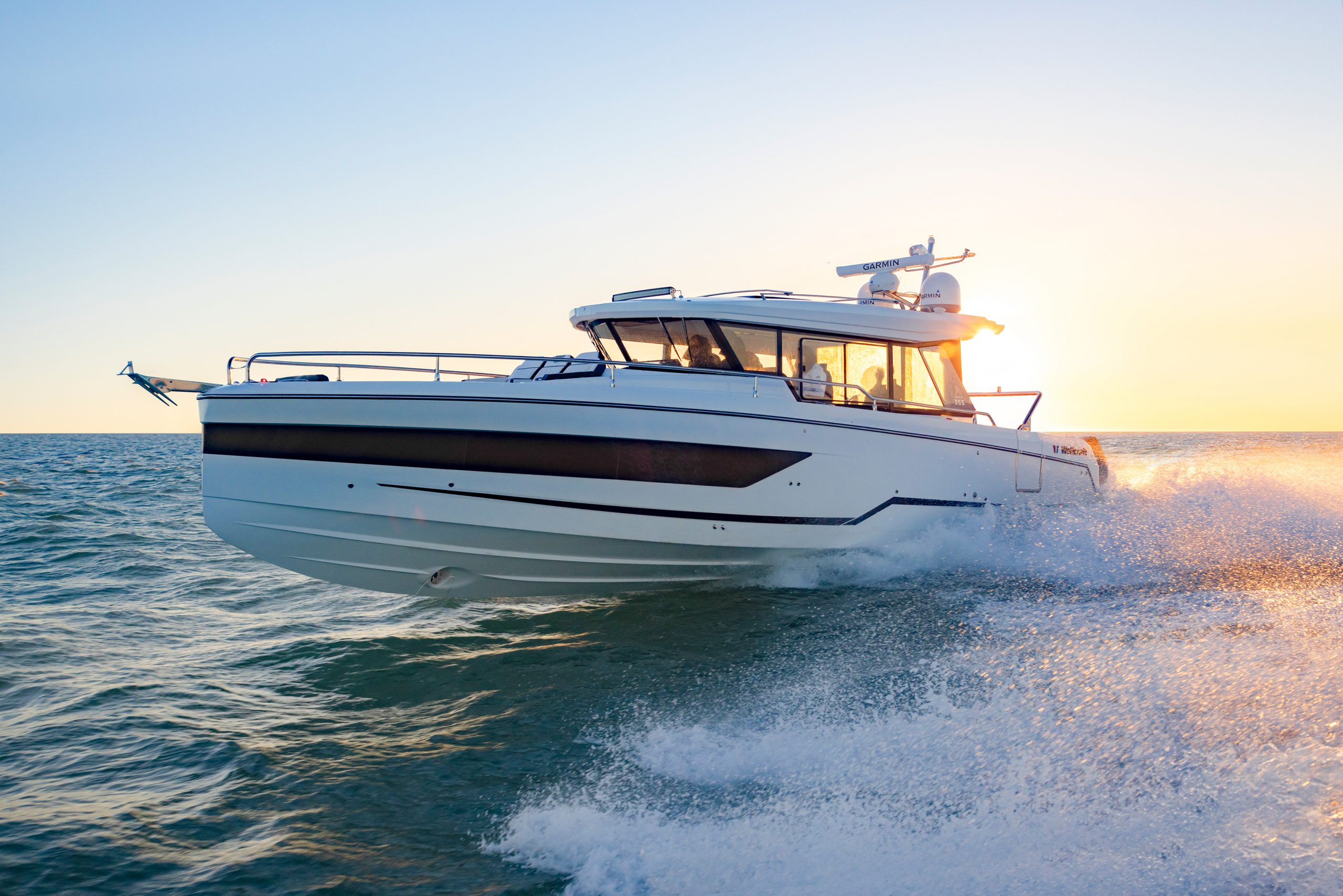 Wellcraft 355 Pilothouse Review: A Hot New Boat!
Marilyn DeMartini review the 355 pilothouse - a new breed of Wellcraft boats.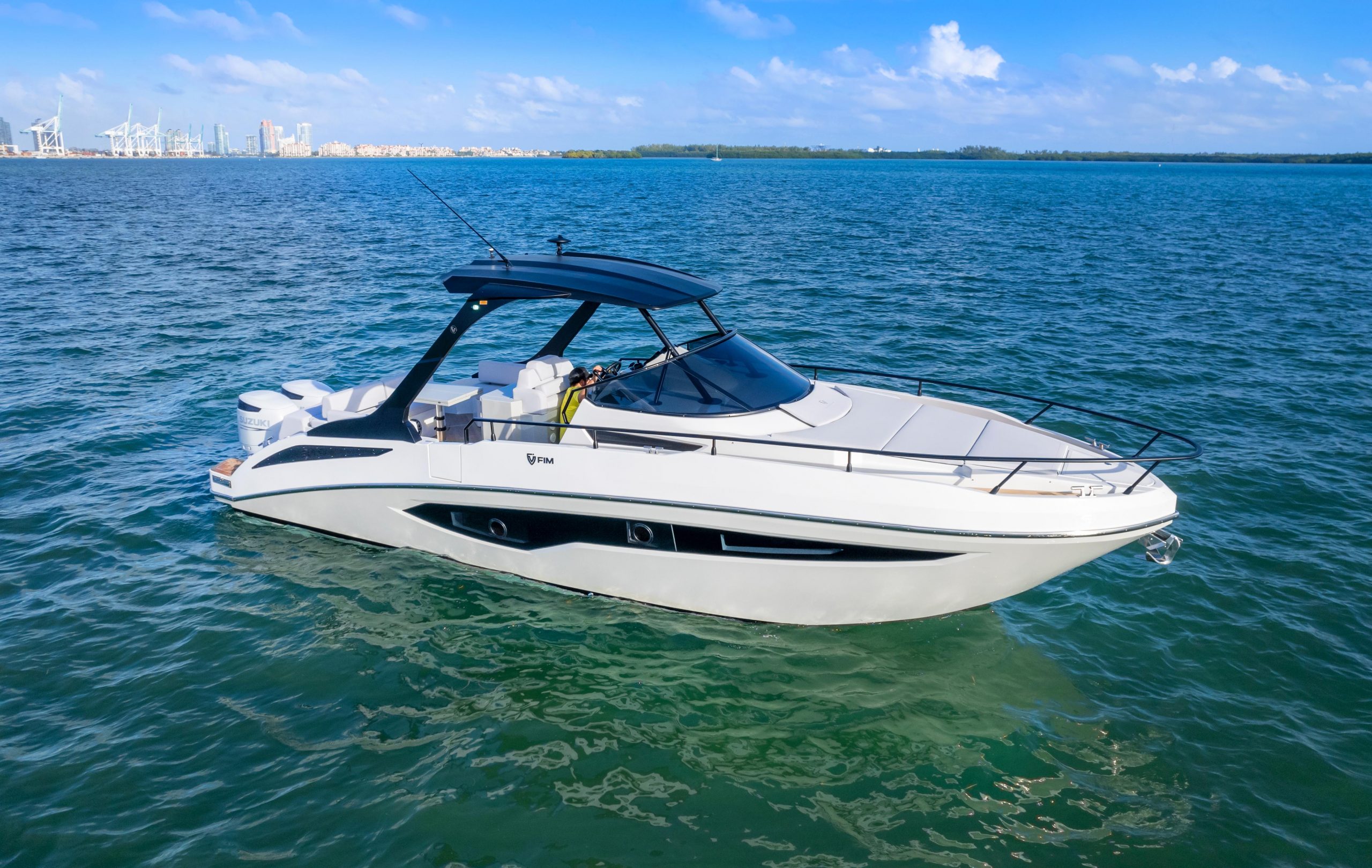 2022 FIM 340 Regina Full Walkthrough Boat Review
Category:
Express Cruisers
A brand new Italian sport boat for the whole family from FIM, the 340 Regina is a sleek cruiser.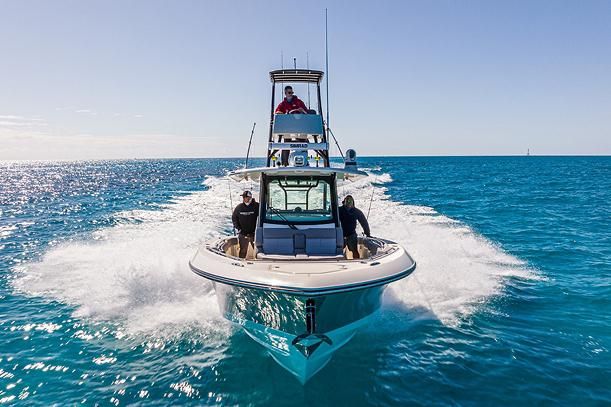 10 Best Center Console Boats Of 2022
The best center consoles to take angling in saltwater.