As modern tech combines with changing priorities, what will boats and yachts be like decades from today? We're getting a taste of the future right now and it is pretty neat.
The changes seen in boats and yachts through the ages have been dramatic to say the least, and it's impossible to say exactly what the boats of the future will look like. They've already evolved from wood to fiberglass, sail to power, and displacement to planing. So, what comes next? While we may not be clairvoyant, there are some new technological developments happening today that indicate what we're in for when it comes to looking at the boats of tomorrow.
Gyroscopic Stabilization for Boats
Gyroscopic stabilization via control moment gyros (the same stabilization tech developed for Skylab and used on the International Space Station) has grown by leaps and bounds in recent years. Around two decades ago these began appearing on some yachts and early versions had the rather amazing ability to reduce rocking and rolling by about 35-percent. That was nice, but the yachts still rocked and the boats still rolled. Modern versions of these gyros, however, can reduce rocking and rolling by a spectacular 90- to even 95-percent.
Above: The Seakeeper 5 gyro stabilizer is about the size of a genset, but does require a special installation job. Photo: Seakeeper.
The marketplace is currently dominated by Seakeeper, which makes units for boats from 23 feet to yachts displacing up to 100 tons. And for larger superyachts, multiple units can be installed to obtain the same results. While gyroscopic stabilization may not change the way boats look on the outside their effect on passenger comfort is dramatic, to say the least. And their widespread availability to boats and yachts of all sizes surely means that a larger and larger percentage of the vessels out there will enjoy their benefits down the line. And as time goes on, more and more new models are designed and built with a compartment or mounting point specifically integrated for a gyro.
Boats That Ride As Smoothly As Cars
While there were early attempts at giving boats suspension systems like those enjoyed by cars, few caught on. In recent years, however, gyroscopic stabilization combined with computer control, CAD design, and accelerometers has made it possible for some boats to effectively mitigate sea conditions.
One early prototype, the Velodyne Martini, was introduced to the world in 2013. The Velodyne utilized a pair of pontoon hulls in combination with all of the aforementioned tech, then gave the boat a big computer brain to control it all. Net result? As a pontoon hits a wave the aluminum legs and pneumatic controls rise to instantly absorb the impact. And as a pontoon drops into a trough they extend down so the deck remains level. The system has five and a half feet of travel, so it can keep the deck level and steady while running through significant seas.
A similar concept is applied in the new Nauti-Craft models. These more refined boats (their multiple-generation prototypes look more or less like finished, ready-for-market models) employ catamaran hulls and a similarly intelligent suspension system based on hydraulics rather than pneumatics. Although this system has far less travel at about two feet, the company claims a shock mitigation of up to 75-percent.
Nauti-Craft's current offerings are limited to 25 feet of LOA, but as the future unfolds the system's application to larger and larger vessels seems likely and Nauti-Craft claims that their tech is suitable on vessels of up to 100 feet. The company also has a prototype quadmaran currently being used for experimentation.
Electric Powered Yachts
While electric cars are a reality, electric boats are still somewhat in their infancy despite recent leaps and bounds being made by some manufacturers. Some of the bigger names pushing the realms of possibility in this segment, include Greenline, Silent Yachts, Candela Boats and newcomer Alva Yachts (a new builder making waves in electric-powered catamarans, powerboats and sailing vessels). As an early adopter Greenline Yachts has a wide range of hybrid boats and yachts currently on the market, ranging from 33 to 68 feet. Based on a hybrid drive they call the "H-Drive," now in its fifth generation with over a thousand units currently on the market, Greenlines can be equipped with both diesel and electric propulsion systems that share the drive unit. Electric-only cruising is limited to displacement speeds and has a relatively limited range (Greenline says you can expect to go two to three hours at five knots on the standard battery system, with upgrades available), but the power source can be extended with solar panels and/or a generator. When the juice runs out, single-button switching to diesel not only changes up the power source but also begins recharging the batteries.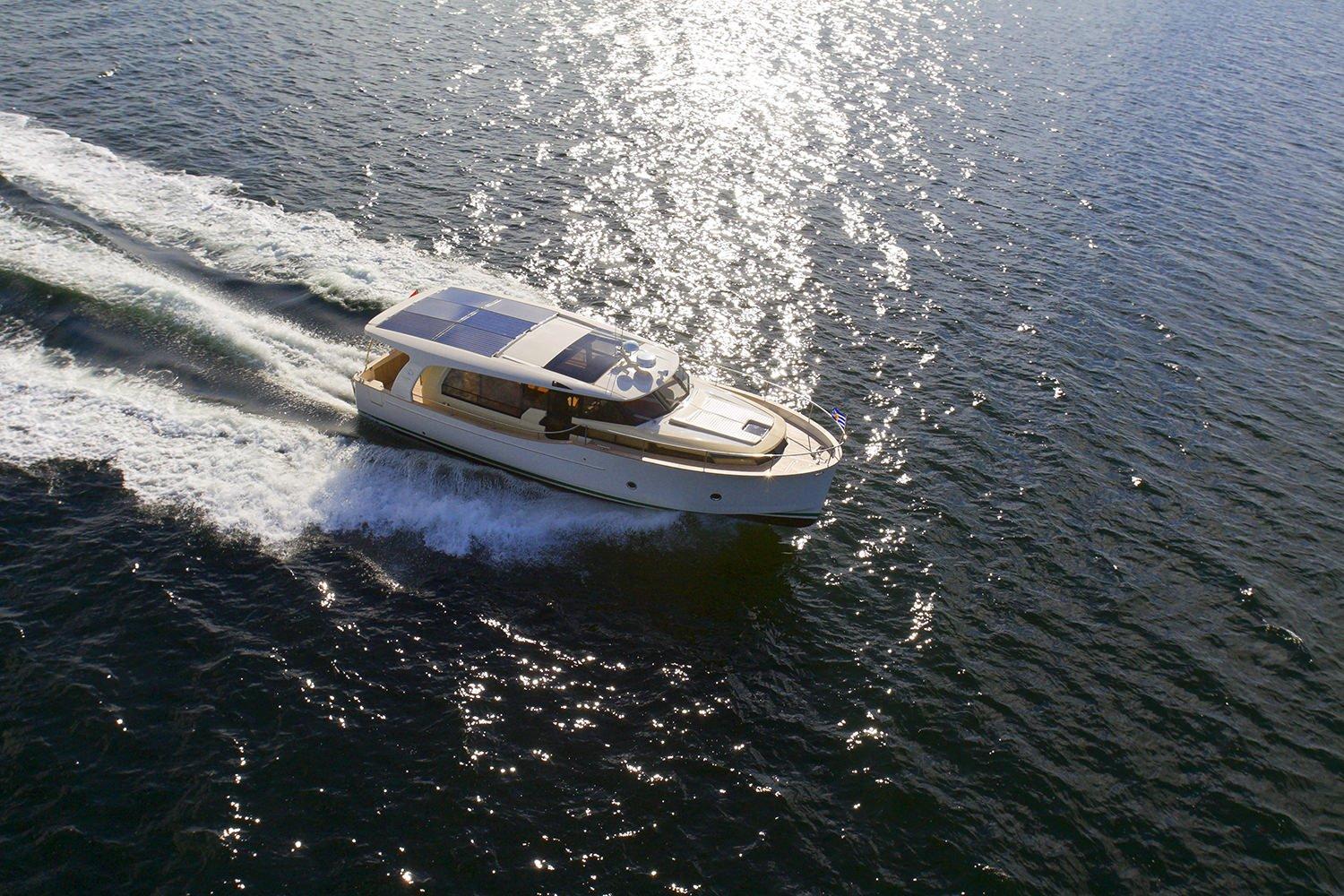 Above: The 2021 Greenline 40 hybrid diesel-electric luxury motor yacht with six roof-mounted solar panels. Photo by Greenline and Yacht Sales International in Fort Lauderdale, FL (the official North American dealer of Greenline Hybrid electric yachts). View Greenline 40 Yachts for sale currently on YachtWorld today.
Silent Yachts also now offers a range of 55- to 80-footers with similar capabilities as the Greenline Yachts above. Based on the extensive use of hard tops and decks for solar power generation, rather than combining diesel and electric in a propulsion system these yachts run on a pair of 150- to 340-kW electric motors. Additional power gets fed to the system via lithium batteries and/or one or multiple generators. Combined with a low-drag catamaran hull and carbon-fiber construction, their smaller yachts can hit a top-end of up to 20 knots and cruise in the six to eight knot range; larger models are transatlantic-capable. You can learn more about Silent's mid-size model in The Silent 62: A Self-Sufficient Electric Catamaran.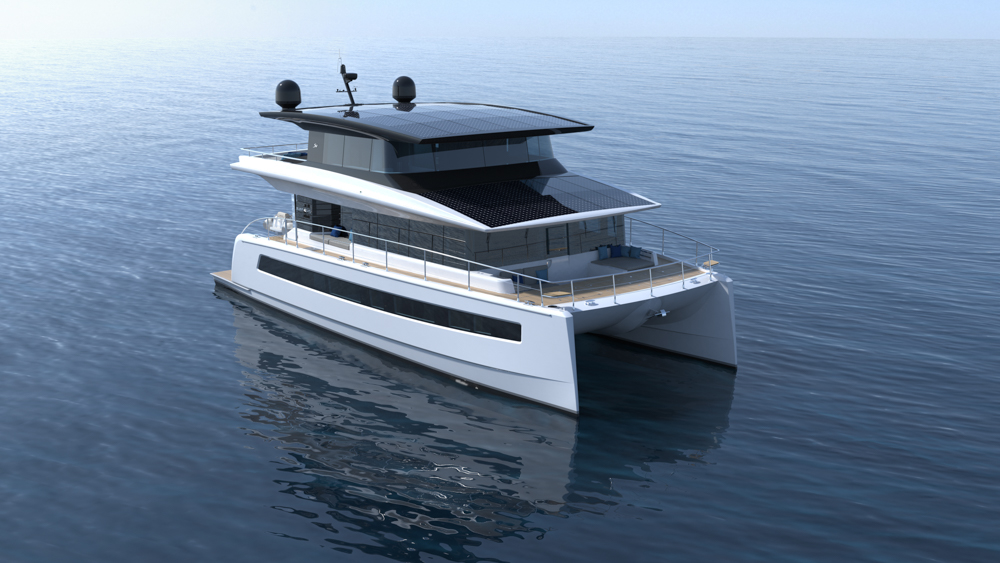 Above: The SILENT 62 Electric Power Catamaran features triple decks and solar panels integrated seamlessly into the futuristic, elegant design. Photo by Silent Yachts. View Silent Yachts for sale right now on YachtWorld.
Another trailblazing company in this market is the Norwegian builder Evoy who has been designing, developing  and manufacturing cutting-edge and impressively powerful 100% electric motor systems for commercial and leisure boats sine 2018. Their latest turnkey inboard electric powertrains feature an advanced programmable system that can be monitored, troubleshot and updated over-the-air (and from the helm of course). With a state-of-the-art security and logic system, the outboard versions of their electric motor systems are also the most powerful in production today, with high-capacity DC fast charging capability.
Foiling the Predictions
Foiling craft which rise up out of the water to skim across its surface have been around for years, but never gained much acceptance in the recreational boating and yachting markets. That's begun to change, and in the past few years multiple new high-end foiling craft have hit the market. One 32-footer, the Foiler, (see Meet the Foiler: Flying Across the Water on a Boat) incorporates a diesel-electric power system theoretically not unlike the Silent's, with hybrid BMW engines and Enata electric torpedo drive units. At speeds of 17-knots the hull rises out of the water on carbon fiber foils, and runs to a top-end of 40 knots. And at a 20-knot cruise the boat enjoys a substantial 260 nautical mile range.
The Candela C-7 also rises up out of the water on a foil, but this boat runs purely on electricity and has zero emissions. The vacuum-infused carbon fiber hull is suspended above a foil which remains submerged rather than skimming across the surface, is computer-controlled, and utilizes ultrasonic sensors, gyros, accelerometers, and GPS to constantly adjust the foil up to 100 times per second to maintain optimal cruising efficiency. It gets its power from a 55KW electric motor powered by a 40kWh lithium Ion NMC battery, boasts a 50 nautical mile range when run at 22 knots, and can hit a top-end of 30 knots.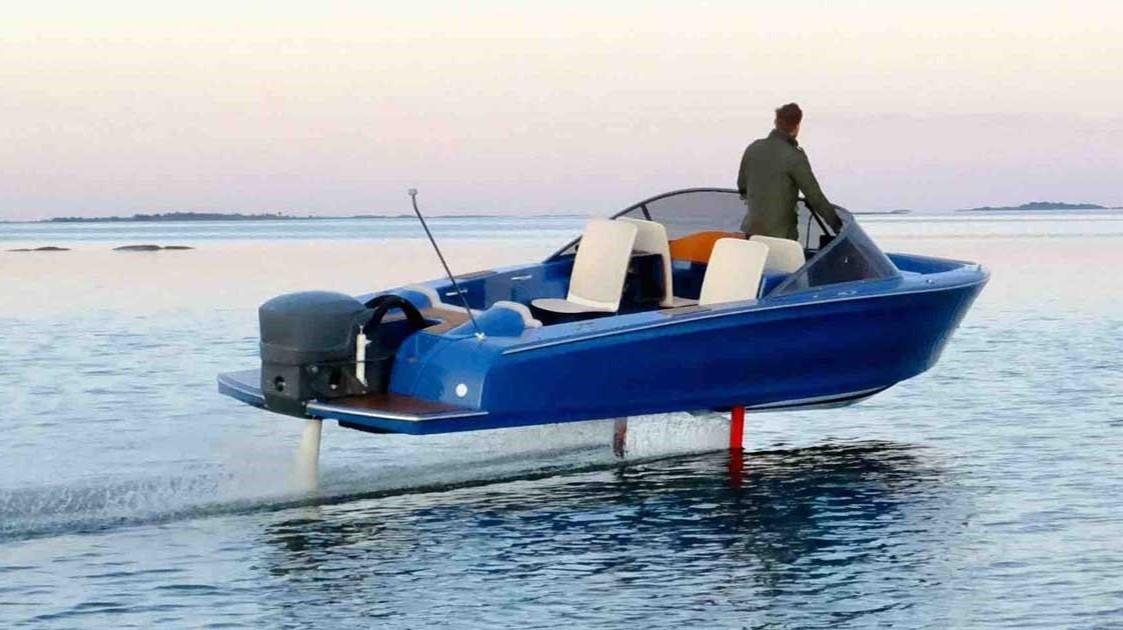 Above: The 2021 Candela 7 Electric Hydrofoil Speedboat lifts above the water line 3-4 feet to deliver a stable, efficient ride with zero emissions. Photo: Green Yachts in Annapolis, MD. Browse Candela Boats for sale on YachtWorld right now.
Navier is another company now building one-of-a-kind hydrofoiling futuristic boats that integrate high technology with sensor-assisted joystick docking and electric propulsion. The new Navier 27 is currently in production and will reach speeds of up to 20 knots and once there, will lift up on the water's surface and hover above the water. Elevating up to 3-4 feet above the water on foils ensure a smooth ride over chop and a minimal wetted surface thus reducing drag and resulting in the most efficient operation possible. When in shallow water the foils can retract. Navier is led by two MIT engineers with extensive experience in ocean robotics, aerospace flight controls and autonomous systems who are on a mission to build technology which radically increases efficiency of small power boats by 90% while simultaneously ensuring zero emissions.
Carbon Fiber And Composite Construction
One of the biggest differences between boats from decade to decade has of course been the construction materials used to build their hulls, structural reinforcements and onboard hardware. Gone are the days of production wooden boats (with few exceptions) or big, unnecessarily thick fiberglass hulls that weighed down performance.
Above: Carbon fiber galore! A Tecnomar For Lamborghini 63 Luxury Motoryacht with carbon fiber skin and futuristic, sleek Italian design elements throughout. Photo by Lamborghini (Automobili Lamborghini America).
Nowadays builders are using stronger lightweight materials like kevlar, carbon fiber, Corecell, Divinycell and Coosa in 3D, computer-designed hulls for increased hydrodynamics and superior structural strength-to-weight ratios. While some builders are using full carbon-fiber packages to deliver the best speed, some are opting for a smart combination of composite construction, utilizing traditional cold-molded processes along with resin-infusion, foam-cored stringers and bulkheads and carbon fiber infused skins. With the massive horsepower that modern outboards can deliver, and the expectations of customers to get big center console fishing boats up on plane quickly, modern transoms have to be stronger than ever before. One thing is certain, boat builders will continue to look for new ways to make their boats lighter, stonger and faster into the future.
Smart Boats: Solar Panels, Battery Banks And Power Management
Solar panels and integrated photovoltaic arrays are getting installed on more and more production boats from the factory, as solar power becomes an increasingly viable option for hybrid-electric vessels. However that isn't the only use for this technology. Builders of cabin cruisers and trailerable sedan-style family boats like Ranger Tugs and Cutwater Boats are offering optional 160w-320w solar panels on models straight from the factory, since they know customers want the added energy to help power a variety of onboard accessories and devices. Alva, one of the builder's we mentioned above who is pushing the envelope in the electric propulsion world has a stated mission to bring "yachting into a new era with a product offering of progressive, electrified solar catamarans and sailing yachts that are designed and engineered without compromise" – and that is consistent with what we are seeing emerge with a new breed of boats and yachts on the market in 2021, 2022 and beyond.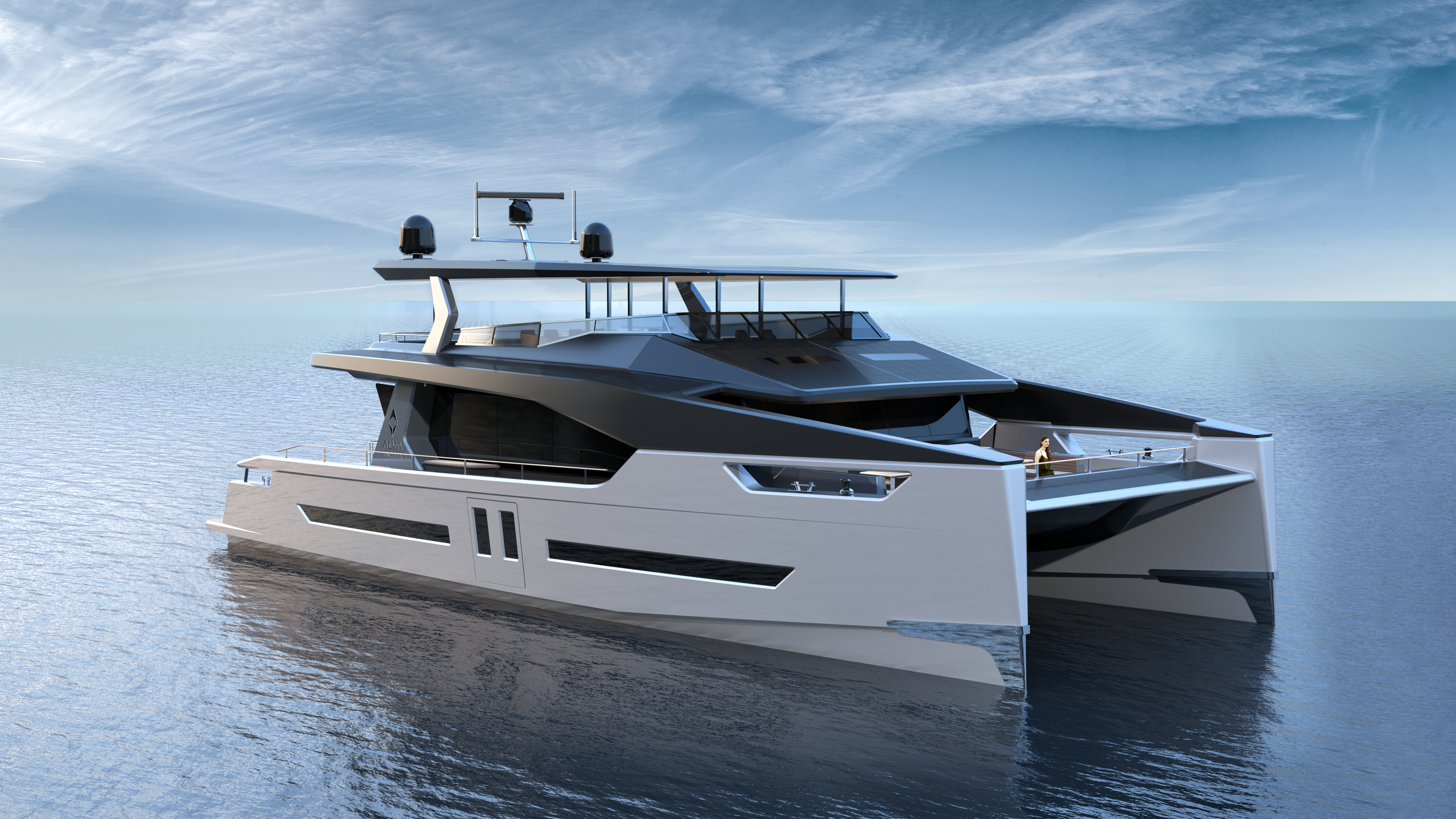 Above: A 2022 Alva Yachts Ocean Eco 90 (AY90) electric power catamaran currently for sale on YachtWorld. Photo by Alva Yachts via Iconovista in London, UK.
With all the interest and advancements being made in solar, naturally there has been a flurry of activity in power management, monitoring and onboard power storage capacity as well. And this "smart boat" technology isn't just limited to electric-powered boats. New lighter battery banks and intelligent monitoring systems, such as those on the Sea Ray SLX-R 400e "Smart Boat" crossover yacht, are becoming increasingly more prevalent, perhaps even expected on the top-of-the-line 2021 and 2022 models from major builders. See boats.com's walkthrough video of the SLX-R 400e below for a deeper look inside some of this amazing technology.
Whether or not the boat is powered by combustion outboards, hybrid powertrains or efficient outboard powerhouses, that fact is that advanced onboard monitoring and electrical diagnostic systems are now the norm. And we can't say for certain, but we imagine boats in 2030 may rely more and more on electric/hybrid propulsion powertrains, lightweight battery systems and increasingly innovative power management and monitoring software and hardware than ever before seen in the marine industry.
Innovative And Efficient Outboards
Along with stronger, lightweight boats that utilize advanced monitoring systems and electronics, comes the advancement of outboard engines. After all, your boat is only as fast as the engines you strap to the back of her can push her. Some of the best outboard engines in 2021 have some pretty amazing innovative new features that present groundbreaking technology that is disrupting the marine propulsion world and changing the game for expectations in the future. Perhaps the most jaw-dropping new outboard engine is Mercury's V12 600-HP outboard beast that has a stationary powerhead where only the lower unit moves along with an industry-first, 2-speed transmission on a recreational outboard. Yamaha and Suzuki both continue to push the envelope with efficiency, durability and reliability at affordable price points for production outboards.
Boats of the Future
Will your next boat or yacht look like one of these futuristic machines? Will it remain rock-steady in heavy seas, and get its power via electricity? Maybe, and maybe not. As with all new tech there are still some significant limitations to these forward-looking watercraft, mostly related to their initial cost and performance attributes like speed and/or range. But year by year, the offerings get better and better. And the boats of today are giving us a glimpse of what we may well see in the boats of tomorrow.
Related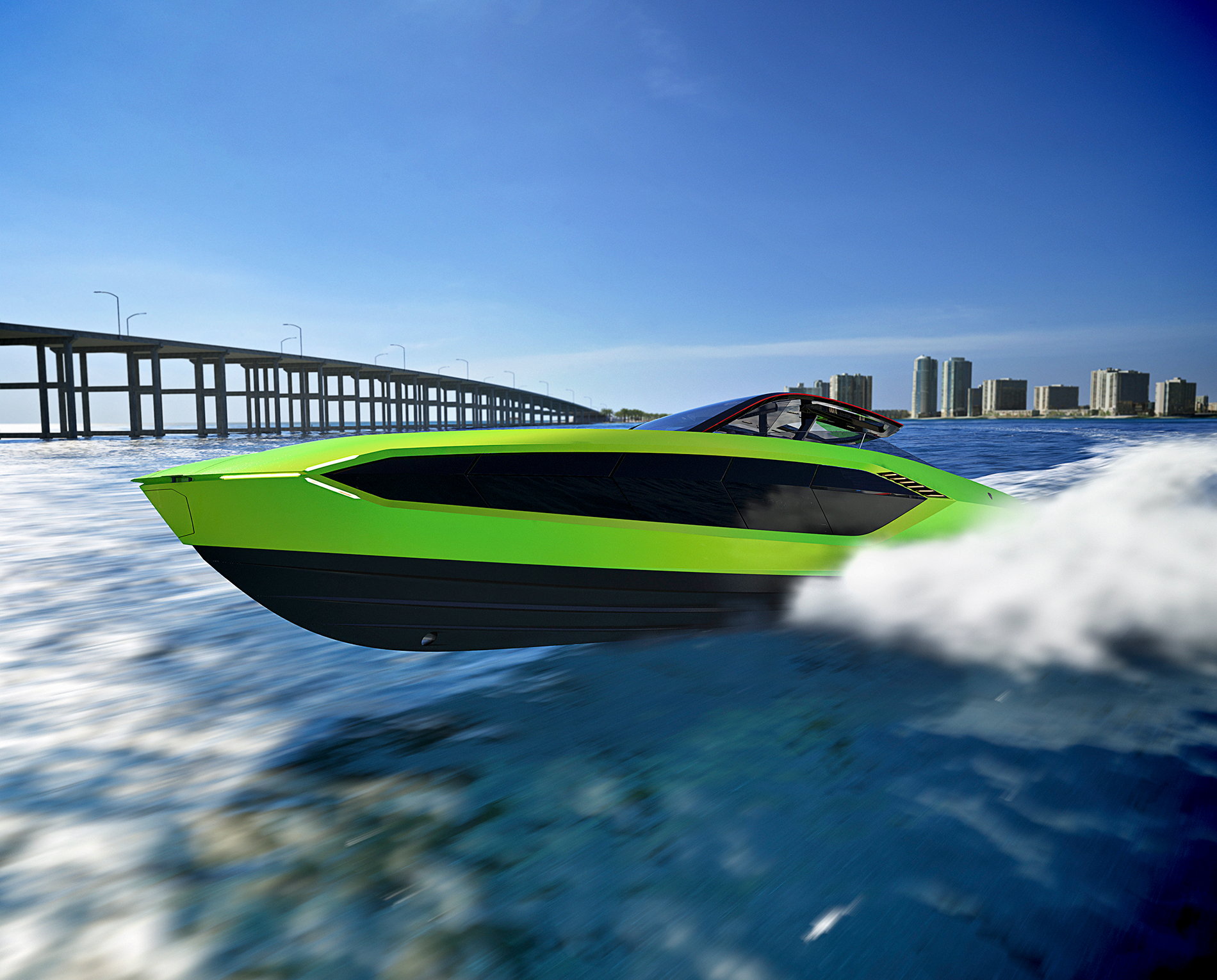 Tecnomar For Lamborghini 63: A Sleek Carbon-Fiber-Rich Luxury Motor Yacht
A limited-edition yacht propels a luxury brand from land to water.
E-mobility Possibilities Inch Closer To Reality For Boat Production
Zuzana Prochazka reports on progress in e-mobility in production boats. How does the US fare in its e-mobility...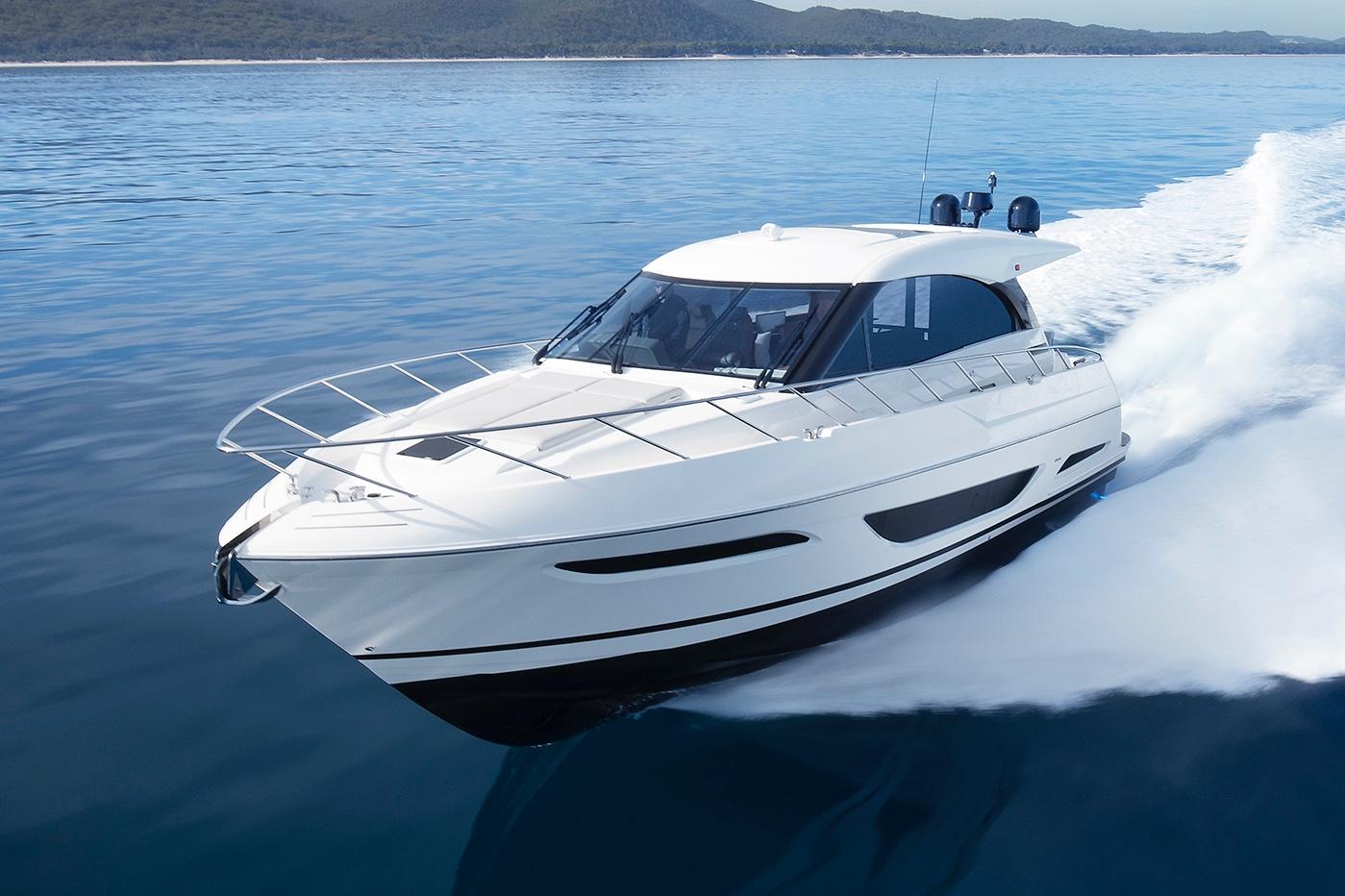 Yacht Designs And Boat Hull Types
A deep dive into all the different types of yachts, from pocket yachts to superyachts and everything...