A responsible mariner will take all measures necessary to avoid being caught out in a storm. However, even with all of today's high-tech equipment, it is not always possible to avoid being out on the water in rough conditions. Having a plan and being prepared for rough weather is the key to returning safely to port without damage to the vessel or harm to the crew.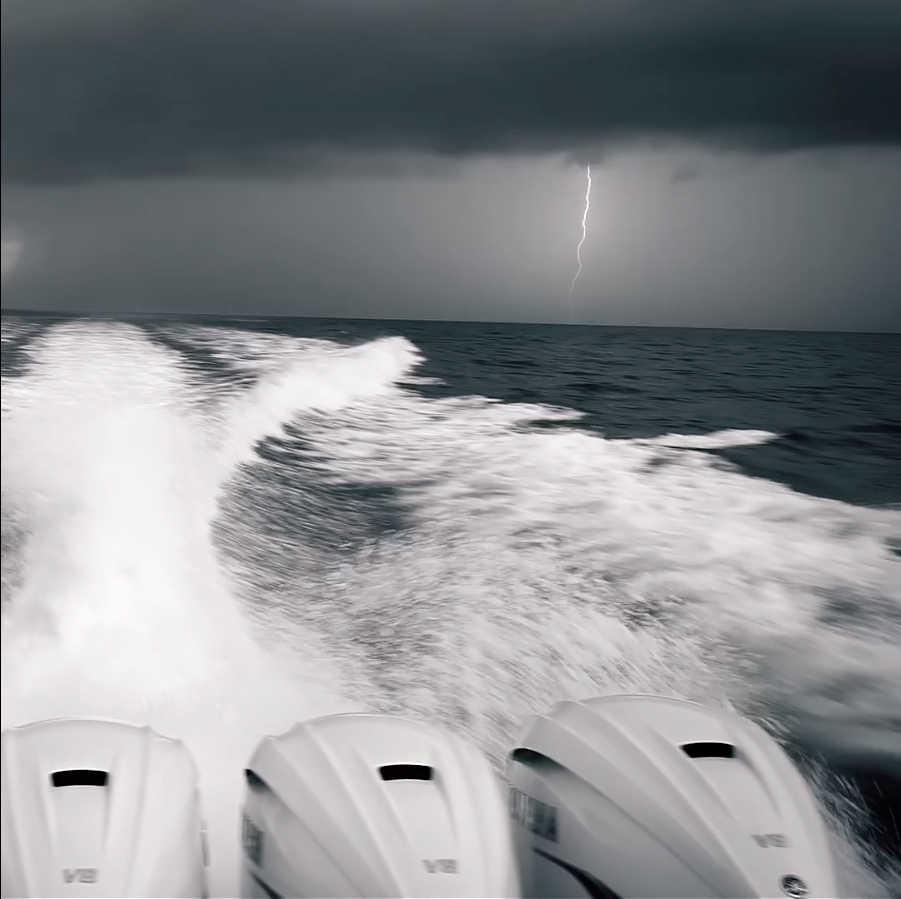 Lightning Strike On The Water. Photo: C. Ryan McVinney
How To Avoid Getting Caught In A Storm
Spend enough time boating and you're likely to have a few tales of bad weather out on the high seas. However, these days it is easier than ever to avoid being caught out. Weather forecasting has improved dramatically over the last decade. Daily forecasts are updated sometimes hourly, and long-range forecasts are much more accurate. This means that the average mariner has access to the most up-to-date information at all times. So, the best way to avoid getting caught in a storm is simply to keep a sharp eye on the weather and not to head out in bad conditions, or when the weather is predicted to deteriorate.
Keep in mind that there can be dramatic differences between the conditions on land and at sea. Be sure to check weather forecasts for your specific maritime area, not just the local weather predictions. A great way to stay informed is via a marine weather app or weather service.
It can be difficult to navigate your way through all the weather forecasting options that are available these days. Here are a few of the most popular weather apps and services used by mariners.
Best Boat Radar, Weather Apps and Equipment
1. NOAA Weather Radar – This easy-to-use weather radar app is based on information from NOAA- the National Oceanic and Atmospheric Administration. With colour graphics and real-time animated weather radar based on your device's GPS location you can keep up-to-date with weather conditions. You can track everything from hurricanes to snow storms, humidity to wave height as well as get information on visibility, wind speed and direction and atmospheric pressure.
2. Windy – This weather app is one of my personal favourites. Also known as Windyty, this app uses simple but powerful colour graphics to convey all the weather information you need at a glance. Windy uses all the leading weather models; ECMWF (European Centre for Medium-Range Weather Forecasts) GFS (Global Forecasting System) ICON (for Europe) and NAM (for the USA). It is fully customizable and allows you to compare 40 weather maps including wind, rain, temperature, wave, swell and atmospheric pressure forecasts worldwide. This app is trusted not only by mariners but by pilots, surfers, paragliders and kite surfers.
3. PredictWind – PredictWind is a very popular weather app amongst sailors and racers, both on and offshore. It uses proprietary PWG and PWE marine weather forecasting models, as well as the ECWMF and NOAA models, to give you accurate, high resolution weather predictions. You can view wind, swell, rain, cloud, air and sea temperatures in a table, graph or map format, depending on which graphic you best understand. With live weather observations from 20,000 stations across the globe you can stay up-to-date wherever you are. As well, this app also offers weather routing, giving you the best route and conditions, and a departure planner feature for an additional in app fee.
4. Buoyweather – Buoy weather is an information gathering service that has been around long before the app was available. Using real-time information about marine weather conditions gathered by floating weather buoys offshore, boaters can view a location-based forecasts simply by clicking on a weather buoy icon. You can view either 2-day or 7-day forecasts for marine weather, as well as wind strength, wave height and direction and tide forecasts.
5. Passage Weather – Passage Weather is a marine weather service website that uses US-based weather models – NOAA, NWS, NCEO, NRL – to provide accurate, reliable and easy to use weather information for any location on the globe. You can view wind, wave and weather forecasting for up to 7 days on their website. They also provide customized passage planning and weather routing services for an additional fee. When close to shore you can view the website normally, but they also have a low-bandwidth version available for offshore boaters who have limited connectivity, allowing you to stay informed anywhere you can log on.
6. NOAA Weather Radio – Even if you do not have mobile data connectivity you can still check weather conditions if you are within VHF range. NOAA Weather Radio is a free service from the US Coast Guard that usually broadcasts VHF channel 22, after an initial announcement on VHF channel 16. The automated forecast includes local or regional weather forecasts, synopsis, climate summaries and lake/coastal waters forecasts. Is broadcast on regular schedule throughout the day. This service will also give more detailed weather information during severe weather conditions as well as occasionally broadcast national or local emergency information.
Always Be Prepared for All Weather Conditions
No matter how nice a day it is, or how well informed you are about weather, it is possible to get caught out. When this happens the best way to arrive back in port safely is by making sure both the vessel and the crew are well prepared.
Keeping your vessel properly maintained is essential for safe navigation in any conditions but having a well running boat will certainly ensure that things go a little more smoothly onboard when things get rough. Before leaving the dock take a few minutes for a pre-departure check and address any issues before putting to sea. Also take a few minutes to stock up on essential supplies and replace any missing or expired items.
Top 10 Pre-departure Checks
1. Check the engine, fluid levels and fuel system, battery, bilge pumps (if you have a deep bilge), navigation equipment and VHF radio. Make sure all systems are functioning efficiently and properly.
2. Check that you are carrying the required safety equipment for your vessel, including a well-fitting lifejacket for each person on the boat.
3. Top up the fuel tanks. Running in rough conditions will increase your normal fuel consumption. Even if you are only planning a short trip it is always better to have more fuel than needed than to run low.
4. Make sure you have enough food and water for the voyage. Even for short inshore trips, stock a day or two worth of drinking water and non-perishable snacks.
5. Carry a small medical kit in case of accidents or emergency.
6. Check your up-to-date charts and make a "Plan B" for alternative safe ports to shelter at in case the weather deteriorates.
7. Keep a cheat sheet outlining the proper radio protocol used in an emergency situation close to the VHF so anyone can call for help.
8. Safely stow all loose equipment until needed.
9. Inform someone ashore what your intended route or sail plan is, and when you are expecting to return.
10. Make sure the crew know where lifejackets, fire extinguishers and other safety equipment is kept, and that they understand how to correctly use them.
Boating In Big Waves and Rough Water
If you do find yourself out on the water in deteriorating conditions the best thing you can do is to stay calm. Panicking about the situation is likely to cause you to make bad decisions, which could lead to equipment breakages and injury. Keeping a cool head, making informed, strategic decisions and being mindful of the conditions are the best ways to avoid an accident when at sea.
Every boat handles differently, so it is difficult to give specific advice about boat handling in rough conditions, however there are a few basic rules when navigating big waves.
Boat Handling Tips In Bad Weather
1. Secure the vessel – As conditions deteriorate it is important to stow loose items and secure any equipment that isn't being used so it does not roll under foot and get in the way or end up broken. Tie down fishing rods, lock cupboards and put away anything not essential to safe navigation.
2. Check the bilge pumps – Hopefully you've already done this before leaving the docks, but it is always a good idea to check that your bilge pumps are functioning properly so that the bilge can be kept empty, and excess water and weight will not affect stability or hinder the performance of the vessel.
3. Slow down – Driving a boat at full speed into heavy seas is not only jarring to the crew it is the number one way to break equipment or damage the vessel. Reducing your speed slightly will make for a much smoother ride.
4. Trim to suit conditions – Adjusting the trim of your motor will affect how the boat rides and pierces through the waves. Every hull and motor combination will have a different ideal trim in rough conditions, so you may need to experiment to find the trim that suits your vessel during rough weather.
5. Hit waves at a 45° angle – Bashing into a big wave head on or sliding directly down the backside of a wave is perhaps the most dangerous way to approach heavy seas. Instead, angle the vessel between 35-45° to the wave and run across the swell. You should find that you not only have better steerage but there will be less banging, less noise and a whole lot less breakages.
Run for Cover
Sometimes the best thing to do when unexpected bad weather sets in is to run for cover. Seeking the protection of a nearby harbor or bay does not mean that you're not manly enough to face the storm. It means that you are a responsible boater who is concerned about the safety of his vessel and his crew.
Anchoring In Rough Water
Unexpected weather systems will often pass quickly, so finding a calm and secure anchorage to hunker down in for a few hours could mean the difference between everyone turning green while being tossed around in rough weather and enjoying a hot cup of coffee undercover before returning to your home port.
A well protected, and comfortable anchorage will provide protection from the wind and the swell. When entering an unfamiliar harbour, especially when the sea is agitated, it is a good idea to look at all charts and guides you have available, checking for any discrepancies between them. When approaching the anchorage stand off and assess the conditions, breaking waves often indicate shoals or shallow areas that should be avoided. Try to enter the harbor at the deepest point possible, as this is where the seas will be calmest.
Keep in mind that a heavy swell will often wrap around narrow points of land, so you may need to maneuver the vessel far into an inlet before the sea calms completely. Also remember that waves will appear larger when there is a heavy wind/swell is running against the direction of a large tide. It is a smart idea reduce your speed, stay calm and keep control of your vessel. When in doubt, and if the vessel is not in danger, hold station and reassess the conditions.
When anchoring, consult your chart to find good holding in mud or sand. Avoid throwing the pick in coral or rocks, which cannot only damage delicate marine life but foul your anchor. Always practice safe anchoring techniques; pay out the correct ratio of anchor chain or rode for the depth and conditions. A good rule of thumb is a 3:1 scope for calm conditions, a 5:1 scoop for moderate conditions and a 7:1 or 10:1 for rough conditions. And ALWAYS remember to account for swing room when there are other vessels in the anchorage. When in doubt, don't go out.
Is It Safe To Be On A Boat In A Thunderstorm?
In US costal waters it is estimated that your chances of being struck by lightning while out boating in a storm is about 1 in 1000, with boaters in Florida and on the Chesapeake being at a slightly elevated risk. Although it is true that the risk of being struck is slightly greater when out on the water, there are ways that you can reduce your odds of sustaining damage or getting struck at all if you happen to get caught in a lightning storm.
How Do You Protect A Boat From Lightning?
1. Lower tall equipment – Lightning is a charge of electricity that is traveling toward the earth, looking for an isolated, tall object to travel through to reach ground. Rods, outriggers and antenna are prime targets, so lower any unnecessary tall equipment that is not part of a designed lightning safety system.
2. Install a proper bonding system –When installed a proper bonding system or grounding plate is designed to divert the lightning through the vessel and dissipate it into the water without damage to vessel or equipment. If you live in a high-risk area this is your first line of defense.
3. Disconnect any unnecessary electronics – If you do get caught in a lightning storm unplugging any unnecessary equipment is the easiest way to prevent delicate electronics from getting damaged. Even if not turned on a device that is plugged in can still sustain damage if the vessel is struck by lightning.
4. Put small electronic devices in the microwave or oven – Your onboard microwave or oven will act as a Faraday cage during a lightning storm, protecting your small electronic devices in case of a lightning strike.
5. Keep your eyes on the skies – Keeping a close watch of the weather is the best way to reduce your risk of being struck by lightning. If you see a storm brewing in the area check the latest weather forecast and alter course to avoid the bad weather. Under no circumstances should you leave the dock if a thunder and lightening storm is predicted.
Keeping this simple rule in mind will keep you out of trouble 99% of the time. No one wants to miss a day out on the water, but sometimes the best way to avoid a storm is to stay home. Avoid going out in unfavorable conditions or when conditions are predicted to deteriorate. No matter how good the conditions look at the time, it is just not worth risking your vessel or your life.
Related