There are many good reasons not to restrict the search for a new yacht to merely your local area, even though this requires learning how to transport a boat. For instance, a wider search will open up a larger variety of yachts, while fluctuations in foreign currency exchange rates may make prices in some countries more favorable than those for vessels in local waters. Equally, you may want to move a boat you already own to a different area, either to explore new cruising grounds, race in Caribbean regattas, or as the result of a home or job relocation.
Boat transport occurs three main ways:
Transport on a ship by sea
Towing a vessel by road
Yacht delivery under its own steam
In many cases the departure and end points of the route will point towards a particular solution. For instance, moving a boat from Croatia to an English Channel port would involve a 2,800-mile voyage by sea – the same distance as an Atlantic crossing – or 1,200 miles by road.
In some cases it's also viable to combine different methods for one delivery. For instance, a boat in the Ionian Sea, on the western coast of Greece, could be sailed the 800 miles to the South of France, then trucked less than 400 miles to La Rochelle on France's Atlantic coast, before finishing the journey at sea. In this instance, if schedules allow, and the yacht is well-equipped and in good shape, an experienced owner could complete the sea passages during vacation time, leaving only the relatively short road delivery to be paid for.
Boat Transport by Sea
Sailing the yacht on her own keel is perhaps the most commonly considered option for boat transport. To some extent, the larger the boat the more likely the direct costs will favor this solution, as the delivery will be quicker and the boat more able to withstand inclement weather. On the other hand, smaller and older yachts can be more difficult to deliver by sea, as they may be significantly slower – and less reliable – than a larger and newer boat.
It's also a very viable option for transporting a boat shorter distances, where the costs of loading onto a truck, or a ship, might be a significant portion of the overall costs. Drawbacks of this method include wear and tear on the vessel – a long trip carried out to a deadline can find the weaknesses of even the most well-found and well-maintained vessels, especially if it takes place out of season. This can be a particular problem for those buying second-hand vessels whose systems may not have been thoroughly tested, although it has to be said that new vessels are not immune from problems.
Diligent skippers therefore allocate time for checking the yacht over and getting any problems sorted out. Indeed, reputable companies have comprehensive checklists covering everything from the rig, sails, and engine to upholstery, interior joinery, electrics, and ground tackle.
Good yacht delivery skippers will also do their utmost to minimize wear and tear, and are expert at foreseeing and fixing problems that would leave many others stumped. The engine will often be used for much of the distance, so it's worth considering the possibility that the engine won't be turned off, other than for routine checks, and any implications that have for engine hours and servicing. It's also important to ensure that the safety kit is both appropriate for the size of the crew and the length of the voyage, and also that no items will exceed their expiration dates during the delivery.
This method of yacht delivery is the one in which it can be hardest to predict timescales. Granted, in benign summer weather it might be relatively quick, but there's plenty of scope for unseasonal weather to force a number of successive days in port. Prices can vary widely, with much depending on the experience of the delivery skipper. Payment tends to be on a per-mile basis, although in some cases a per-day basis will be quoted.
Read more about Yacht Delivery by Sea.
Yacht Transport by Ship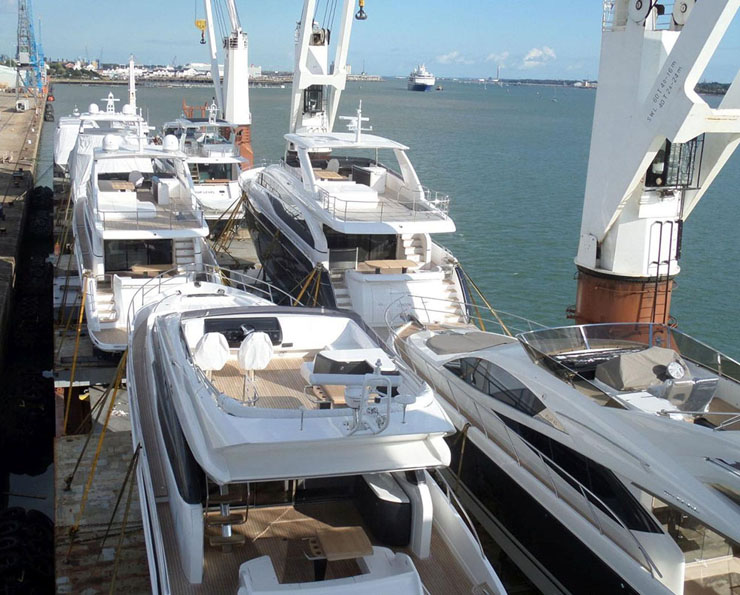 Boat and yacht transport on a ship can be a quick and cost-effective method that also takes the possibility of wear and tear out of the equation. This growing part of the yacht delivery scene can make particular sense for yachts between 35′ and 150′ long, although the advantages are arguably not yet universally recognized or understood. Even so, this part of the industry has a global reach and is continuing to expand.
Here are the top three reasons to consider transporting a boat by ship.
1. Wear and Tear and Safety: Yacht transport on a ship can be a quick and cost-effective method that also takes the possibility of wear and tear out of the equation. Unlike a delivery on a boat's own keel, there will be no wear and tear or weather delays. That factor enables new boats to be delivered anywhere in the world with zero mileage and for charter yachts to arrive at their destination in a ready-to-sail condition. This also eliminates the need to go into a yard for maintenance and repair after a crossing.
2. Explore New Destinations: Yacht transport opens up a world of vacation possibilities. Shipping a boat overseas or to remote locations is the best possible way to explore a new destination that would be difficult to reach otherwise.
3. Purchasing a Yacht: There are many good reasons not to restrict the search for a new yacht to merely your local area. "There is currently a very limited supply of yachts for sale on the West Coast of North America and the Mediterranean so buyers are coming to Florida to find a larger variety of yachts to choose from and then transporting them to their final destination. This is why Florida is known as the yacht capital of the world," says Paul Haber, President of Cross Chartering Yacht Transport.
Choosing the right yacht carrier for the right destination is important. Different carriers service different trade routes and you need to make sure your carrier provides regular service to your desired destination. For example, Cross Chartering Yacht Transport is the largest yacht carrier in North America and Asia.
"We run the most sailings between the East and West Coasts of North America and Asia and are the most reliable. As a result, we are the preferred transporter for boat dealers such as Ocean Alexander, Viking, Nordhavn and Horizon and yacht brokerage firms."
Sevenstar Yacht Transport and Peters and May are the largest yacht carriers in Northern Europe and the Mediterranean. Although there are several companies that provide this sort of service as well.
What Differentiates Yacht Transport Companies?
Reputation and reliability are big factors to consider when choosing a transport service. Cross Chartering Yacht Transport is the largest yacht carrier in North America and has their own loading teams and lifting equipment.
"Our operations team and logistics are excellent and we specialize in heavy lift and complex lifts. We are the preferred transporter for boat dealers such as Ocean Alexander, Viking, Nordhavn and Horizon and yacht brokerage firms. For the larger boats, you will always deal with a principal at Cross, says Paul Haber, President of Cross Chartering Yacht Transport.
"We are pleased that yacht brokers, yacht builders, and captains are continuing to refer their clients to us as we have become known for reliable year-round sailings, competitive pricing, and customized logistics," says Paul Haber, President of Cross Chartering Yacht Transport.
Cross has been transporting yachts for over 20 years and is the leading factory yacht transportation company from Asia to U.S. and Med/Continent.
What happens if there's not a direct route to where you want to take your yacht?
Liner Service is generally the answer in the scenario. Cross Chartering Yacht Transport has an in house liner department and can transport yachts to almost any destination worldwide. Getting your boat, yacht, or cargo shipped between two places, especially internationally, can be an extremely difficult and stressful process. With many different ways to ship your goods and boats overseas, liner shipping is a method that works for everyone. Here are the main types, methods, and advantages of liner services:
1. Break bulk. A break bulk shipment describes cargo that is transported using container or break bulk liner services. Vessels with a fixed schedule load boats on platforms, either between the rows of containers or directly on deck. Break bulk is suitable for boats and yachts between 40 and 70 feet.
2. OOG flatrack. OOG, or Out of Gauge, refers to cargo that is loaded on a folded container platform called a flatrack. With an OOG flatrack, yachts and boats can be transported within general container liner services. This method of transport can be cost effective and allows for weekly departures to several worldwide destinations. OOG is also suitable for motorboats, yachts, and sailing boats up to 45 feet.
3. Roll on/roll off. Roll on/roll off vessels feature built-in ramps that allow for cargo to be rolled on and off the vessel when in port. Since these vessels are mainly designed for transporting cars and trucks, the entrance door height is limited to 5–6 meters. However, this enables boats that are on cradles to be loaded efficiently. Roll on/roll off services are suitable for boats and yachts up to 60 feet in length.
4. Container. Using containers is another cost effective and efficient method of transport. Special loading gear is used to place boats inside containers in the most effective possible position. Container lines offer fast transit time and weekly departures on most trades. Each container can hold one boat up to 40-45 feet in length with a maximum beam of 8 feet 6 inches or up to four 20 foot long boats with a beam under 8 feet.
"Transporting your yacht by ship opens up new horizons," says Jan-Maarten Bossevain of Dutch yacht delivery specialist Sevenstar Yacht Transport. "It allows people to visit places with their own yacht that would be difficult to reach on the vessel's own keel. A lot of the demand we see is for both motor and sailing yachts of more than 20 meters, enabling them to be Mediterranean-based in summer and then spend the winter season in the Caribbean. Also, it allows other owners to buy a boat at a good price elsewhere in the world and then move it to their chosen cruising grounds."
At the same time, this can also be a viable method for moving smaller boats around the globe. This is perhaps best understood at the higher ends of the yacht racing community, where racing yachts of as little as 32′ to 36′ (and sometimes less) are routinely transported across oceans by this method.
Boat Transport by Road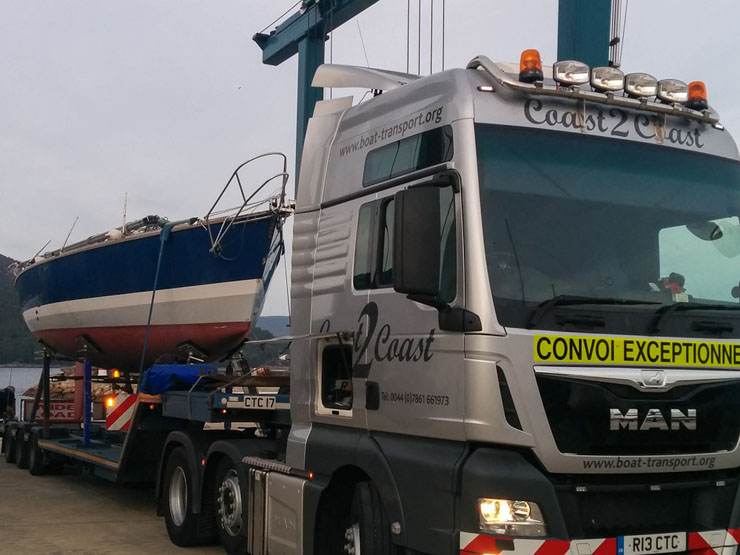 In some cases, yacht delivery by road can be the most efficient method of all, and is applicable to yachts of up to a surprisingly large size. Anyone who doubts this only needs to look at the choice of location for one of Europe's largest boat builders, Bavaria Yachtbau. The factory, which builds craft of up to 56′, is in Southern Germany, more than 350 miles from the nearest sea. Yet the location works for them, as it's as easy to deliver a yacht to a customer in the Mediterranean as it is to Northern Europe or the UK.
Similarly, 70′ racing yachts have been delivered through the narrow Victorian streets of central London to be exhibited at their sponsors' promotional events. The exact maximum sizes, in terms of length, beam, height, and weight that can be transported may vary between different jurisdictions. It's therefore worth checking feasibility of a particular route with an operator at an early stage in the planning process. The trailers used are extra low-slung, to allow the keel of a sailing yacht to sit lower than the trailer bed, thus minimizing the clearance needed for bridges. On larger yachts, it's also possible to remove the keel to allow for road transport.
Companies specializing in this kind of yacht delivery often subcontract local pilot vehicles, which already have the permits necessary for wide or long loads. My own experience of shipping long distances by road is that operators aim to build in sufficient slack into the schedule that they have an excellent chance of meeting the quoted delivery date. But don't be surprised if the overall time needed is longer than you expect. Depending on the size of the yacht it may not be allowed on certain motorways at any time of day, and in some instances any movement may be restricted to daylight hours outside of rush hour, which can be a significant restriction in winter.
Towing a boat yourself by road
An option that can make sense for smaller and lighter vessels is to tow it yourself. Those boat dimensions of length, beam, weight, and height will guide your research into what type of trailer and tow vehicle you'll need. In the US, trailer laws vary by state, so you will also need to plot your routes accordingly.
Nevertheless, there are a number of lightweight dayboats, weekenders and RIBs of up to 32′ that are sufficiently light in weight and narrow to go on a conventional road trailer. This is recognized in many insurance policies, which may automatically include cover for boats of up to 30′ in transit, but if your boat is longer than this the policy may need to be amended.
For more practical guides to buying and owning a yacht, see: How to buy a used charter boat and Five negotiating tactics for yacht and boat buyers.
Editor's Note: Paul Haber of Cross Chartering Yacht Transport contributed to this article.
Related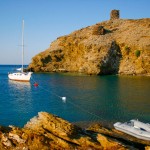 Choosing a Tender
Choosing the right tender can make all the difference - but when will a small wooden clinker dinghy will...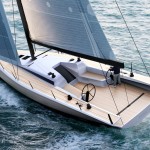 Club Swan 50: The Next Big-Boat One-Design
Nautor has combined the two most elusive qualities in yacht design in its new Club Swan 50: eye-catching...
Great Designs by Ed Dubois
Ed Dubois designed a range of amazing yachts over his lifetime. Here are just a few of them.