Christening Your Yacht: Is She an Aquaholic or a Buoyoncé?
Naming your vessel can be one of the most rewarding moments of boat ownership. Titles carry in them a unique and deeply personal identity. Naming a boat is a tradition richly embedded in maritime heritage. Leaving a vessel unnamed is widely regarded to bring the owner bad luck out at sea. Historically, vessels were given female names because they were once dedicated to goddesses.
Settling on a boat name that you and your family are happy with is not an easy task, and requires some serious brainstorming. From the iconic names of superyachts to sea-worthy puns boat names can reveal a lot about their owners. Your boat name should resonate with you and strike a chord. Read our top tips and browse over one hundred inspirational yacht names.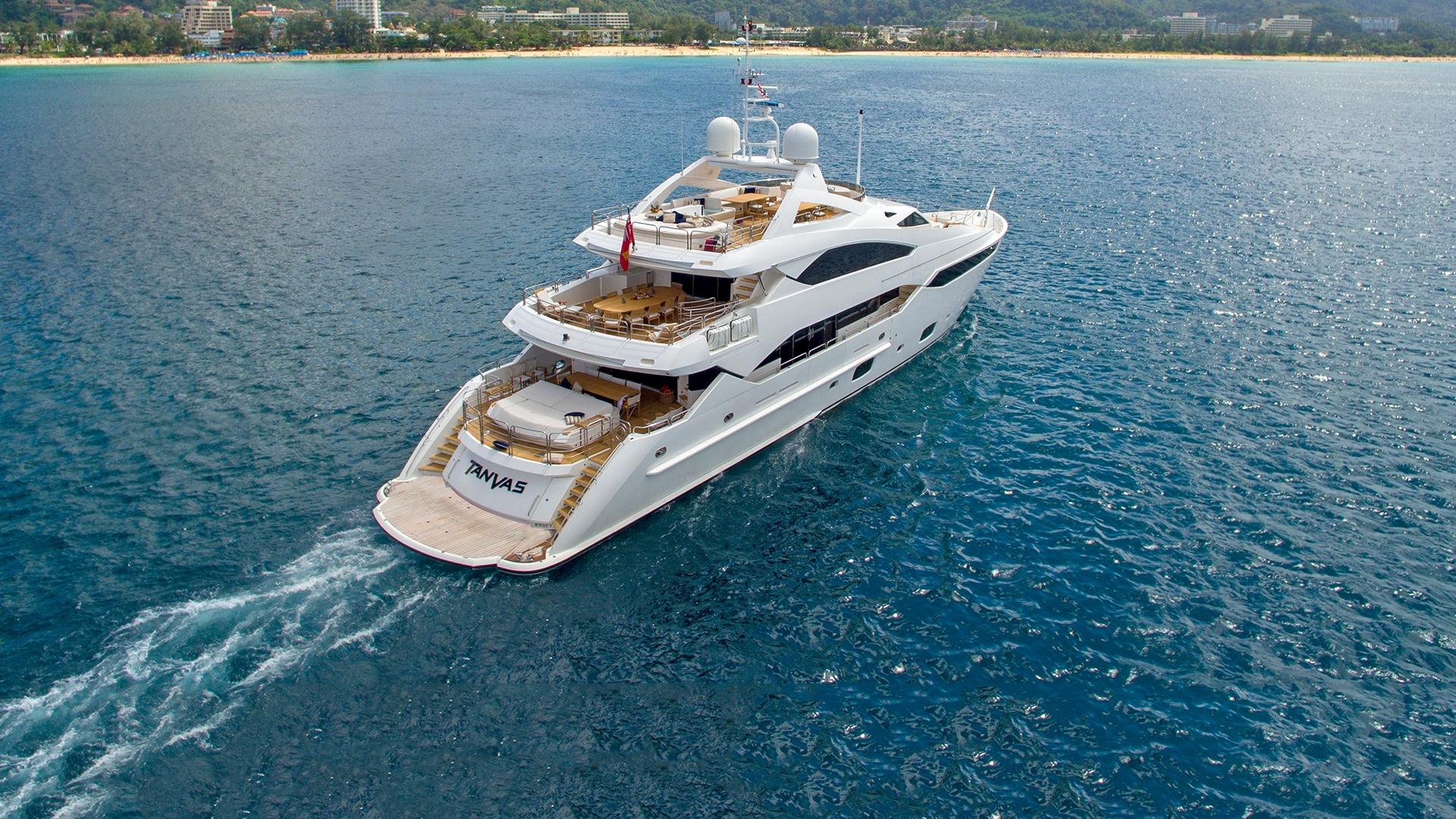 Above: TANVAS, a 131-foot Sunseeker Yacht for sale on YachtWorld, has a unique name, as seen on her transom here. Photo by Lee Marine Co. Ltd. in Thalang, Phuket Thailand.
How to Name Your Boat: A Name Must Suit Your Boat Type
Your personality, values and interests are reflected in the presentation of your craft as much as its name. The type and style of the boat you own, to some extent will dictate the type of name you Christen her by. While smaller boats might warrant a more comical name, yachts tend to have shorter, snappier names, typically one word long. Superyacht owners have a proclivity to name their yachts strong female names that represent a quality. For example, Steve Jobs named his boat 'Venus'. Although there are no hard and fast rules, bear in mind that the maritime industry is stickler for tradition.
The Best Yacht Names
Naming your boat after either important historical or personal female influencers will empower you and your guests out at sea.
Powerful Female Figures
Here are some of our favorite names sure to provide your boat with radiance and charm:
Bellatrix
Audrey
Valerie
Briana
Philomena
Valentina
Matilda
Millie
Indira
Maya
Isabella
Beatrix
Frida
Adira
Audrey
Andrea
Rainey
Valencia
Freya
Coco
Consider Names that Are Attributes
There is a reason why names like 'Odyssey', 'Liberty' and 'Serenity' remain some of the most popular. Abstract nouns provide a license for you to boldly state what essentially matters to you as the owner and pilot of the ship. Usually, boat owners opt for words relating to freedom, movement or adventure, characteristics associated with the practice of sailing itself but, really, there is so much room for interpretation here. Consider what sailing means to you and there could be an obvious candidate for a name in there somewhere.
Liberty
Destiny
Serenity
Charity
Credence
Mercy
Trinity
Prudence
Faith
Grace
Constance
Verity
Hope
Blaze
Harmony
Epiphany
Kismet
Euphoria
Concord
Affinity
Consider Your Personal Interests: Musical Names
Naming a boat is an opportunity to showcase your interests. Here are a few note-able boat names:
Allegro
Lyrical
Capella
Sonata
Tempo
Demi
Harmony
Melody
Nirvana
Imagine
Cosmology-Themed Yacht Names
Special yachts deserve names that standout. All of these names are unique and create a vision of something spectacular and special. Diane Von Furstenburg named her yacht Eos, after the family name given to a group of asteroids. Immediately you get the sense that Diane is a family woman, with close connections to her immediate family. You could also consider constellation names as an alternative to planets. Celestial bodies are updated and named regularly which makes your boat choice infinite! There are name generator website you can use – just make sure you choose a female or at least a unisex names if you want to maintain nautical tradition.
Blue Moon
Celeste
Cressida
Astra
Alpha
Hemisphere
Eclipse
Luna
Polaris
Stella
Juliet
Phoenix
Larissa
Helia
Mythological: Draw Upon Folklore
Folklore names conjure up images of magic and wisdom. Why not look through old folk stories to see if a story or name resonates with you and your children? Here are a few names to get you started:
Athena
Freya
Aphrodite
Hebe
Juno
Morgan
Leto
Macha
Avalon
Lyssa
Flora and Fauna: Be Inspired By Nature
You cannot go wrong naming a boat with a name that relates to nature. It will never go out of style. Research the meanings behind the names you are drawn to and see if their meanings resonate with you. Avoid names like Pansy!
Daphne (our favourite)
Ivy
Lily
Jasmine
Clover
Delphine
Marigold
Romy
Indigo
Peregrine
Bryony
Camellia
Florentina
Oleana
Dahlia
Make It Personal: Take a Trip Down Memory Lane
Your unique memories from your own past could be turned into an appropriate name for your boat, for example you could use the name of a sports' team or school you used to attend? Maybe a childhood pet? If you and your significant other enjoy the sailing life together, a name that pays testament to an experience you shared together may be a great way to showcase your shared passion. For example, the name of a honeymoon resort or wedding destination could be an option, or even the location of an engagement could provide unity to your sailing experience. Think outside the box1 You could also encompass cultural, regional, or navigational references. For example, if you and your partner stayed at the Da Henrietta hotel on your first trip away together, could you name her 'Henrietta'.
The Best Boat Names
Consider Familial Lineage
The wailing captains of old were known for naming their vessels after wives, mothers or daughters, sometimes choosing to combine these names, e.g. "Anna-Augusta" or the more common "Marie-Christina". 
Funny Boat Names: Have a Giggle Creating Puns
A pun or light-hearted name will amuse passers by and brighten up their day. Boating is an outlet, a release from the demands of life and a name that reflects the joy that your boat brings is something that should be embraced. A banterous name like "Aquaholic" will add a lighthearted vibe to your vessel. Think tongue-in-cheek tone, subversive, and rhyming. Oh, and don't worry about cheesiness –  in the marina dad jokes are fertile ground. 
1. I Have Big Boaty
2. Working From A Helm 
3. Money Pit 
5. Seas the Day
7.  Beach Buoys
8. Nauti Buoy
9. Hunky Dory 
10. The Cod Father
11. Usain Boat
12. Marlin Monroe
13. Pier Pressure
14. Knot So Fast 
15. Smurfs Up
16. Aquaholic
17. Buoyoncé
18. Vitamin Sea
19. Aboat Time
Our final name on our list (101!) is the icily supercool supervillain Cruella de Vil. 
Boat Name Generator
Lastly, if you are still struggling for inspiration you can find a boat generator online that will generate 10 random names for you. If you own a yacht and want an equally luxurious name, you might not find the right name on a boat generator website, and vice-versa. For names that you associate with relaxation, enjoyment, peace, and poetic sounding names, then you should use a yacht generator. 
Happy naming! 
Related

Flying Fox Superyacht: A Celebrity Yacht Steeped In Mystery
Find out how much the Flying Fox superyacht costs, and whether Jeff Bezos is the owner of the luxurious...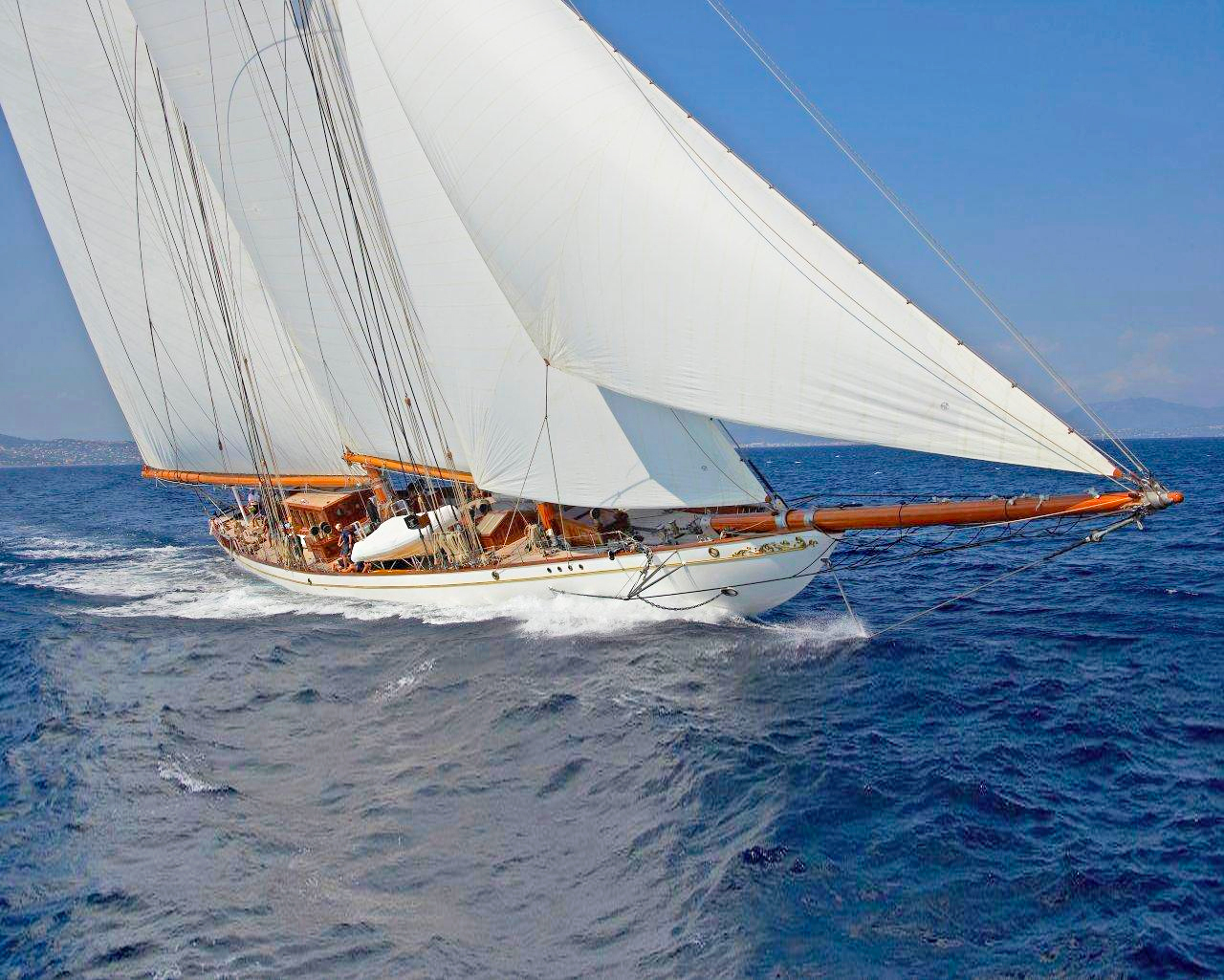 Buying A Sailboat Online: Virtual Shopping Tips
Experienced sailboat owner and captain Heather Francis provides valuable insights for buyers.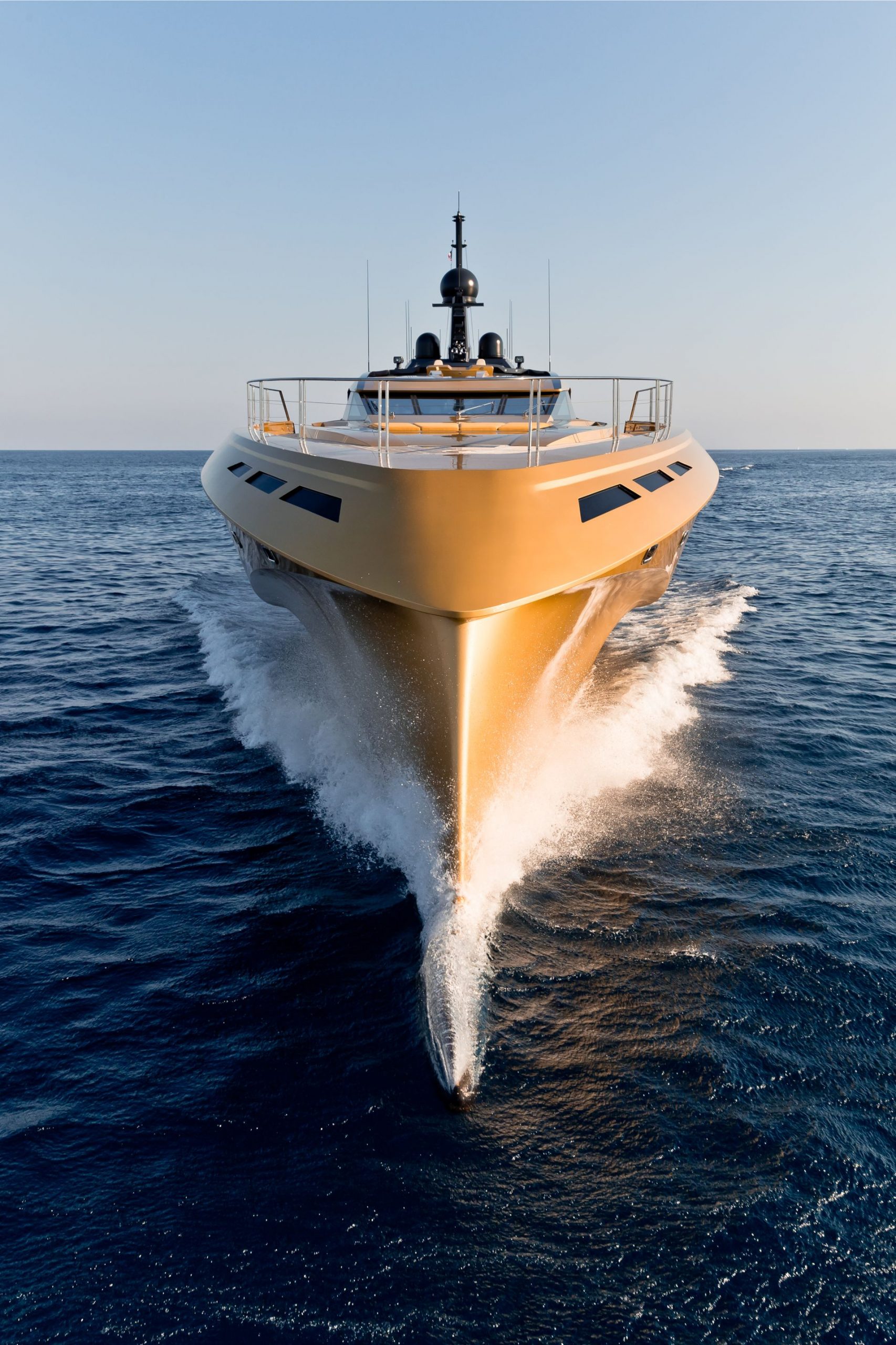 Silver And Gold Superyachts
Emma Coady takes a look at two stunning superyachts that will leave you drooling.