Many people dream of sailing off into the beautiful blue horizon, but only a small percentage of people dare to make that dream become a reality. Some people don't know where to start, others find themselves overwhelmed by amount of work it takes to keep the dream alive. But ask those who persevere and they will mostly likely tell you that they wouldn't trade the long hours and difficult times for anything. Such is the satisfaction that is found living and traveling by sailboat.
In 2008 my partner and I joined the ranks of sailors who call any port they are anchored in "home." Since then we have lived onboard fulltime and sailed half way across the world. When we set out it was not our intention to make the yachting lifestyle a permanent way of life. However, as we have all learned over the past two years, it is difficult to predict what is awaiting you over the horizon. Which is why I encourage everyone to jump onboard their own sailing dreams.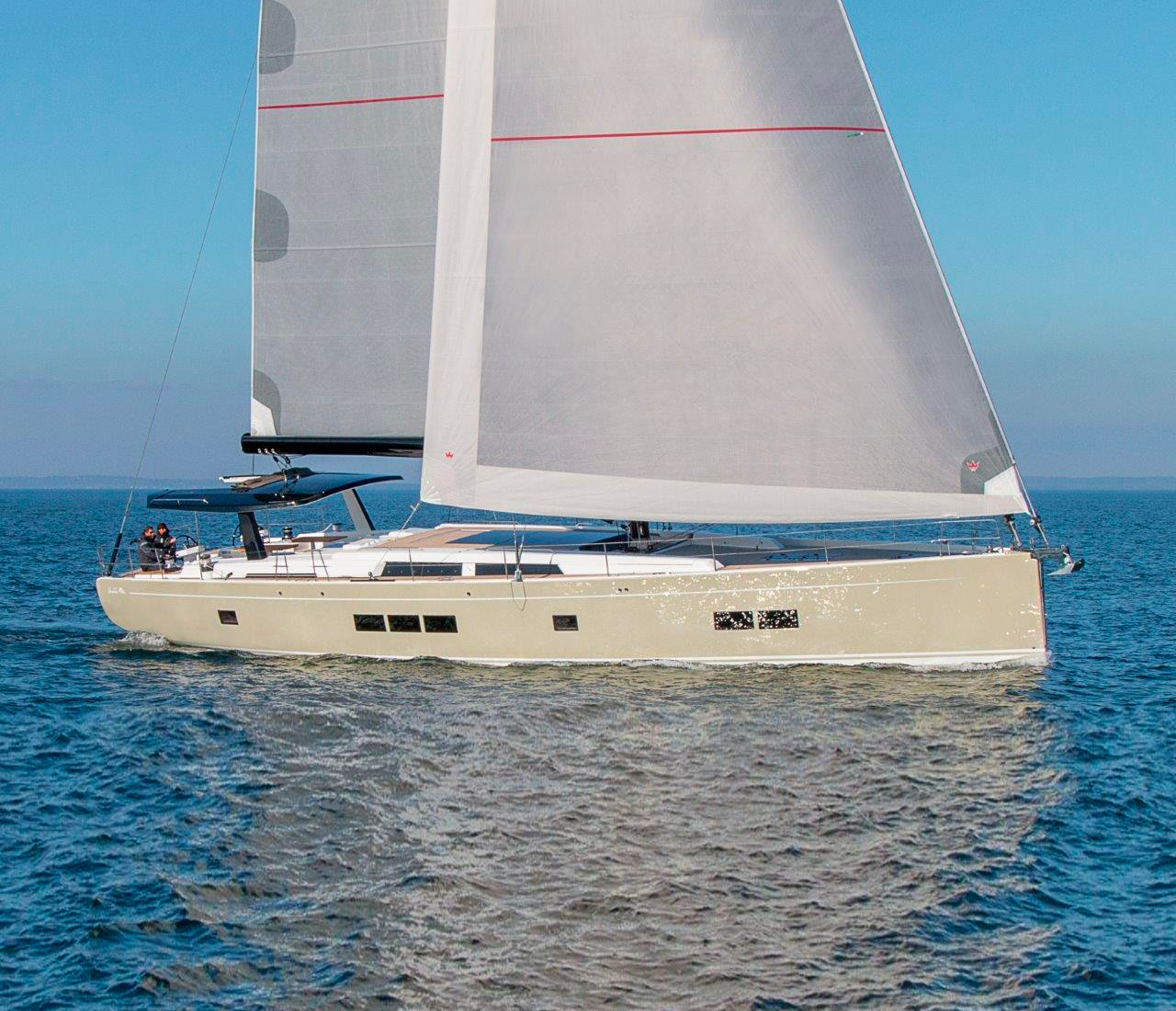 Above: A 69-foot bluewater sailing vessel, this 2016 Hanse 675 sailboat for sale on YachtWorld has sleek lines and a unique carbon fiber T-Top. Photo via: TRIO Deniz in Istanbul, Turkey.
Learning To Sail: A Good Place to Start
Before you start planning which tropical island you'll stopping at, it is probably best to get some sailing experience under your belt. Good news is that you don't have to even own a boat to get started. Taking a beginner sailing course with an accredited instructor is a great way to familiarize yourself with sailing terminology and basic techniques.
These courses are taught in small sailing dinghies, but don't let the size of the vessel fool you. Smaller sailboats require more attention to weight distribution and proper sail trim to avoid being over powered. Every sailor should be able to control and enjoy a basic sailing dinghy before stepping behind the helm of a cruising sailboat. If you already have sailing knowledge but want more experience you can log some hours by offering to crew during a friendly around-the-cans race at your local yacht club.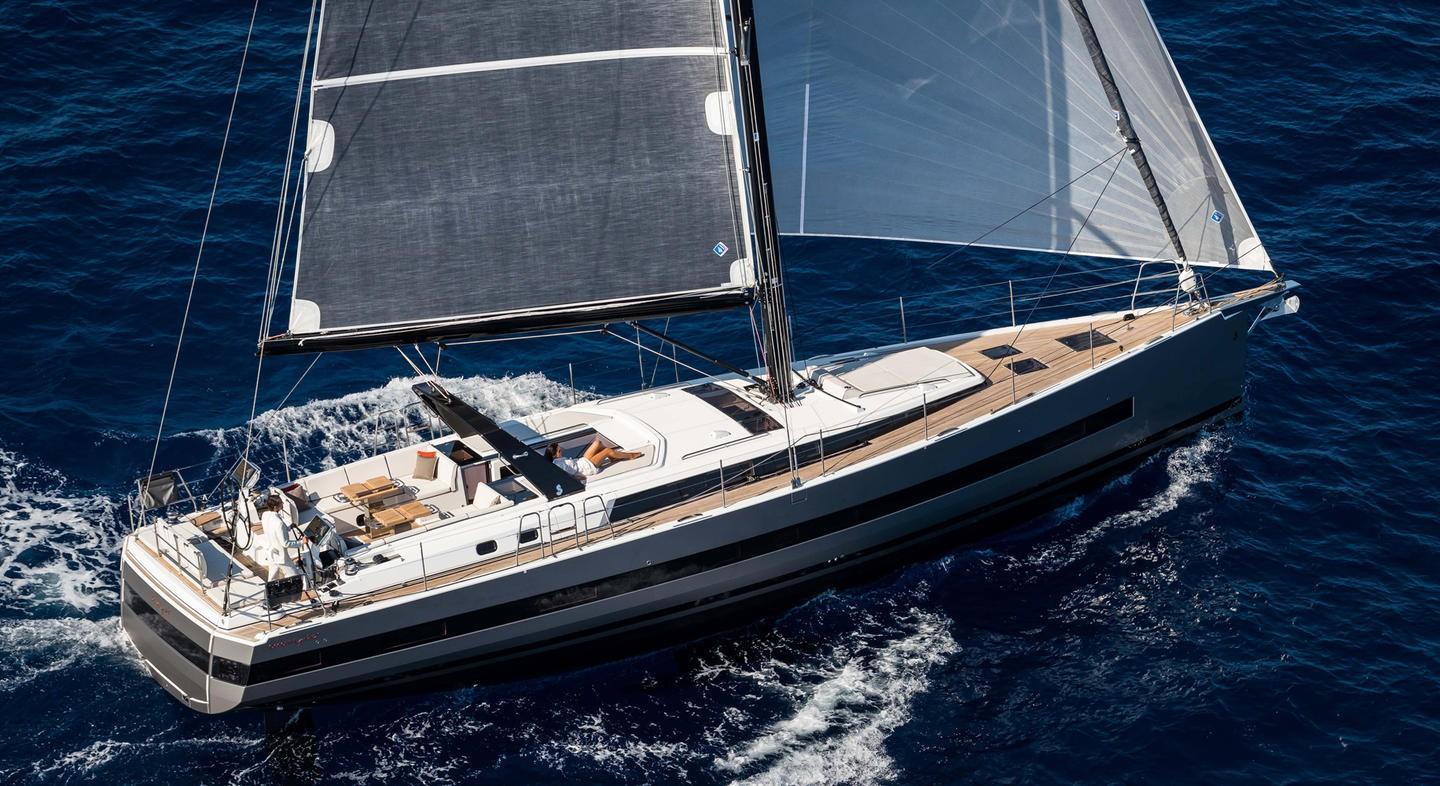 Above: A beautiful example of a bluewater cruising sailboat, this 2022 Beneteau Oceanis Yacht 62 for sale on YachtWorld exemplifies the lifestyle in a modern package. Photo via Yacht-Match International in Rosmalen, Netherlands. 
From there you can work your way up to day trips and even over night passages as volunteer crew. There is usually a bulletin board at the marina office where skippers can post "Crew Wanted" ads, or ask around on the docks, the sailing community is usually welcoming and friendly. To read more about the basics of sailing, the lingo and the rules of the road, check out my article How To Sail A Boat: Learning the Ropes.
Crewing On A Sailboat To Gain Experience
Crewing on a variety of boats will also help you narrow down what kind of boat is right for you. Touring boats that are tied up alongside is a bit like going on a first date, everything is neat, tidy and polite to navigate. Experiencing how a boat feels, sounds and handles underway is an opportunity for you to measure your expectations against reality. You can better decide what are necessities and what are the pure, and sometime rather useless, luxuries.
The Best Bluewater Cruising Sailboats
So, now what kind of boat are you going to sail away in? I wish I could give you a short list of "the best blue water cruising boats," unfortunately it isn't that simple. There are some great options for blue water sailing vessels on the market on YachtWorld, but the best one for you will depend on your needs and lifestyle. For decades, if you were planning on going blue water cruising it was recommended that you sail center cockpit, ketch rigged boat, with a full keel and a skegged rudder. Probably in the 35-45-foot range. These vessels were considered roomier, safer and easier to handle.
While this style of vessel is still popular, advances in build techniques and navigation technologies has resulted in the definition of a safe and comfortable "blue water cruiser" being vastly redefined. Look at any anchorage popular with cruising sailors today and you'll find a variety of designs, rigs, sizes and styles. This is reflective of those technological advancements and innovations by the best sailboat builders in the world.
For our blue water trips, we sail a 1973 Newport 41, which is classified as a racer cruiser. She is sloop rig, has a fin keel and an unskegged rudder. Her cabin is simple, the amenities modest and there is only one cabin. I am sure to many our boat would be considered too small or too basic, but she suits us perfectly. More importantly, she is strong, well designed and an excellent sailor.
Where you plan to sail, how many crew you carry, how much luxury you need to be comfortable, how DIY you are and your budget will all help determine which boat is best for you. For a more in depth look at the pros and cons of different boats check out my article Sailboat Buying Guide: Choosing the Right Sailboat.
Sailing Destinations & Navigation: Where To Go, How To Get There
One of the best things about traveling by boat is how many incredible destinations you can reach. Whether you want to marina hope in the busy Mediterranean, winter over in the sub-arctic or frolic in a secluded tropical paradise you can reach your dream destination, no airports required.
There are, of course, preferred times of the year and time-honored routes to sail that take advantage of favorable weather patterns and sea conditions. These "cruising routes" are followed by rallies such as the World ARC, which departs from Gran Canaria to cross the Atlantic, the Pacific Puddle Jump, which recommends leaving west coast Mexico or Panama around February/March when heading toward French Polynesia, and the Down Under Rally, which does a yearly migration to and from Australia and Fiji/New Caledonia.
Of course, you don't have to be part of a rally to follow these sail routes, nor do you have to leave when they recommend. As we have found over the past decade, global weather patterns are less predictable, and it is always best to sail when the forecast looks favorable not when a book or website recommends you depart.
Travel Visas & Legal Considerations
As everyone who has travel knows, there are always formalities to adhere to and paperwork to complete, and sailing is no exception. Keeping up-to-date with the constantly fluctuation travel guides can be confusing, but there are resources that many sailors depend on to stay current. Besides the usual recommendation of consulting official government websites, a website that has proven itself trust worth over the years is Noonsite, which bills itself as the "Ultimate Cruisers Planning Tool". This moderated cruiser forum has information about clearance procedures and VISA requirements, as well as anchorage recommendations, navigational hazards not on charts, safety concerns and other firsthand accounts from sailors around the world. As it is constantly being added to by real sailors around the world, it is an invaluable resource. (In addition to scouring our YachtWorld editorial articles, of course.)
Another resource that sailors depend on are "Cruising Guides". Once paper books these guides are now increasingly being released as interactive digital media. They typically outline favorite anchorages and routes, providing a hand-drawn "mud map" or a chart of the area and GPS coordinates and tips for safe navigation into the harbor. Also included are comments about what can be found ashore, fun activities in the area, water sources and probably a story or two from the authors personal sailing adventures.
In areas like Panama information about canal traffic and etiquette was useful, and while sailing the remote Tuamotu atoll of French Polynesia we found the tips for navigating the narrow, tidal reef entrances to lagoons especially comforting. Many of the good paper cruising guides are now out of print, so check the used book section. Swapping information and guides amongst sailors is also common, so ask around.
Weather Forecasting And Safety
Having a sea worthy boat, knowing where you want to go and familiarizing yourself with the route to get there is important, but perhaps the most discussed and debated topic amongst sailors is the weather. Ironically it is variable in sailing that we all have least control over. Besides learning how to sail, having a solid understanding of weather patterns and forecasting is key to ensuring time on the water is both safe and enjoyable.
It is true that weather forecasting has become more sophisticated and, theoretically, more reliable over the past decade. And yes, there is an app for that, in fact there are several and their predictions don't always match up. This is particularly true for open ocean forecasting where data collection buoys and satellite information are scarce. That's why it is important for sailors to understand and interpret the data that the forecasting models come up.
Although I have been sailing for decades I am always keen to improve my skills, which is why last year I took an in-depth online weather course with Marine Weather University.
Above: An app and mobile device with the Furuno 1st Watch radar. Onboard radar systems are essential for offshore boating and deep bluewater cruising as they act as a major navigation aid for yachters helping them to detect weather systems, land masses, other boats and wildlife such as whales and birds. Photo via Furuno.
This new learning platform is a collaboration between two-time America's Cup winner, Peter Isler, and Chris Bedford, a highly respected and trusted meteorologist with more than 35 years of experience and expertise in marine weather. Starting with the fundamentals of cloud formations and working up to the complexities of forecasting models and Weather Routing software, this course covers everything a sailor needs to know about how weather forms and how we try to predict what it will do.
Provisioning and Preparing for Departure
Provisioning well is important but it is not just about buying food. Provisioning is about making sure that you stock enough supplies to sustain you and your vessel no matter where the weather takes you. Sailing destinations are often seasonal and while having several visiting yachts in the harbour may boost the local economy it can also put a great strain on local supplies. Being well provisioned is also being considerate to the islands and villages that you decide to visit.
Stocking things that are versatile is important but that doesn't mean they have to be boring. A simple can of beans can not only make an appearance at dinner but be turned into a delicious dip for cocktail hour. Buying a few speciality items is an easy way to spice up your mealtime. Smoked mussels and tins of octopus or squid are perfect for lunch time picnics on the beach. And a bottle of chillies, a special jar of chutney or a can of olives can do a lot to brighten up a boring dish and boost morale.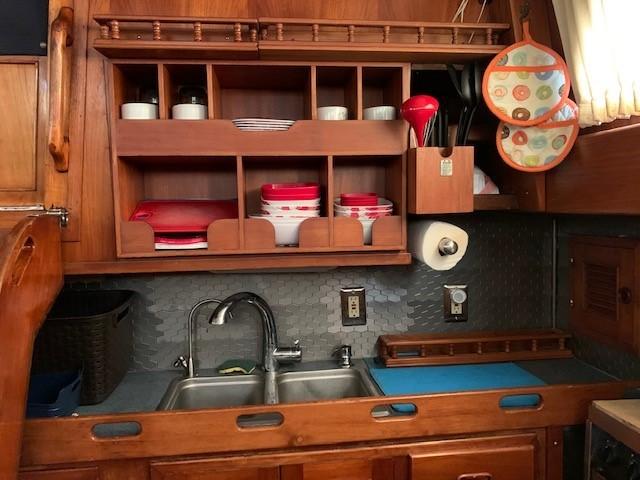 Above: Galley and cupboards onboard a 1982 Transpacific Marine Transpac 49 Cruiser sailboat for sale on YachtWorld. Photo via private seller.
When we hear the word provisioning we automatically think of food stuffs, but there are a host of other consumables that must be considered. Water is very important. Know your tankage and your replenishment methods – rain collection, water maker, trips ashore. Before leaving on an extended trip pay attention to your weekly water consumption, this will determine if you need to stock extra water on board for the trip. I recommend having at least some bottled water for emergencies.
Fresh Water Capacity: Consider A Watermaker
A common consideration for blue water cruisers is an onboard watermaker – or desalination filter. These machines take the sea water and de-salinate it (meaning they remove the salt from the ocean water) in order to make it potable for onboard passengers. Obviously this increases your range, without the need for stopping in marinas to refill your fresh water tanks. Companies like BlueWater Desalination, Sea Recovery, Village Marine and Spectra Watermakers all make great lines of watermaker products for long range sailors to equip the boats with. Check out our Guide To The Best Watermakers For Boats article to learn more about de-salination and onboard water filtration systems.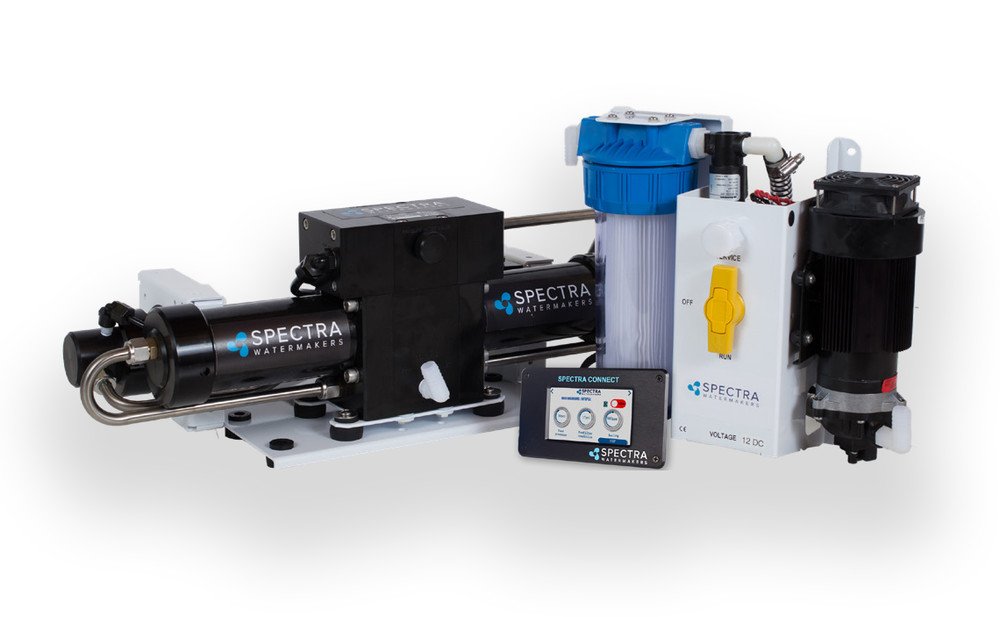 A few other items to think about are; laundry soap, dish soap, cleaning supplies, batteries, stationary supplies, toothpaste and toothbrushes, toilet paper, deodorant, body wash, soap, shampoo and conditioner, razors, diapers, feminine hygiene items, condoms, sunscreen and moisturizer. Remember, everything you put down the drain ends up in the ocean, so spend the extra cash and buy low impact, natural products that are easier on the environment when available.
First Aid And Basic Onboard Safety Gear
Before setting sail on a long passage it is also a good idea to go through the onboard medical kit, checking expiry dates of supplies and medications, and purchase any specialty items that might be needed for your next destination i.e. Malaria pills.
Boat Maintenance And Parts
It is also important to make sure you carry spares and consumables for all your working equipment. Think an extra sparkplug for the outboard, oil filters for the main engine, seals and gaskets for the toilet system, a few containers of sealant used onboard, a selection of stainless screws, nuts and bolts, spare impellers. Not to mention a basic set of tools that will allow you to make needed repairs.
Provisioning can after feel like preparing for the zombie apocalypse, but instead of getting overwhelmed as you prepare to depart just remember one thing. Making sure that your boat is well stocked means you can spend your time worrying about which pristine anchorage to stop at, not if you have enough supplies to stay another week in paradise.
Frequently Asked Questions
What does blue water mean in sailing?
Blue water in sailing means deep water, and bluewater cruising is a type of ocean cruising and yachting. Sailors who embark on long-range, oceangoing travel are often referred to as bluewater cruisers, and their vessels as bluewater sailing vessels, or bluewater cruisers. "Heading over the horizon" is a common phrase in the sailing world when discussing bluewater routes, which means that the sailors intend to stay at sea for an extended period of time, perhaps indefinitely. https://www.yachtworld.com/boats-for-sale/type-sail/make-sabre/
What Are The Most Affordable Bluewater Sailboats?
While not cheaply made, there are many relatively affordable blue water sailing vessels to meet a variety of budgets that various boat owners and long range sailors may have. Cape Dorys is one great example of a boat builder that crafts affordable "bluewater cruising" sailboats that are inexpensive compared to pricier yachts, but will be safe and reliable out on the open water. Other names in this class are Sabre, Tartan, Morris and Jeanneau, just to name a few. The Sabre 42 sailboat is a great centerboard sloop that is bluewater-worthy but can access shallower waters. Plus she combines practical amenities with excellent seaworthiness and sailing features. Jeanneau's new 2022 Sun Odyssey 380 sail boat is a bluewater cruising capable vessel with a base price of $237,000 that is on a short list candidate for couples and families looking to escape onto the water for day sails or extended coastal cruising.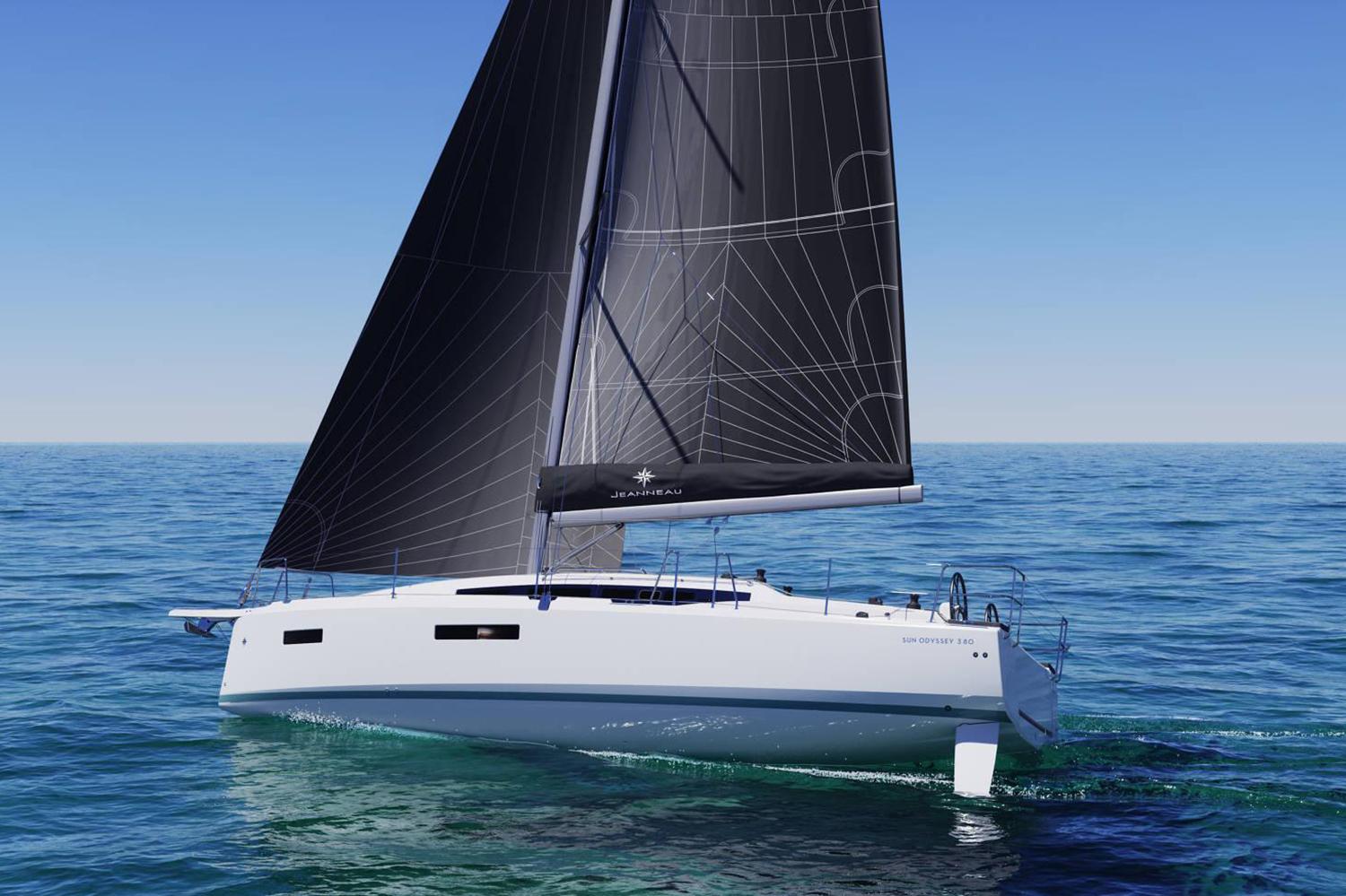 Above: A 2022 Jeanneau Sun Odyssey 380 Sailboat. Photo by Jeanneau.
What Are The Best Bluewater Sailing Boats?
Generally, a blue water sailboat should be a minimum of 30-35 feet in length to be able to safely traverse common wave lengths in the open ocean (i.e. the length of one wave crest to the next), self-righting (or extremely sea-worthy like a large catamaran) and feature a protected and enclosed helm and accommodations below. In terms of ocean crossing, the longer the length of the sailboat, the safer the vessel will be, overall. While many experienced sailors have crossed oceans in sailboats smaller than 30 feet, such vessels are not advisable for average recreational cruising sailors. Blue water sailboats in the range of 50-70 feet offer some of the best on-the-water living accommodations and seakeeping ability. These types of boats also tend to have a deeper draft than other types, commonly exceeding 6-10 feet with their deep keels. They should also be equipped with all the latest navigation and safety equipment. Some of the leading blue water sail boat builders in the world include Oyster Yachts, Jeanneau, Hylas, Fountaine Pajot, Lagoon, and Beneteau to name a few.
Related