There are watches that make great choices for yachters, and then there are the best watches that are designed specifically for yachters, offering both a useful tool and a status symbol that lets everyone know just how serious you are about your yachting. Whether you're shopping for yourself or a gift, this guide will help you find the best watches and learn exactly what to look for when you're shopping.
Sailing is a hobby that requires precision, which means a quality watch is a must. Even recreational yachters can benefit from investing in watches that are designed for use on the water. There are so many different brands and styles available, and prices range from basic affordable watches to luxury models priced at hundreds of thousands of dollars. By getting to know what's out there, what's popular, and how to find the best models, you'll be ready to pick the perfect watch in no time at all.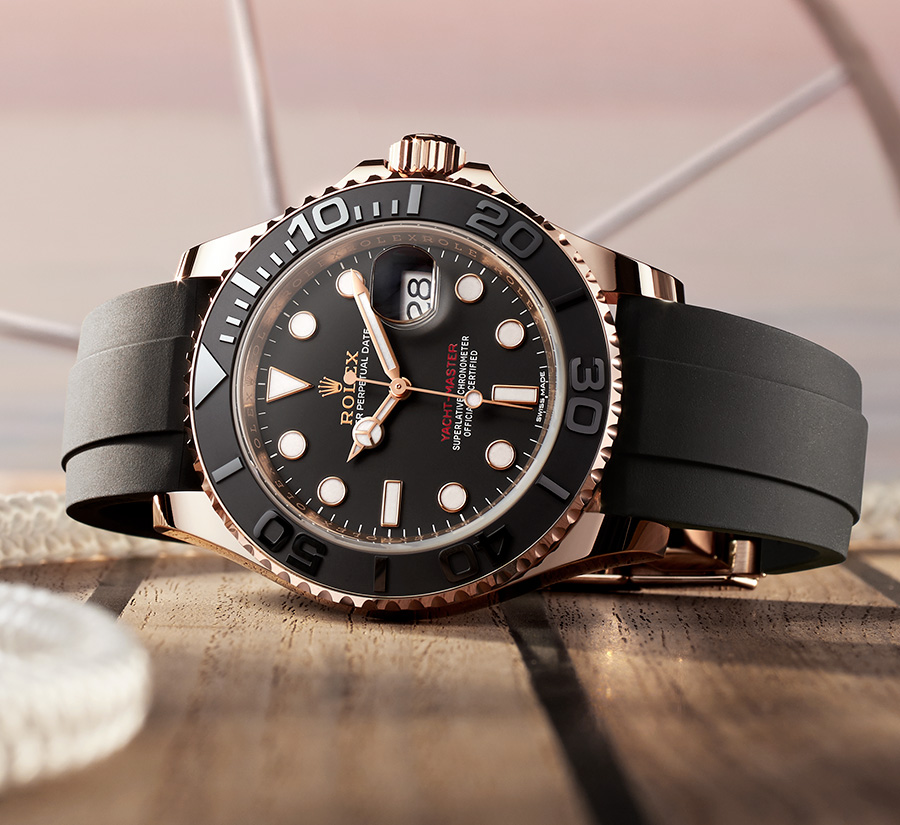 Rolex Yacht-Master Watch. Photo: Rolex.
Does Brand Matter?
Although there are some brands in the watchmaking industry that are more known for sports and yachting watches than others, you will quickly see that there are literally dozens of different brands to choose from. Some are more well-known or reputable than others, while some just offer a more affordable collection that high-end or designer brands. Companies like Timex, Garmin, Tissot, Rolex, and a number of other leaders in watch design have collections and styles available for yachters and boaters of all kinds.
When it comes to brand, the biggest consideration is whether they are known for making quality products. As long as the watch has the features that you want, there isn't really one specific brand that has the corner on the market for yachting watches.
What About Smartwatches?
Smartwatches are great little pieces of technology, and they can be super useful in a lot of situations. They are great for fitness trackers and personal health monitoring, and even make scheduling and managing life easier for a lot of people. Unfortunately, when you're out on the water, you're not always going to be in the range of cell towers or WiFi signals. Therefore, unless the watch runs off of a satellite signal, it might render itself useless more often than not.
If you really want to tweak your tech, look for dash devices and satellite gadgets that you can implement on your boat. Keep your watch basic, and let it be a symbol of style as much as it is a tool on the water. As technology continues to develop, this may change in the future. However, as it stands, the majority of the best watches for yachters are standard analog watches with chronographs, timers, moon phases, waterproof and water-resistant finishes, and other features.
Sailing Watches for the Races
Now, if you're out on the water headed for the next regatta, you may need a watch that's a little more dutiful and a little less good-looking. Sport watches that include timers and sync features that allow you to track your time and get started on the right foot in the race. These watches include water resistance, pre-programmed features, and even the chance to time the entire race from start to finish.
Of course, for yachters that also swim, the bonus here is that sailing watches can also be used for swimming and snorkeling because they are water-resistant and designed for sport use on the water.
Here are some of the most popular models of sailing sport watches:
Timex Intelligent Quartz Yacht Racer
Allows you to track the entire race from start to finish, includes Indiglo for easy reading in all conditions.
Optimum Time Series 12 Sailing Watch
Budget-friendly, feature-rich digital sailing watch.
Tissot Men's Sailing Touch Watch
Stylish watch with countdown function as well as a barometer, compass, and tide notifications.
Garmin Quatix 5
From a leader in smartly designed sport watches, this model includes a marine GPS and heart rate monitor, along with features for other sports besides boating. Garmin SailAssist is also included.
Suunto Ambit 3
More affordable than the Garmin collection, but offers similar multi-sport features and customization options. This model is also digital, which is helpful for sailing and other water sports.
Best Watches for Yachters: The Master List
Aside from the specific sailing watches discussed above, there are a number of other watches and timepieces on the market that have been designed for boating, yachting, and other water sports and activities. The list below is in no particular order but contains some of the most popular and bestselling watches designed for yachters.
Suunto Core ALU Deep Black
This basic marine watch is upgraded from the standard model to include an aluminum case, and it is full of useful features, including a barometer, compass with digital bearings and semi-automatic calibrations, storm alarm, digital thermometer, and weather trend information. The watch also features a depth meter, countdown timer, and sunrise and sunset times for over 400 locations around the world. For the high-tech yachter who wants all the bells and whistles, this watch delivers. It's anything but simple and offers a sturdy rubber band for maximum comfort.
Citizen Royal Marines Commando
This action watch from Citizen is designed to deliver, featuring a Kevlar strap and big, easy-to-read digits. The watch includes 2.5mm thick glass and ion-plated titanium casing, along with an alarm, date functions, and water resistance. This is a more basic model but it comes from the Citizen Eco-Drive collection and offers its own presentation case that includes the Royal Navy Ensign.
Swiss Army Dive Master 500
This watch is finished in ion-plated stainless steel, featuring sapphire crystal glass, Swiss Quartz movements, and a magnified date with easy-to-read hands and markets. The anti-reflective coating ensures that the time is always in view and there is a rubber strap for comfort, convenience, and durability on the water. This watch includes a three-year guarantee, along with glow-in-the-dark markers for easy night viewing, as well.
Rolex Oyster Perpetual Yacht-Master
This is one of the most popular luxury watches on the market today. This brand has the unique benefit of offering a mechanical memory, and this watch is a self-winding chronograph that includes more than 360 parts. The Oystershell exterior is ideal in harsh environments, and the watch features scratch resistance and is waterproof up to 100 meters. There is also a 72-hour power reserve. When choosing this and other Rolex models, just be sure to choose new or 100% Certified Authentic pre-owned models.
Omega Seamaster Planet Ocean
The Planet Ocean model from Omega is all about action. This steel case watch includes a rubber strap for the best durability and reliability. The rugged design includes a date window, scratch-resistant sapphire crystal cover, and water resistance up to 600 meters. The watch also offers anti-reflective treatment on the glass and the transparent back offers a unique glimpse at the interior design. There is even a helium escape valve built into the watch.
Casio Sports Tide and Moon Graph
It might not be the flashiest watch on the market, but this model from Casio has the reputation of one of the best digital watch brands behind it. This sports watch includes tide and moon cycles and graphs, water resistance, dual time, and a stopwatch and countdown timer for racing. There are five alarms and a light, as well. the watch is made from durable materials and includes a sturdy rubber band for comfortable wear. For those looking for something more basic and budget-friendly, this watch delivers.
HYT H1 Titanium
This watch debuted in 2012, offering a unique combination of liquid and mechanical engineering that displays time with hydraulically pressurized fluid that runs around the outer rim. This watch is waterproof and durable, and pushes the edges of sailing watch engineering, making it a popular choice for those who want the ultimate in luxury. This high-end design includes functional exposed gears and a stylish finish, with a sturdy band that will withstand all of the elements. This model may not be ideal for heavy-duty work on the water, but for super yachters who want to show off, it's the perfect fit.
Victorinox INOX Professional Diver
This Swiss watch is ISO-6425 certified as a diving watch, featuring four colors and Swiss mechanical design that will withstand the test of time. The watch also has refined details and design elements, making it a classic choice for the modern sailor. The count-up scale and easy-to-read display are great for sailing and diving, and it even looks great just being worn for fashion.
The Ocean Chronograph from Harry Winston
Those looking for a designer watch with a timeless design will love the Ocean Chronograph model, which includes a Zalium case and sporty rubber strap. This sport alternative to the Ocean collection is ideal for water sports or just showing off, and it comes with the choice of different cases to fit any tastes. This watch is water-resistant to 200 meters and will definitely get noticed. It's an older model, but there's something to be said for a timeless classic.
Slim d'Hermes Perpetual Calendar
Another luxury model, this watch features a leather strap and rose gold-plated case with a mother-of-pearl moon phase indicator and multiple date indicators. This simplistic watch includes a timer and easy-to-read numerals. While it isn't as sporty as some models, it offers a luxury design for the recreational yachter that is sure to impress just about everyone.
Bulova Lobster Collection
For someone who loves a vintage design, this watch offers everything that you want. There is a metal mesh strap, a metallic dial in a sleek retro blue finish, and the classic look that you have come to expect from Bulova. The watch also includes 100m water resistance and a date function. It is a great addition to any collection for those who want something more upscale or less sporty when it comes to yachting watches.
Watch Buying Tips: Think Function
Choose glare-free coated glass and a large, easy-to-read display with digits so that you're able to use the watch in all conditions.
Look for watches with straps long enough that will allow the watch to fit over clothing and accommodate for the larger case that marine watches are known for.
Digital watches are available with compasses, barometers, and tidal data in all price ranges, so don't feel the need to spend too much to get what you want.
Water-resistance is a great added feature, but watertight is also important. Make sure watches are designed for use on the water specifically.
New smartwatches are available for boaters and yachters, but some of them have more features than the average person needs, so be sure that you're looking at what you're getting for the money when deciding.
You don't have to choose between style and function. Many of the most popular watch brands, including Rolex, Casio, and Timex, offer a variety of styles of sailing and yachting watches for all price ranges and needs.
Sailing and yachting watches are available in every style and price range, from basic sports watches to high-end luxury yachting watches like the famous Rolex Yacht Master collection. As long as you take the time to think about what you want, it should be easy for you to get everything on this list or your own checklist of requirements.
Conclusion
If you are searching for the best of the best when it comes to timepieces for boaters, this guide should help you find everything that you need. There are styles available for all types of people and the diverse range of functions and features makes it easy to find the perfect fit. Whether you're shopping for yourself or as a gift for the boater in your life, any of the watches on this list is sure to deliver.
Make sure that you compare stylish to sporty and look through all of the new and previous models of yachting watches out there to see what you like best. With the selection on the market today, there is truly something for everyone and any of the watches discussed here are sure to deliver.
Related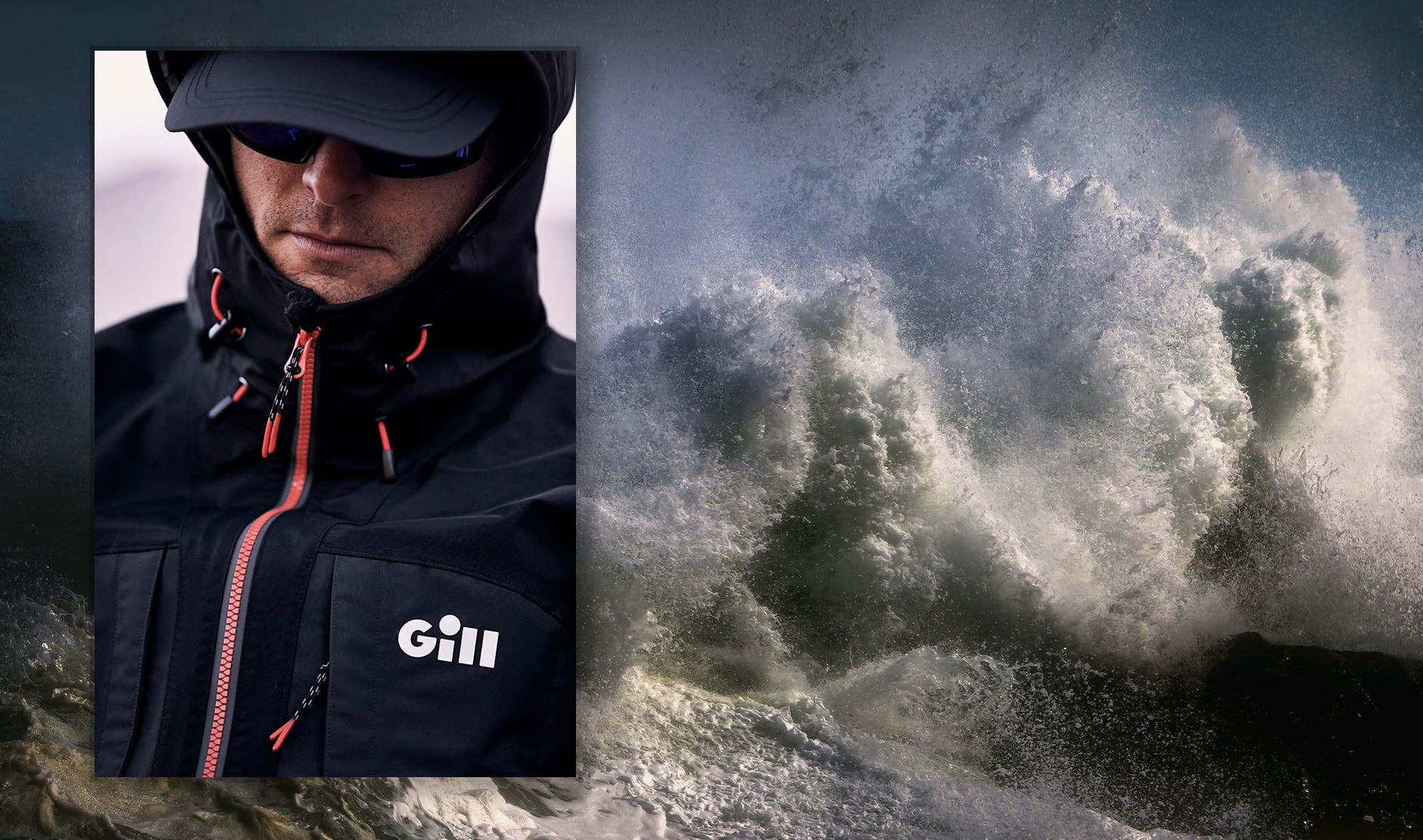 Best Waterproof Fishing Jackets
A roundup of some of the best fishing jackets for winter yachting days.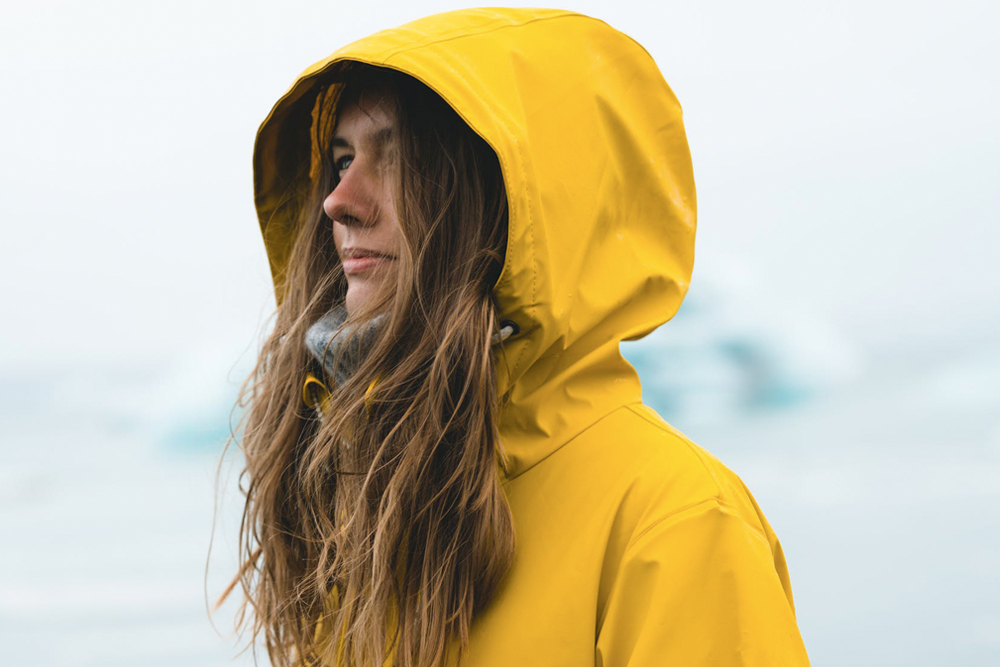 Winter Boating Fashions. Photo: Matt Hardy.
Gill Hydrophobe Down Jacket
The latest
Gill Hydrophobe Down Jacket
has had a modern update, now with a removable inner layer with 650 fill power down that has an incredible warmth to weight ratio. The natural insulation traps air effectively and the outer layer is of course water-repellent and windproof. You'll be surprised at how comfortable you'll feel in this jacket as it keeps you cozy during those winter sails. We like the navy with orange accents and lining, as well as the fact that this jacket is not only chic and lightweight, but also extremely functional.
Tory Burch Sweater
Take a break from your standard sailor stripes with this playful
Tory Burch Merino Linked-Dots Sweater
. The oversized chunky ribbed style keeps you snug, with convenient bracelet sleeves for when you need to handle those dock lines etc. Throw on the
Performance Satin Down Jacket
in Conifer for those cool nights on your liveaboard, perfect for braving the elements in the highest quality duck down, both water-repellent and wind-resistant. The best part about this jacket? The matching
Quilted Nylon Boots
to keep your feet as warm as your heart (or your Irish coffee) on your yearly migration down the intercoastal.
Cabela Gore-Tex Parka
Whoever said you can't look great while cold weather fishing obviously hasn't seen
Cabela's Gore-Tex Guidewear Xtreme Parka
in royal blue. You'll barely notice those wind-driven, icy conditions in this 200-denier super-durable reinforced water-repellent fabric engineered with GORE-TEX to keep you warm and dry. Both the parka and matching bib not only look fierce, but are extremely practical with all the bells and whistles the skilled fisherman might need. Things like articulated sleeves, multiple gear pockets, fleece lined hand warmer pockets, and a retractable tool attachment will prove incredibly useful during your winter fishing season.
Helly Hansen Race Jacket
The
Aegir Race Jacket
in Alert Red from Helly Hansen makes a giant splash of a fashion statement while being one of the best off-shore sailing pieces in its class. It offers full protection from punishing surf and wind, while paired with a light design for free movement and a contoured tailored fit, so you'll still be able to show off your figure in those eight foot waves. The latest HELLY TECH 3 ply fabric technology with composite membrane lamination keeps you as dry as if the sun was out and the water was like glass. We also love
Helly's HP Racing Jacket
in White, such a classic it never goes out of style. Super versatile and functional, it's perfect for a woman living the true marine lifestyle in all seasons.
Hats and Headwear For Yachting and Boating
Nothing says winter on a boat quite like anything cable knit, and the new colors available in the
Gill Cable Knit Beanie
give it a fresh modern look. While we love it in Ocean or Ochre, it comes in a few classic colors as well. This cozy beanie also has an internal thermal headband that retains heat, and an anti-pill thermal fleece lining to ensure your head stays warm under all sorts of conditions. Wear it underneath the
Gill Waterproof Hat
for those chilly sailing days. The peaked hat, with ear flaps and a removable chin strap has a thermal lining for cold days and a double layer of laminated fabrics to protect against water and wind. It also boasts those much needed drawcords for protection on those really stormy days.
Trendy Yacht-Fashion Blazer
We love this
trendy Bask blazer
for cooler nights on the water down in the Carribean. It will not only keep you warm, but it's rich quick dry terry cloth material is literally the perfect back up towel after an impromptu night swim, or perhaps, if you're lucky, after a dip in your onboard jacuzzi? It's something you could also easily wear for a dinner on land when you pull into the marina at sunset. Pair it with some great slacks and a blouse and you'll be restaurant ready in no time.
Stella McCartney Hunter Boots
To keep your feet toasty and dry, these limited edition
Stella McCartney x Hunter Boots
will do just the trick. With a new sculptured sole, they are the ultimate in comfort and traction for those slippery decks. There's an inner sock lining that hugs the ankle to keep those splashing cold waves where they belong. The boots are also proudly made from sustainable rubber, sourced from Guatemala and are certified vegan, so you can feel great about this purchase from a humanitarian standpoint as well.
Free People Sweater
Even if you're sailing south for the winter, it's nice to have something versatile and snuggly to slip into as the sun sets and that evening breeze picks up on the water. Nothing says "I'm ready for my sunset glass of wine now" like the new
Free People Cocoa Sweater
in Ivory. This oversized chunky knit features contrasting techniques meant to create pieced dimension in a slouch silhouette. It's a cotton blend, so not too heavy for your warmer winter destinations, and also long enough to wear as a dress for casual card games by the fire.
Orvis Fingerless, Water-Resistant Gloves
For harsher conditions, these
Soft Shell Convertible Fingerless Foldover Gloves
from Orvis are a winter boater's best friend. They are both windproof and highly water resistant, and the inside of the gloves are lined with a polyester fleece meant to keep moisture away from your hands while protecting you from the cold. We like them in black and gray, giving them a sophisticated sporty look while maintaining extreme functionality. Plus, the handy "flip over" mitten allows you easy access to your fingertips for fishing, handling lines, or of course, checking your cell phone for those holiday updates.
Athletic Nylon Vest From Montcler
Whoever says Montcler is just for ski culture clearly hasn't tried on the
Gallinule Vest in Navy Blue
. This iconic brand can do no wrong when it comes to luxury, fit and quality. This vest, crafted with a down quilted nylon technique, will keep you very toasty without the constrictions in movement that a full jacket might cause. It also features a detachable hood for those inclement weather conditions on the water. This classic style has a feminine form flattering silhouette that we already know Montcler does so well, so you'll be sure to look your best while you stay warm.
Lululemon Easy Coast Wrap
This
Coast Easy Wrap from Lululemon
is literally the perfect everyday item to have in your boat closet. It's made from a soft, modal, french terry fabric, and it's long length and loose fit make it the most comfortable and practical go to wardrobe piece. You can layer it on top of anything, and it's thin enough to go under a more substantial jacket should the weather take a nasty turn. It's chic cowl style collar makes you look a bit dressed up, even though you'll be cozy as can be aboard your winter vessel.
Yachting Fashions For Men
For men, the
City Sweat Pullover Hoodie
in the same delightful french terry is an essential classic for everyday boating. We like it in navy blue, and it features hidden pockets to stash those little necessities (your secret is safe with us). This ridiculously comfortable form fitting hoodie also has articulation in the sleeves to accomodate free range of motion, which all boaters need.
Thermal Socks For Boating
There's nothing worse than being out in cold weather and having your feet get wet or cold. It seems like once that happens, we are doomed to resign to the indoors or cabin in order to warm up. These
Gill Thermal Hot Socks
are a must have for any sail during the winter months. They are made from polypropylene, which naturally repels water while keeping your tootsies nice and hot. Surprisingly lightweight for how durable and insulated they are, these socks allow for full freedom of movement and allow you to remain on your toes, so to speak. We recommend at least two pairs!
Warm Beanie From North Face
Finally, we couldn't end this list without adding something just a little bit festive. (Something that Santa himself would approve of?) Even if you're spending the holidays out in the big blue, far away from all the glitz and glitter (not to mention family drama), it still might be nice to spread a little holiday cheer in this
Fair Isle Deep Fit Beanie by The North Face
. The classic outfitter makes this fun hat in a few winter holiday patterns, likely to liven up any glass of mulled wine (Or two. Or four.) in the cabin as you chart your course for your next adventure on the water./>
Top Boating Fashion Finds Winter 2020
A guide to keeping warm and staying stylish on the water with winter boat fashions.