Wake boats are designed specifically for skiing, boarding, and surfing. All of these boats have integrated wave-shaping technology helping you control your boat's wake.
Whether you're looking to go wakeboarding with your immediate family or the whole crew, there's a wake boat out there for you. We run through a range of options, covering a range of sizes and price points. Whether you want a pickle-fork bow to allow multiple passengers on the bow comfortably, or, a more a traditional narrow bow, we have chosen a diverse range of boats too suits a range of needs. In our shortlist of the finest wake boats of 2022, you will notice new new releases combined with a couple of slightly older models that have stood the test of time. Here are eight of the best riding wake boats on the market.
Chaparral 30 Surf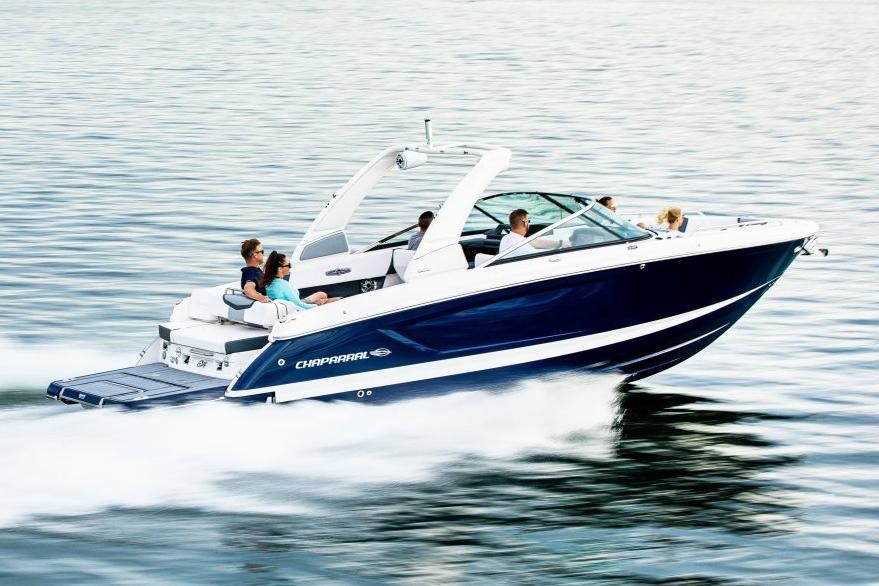 The Chaparral 30 Surf is one of the largest boats on our list this year, but it's here for a good reason! At 30 feet long, this boat offers plenty of room for you and anyone else who wants to tag along. Plus, this model's high freeboard and deep cockpit let you stay comfortable and dry if you prefer to watch the wake rather than play in it.
It features the most advanced technology package that Chaparral offers. There are two NMEA-compatible touchscreens, and they can work together or separately so you can manage tons of settings simultaneously. The touchscreens handle some of the best settings are the surf functions such as the ballast and their trademarked Malibu Surf Gates. These let you control the wake functions with the tip of your finger.
Mechanically, you can't beat the handling of this boat, especially for the size. The Chaparral 30 Surf offers precision steering, which lets you easily turn even the tightest corners.
Other exciting features include brand new interior colors to match whatever your color preference is and a one-hundred-gallon fuel tank—perfect for day-long excursions! If the 30-foot option seems too big for you, don't worry! The Chaparral Surf comes in a range of sizes, including the 21′, 23′, 26′, and 28′.
See Chaparral boats for sale on YachtWorld.
Axis Wake T250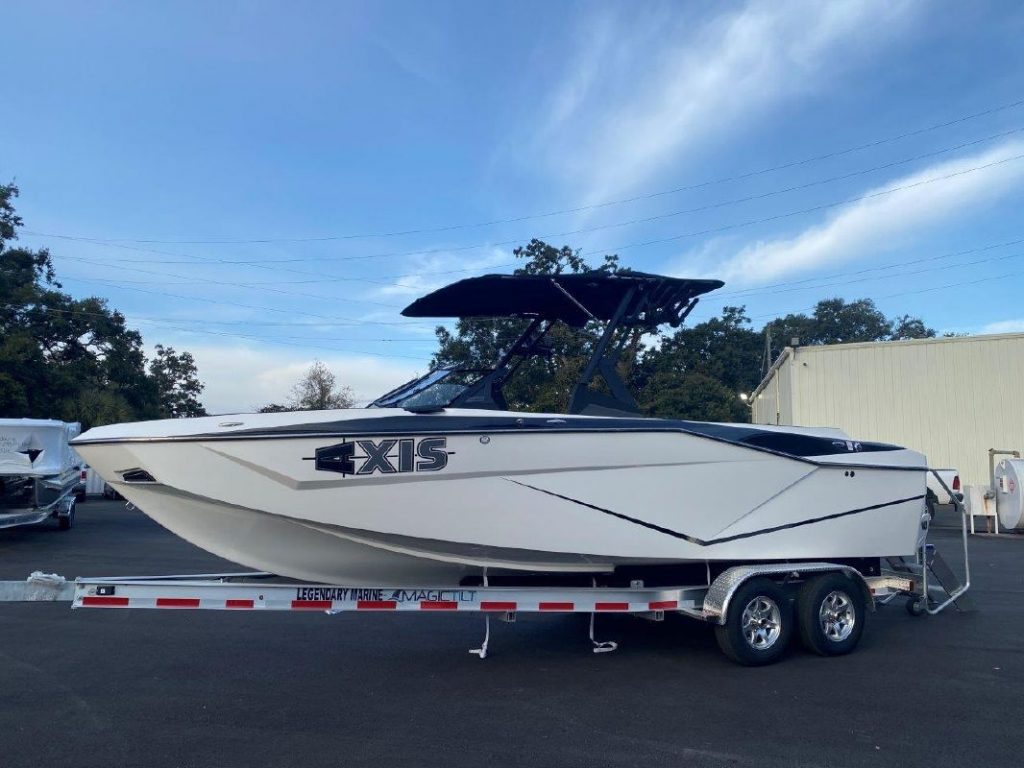 Next on our list is the largest boat Axis has ever made! This beautiful 25-foot wake boat seats up to eighteen people and has different trim levels that meet various needs! Regardless of the trim you pick, they all come with a touch screen on the dash, allowing you to control many of the boat's features without messing with knobs or buttons.
Step up to the sports dash trim option, and your touch screen gets a tactile keypad to go with it. This boat is a solid option if you like the ability to fall back on pressing buttons to navigate specific settings. Going up to the Premium Sport trim gives you a wireless charging dock for your cell phone. This is a perfect boat if you're spending all day on the water because you have confidence that your phone won't die on you!
The Wake T250 also comes with an audio system with speakers throughout the boat. If you're getting your crew together on the water, there's nothing better than blasting your favorite music while you're skiing!
This boat also has great safety features, including 32% more visibility from the driver's seat than previous versions. The extra vision helps you see more of what's ahead of you to avoid running into those sneaky logs that like to surprise you.
See Axis Wake T250 boats for sale on YachtWorld.
Moomba Mojo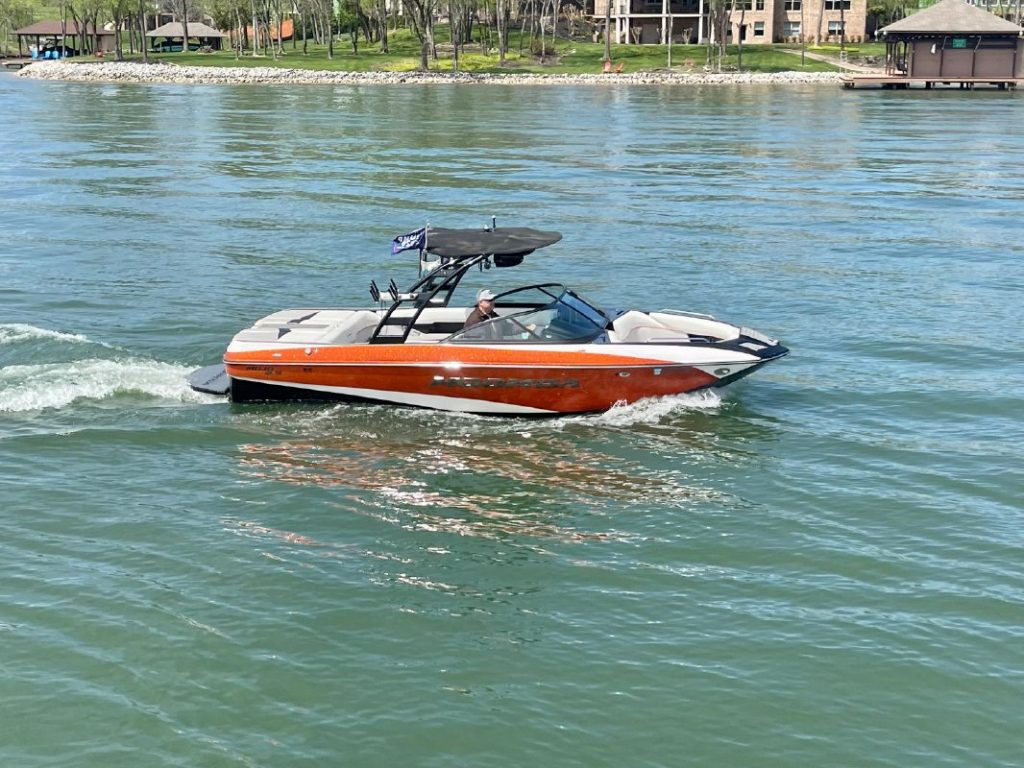 Coming in at 23 feet, the Moomba Mojo is smaller than many other boats on this list, but this wake boat still seats 17 passengers. The Mojo claims to be the "smartest boat on the water" because of its patented AutoWake system. If you prefer to be able to relax while on your boat and have fun, this feature helps you do just that. The AutoWake takes all the hard work and guessing out of creating the perfect wake for your water sports. It also works with the seven-inch touch screen to show you if there are necessary adjustments and what settings you have the AutoWake on.
The Mojo has that, too, if you're more concerned about luxury from the water! This boat has a unique RGB LED system that lets you change the colors of the interior lights to match whatever vibe you're feeling! You can control them from the boat's system or directly from your cell phone! Speaking of cell phones, the Mojo has a wireless charger, too!
There's also a rear sunshade for when the sun is up, so you can relax on the back of the boat without worrying too much about direct sunlight. This is especially great if you have younger kids with you who you'd like to keep out of the sun!
See Moomba Mojo boats for sale on YachtWorld.
Centurion Ri265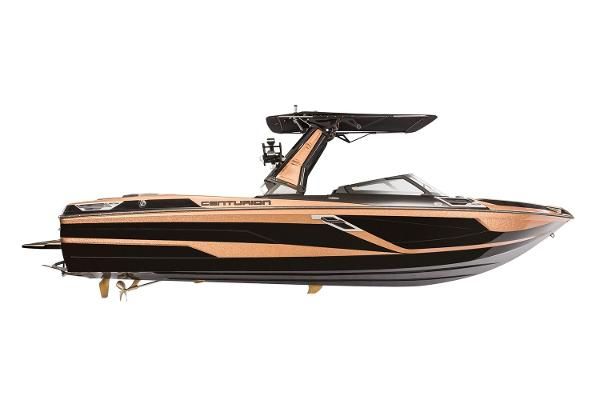 The Centurion Ri265 is a model with the industry's largest ballast capacity in a 26-foot boat. If you don't know what that means, the more ballast in a boat, the more stable it will be in all water conditions. This is a great feature, especially if you want to wakeboard. The RAMFILL ballast lets you adjust your wake mid-session in as little as 90 seconds, so you can spend more time having fun and less time fiddling with settings.
The Ri265 also features an impressive 12″ x12″ HD dash system. This system has two 12″ x8″ screens that can work either together or independently, allowing you to view and control a lot of settings at once.
Another great feature of this boat is its fuel efficiency. With gas prices higher than in years past, fuel efficiency can be a great selling point this summer! The Ri265 has a 92-gallon fuel tank and is more efficient with its gas than other boats in its class. Plus, it offers real-time trip and fuel consumption data to see how much gas you're using instead of just estimating.
See Centurion Ri265 boats for sale on YachtWorld.
Malibu Wakesetter 21 LX
The Malibu Wakesetter 21 LX is a brand-new model for 2022. This model has watched its predecessors and learned from them to produce a unique and impressive design. One of the most exciting features of this boat is its hybrid bow. The hybrid bow takes the sharp lines of a traditional bow and combines them with the space of a pickle fork bow. The combination allows for the best of both worlds and one of the smoothest rides on the market.
The 21 LX comes in at 21 feet and holds up to 12 people, so it is one of the smallest on our list. If you are looking for a boat for your immediate family and not planning on having large gatherings, this is a phenomenal size that's easy to tow and load into the water.
One of the biggest selling points for this little beauty is its equipped with the Malibu Diamond Hull. This feature helps create an incredibly smooth skiing experience, which is all you can ask for out of a wake boat. Another Malibu exclusive is their custom-made boat trailers that you can get to match your boat in color and size, plus you can customize your needs!
See Malibu boats for sale on YachtWorld.
Supreme ZS252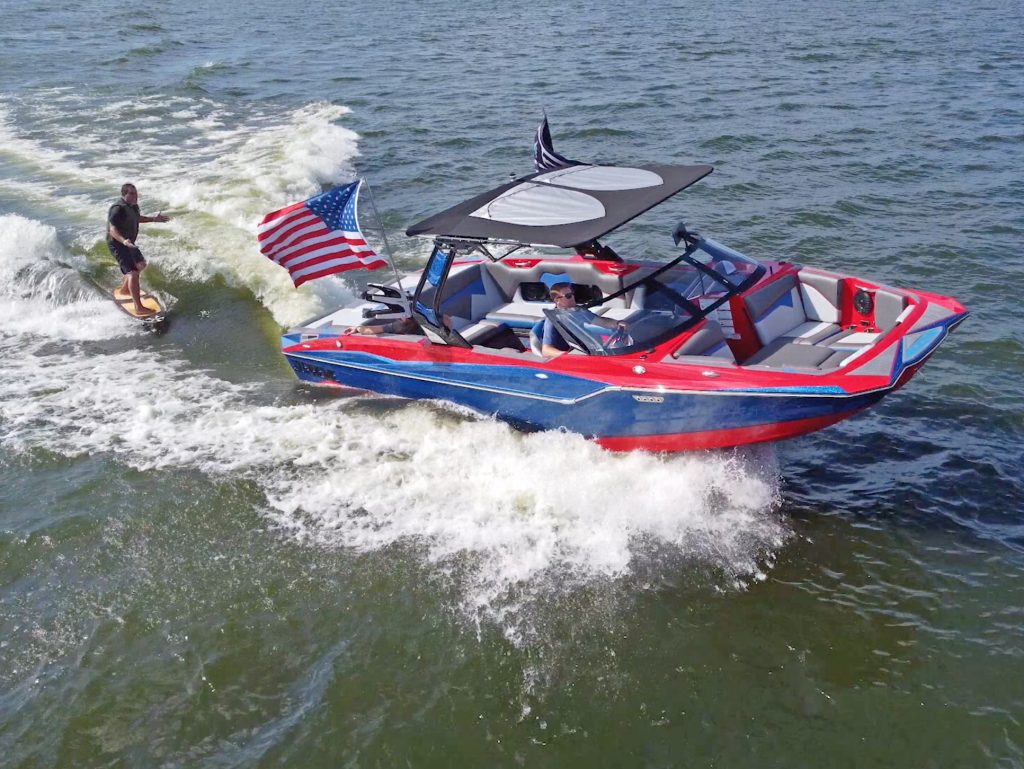 Another new boat for 2022 is the Supreme ZS252. For entry-level wakeboarding, this is the best of the best. The ZS252 has a customizable wake surf performance that is easy when it leaves the factory but can be bumped up for those with more experience in wake riding. This feature makes this mid-sized boat an excellent option for any family looking to get into wakeboarding or skiing this summer!
The ZS252 also features an EZ-V hull designed to give riders an impressively quiet ride, regardless of the water noise. The hull is also deep, providing added comfort and dryness. It also provides a smooth ride in any location and improved fuel economy, so you can go longer between filling up the 70-gallon tank.
Other features include a great WetSounds stereo system for in-boat tunes and a convenient touchscreen on the dashboard. The best part? Supreme prides itself on the fact that the ZS252 offers impressive performance at an entry-level price. So, if you're dipping your toe into water sports, this is a great option.
See Supreme boats for sale on YachtWorld.
The Heyday H22 offers more standard features than any other wake boat in its class, which makes it a solid contender for anyone looking to get more bang for their buck! This boat comes in at a little over 22 feet long and holds up to 14 people, making it an excellent option for your family and a few friends.
If you enjoy entertaining on the water, the H22 comes with four speakers and an incredible 18-cup holder, so you can sit and rock out without having to hold your drink. It also comes with a nine-inch touchscreen so you can control the boat's settings with ease.
Of course, if you're looking at the H22, you want to use it for water sports. This boat comes with all you need to ski or board and, again, it's all standard! The H22 has an integrated wake system that allows you to have control over the wake output. If you want to see how impressively you look on the water, there's a GoPro mount on the back! Plus, there's a ski mirror so the driver can watch you while you're on the water.
When you want a break from skiing, you can set up the removable swim platform equipped with grab handles. This feature makes it incredibly easy to get in and out of the boat when you want to spend the day floating or jumping in.
See Heyday H22 boats for sale on YachtWorld.
Super Air Nautique S21
The last boat on our list is the Super Air Nautique S21. This wake boat boasts an incredible new style that is a sign of what future boats in the future. The sharp lines and sleek color palettes give this boat an incredibly modern look that will impress everyone on the water. This 21-foot boat has an incredible customizable wake output, so it is another excellent option if you're looking for a good family boat.
The S21 also features strapless board racks, which is a great amenity if you're into wakeboarding. This addition will give you an extremely convenient place to store your wakeboards and keep them safe from possible damage when not in use. It also has a huge sunshade that will practically cover the entire boat, making it great for an all-day water adventure.
Another fantastic feature of this boat is the rear seats. Adjacent to the swim platform, these seats actually face outward, so you can watch your family while they're in the water much more comfortably. The seats are also slightly angled inward to make them super comfortable!
Moving inwards, the dashboard boasts an impressive 12.4-inch touchscreen with simple menus. This feature makes it very simple to work the boat's interface, changing settings quickly and conveniently. There's also a large rotary dial in the helm that you can use to scroll through the menus, a great feature that keeps you from having to lean over to change a setting while you're driving!
If that's not enough to sell you, the S21 also has two bow seats. These seats let you prop your feet up and get the best view of the water and are equipped with cupholders, and you can even add speakers to them if you want to create your own hangout area. There's under-seat storage under the loungers when not in use, perfect for keeping life jackets or other necessities.
Related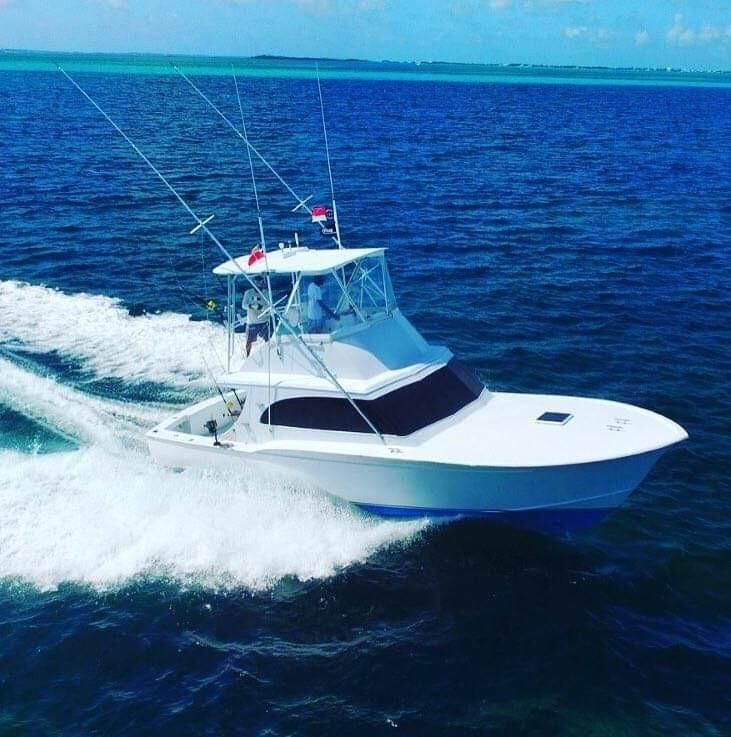 The Best Sportfishing Yachts of 2022: Offshore Battlewagons
We narrow the best sportfishing yachts designed for offshore fishing.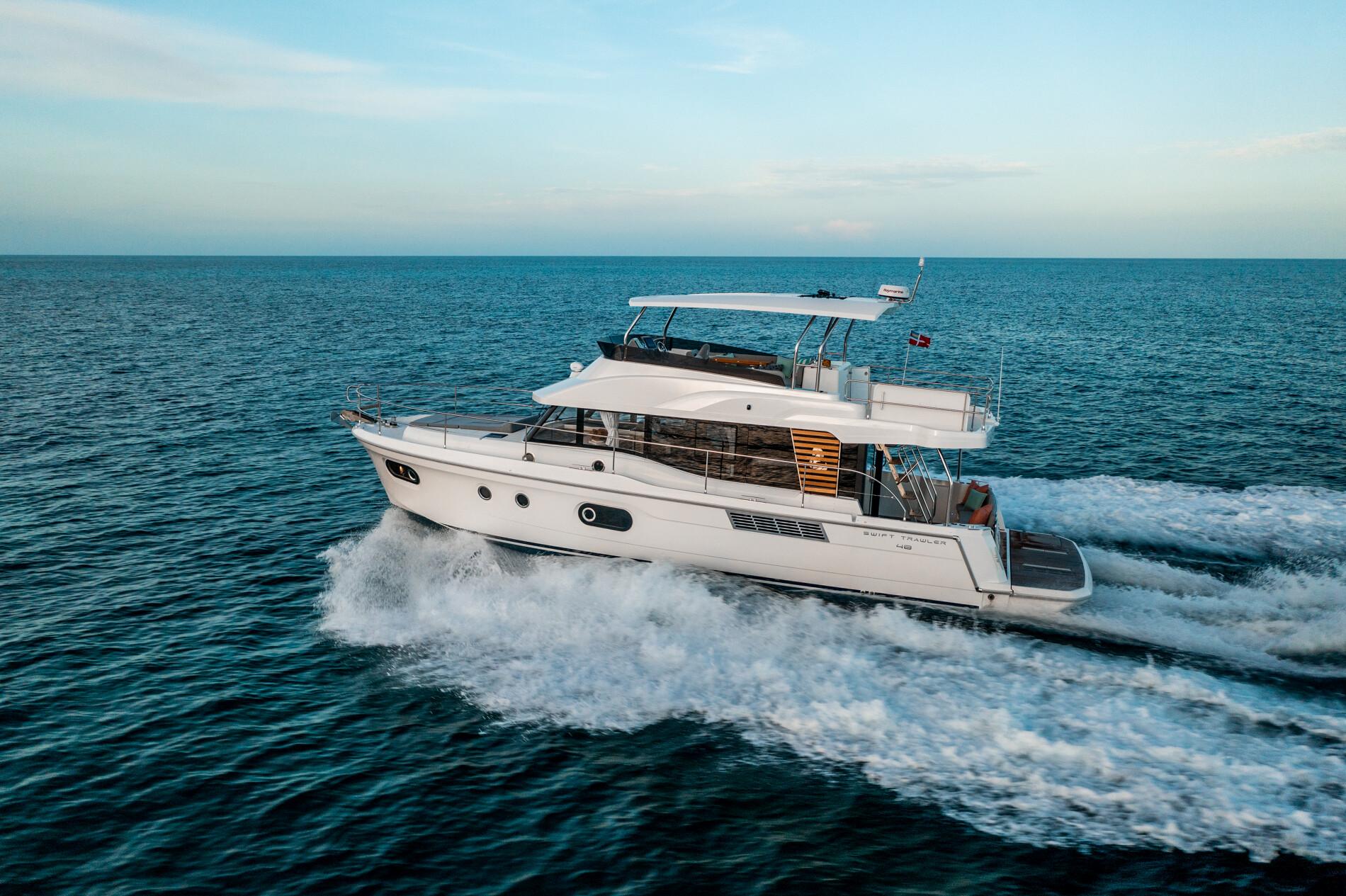 2023 Beneteau Swift 48 Review: New Fast Trawler
Beneteau's new swift trawler builds on success for even better results.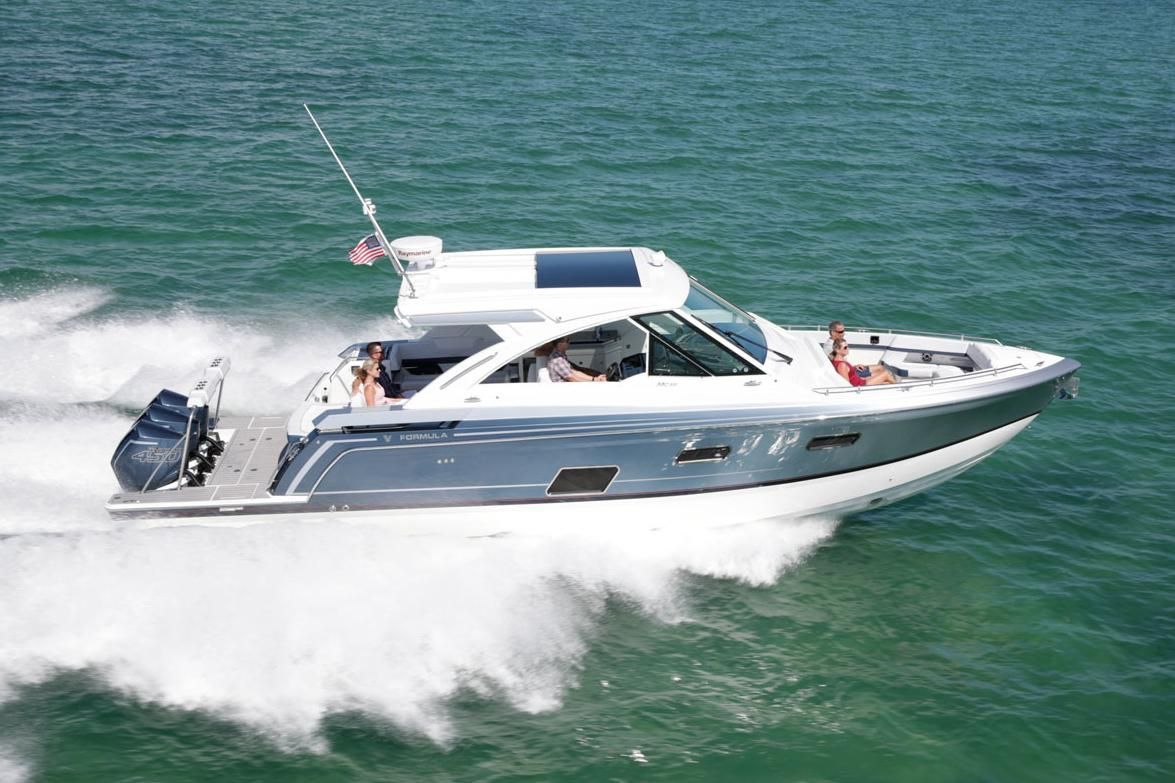 Bowrider Boats: A Guide To Family Runabouts
Category:
High-performance powerboats
Everything you need to know about bowriders. Because life is better at the bow.