Late 2021 brought a slew of new introductions in the cabin cruisers segment for the 2022 model year, and picking the best one for you and your family could be a tough call. Tough, but fun — who doesn't enjoy boat shopping? We know we find it a joy and we strive to make the experience here on BoatTrader as seamless and enjoyable as possible. We're betting that since you're already here on these pages there's a cabin cruiser in your not-too-distant future, and we'd also bet that one or more of these top picks for the best cabin cruisers introduced in 2021 will strike your fancy.
2022 Beneteau Gran Turismo 41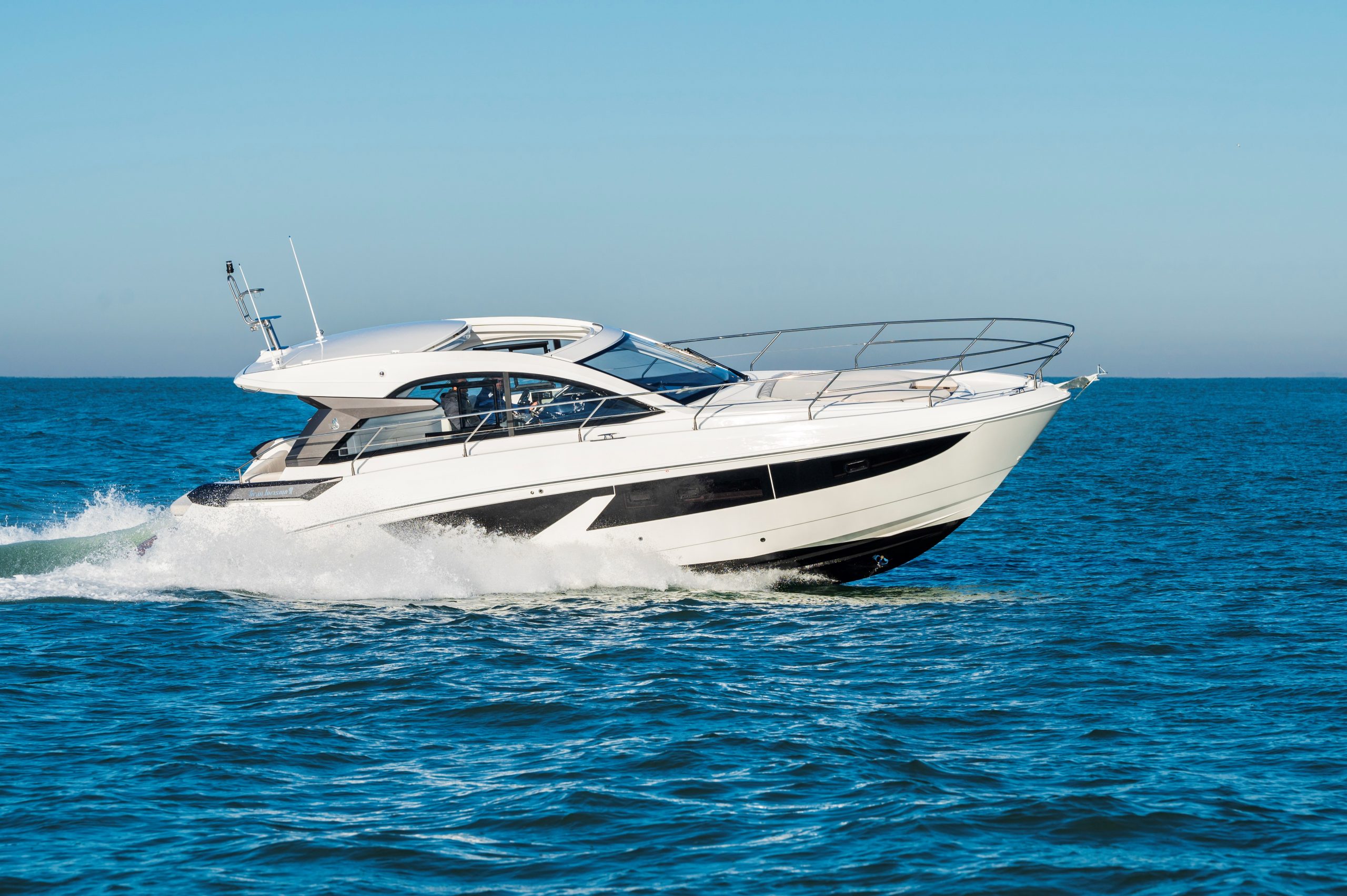 Above: A 2021 Beneteau GRAN TURISMO 41 yacht running on the water. Photo: Ancasta International Boat Sales.
It must have surprised some boaters when Beneteau announced they would replace the successful Gran Turismo 40 with a new 41, but they made it clear that the new 2022 model wouldn't stray far from the 40's successful design and features. Change can be seen on the forward deck, where the sunpad has been improved and has reclining backrests, courtesy lighting, and a retractable canopy. The aft sunpad has also been tweaked to sit at a more comfortable height. The new hard top is another significant improvement, with a larger sunroof and slimmer supports that block less natural sunlight from reaching the cabin. And fortunately, the Gran Turismo 41 still benefits from the company's unique Air Step hull, which directs air under the boat to reduce hydrodynamic friction and boost speed and efficiency.
See Beneteau Gran Turismo 41 boats for sale on YachtWorld.
2022 Cutwater C-288 Coupe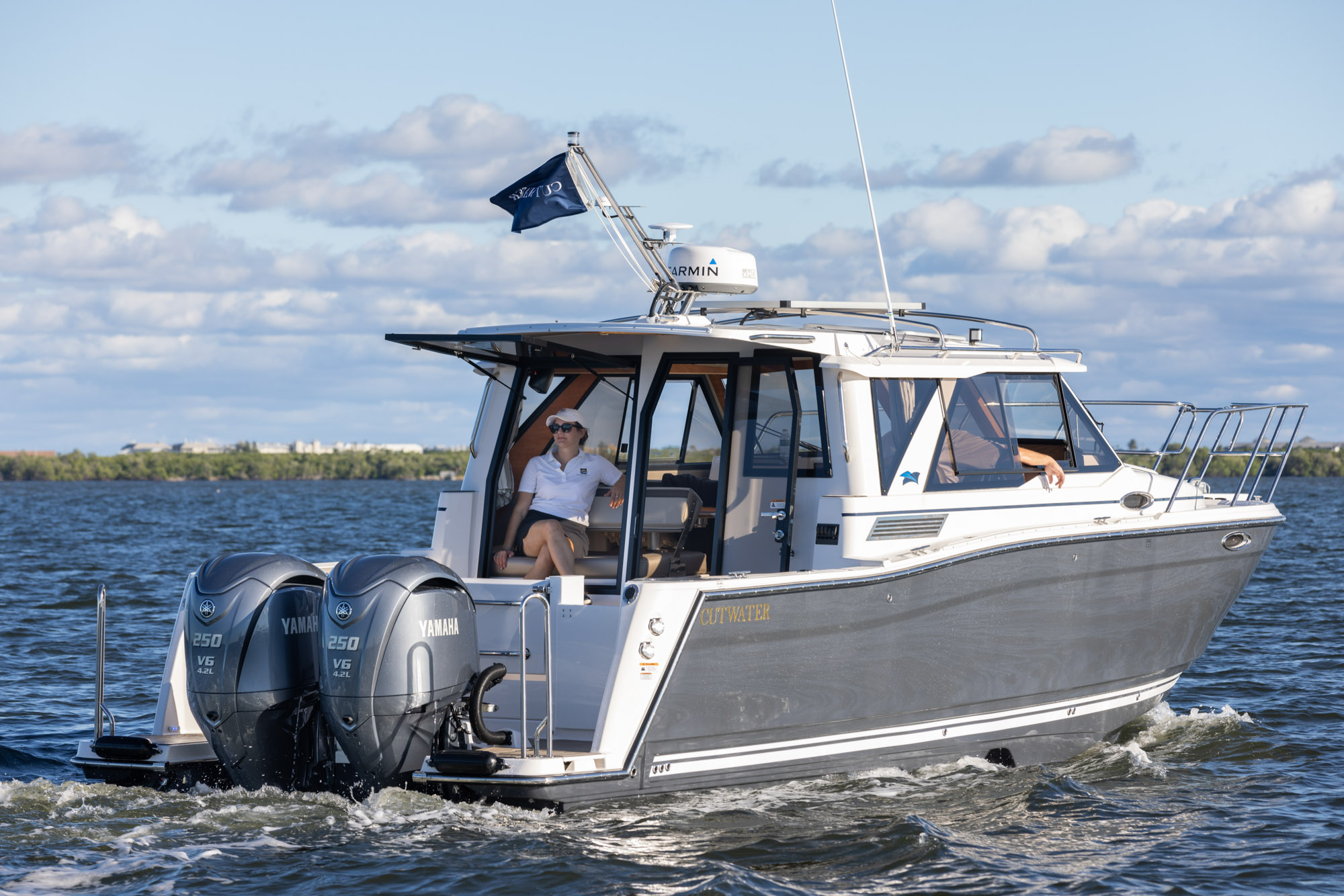 Above: A 2022 Cutwater C-288 Coupe with twin Yamaha 250-HP outboards cruises along the water. Photo: Cutwater Boats.
Those in search of a compact cabin cruiser in 2022 will want to check out the all-new Cutwater C-288 C. Like other Cutwaters this model defines the "pocket yacht" segment of the market, somehow managing to incorporate separate sleeping for six (two in a mid-cabin berth, two on the convertible settee/dinette in the saloon, and two forward in the stateroom), a galley, an enclosed head, and a helm station in the cabin, despite the boat's relatively small size. The Cutwater also has an open aft cockpit, and with twin Yamaha F250s for power, plenty of get-up-and-go.
See Cutwater C-288 boats for sale on YachtWorrld now.
2022 Back Cove 372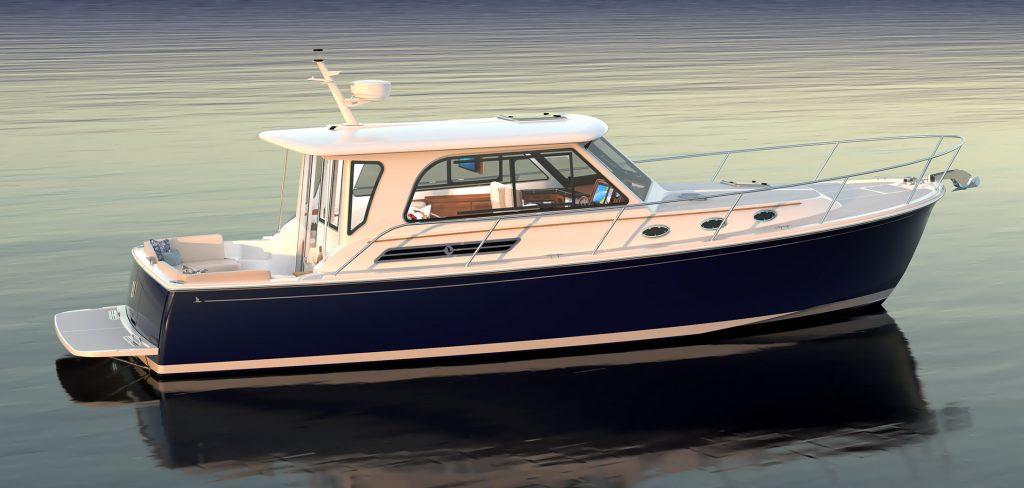 Above: A 2022 Back Cove 372 downeast style cruising yacht. Photo via DiMillo's Yacht Sales in Portland, ME.
Launched at the Annapolis Powerboat Show in October 2021, the 2022 Back Cove 372 is an update to a classic. This model marks the Maine builder's newest iteration of the previous and very popular Back Cove 37 downeast-style cruiser. Fresh of the heels of a People's Choice Award at the 2021 Newport International Boat Show for the Back Cove 390 model, this new 372 features two nicely-appointed cabins, a more spacious and reconfigured head, a redesigned helm and interior seats and more standard horsepower than her predecessor; A Cummins QSC 8.3 600-HP diesel engine is standard, while hull #1 was equipped with the optional Volvo Penta D8 600-HP engine. The Back Cove 372 is full of fresh details that are tailored to today's cruising and boating lifestyles, yet it retains the classic character and heart of a proven winner.
See Back Cove 372 yachts for sale on YachtWorld now.
2022 Galeon 410 HTC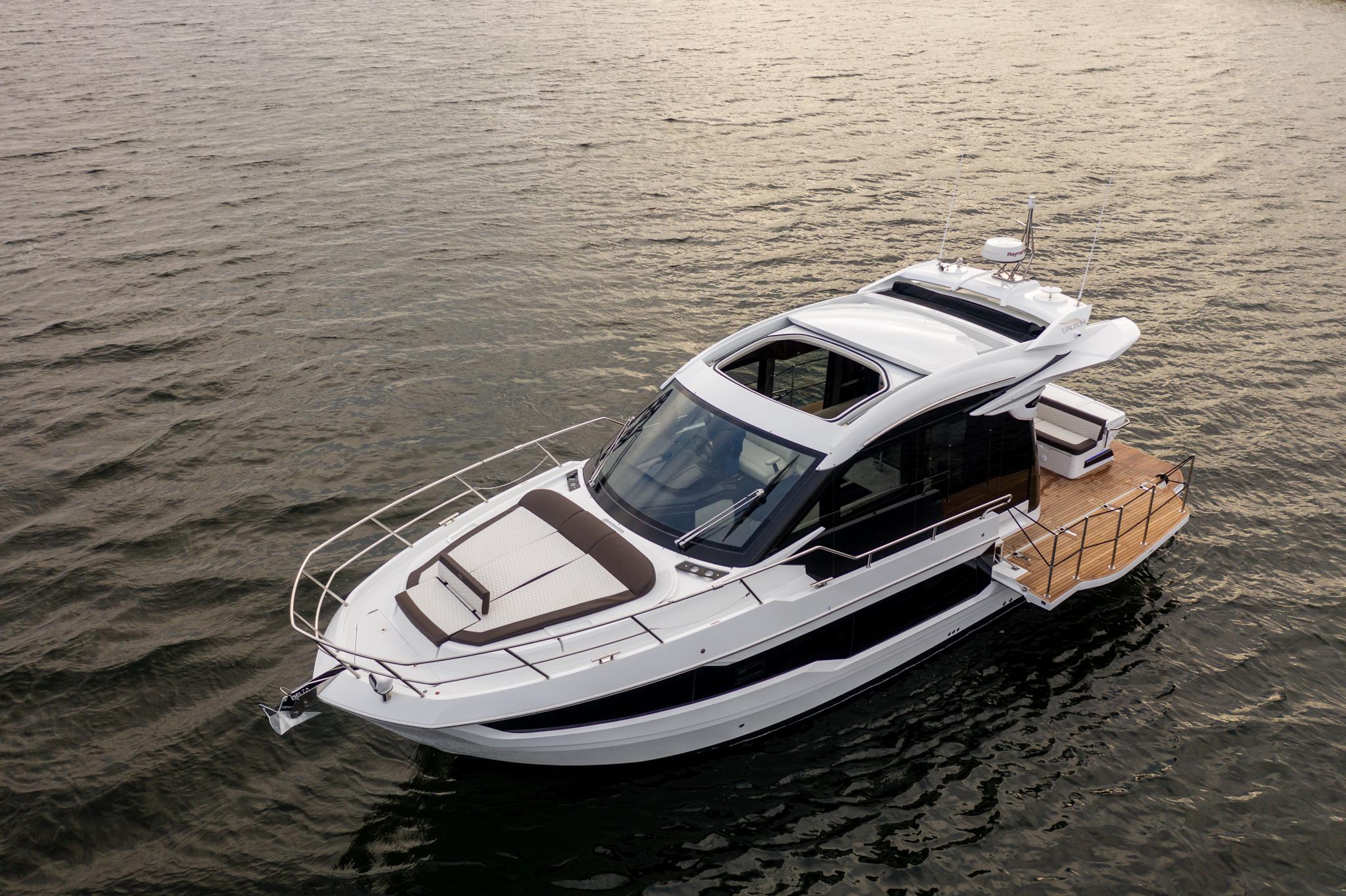 Above: A 2022 Galeon 410 HTC with beach mode lowered on the port side of the vessel, showcasing the spacious aft deck for lounging. Photo via Approved Boats and Galeon Yachts.
Built atop the hull of Galeon's 40 foot flybridge model, the 410 HTC is a sportier coupe-style cruiser. It's also one of the smaller boats around that can offer a "beach platform" as opposed to a mere swim platform, with an entire gunwale folding down to the water's level at the press of a button. The belowdecks layout is a bit unusual, too, with not only two staterooms but also two heads, maximizing privacy aboard when multiple couples are overnighting aboard. Note that the Galeon 410 HTC was picked by the editors of Boating Industry as a Top Product of 2021.
See Galeon 410 HTC yachts for sale right now on YachtWorld.
2022 Nimbus C11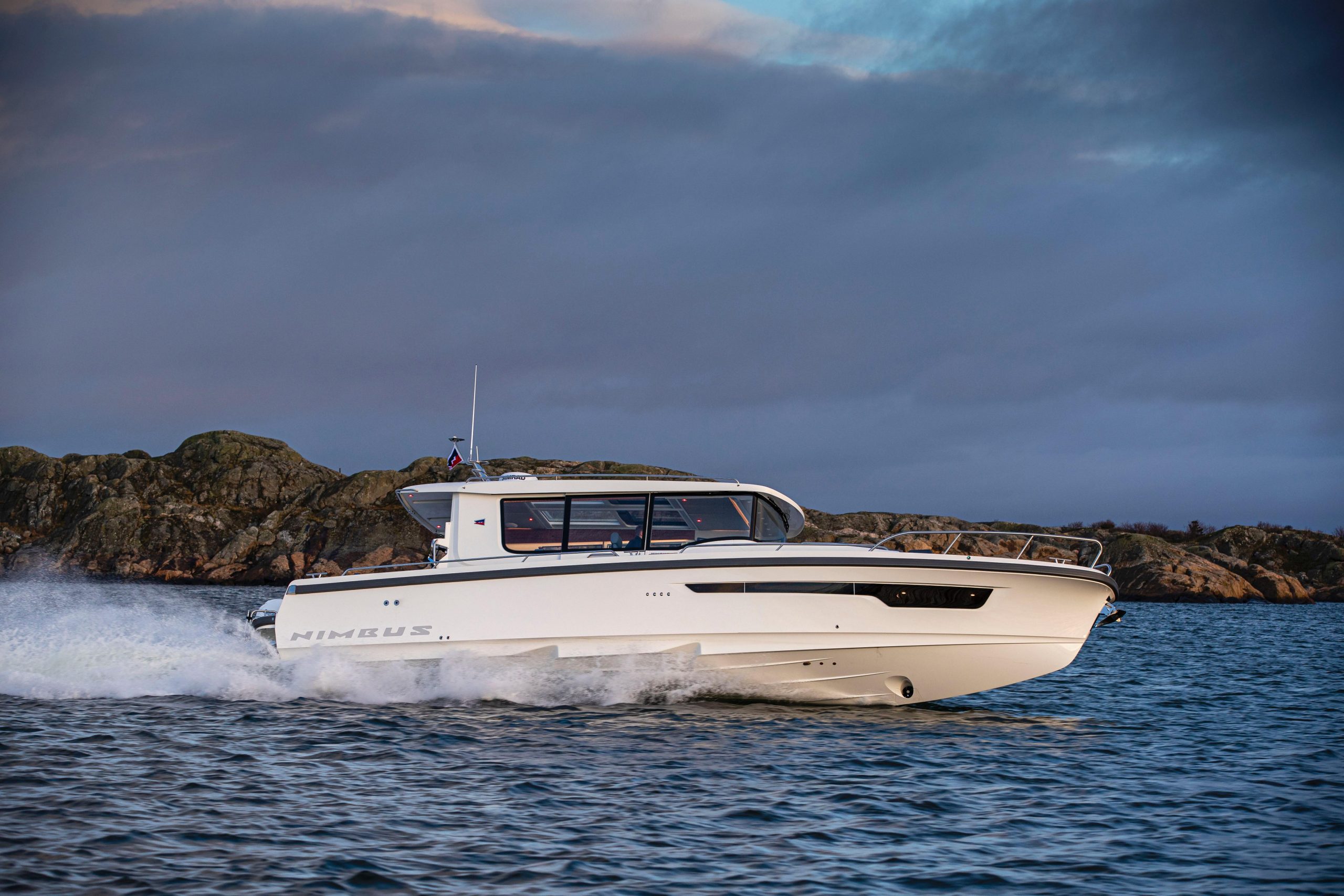 Above: A 2022 Nimbus C11 on the water running. Photo by Yachting Solutions in Rockport, ME.
Nimbus has been building boats for the European market for decades, and a few years ago began a push to bring them to the U.S. marketplace. In 2021 the C11 made it to our shores, and there are few existing models like it. The C11 is based on the commuter concept, with the ability to run upwards of 40 knots on its twin-stepped hull while up to nine people sit in comfort in the saloon. Belowdecks the boat offers two staterooms, an enclosed head, and a galley. The C11 also sports a long list of items boosting the luxury level aboard, including a Zip Wakes automatic trim system, two electric sunroofs, a transom shower and swim platform, and options for gyroscopic stabilization, air conditioning, and joystick controls.
See Nimbus C11 boats for sale on YachtWorld today.
2022 Sea Ray Sundancer 370 Outboard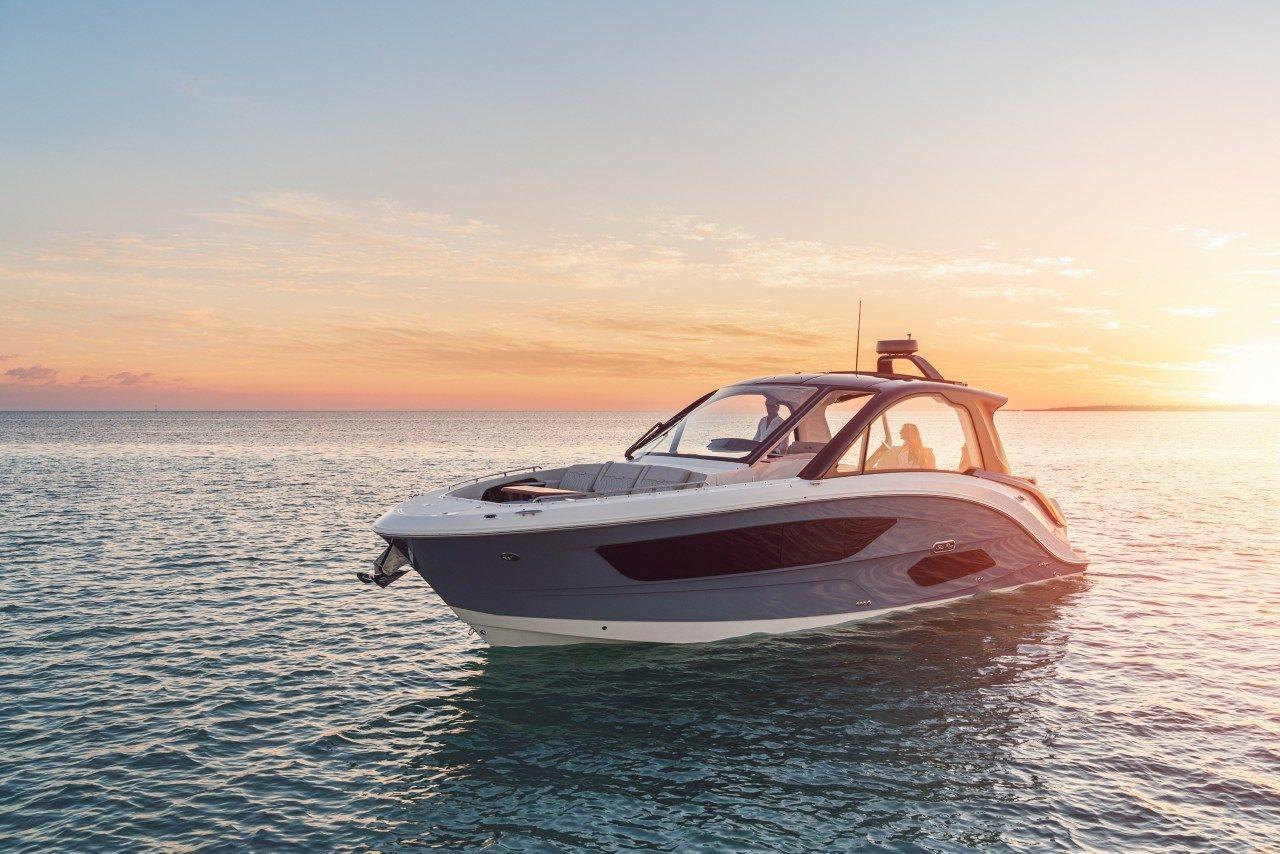 Above: A 2022 Sea Ray 370 Sundancer Outboard. Photo via Sun Country Marine Group in Newport Beach, CA.
Historically the Sea Ray Sundancer series was based on inboard power systems, but times they are changing. The just-introduced Sundancer 370 Outboard runs on a brace of triple Mercury Marine

300-hp outboards. But that's not the only big change as compared to older Sundancer models — this boat is not only a cabin cruiser, but also a bowrider of sorts. Walk through the bridgedeck, past the facing settees and the double-wide helm and passenger's chairs, and you'll find a walkthrough on the port side that takes you to a bow cockpit with seating and a teak dinette table. If instead of following that walkthrough forward you divert through the centered cabin entry, you'll walk belowdecks to discover a galley to port, a head to starboard, a mid-cabin with a berth that converts into a settee aft, and a combination saloon/V-berth up forward.
See Sea Ray 370 Outboard boats for sale on YachtWorld.
2022 Tiara 48 LS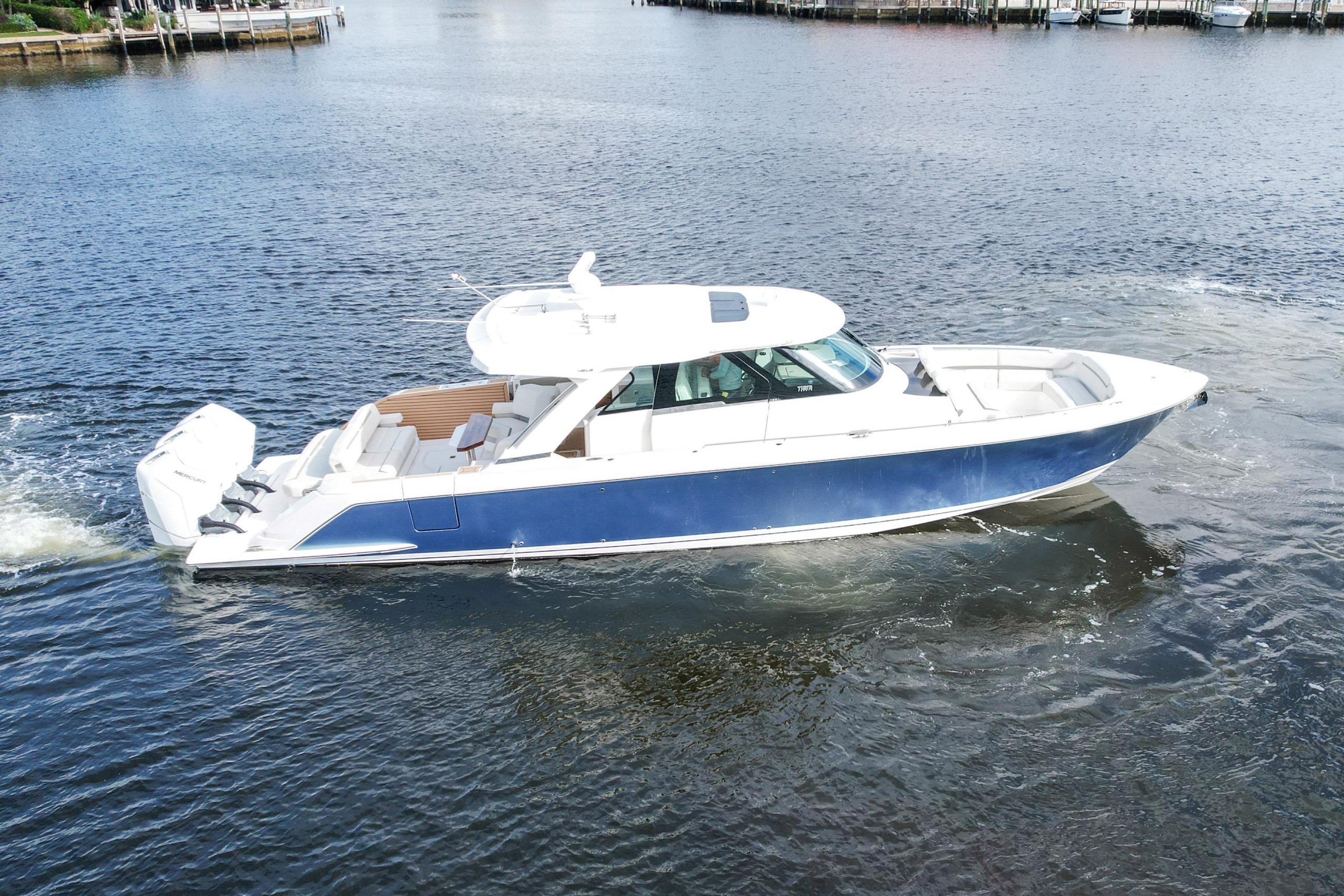 Above: A 2022 Tiara 48 LS with triple Mercury 600-HP outboard engines. Photo by Rick Obey Yacht Sales in Palm Beach, FL. 
The 2022 Tiara 48 LS is another model that blurs the lines between day boats, cabin cruisers and yachts. This outboard-powered vessel was designed around the new Mercury 600-HP V12 Verado engines and that is the only power package available. Crafted to maximize multiple social areas, it has an aft cockpit set off by a huge rotating aft lounge and a "beach terrace" which folds down to turn one side of the cockpit into a gigantic swim platform.
Another outdoor social area is found in the bow cockpit, accessed by a side-deck that wraps around the cabin on the starboard side, where there's wrap-around seating and an electrically-actuated pop-up table that rises from the deck at the press of a button. Food prep takes place in a fully featured outdoor galley located aft of the helm. Even with so much emphasis on the outdoor areas of the boat the 48 LS still offers a substantial cabin including a mid-cabin with single berths that can slide together to form a double, an enclosed head, and a forward stateroom with a pedestal berth.
See Tiara 48 LS yachts for sale on YachtWorld right now.
2022 MJM 4z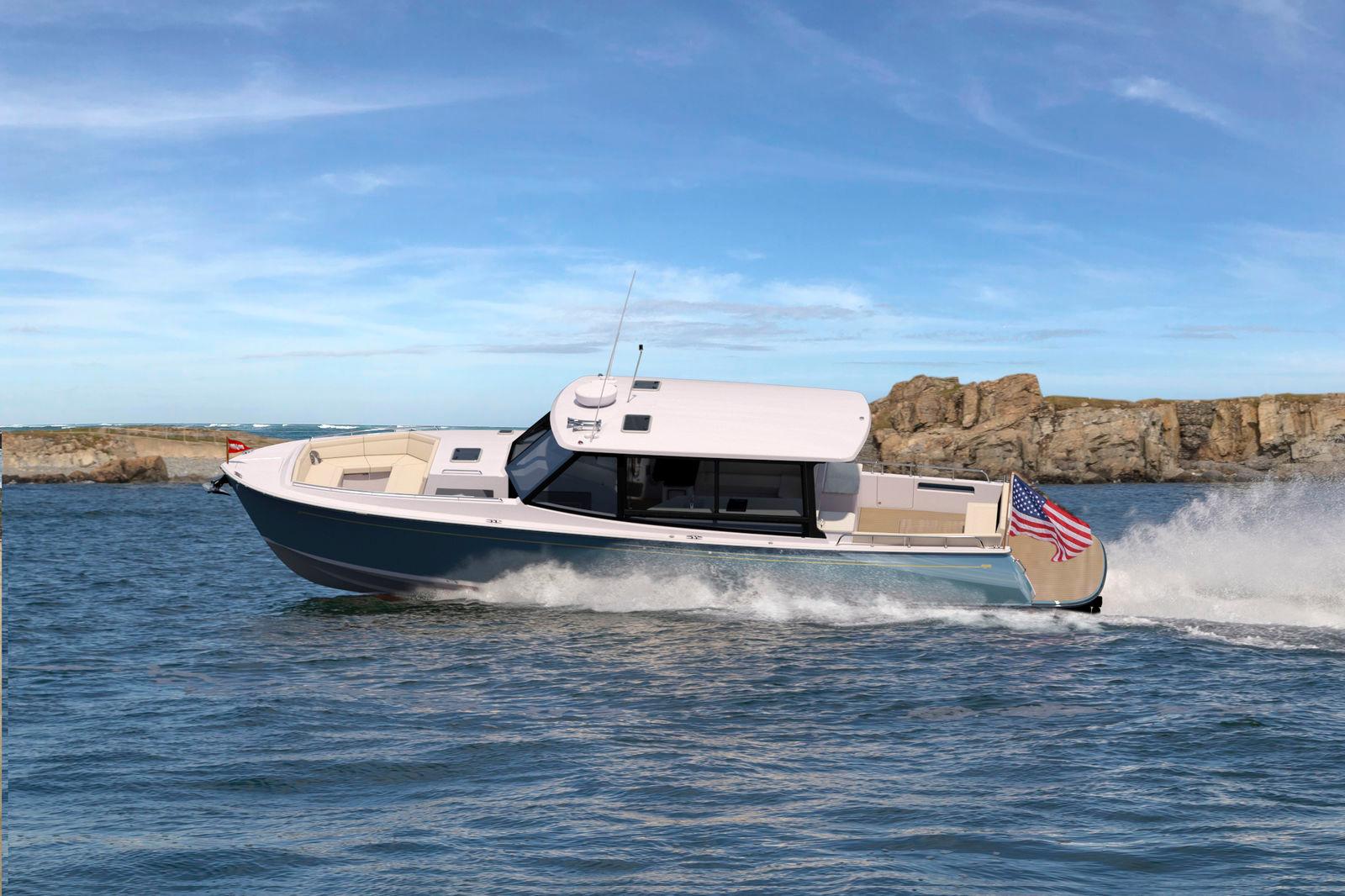 Above: A 2022 MJM 4z yacht on the water running. Photo via Cape yachts in Dartmouth, MA.
MJM Yachts premiered their latest outboard-powered yacht at Annapolis Powerboat Show in October 2021. The MJM 4z combines the builder's previous MJM 3z dual console day boat, with their larger express style cruiser the MJM 40z, and the result is a crossover-style cruiser with overnight accommodations that feels like an open-air day boat. A large bow area with seating gives you all the joys of a typical day yachting experience while the protected pilothouse with an electrically-activated windshield and sliding windows provide ample protection from the elements. Below deck features a large v-berth as well as a double berth amidships. Offered with either triple 300-HP Mercury outboard engines, or twin 600-HP Mercury V12 Verados, the boat will top out around 43 knots. The builder states that sterndrives will be available in subsequent model years.
View 2022 MJM 4z yachts for sale on YachtWorld today.
Regal 38 FXO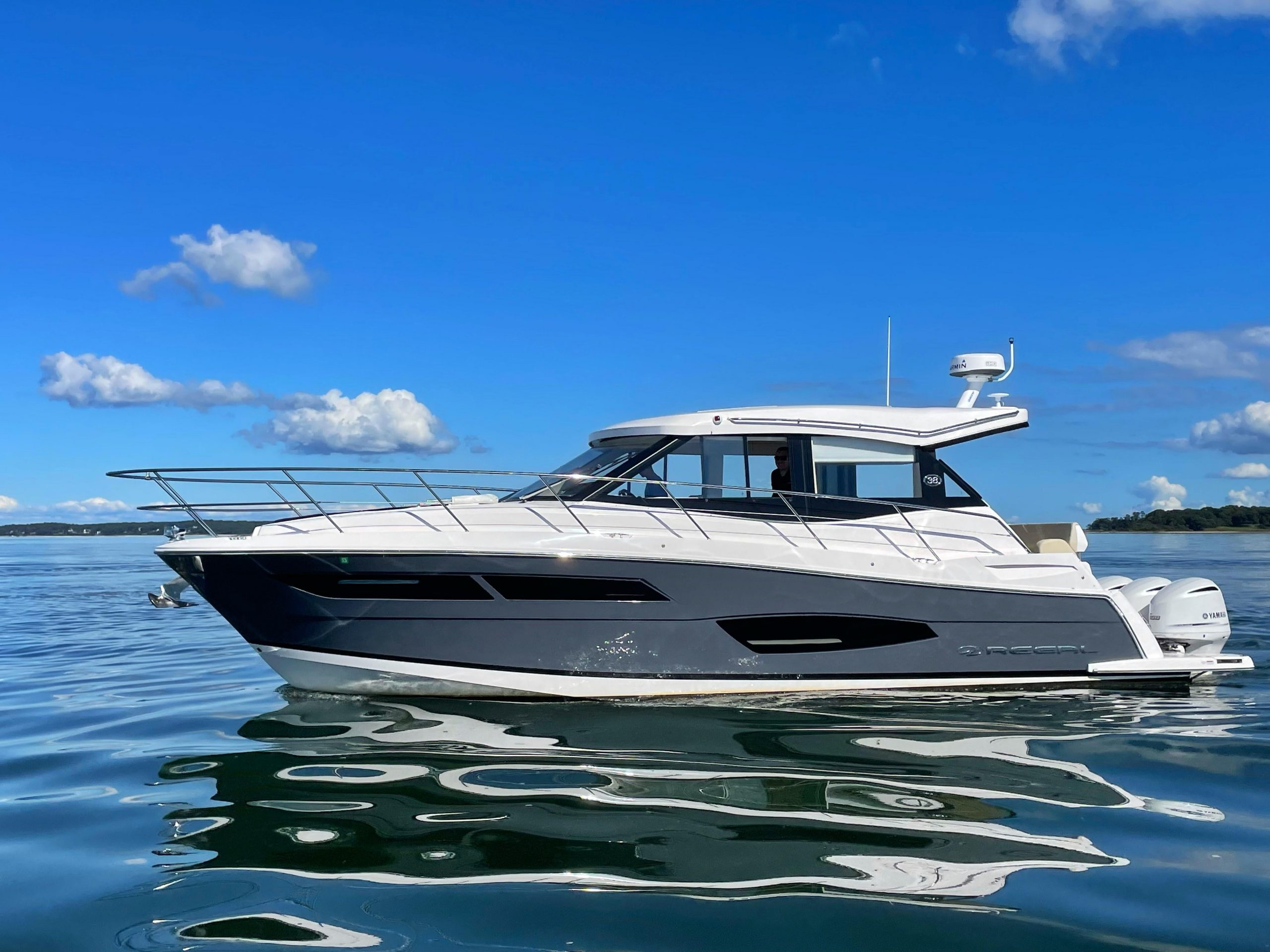 Above: A 2022 Regal 38 FXO yacht for sale on YachtWorld. Photo by Strongs Yachts in Mattituck, NY.
Regal Boats debuted their all-new Regal 38 FXO in October 2021 at FLIBS in Fort Lauderdale, Florida. These express-style, outboard-powered cruisers provide versatility with elevated 360-degree open-air views and a luxurious experience for coastal cruising, weekending and day yachting.
Check out all Regal 38 FXO yachts for sale on YachtWorld today.
Related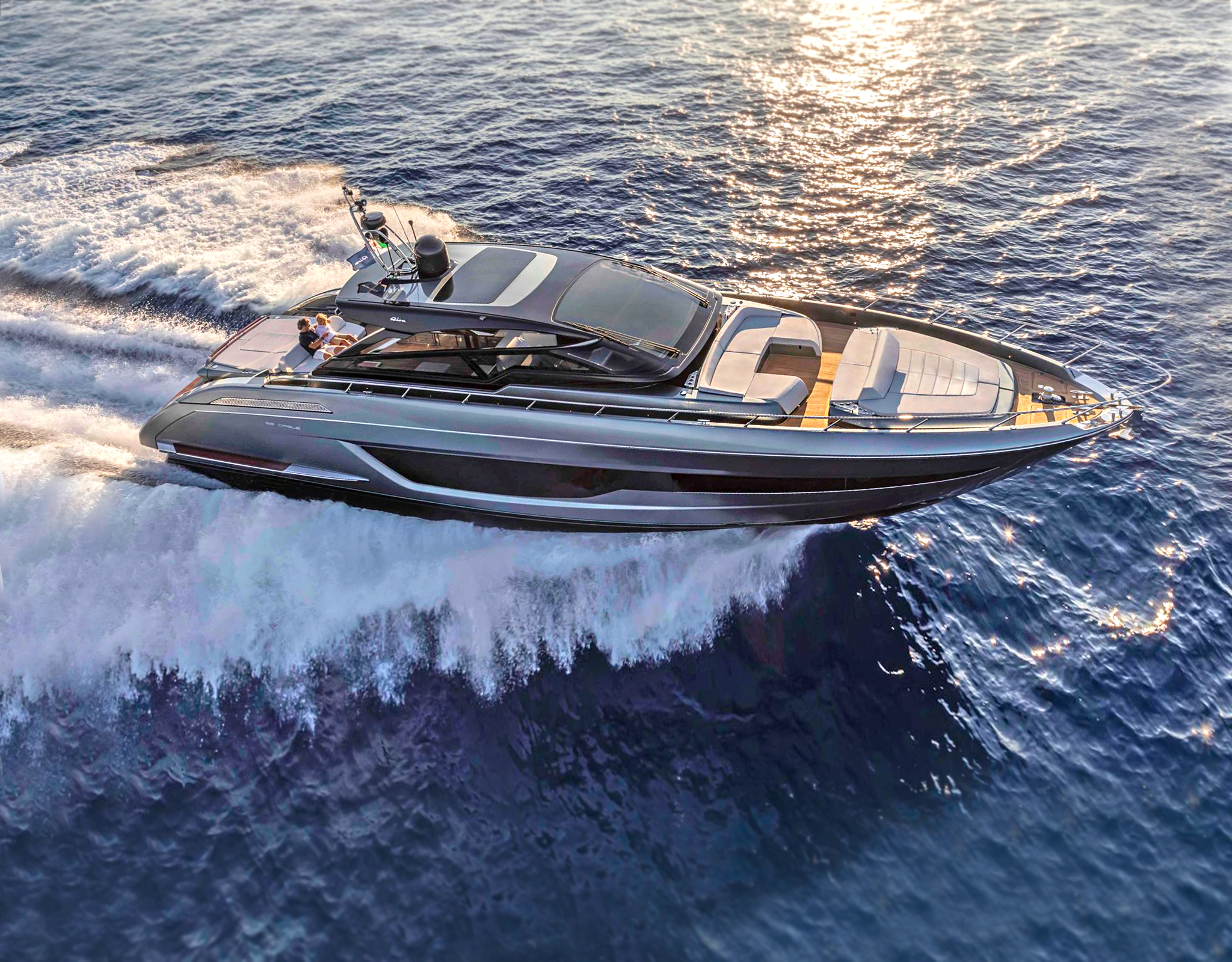 5 Sleek New Motor Yachts For 2022
Five great luxury motor yachts for 2022.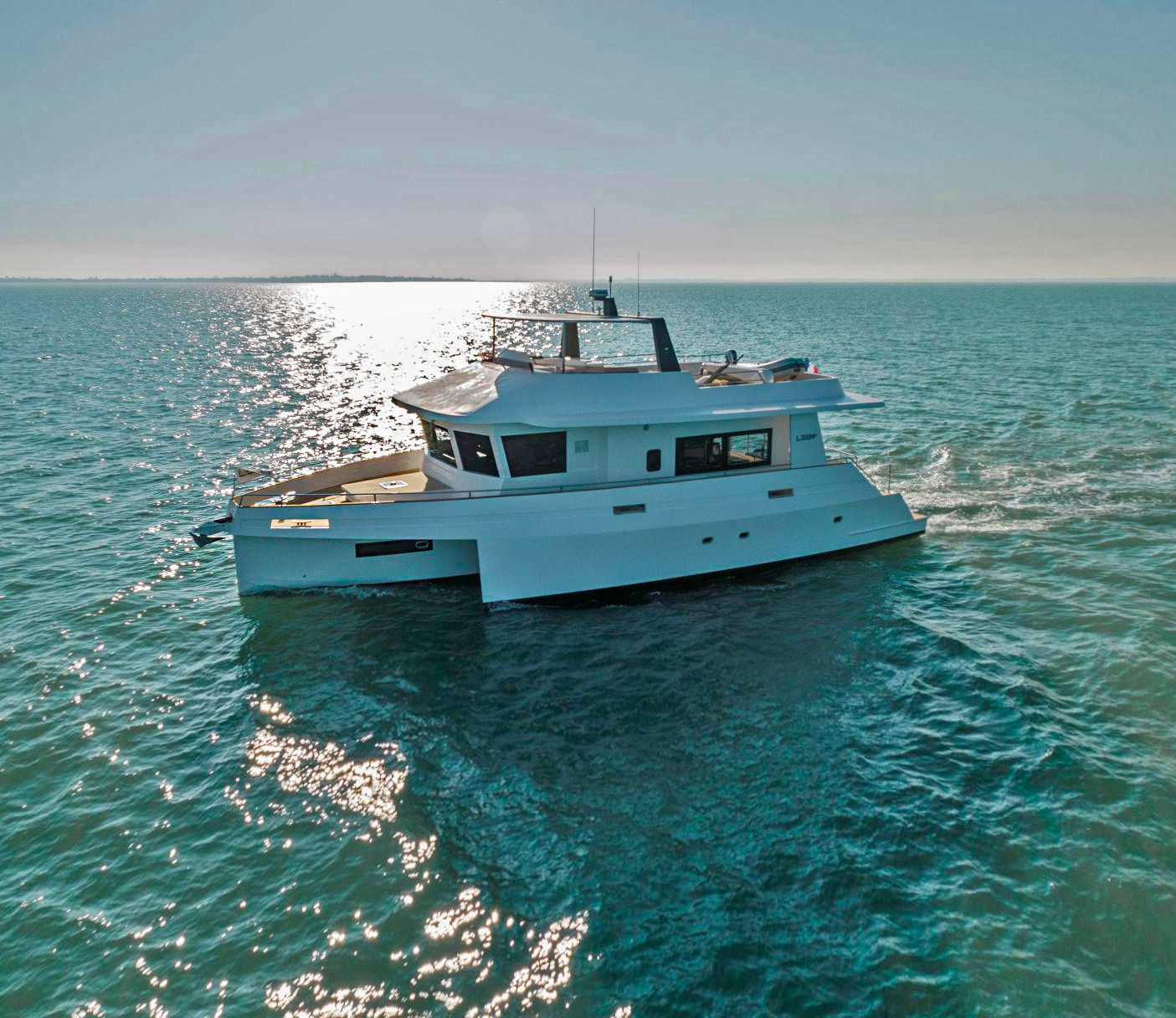 LEEN 56 Power Trimaran Boat Review: A Bluewater Cruiser
Distance cruising on a most unique platform: Zuzana Prochazka reviews the LEEN 56 yacht.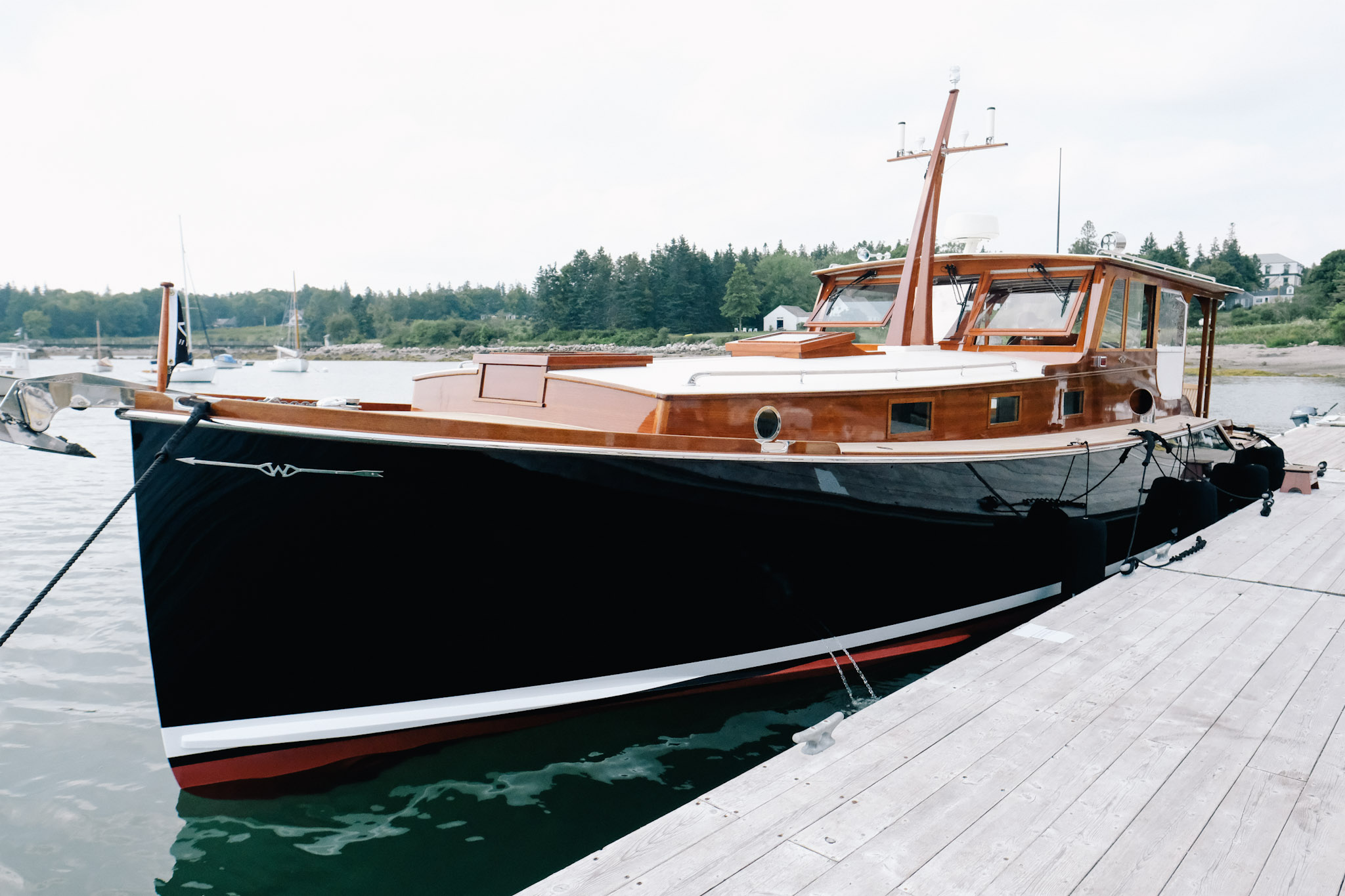 Downeast Lifestyle: Hemingway's Boat, Windjammers and Lobsters in Maine's Wooden Boat Mecca
Exploring boats and yachts on the Maine Coast including the Wheeler 38 Hemingway boat.