Express boats make a great choice if you want to be comfortable all day and night on the water while still being able to zip around quickly. These boats tend to be larger (30 to 50 feet on average) and have a ton of outdoor seating and deck space. They offer indoor locations to rest and relax, offering protection from the sun. Here are the finest best express boats of 2022.
1. Sea Ray Sundancer 370 Outboard
The Sea Ray Sundancer 370 Outboard is an elegant, high-class express boat. The cockpit area of this boat boasts a wet bar and a dinner table, making it perfect for a romantic dinner on the water or for entertaining your friends. A giant 12-inch touchscreen on the dash makes it simple to make any adjustments to the boat's setting. It also has a responsive joystick for piloting the vessel through the waves.
The cabin sleeps up to four people and has an impressive headroom. In addition to the galley and sleeping spaces, there's also an enclosed head with a shower. There is a standard microwave and refrigerator for convenient meals on the water.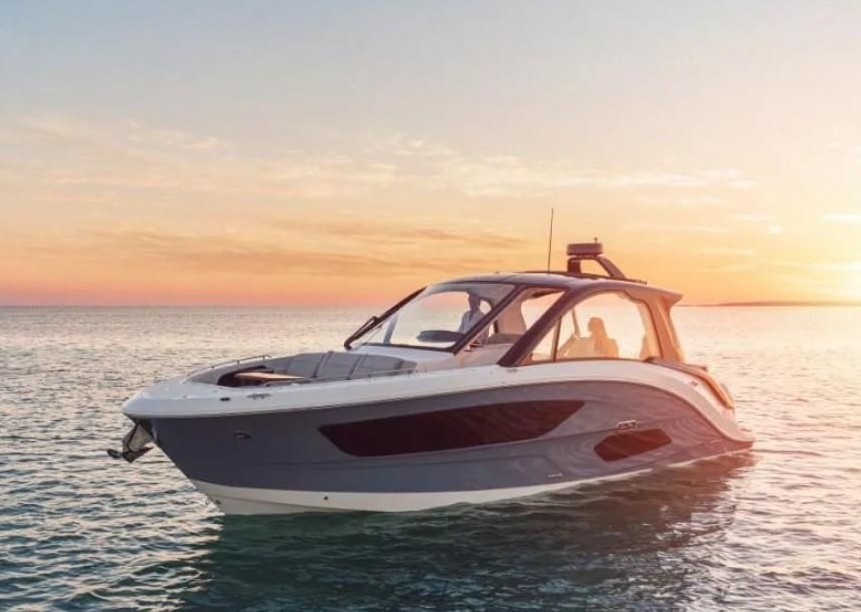 Sea Ray Sundancer 370 OB. Image credit: Sea Ray.
Browse Sea Ray Sundancer 370 boats for sale.
2. Formula 350 Crossover Bowrider
The Formula 350 Crossover Bowrider is a blend between a speedboat and a luxury yacht. This boat has an impressive cockpit, comfortable seating, and a spacious cabin below.
The cockpit has two seats in the helm that are adjustable. The cockpit is also on the same level as the rest of the top level, so you don't have to climb stairs.
There's lots of seating throughout, including a U-shaped couch with a convertible table. Plus, there's lots of storage under the seats.
The cabin has a comfortable full-size foam mattress and an impressive, full-size head. The high ceilings mean that you feel comfortable walking around indoors if you want a break from the sun. There's also seating down below, providing you with an entertaining space if the weather turns south.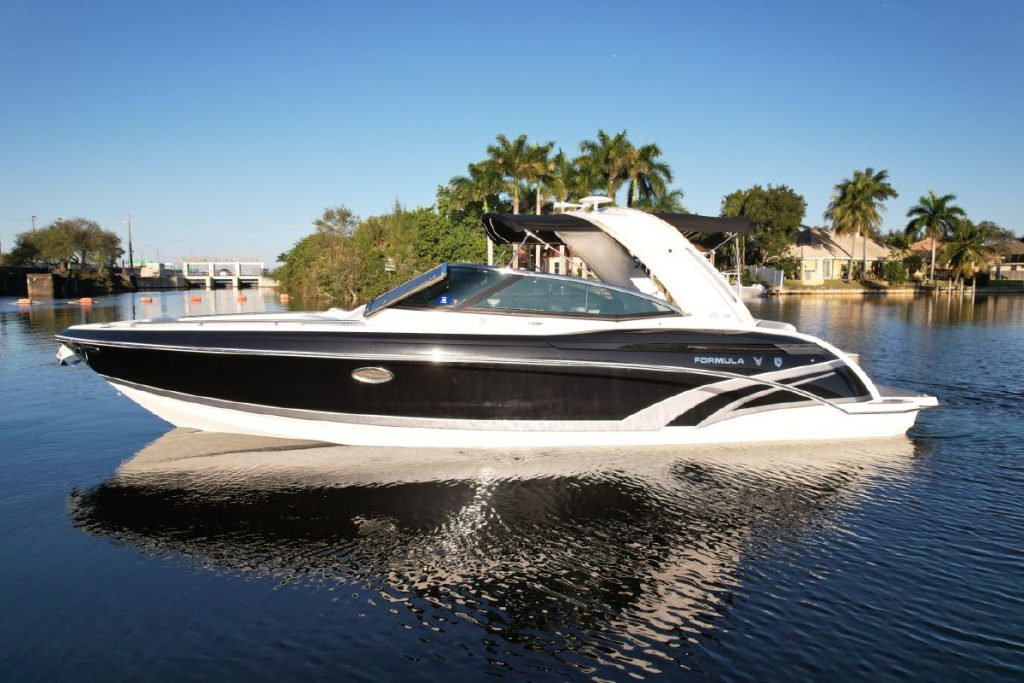 Formula 330 Crossover Bowrider. Image credit: Formula boats.
Browse Formula 350 Crossover Bowrider boats for sale.
3. Intrepid 409 Valor
The Intrepid 409 Valor is the perfect mix of performance and luxury.
Thanks to the insulated aft and fish boxes, it's ideal for keen anglers. The 409 has a foldable swim ladder and swim platform to the port and starboard.
The cabin boasts a queen-size bed, perfect for spending a couple of nights on the open water. The cabin is air conditioned, so that you can sleep comfortably at night. In addition, there's a refrigerator galley and a full-sized head for maximum comfort.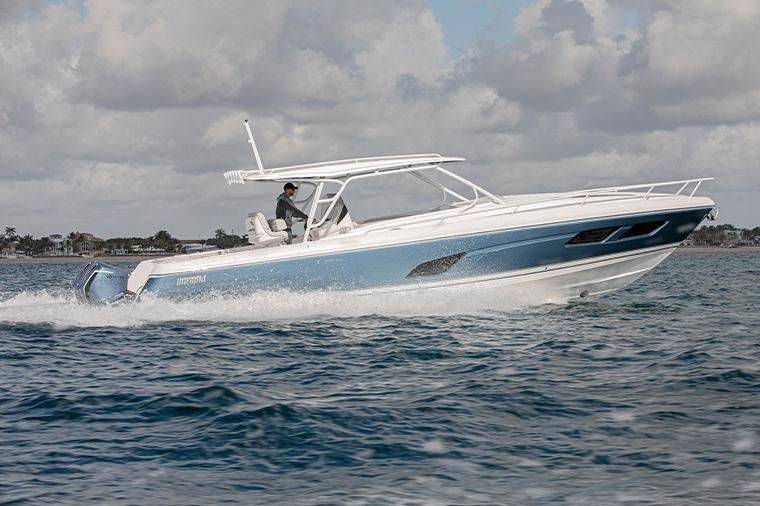 Intrepid 409 Valor. Image credit: Intrepid.
Browse Intrepid 409 Valor boats for sale.
4. Regal 33 XO
If you like getting in the water, the 33 XO has a wraparound swim platform so low that it's practically on the water. This height makes it fun to jump into the water, and it's easy to get out of the water. There's also an adjustable sun lounger where you can relax and enjoy the sunshine.
Even though this boat is only 33 feet long, the bedroom in the cabin has a king-size bed. If you like lots of space while you sleep, you can't beat this impressive setup. The 33 XO is the only boat in its class with a king-size bed! In addition to the main bed, two oversized twin beds can be converted into a king if needed, giving you versatility when traveling with others.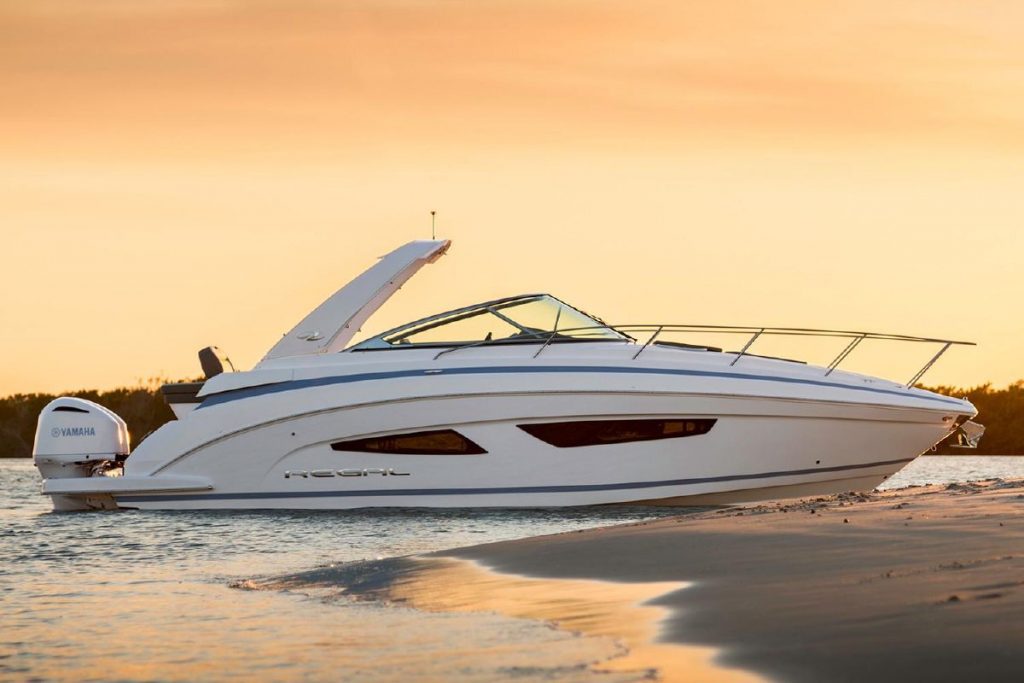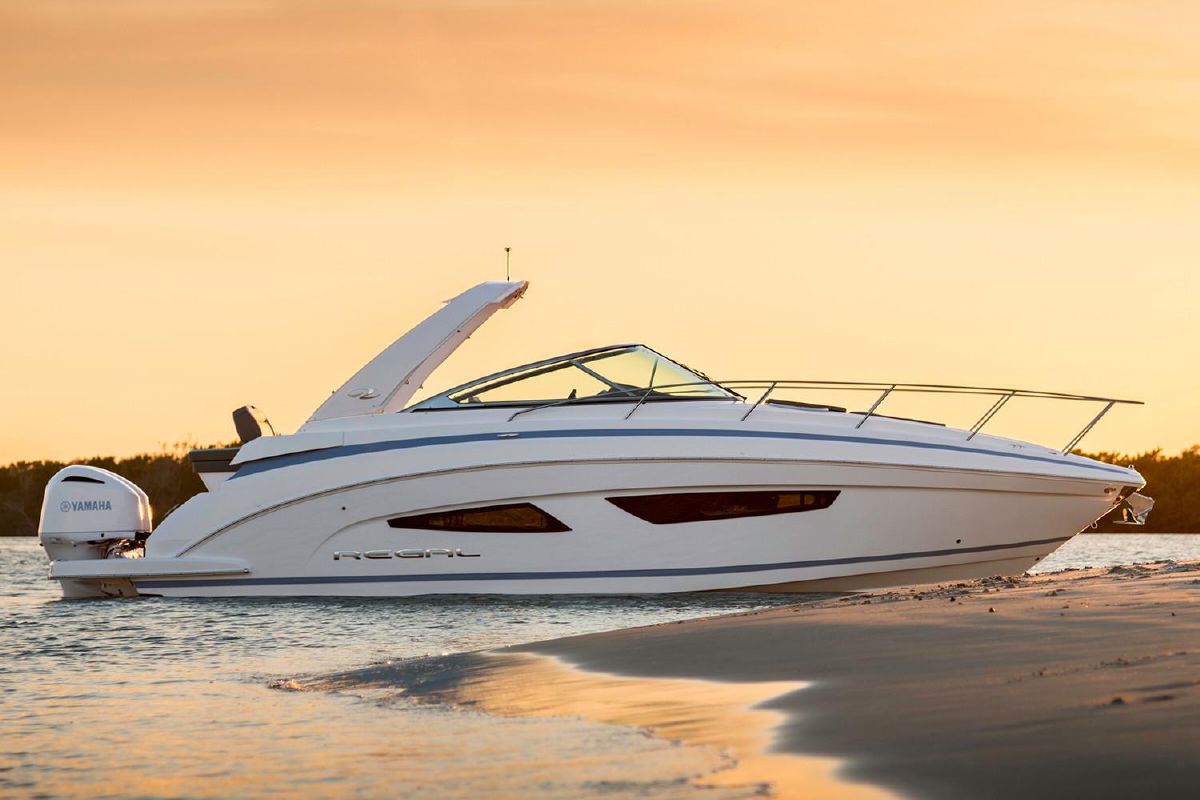 Regal 33 XO. Image credit: Regal
Browse Regal 33 XO boats for sale.
5. Riviera 395 SUV
The Riviera 395 SUV offers' one-level living'. With a large aft boarding platform, you can be incredibly comfortable getting on and off the boat. There's also an extended cockpit awning, giving you the option to add floor space if you need it. The cockpit is an open area with extra seating with the option of adding a convertible daybed.
The cabin is spacious, with a walkaround queen bed for sleeping. The gallery includes an electric cooktop, microwave, sink, fridge, and freezer drawers. One major benefit of single-level boating is having a surplus of fresh air indoors. The 395 SUV has sliding glass windows, flooding the boat with natural light and air. There are three twin-sized beds in the guest room.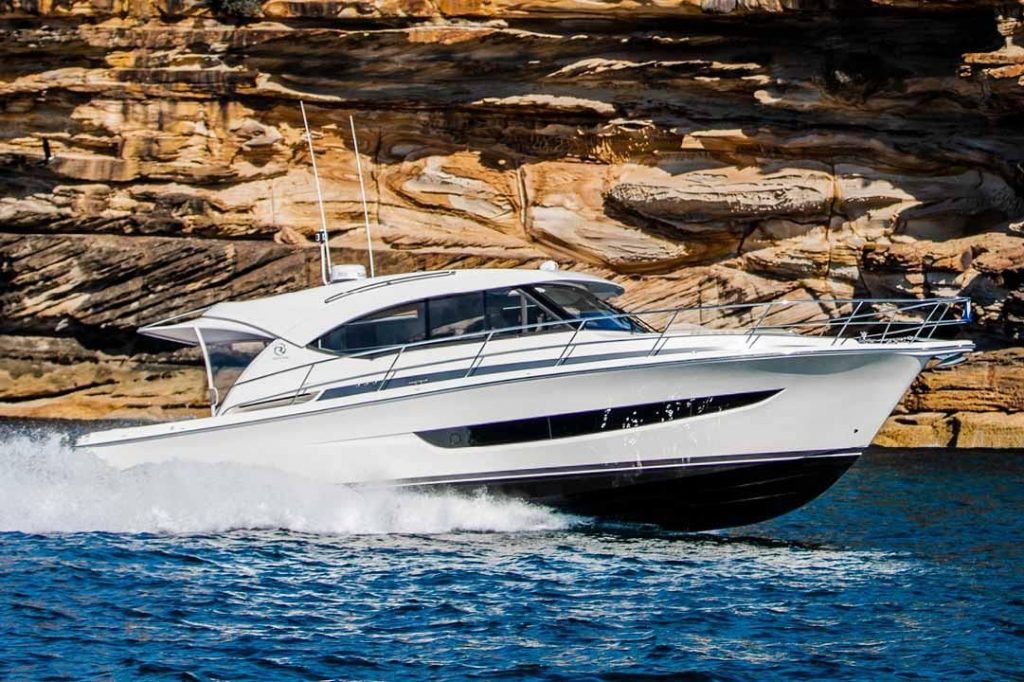 2022 Riviera 395 SUV. Image credit: Riveria.
Browse Riviera 395 SUV boats for sale.
6. Grady-White Express 330
The Grady-White Express 330 is most commonly used as an offshore fishing boat equipped with a 45-gallon Livewell. There are also four-rod holders onboard and a horizontal rod storage rack. The pressurized raw water with a hose is also beneficial, providing a liveaboard tap.
The Express 330 comes equipped with Captain Grady, a digital boat system, and an operation guide that you can download directly onto your iPhone or iPad. There's also a high-quality stereo system throughout the boat.
The cabin is air-conditioned, and there is an enclosed, ventilated, and lighted head area with storage space, a shower, and a VacuFlush head. This boat truly offers all the luxuries of a home.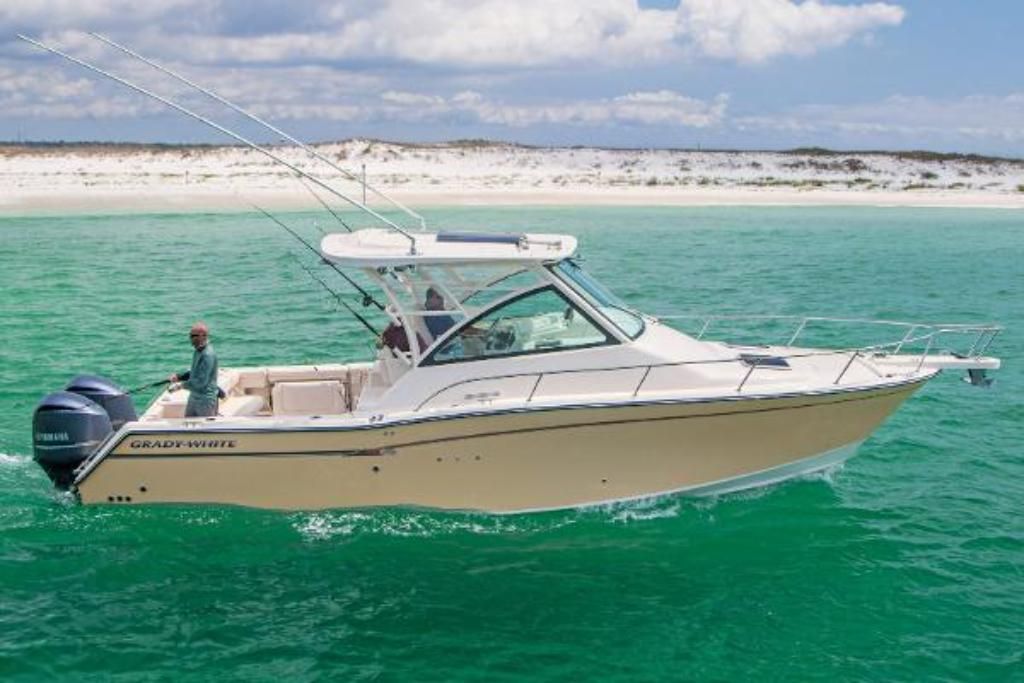 Grady-White express 330. Image credit: Grady-White.
Browse Grady-White express 330 boats for sale.
7. SACS Rebel 55
The SACS Rebel 55 prides itself on being an unconventional option in the express boat market. The Rebel 55 is incredibly stylish and features a full walkaround deck. In addition, the stern platform on the deck has teak decking, making for a more home-like feel versus your more standard boat flooring. The helm station has USB charging ports, a digital control panel, and a seven-inch engine monitor, giving you some great technology features.
The cockpit has a wet bar and a worktop complete with drawers, cupboards, and a fridge. There is also the luxury of a double sofa, a sunbed, and a stainless-steel swim ladder. The dining table matches the teak stern platform.
There are two cabins. The stern master cabin has a memory foam queen bed, giving plenty of room for two adults. There are also opening windows, which allow fresh air to come in. The master cabin has an en-suite head with an electric toilet, cabinet, sink, and separate shower room.
On the other side of the boat, you have the bow VIP cabin. This room also has a memory-foam queen bed to bring two other adults with you comfortably. This room also has windows, tons of storage, and access to a headroom.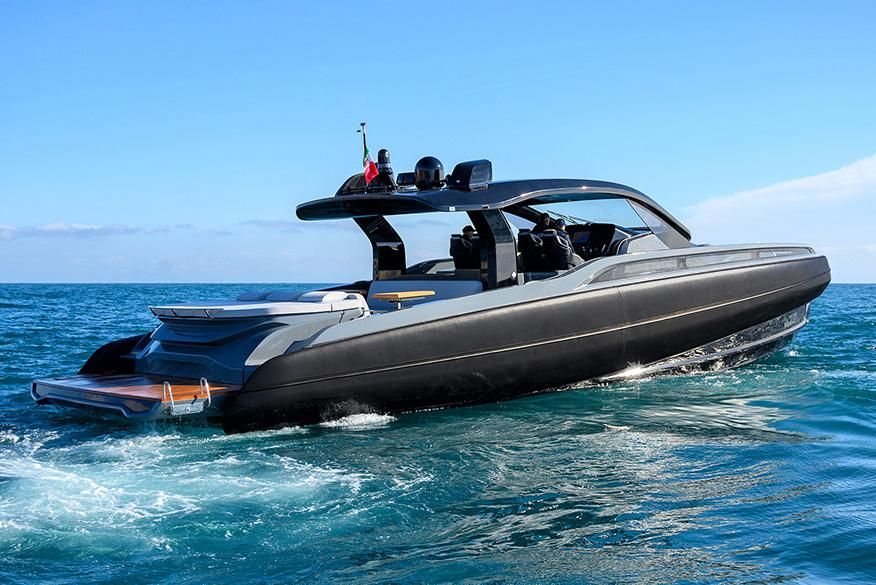 SACS Rebel 55. Image credit: Sacs.
Browse SACS Rebel boats for sale.
8. Jeanneau Leader 9.0
The Leader 9.0 has a sporty aesthetic and provides family-friendly features. This boat has a traditional V-shaped hull, making it quite a bit taller than many other boats on this list. It also boasts a cabin, a full head, and four berths.
The Leader 9.0 has a large cockpit with a two-seater helm station, a galley, and an abundance of storage. There's also a spacious sunbathing deck. Plus, with a swim deck abaft the boat.
There's a lovely breakfast nook to enjoy a meal together. There's also a separate shower area in the head. The Leader 9.0 is the perfect express boat for families looking to spend a night or two out on the water.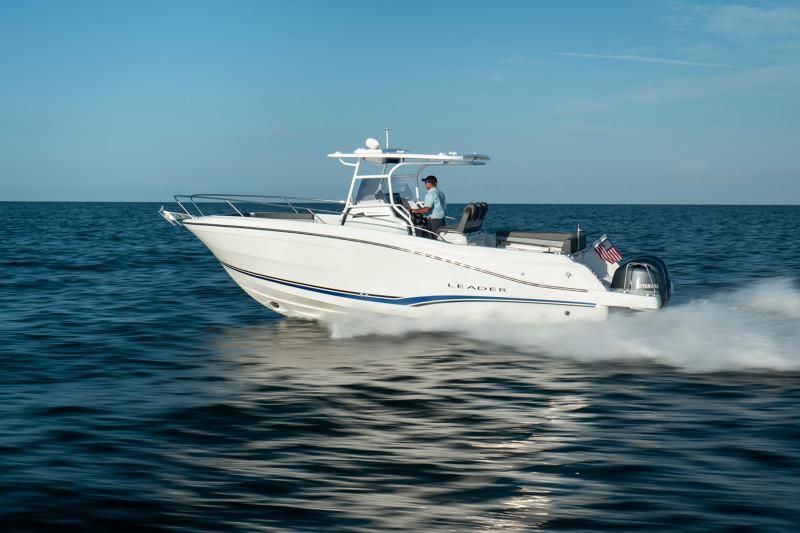 Jeanneau Leader 9.0 . Image credit: Jeanneau.
Browse Jeanneau Leader 9.0 boats for sale.
Related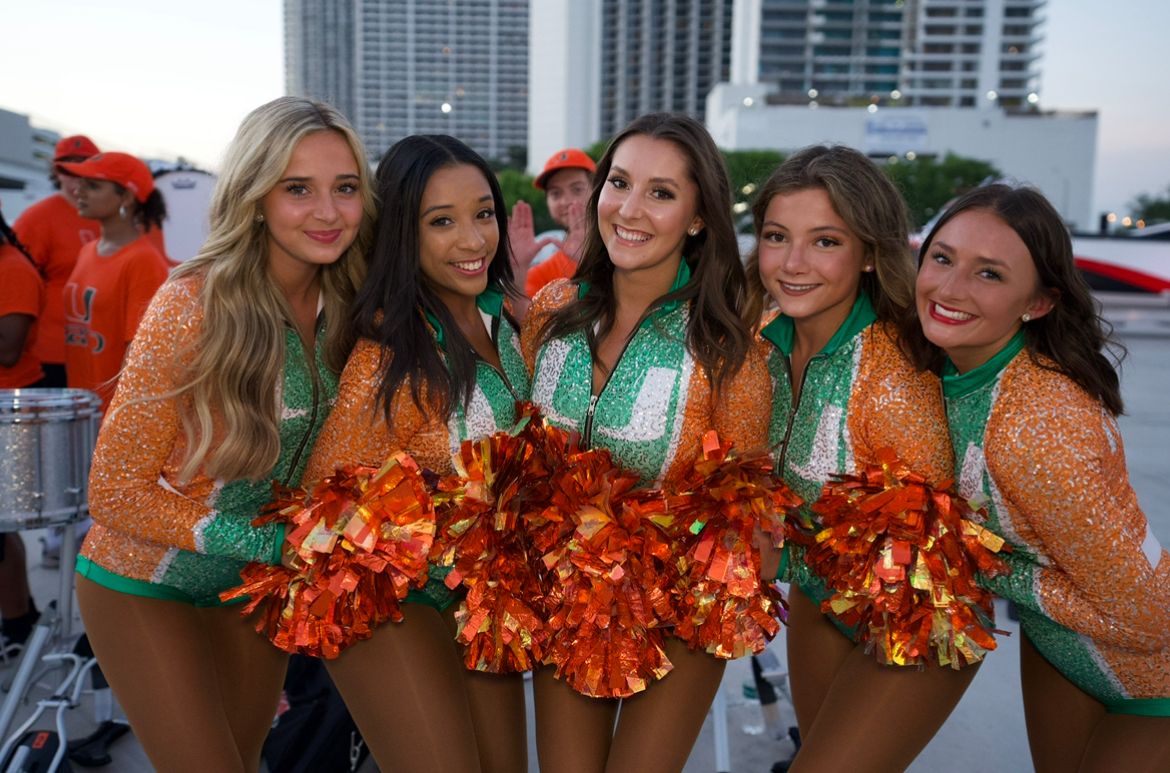 Miami F1 Grand Prix Luminsea Offshore Races
Category:
High-performance powerboats
Miami F1 action shows why the city is always a stage for drama and excitement.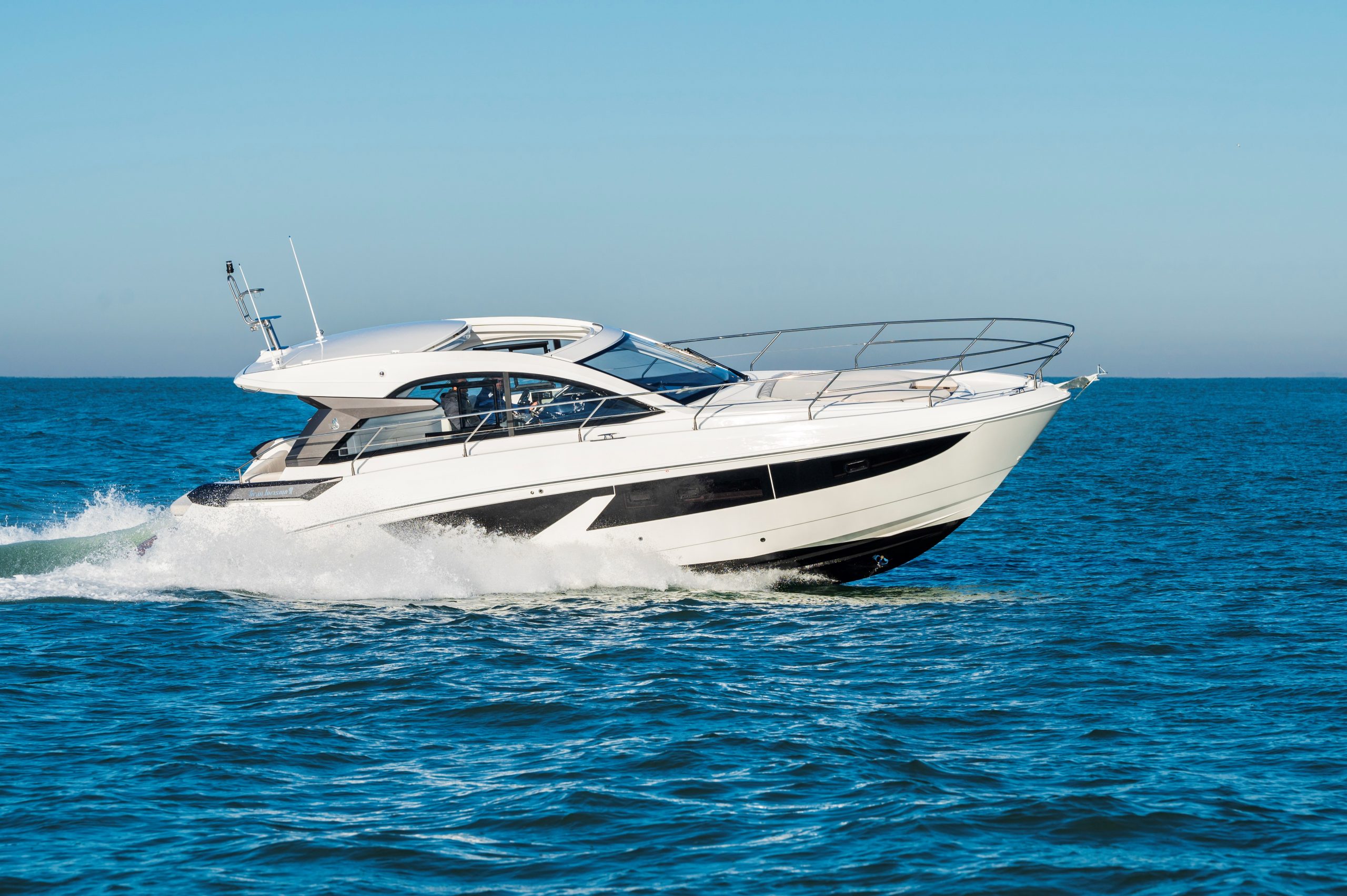 Best New Cabin Cruiser Boats For 2022
These stand-out cabin cruisers will be top picks.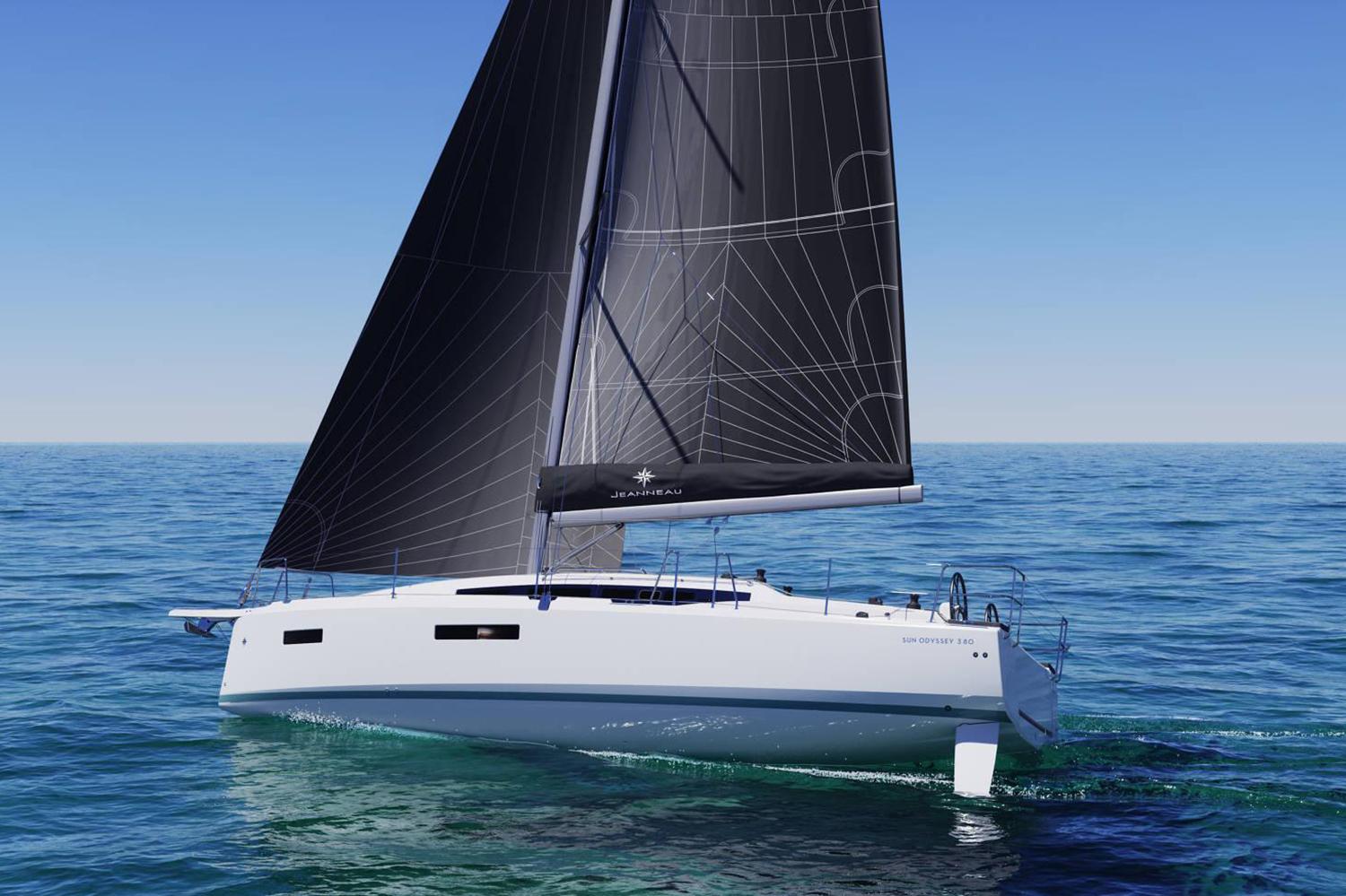 Jeanneau Sun Odyssey 380 Boat Review
The new Jeanneau Sun Odyssey 380 sailboat offers performance and comfort in an approachable package.