Yachting Playlist: Instrumental For Having A Good 'Ol Time On Board
Music, a combination of lyrics or a sound, can sum up a mindset, a moment, or a thought. Listening to music with a drink on the deck while watching a sunset is a moment to be cherished, and having a playlist ready to go will save you from jumping up and down like a yo-yo changing tracks. Here are YachtWorld's top songs to add to your yachting playlist.
1. "Beach Cowboy" by Brian Kelley
A Floridian boating track with oodles of sportfish appeal. Brian Kelley of the band Florida Georgia Line, AKA 'The Beach Cowboy', proud owner of a custom-built 56-foot Sunny Briggs sportfish, released "Beach Cowboy" back in 2021, and it's been a favorite of ours ever since. Kelley's most recent release, "Highway On The Water", is worth saving to your list.
Listen below:
Listen below:
2. "Kokomo" by The Beach Boys
The lyrics describe two lovers taking a trip to a relaxing place on Kokomo, a utopian (fictional) island off the Florida Keys. Caribbean steel drums combined with references to Caribbean islands conjure images of cruising around tropical islands on vacation. This song is about valuing the simplicities of life, getting out on the water, and soaking up the sun.
Listen here:
3. "It's Five O'Clock Somewhere" by Alan Jackson and Jimmy Buffett
True to that all-American sound, this track is slow and laidback and about justifying having a drink early in the day, "Pour me somethin' tall and strong, Make it a "Hurricane" before I go insane."
4. "Changes in Latitudes, Changes in Attitudes" by Jimmy Buffett
This song encapsulates the benefits of traveling and how the wonderful places, characters, and faces we meet along the way shape our perception of the world. Listening to this song may inspire you to pack up and drop anchor somewhere entirely new.
Listen here:
5. "Banana Boat (Day O)" by Harry Belafonte
Jamaican-American singer Harry Belafonte made this infectious ditty about dock workers working the night shift loading bananas onto ships, a hit in 1956, and now it's impossible to hear it without getting tropical vibes (and "day-o!" stuck in your head).
Listen here:
6. "Sailing" by Rod Stewart
The Sutherland brothers from Aberdeenshire wrote 'Sailing', and in 1975 it became an international hit for Rod Stewart, whose husky vocals and lyrics rouse emotion, particularly after a tipple or two. The song is about a sailing home, longing to be near someone you love.
Listen here:
7. "Sailing Song" by S.J.Tucker
Arkansas-born North American female singer-songwriter has the voice of sea lore. The Sailing Song is a playful, catchy song that the whole crew will enjoy singing along to on a voyage at sea. You will catch yourself singing the chorus 'Hey ho little boat, Round about the world we go,' before you know it.
Listen here:
8. "Boats" by Kenny Chasey
'Boats' is a popular all-American classic song and evokes sentimental feelings. Kenny Chasey refers to boats as 'vessels of freedom, harbors of healing '; it's clear that his passion for the water far outweighs land.
Listen here:
9. "(Sittin' on) the Dock of the Bay" by Otis Redding
Fine-tune your ears, and you may hear the waves in the background of this classic by Otis Redding. Recorded in 1968, the soul jam is dedicated to the enjoyment of watching boats and water moving from the dock.
Listen here:
10. "Surfin' U.S.A." by the Beach Boys
A throwback that every American and his boat can get behind, the Chuck Berry-penned 'Surfin' U.S.A.' has epitomized summer since the 'Beach Boys' released it in 1963.
Listen here:
11. "Waves" by Mr. Probz
This track features a throbbing beat, piano, and guitar, getting you into the right mindset to slowly drift away from responsibilities tied to modern life on land. It doesn't matter what genre of music you're into; this is a must-have tune for sundowners.
Listen here:
12. The DownEaster' Alexa': Billy Joel
The music legend takes on the role of a down-and-out Long Island fisherman in his 1990 boating track. Mentions of Montauk and Nantucket make it a favorite in the North East.
Listen here:
13. "Sloop John B" by The Beach Boys
The Beach Boys were not the first to sing 'The Sloop John B', the song was originally an old Bahamian folk song about a Welshman named John Bethel who lived in the Bahamas In 1647. He built a 16-foot sloop vessel to carry a crew of five, 'The Sloop John B' describes challenges presented at sea that can cause a voyage to go awry.
Listen here:
14: The Wild Card
"The Wellerman" by Nathan Evans
Love it or hate it, this nautical sea shanty is downright bonkers. Sea shanties were originally sung by sailors while performing physical labor tasks together.
Listen here:
The only thing better than listening to music on board is dropping anchor and worming your way through a good book as the waves lapping beneath your feet.
If you want some book inspiration, read our guide The Best Sailing Books: 21 Top Picks.
Alternatively, podcasts are a great way to brush up on your seamanship skills, stay up-to-date with breaking news stories or hear awe-inspiring sailing stories. Read our guide on The Best Boating Podcast , including a wide variety of podcasts presented by boaters for boaters.
Related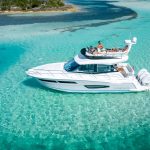 Yacht Designs And Boat Hull Types
A deep dive into all the different types of yachts, from pocket yachts to superyachts and everything...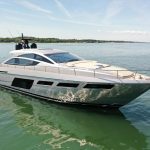 Pershing 6X Luxury Motor Yacht Walkthrough Boat Review
Ryan McVinney walks through a Pershing 6X luxury cruiser.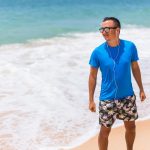 The Best Boating Podcasts: 17 Top Picks
When it's too cold to get out on the water, sometimes listening to podcasts is the next best thing.