If you're interested in the cutting-edge boats of the future and you want to own the most radical craft in the yacht club, you've probably looked at amphibious boats more than once. What could be cooler than driving down the beach, when everyone else's boat is stuck at the edge of the sand? Or, what if you have a beachfront cottage 100 yards from the breakers? A boat that can strut its stuff both on land and at sea would certainly up the cool-factor quite a bit. And as 2022 hits you have a number of options when it comes to finding the best amphibious boats for your needs and desires.
Gibbs Phibian
If you can't decide whether you need a boat or a truck, the Gibbs Phibian is the natural choice. Unlike most amphibious boats, which place more of an emphasis on boat-like performance at sea than car-like performance on land, the Gibbs is equipped with everything it needs to be street-legal in most places. It can break 70 mph on the asphalt, yet still manages to reach 30 mph on the water via a pair of 250-hp turbo diesels and Gibb's proprietary waterjet drives.
The Phibian has seating for up to 15 people, a wheelbase of 20'6", a LOA of 30'0", and a curb weight of 9,920 pounds. From the outside it looks more like a truck than a boat — until you hydraulically retract the wheels and complete the land-to-sea conversion.
Gibbs Quadski
Those who love buzzing around the bay on a PWC as much as they enjoy tearing down the trail on a four-wheeler will want to check out the Gibbs Quadski. It can break 45-mph in either environment, while being powered by a 140-hp gasoline inboard engine and a jet drive. This one's also rigged with lights for both land and sea navigation, and boasts a mere five-second "conversion" time to go through its marine metamorphosis.
Visit Gibbs Amphibians.
Iguana Yachts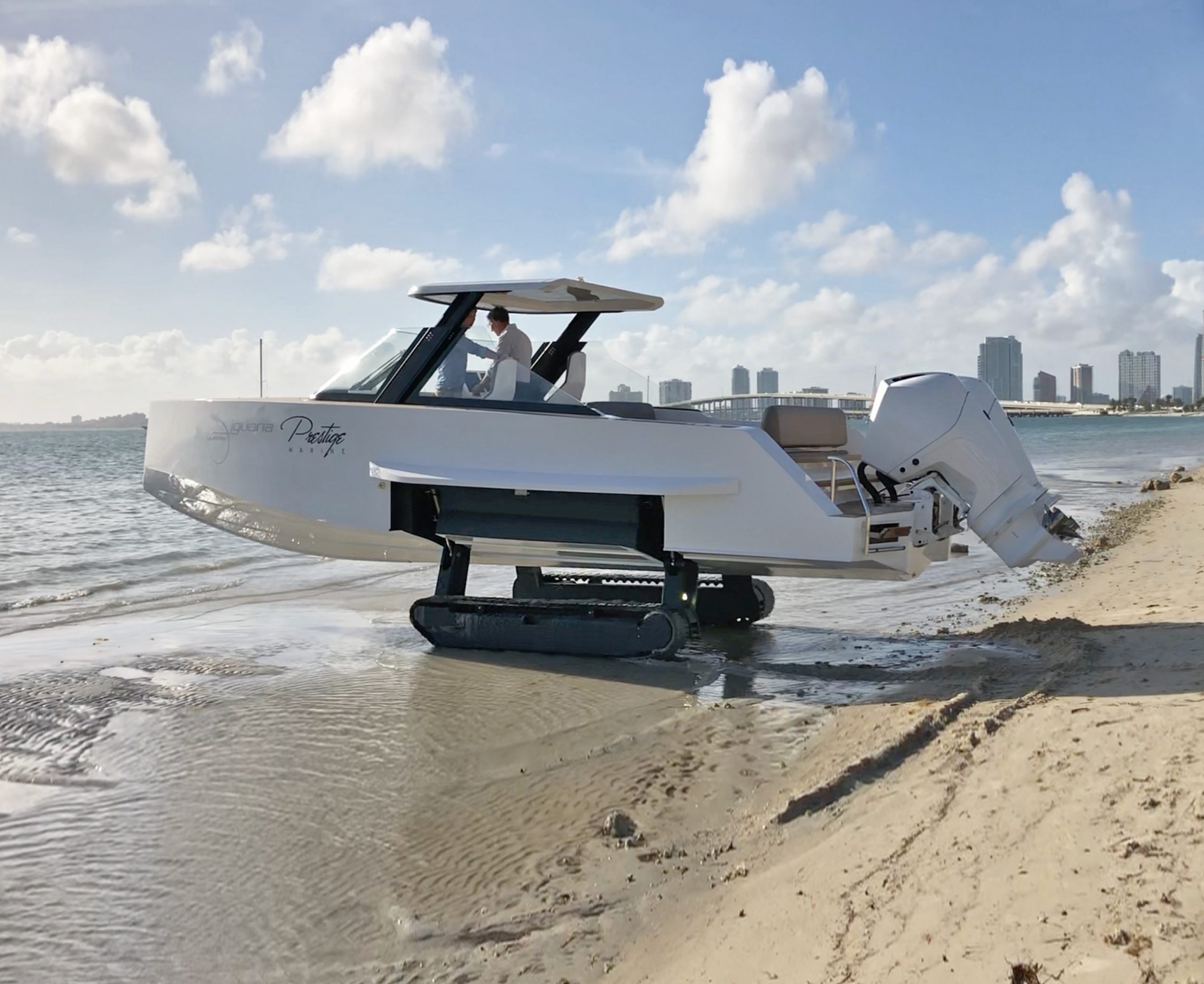 Above: A 2021 Iguana Yachts Commuter amphibious boat in Miami during the Miami Boat Show 2021. Photo by Marilyn DeMartini for YachtWorld.
Iguana Yachts are unique in their mode of mobility, since they do their walking on a set of tank-like tracks instead of with wheels. Once you're in the water those tracks and the legs supporting them fold right into the side of the boat, maintaining a sleek appearance and spectacular on-the-water performance including a 40-knot top-end.
Iguana Yachts Day Limo
The Day Limo is Iguana's take on transporting the maximum number of passengers from point A to point B — regardless as to what land masses stand in the way — in maximum comfort. To this end it's outfitted with comfy seating from stem to stern and every one of the 12 maximum passengers has a spot to sit with arm rests and cupholders. It employs a convertible dodger to keep the occupants dry in poor weather, a refrigerator to keep drinks frosty, and foredeck luggage stowage for up to six suit cases.
Iguana X Fisher
If you're an angler who enjoys fishing in the bay or ocean one day and in the lake the next, owning an Iguana X Fisher means you can do both from the same boat without ever hitching up a trailer. This center console version of the Iguana comes with rodholders in the transom and gunwales, rocket launchers on the hard top, a livewell, and an integrated macerated fishbox. At a hair over 30 feet LOA this uber-mobile fishing machine carries a pair of 300-hp outboards on the back, and can hit eye-watering speeds of over 50 knots on the water.
Visit Iguana Yachts for more information.
View all Iguana Yachts for sale on YachtWorld now.
Ocean Craft Marine
With a factory and corporate headquarters located in Annapolis, MD, Ocean Craft Marine manufactures some of the top rigid hull inflatable and amphibkous boats in the marine industry. The company has introduced a number of important innovations including their proprietary Amphibious BAS System that was developed in house specifically for their OCM amphibious models.
Ocean Craft 9.8 AMP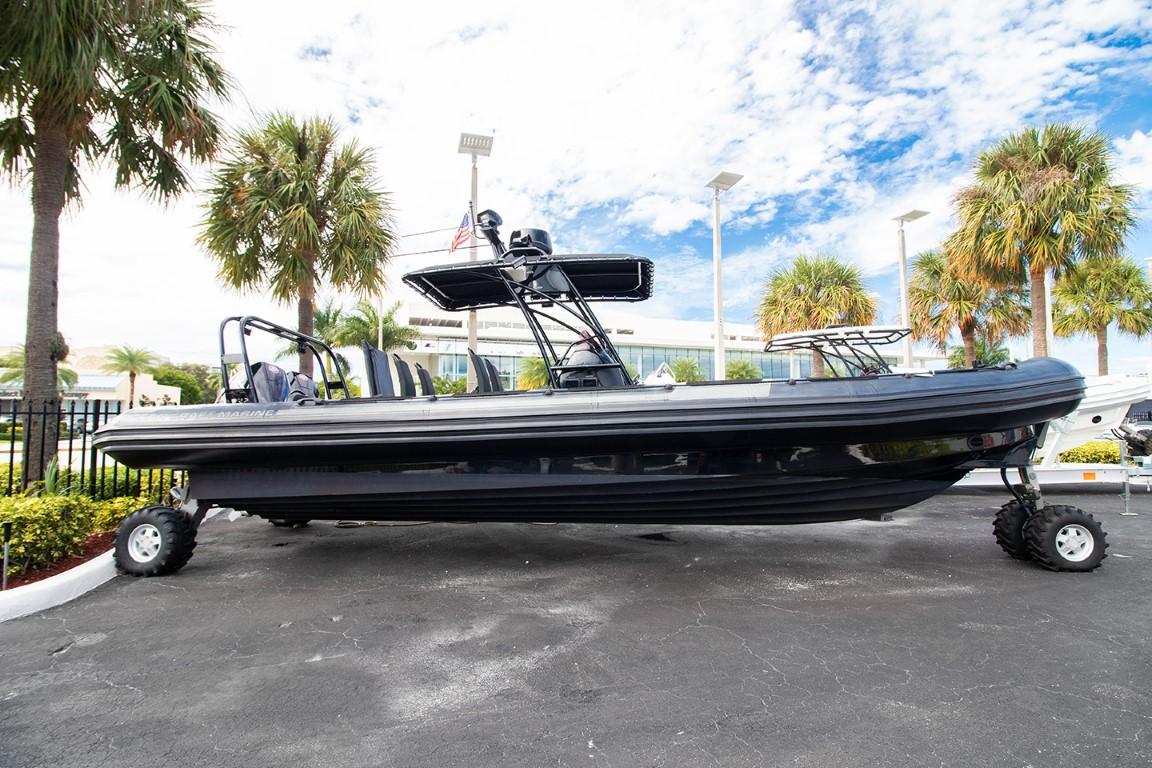 Above: A 2021 Ocean Craft Marine 9.8M AMP Amphibious boat for sale on YachtWorld by Nautical Ventures in Fort Lauderdale, FL. Photo by Nautical Ventures.
With a pair of wheels at the bow and another at the stern the Ocean Craft 9.8 AMP is the largest recreational amphibious RIB this company makes, at 32' LOA and 10'wide. It can carry a whopping 15 passengers and handle up to 800 horsepower on the transom. It can also be bought with some exceedingly nifty features like shock-mitigating seats, folding T-tops, and full electronics suites with night vision cameras.
Above: A walkthrough of a 2022 Ocean Craft Marine amphibious boat, by Boat Trader.
The 9.8 AMP makes way on land as other Ocean Crafts do, via three hydraulic legs, one in the bow with a pair of wheels and two aft with one wheel each. They're powered by a gasoline engine tucked into an aft motor box. On land the boat can cruise along at jogging speeds, and on the water it can run up into the 50-mph range. One of the stand-out traits of an Ocean Craft is its exceedingly smooth ride in a chop, which comes courtesy of a deep-V hull with concave reverse chines surrounded by a shock-absorbing Hypalon collar.
View all Ocean Craft 9.8 AMP amphibious boats for sale YachtWorld today.
Ocean Craft 9.5 Beachlander
You say you want to feel the wind whipping through your hair and you're not satisfied with the relatively slow speeds most amphibious boats go when they're ashore? That won't be a problem if you get an Ocean Craft 9.5M Beachlander and a motorcycle or four-wheeler to go along with it. The Beachlander not only has wheels, it also has a folding bow door that drops down like those found on military landing craft. So, you can drive a speedy land vehicle on and off without having to lift anything over the gunwales. Or, you can anchor out and drop down the bow to use it as a swim platform. Versatile? We can't think of any word that better describes this amphibious boat.
View all Ocean Craft 9.5M Beachlander Amphibious boats for sale.
Visit Ocean Craft Marine for more information.
Sealegs Boats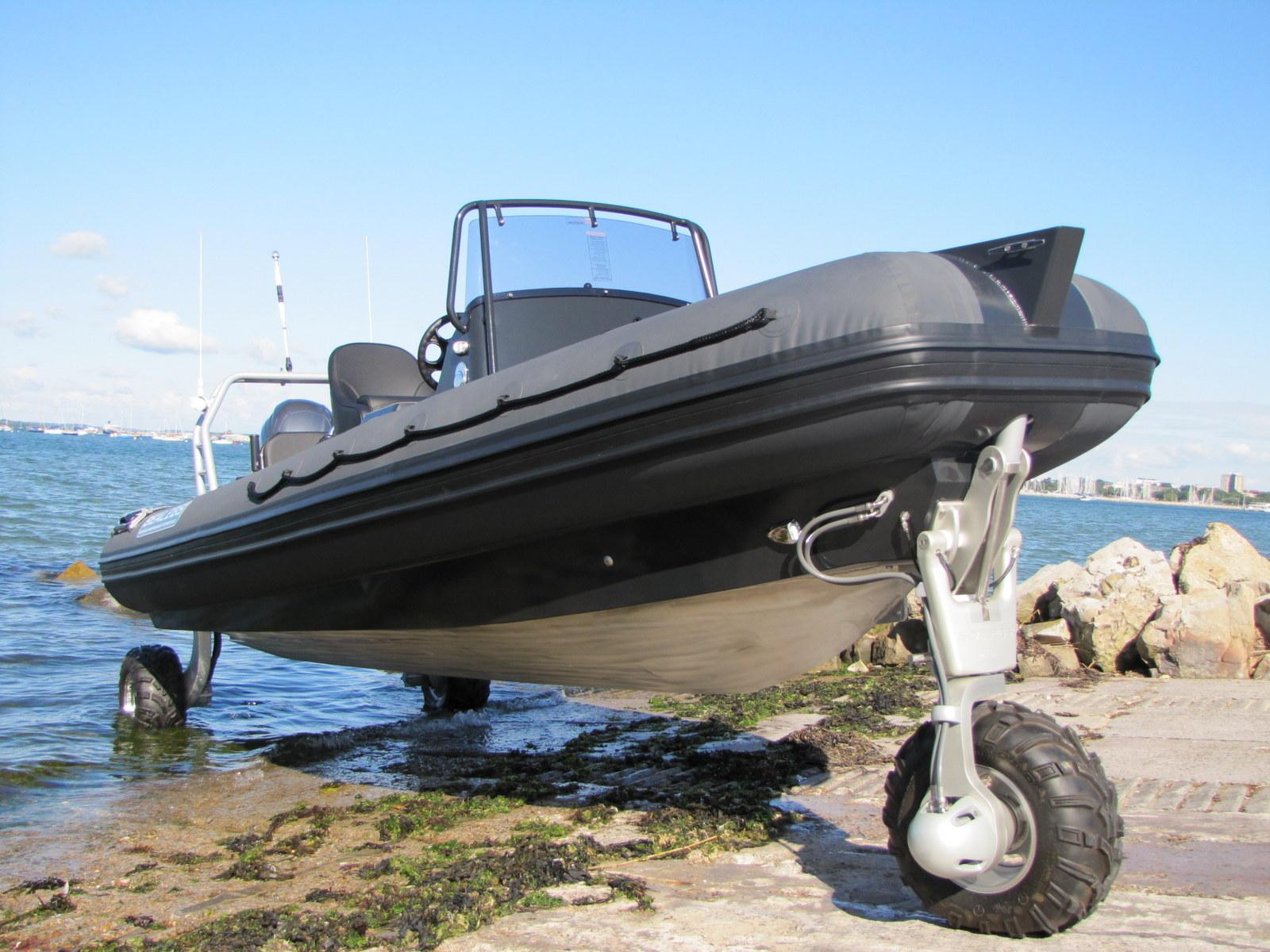 Above: A 2015 Sealegs 7.7. Amphibious Rib for sale on YachtWorld by Salterns Brokerage in Poole, Dorset, UK. Photo by Salterns Brokerage.
Based in Auckland, New Zealand Sealegs uses patented amphibious boat technology to construct amphibious vessels that can drive on land and with the push of a button swiftly transform themselves into high performance powerboats on the water. The boats are designed for single-handed operation, giving one person the freedom to launch their boat by themselves. With a highly customisable platform, the boats acan be modified for various applications from ferry services and tourism to personal use, fishing, cruising and more. Sealegs is a member of the Future Mobility Solutions Group, a company with a focus on marine and transport innovation and with businesses based in France, the United States, New Zealand and Australia. Other companies in the group include Lancer Industries, Willard Marine and S.A.S. Sillinger.
2022 Sealegs 12RC Cabin RIB (12M) – 39 Feet!
If you want a really GIANT amphibious boat that has a cabin complete with two to four berths, a galley, a dinette, a head compartment, and air conditioning, the Sea Legs 12M Cabin RIB will be the pick. This is clearly one of the largest amphibian boats on the market, with a 38'4" LOA and an 11'11" beam. Unlike the other options its hull is aluminum, and is constructed from 6-mm 5083 alloy. It can carry up to a dozen passengers, and can handle 850-hp on the transom in the form of a pair of Yamaha F425 outboards.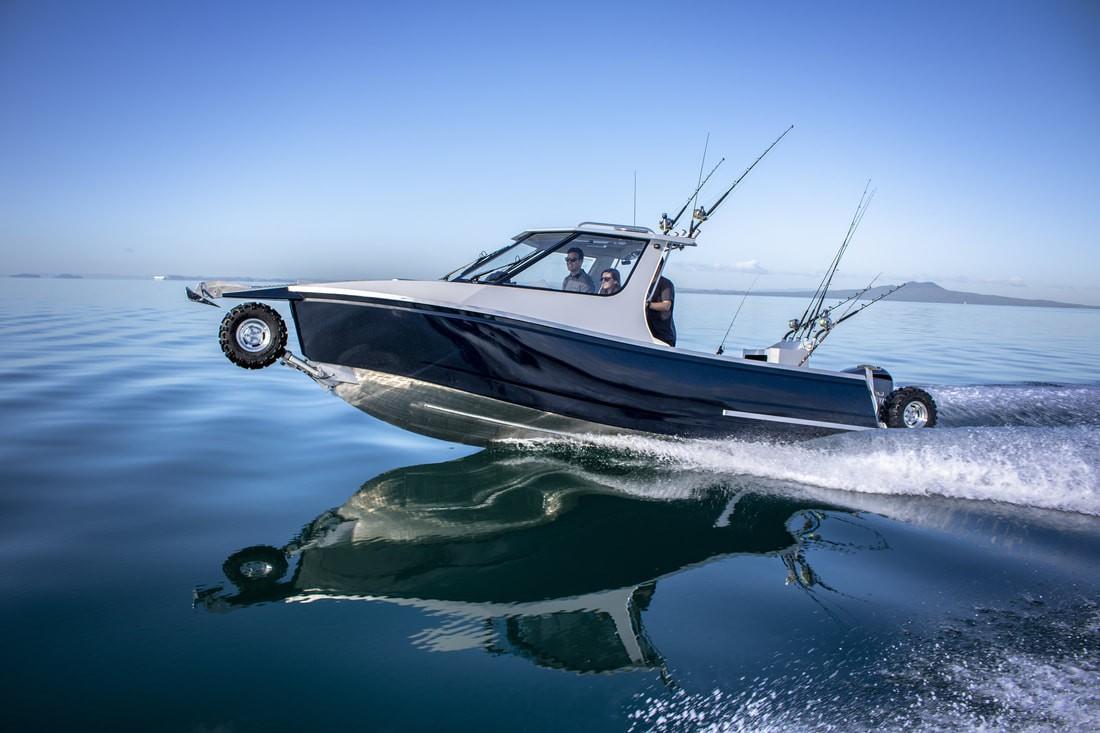 Above: The Sea Legs 12RC's little sister is pictured above – A 2021 Sealegs 8.5M Alloy amphibious boat for sale by Salterns Brokerage in Poole, Dorset, UK. (YachtWorld currently doesn't have any U.S. listings available for the 12RC but it should be available in North America soon). Photo by Salterns Brokerage.
The Sealegs gets its land-based mobility from three wheels, two aft and one at the bow, which deploy on a hydraulic system powered by a 94-hp inboard gasoline engine. The drive is all-wheel, and the boat can transverse a 14-degree grade uphill or 11-degrees downhill.
Sealegs 3.8M
The smallest — and greenest — amphibious RIB around is the Sealegs 3.8M tender, which runs at sea on a 40-hp outboard and gets its land-based propulsion from a three-kWh electric drive. This model is currently in the prototyping phase and isn't expected to be available on the open market prior to late 2022, but it stands to be the first electric amphibian around when it's launched. The 3.8M is expected to run on the three press-button-deployed wheels for up to 45 minutes at a time at speeds up to five mph, with a three-hour recharge period. Though diminutive in nature, it's sure to be a big head-turner.
Visit Sealegs for more information.
View all Sealegs amphibious boats for sale on YachtWorld right now.
Related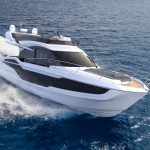 Galeon 440 Fly Full Walkthrough Boat Review
A full walkthrough boat review of the 2023 Galeon 440 Fly yacht.
Award Winning Boat Products & Tech Trends
6 products and processes worthy of cockpit conversation this off-season.
Tenders Guide: From Dinghies To Luxury Superyacht Playmates
Find out which tender type is best suited to your needs.