The world of yachts and boats has seen its fair share of legends. Few, however, have left an indelible mark quite like the iconic Bertram 31 "Moppie" from Bertram Yachts, a yacht builder with a rich heritage of performance, beauty and durability. In the second episode of YachtWorld's Cult Classics documentary series, host Marilyn DeMartini delves into the esteemed history and legacy of the iconic American boat builder. Through in-depth interviews with passionate followers and Bertram owners spanning several decades, the documentary uncovers the distinct qualities that set Bertram Yachts apart.
The Iconic Bertram 31 and Bertram Yachts
Regardless of the port, the unique sheer line of a Bertram 31 is instantly recognizable. Globally, the boat has garnered such a reputation that it can be said "the sun never sets on the Bertram Empire". This Bertram creation was an immediate sensation upon its release and even today, the demand for this classic remains high. While its origins are rooted in racing, the 31 eventually found its niche as a fishing boat, later expanding into the cruiser line. Tracing the history of this boat, one comes across the name Richard 'Dick' Bertram, the man responsible for making Bertram an internationally recognized brand. Bertram Yachts revived the original 31 model back in 2016, with a new, larger yacht, in the form of the Bertram 35– an updated version with a similar shear line.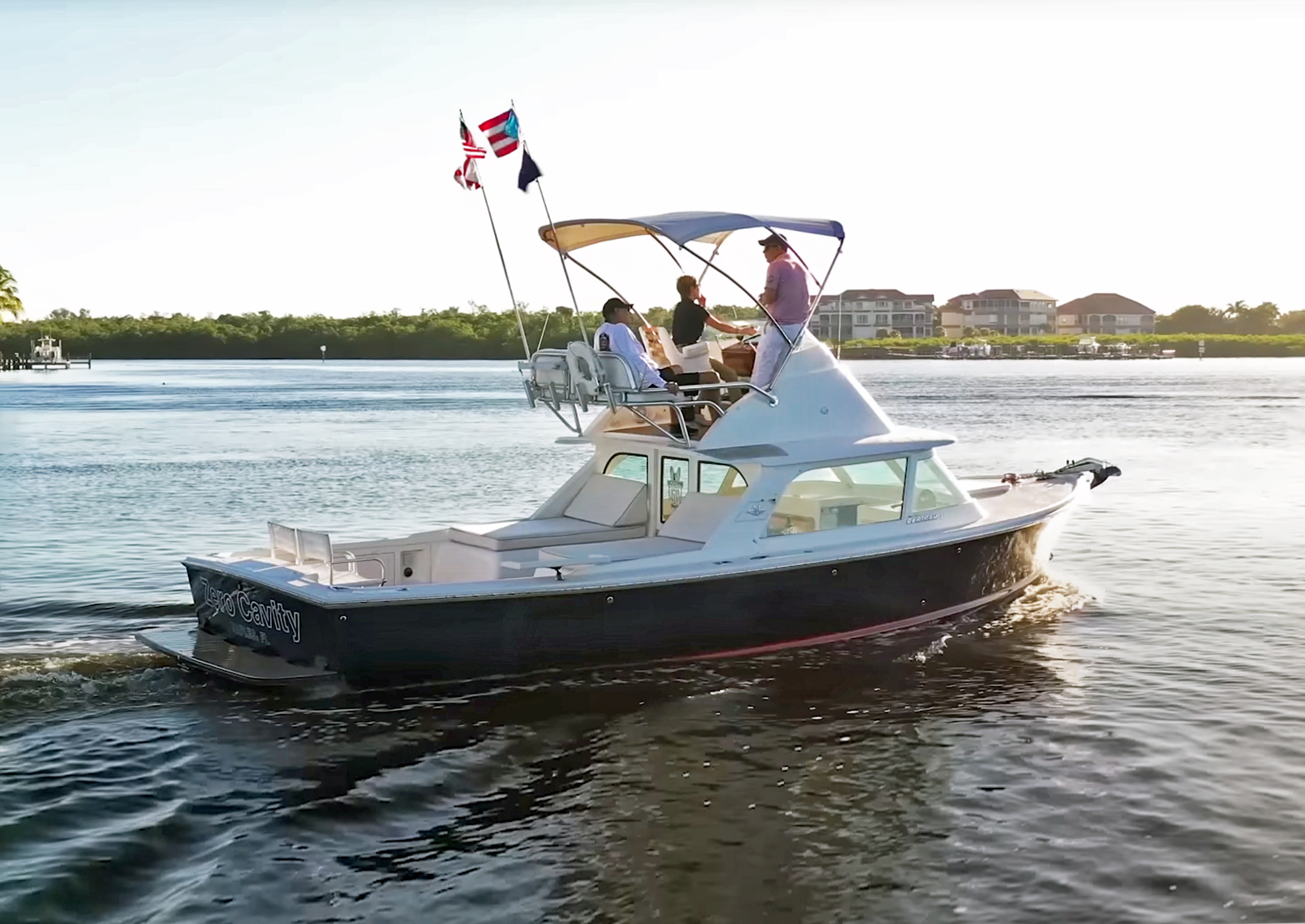 Above: Marilyn DeMartini at the helm of a classic Bertram 31 named ZERO CAVITY owned by Dr. Gerry Santiago. Photo by DeepSee Visuals for YachtWorld.
Dick Bertram: A Man of the Seas
Water sports ran deep in the veins of Dick Bertram. By 14, he was already a competitive sailboat racer. This passion for racing continued into his 40s, and after achieving success in yacht brokerage and establishing a sailing and powerboat service in Miami, Bertram re-entered competitive racing. Teaming up with Sam Griffith, a fellow boatyard owner, the duo pioneered offshore powerboat racing, dominating the Miami to Nassau offshore powerboat race in 1956 and 1957.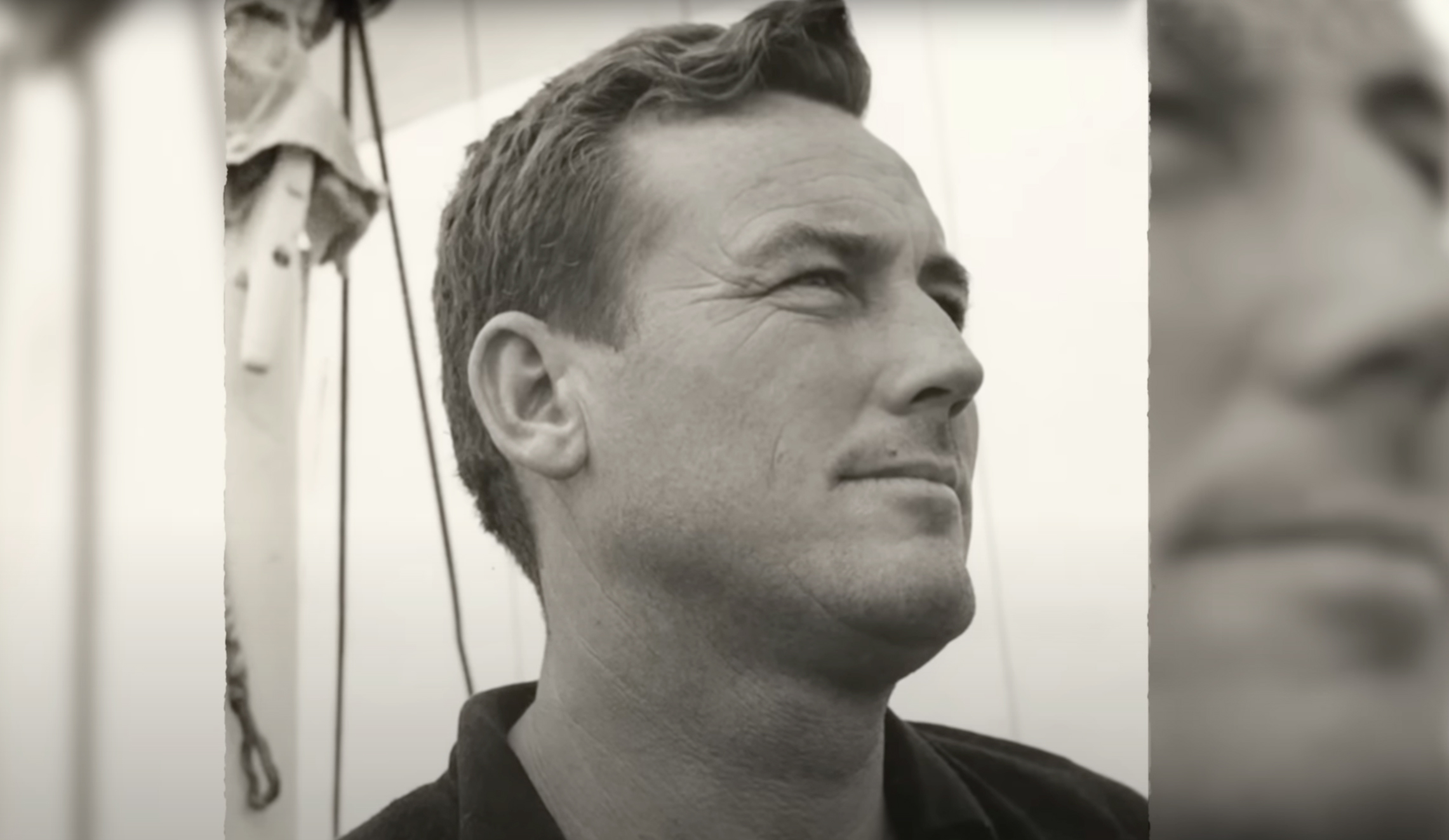 Above: Dick Bertram. Photo via  Morgan Bertram.
In 1958, an event would change Bertram's course forever. While sailing in the Americas Cup trials in Newport, Rhode Island, he spotted a 23-foot Runabout effortlessly navigating through rough waters. This boat, with its unique deep V Hull design, was owned by New England boat designer, C Raymond Hunt. Recognizing the potential of this design, Bertram collaborated with Hunt to create a similar boat, which by 1960 was christened 'Moppie,' a playful nod to his mother's childhood nickname.
The Revolutionary Deep-V Hull and Bertram's Meteoric Rise
It was the innovative design of the "Moppie" that reinvigorated Bertram's passion for racing. With Griffith, they entered their new creation into the 1960 Miami to Nassau race. Their victory was historic, finishing in a staggering 8 hours, shattering their previous records. The deep V hull design was a game-changer, garnering immediate attention from the boating community. This success precipitated the founding of the Bertram Yacht company, and soon after, the first fiberglass version of the boat, the 'Glass Moppie,' was launched. This fiberglass iteration secured a resounding victory in the 1961 Miami Nassau race, completing the course in just 4 hours and 20 minutes.
Such achievements catapulted Bertram into stardom, finding him featured on billboards and magazine advertisements. The boat, with its unique look, the power of a V8 engine, strength, and newly introduced fiberglass, was a "benchmark model." The boat's allure was not just in its racing reputation; its elegance, functionality as a fishing platform, and strength, given the boat's thick fiberglass construction, made it the vessel of choice for many.
Bertram's Global Acclaim
Bertram's influence wasn't confined to American waters. The Bertram Yacht Company's racing reputation propelled it into international waters, securing wins in Via Reggio, Italy, and the United Kingdom's Cowes-Torquay race. Despite these successes, profitability was an issue. In the late 1960s, Dick Bertram decided to sell the company to a group that was eventually led by an ambitious young graduate, Peter Rittmaster.
Peter Rittmaster: Bertram Becomes A Production Builder
A friend of Dick Bertram, Rittmaster perceived an excellent opportunity to enhance and streamline the company. His initial significant shift was transitioning Bertram into a production builder without allowing customizations, a move that led to immediate financial success. Rittmaster enlisted the engineering skills of Russ Spett and the prowess of Carl Kiekhafer to enhance the hulls' ride and performance. Moreover, he was a staunch advocate of offshore racing and competitive sport fishing as methods to amplify brand recognition and became deeply engaged in both.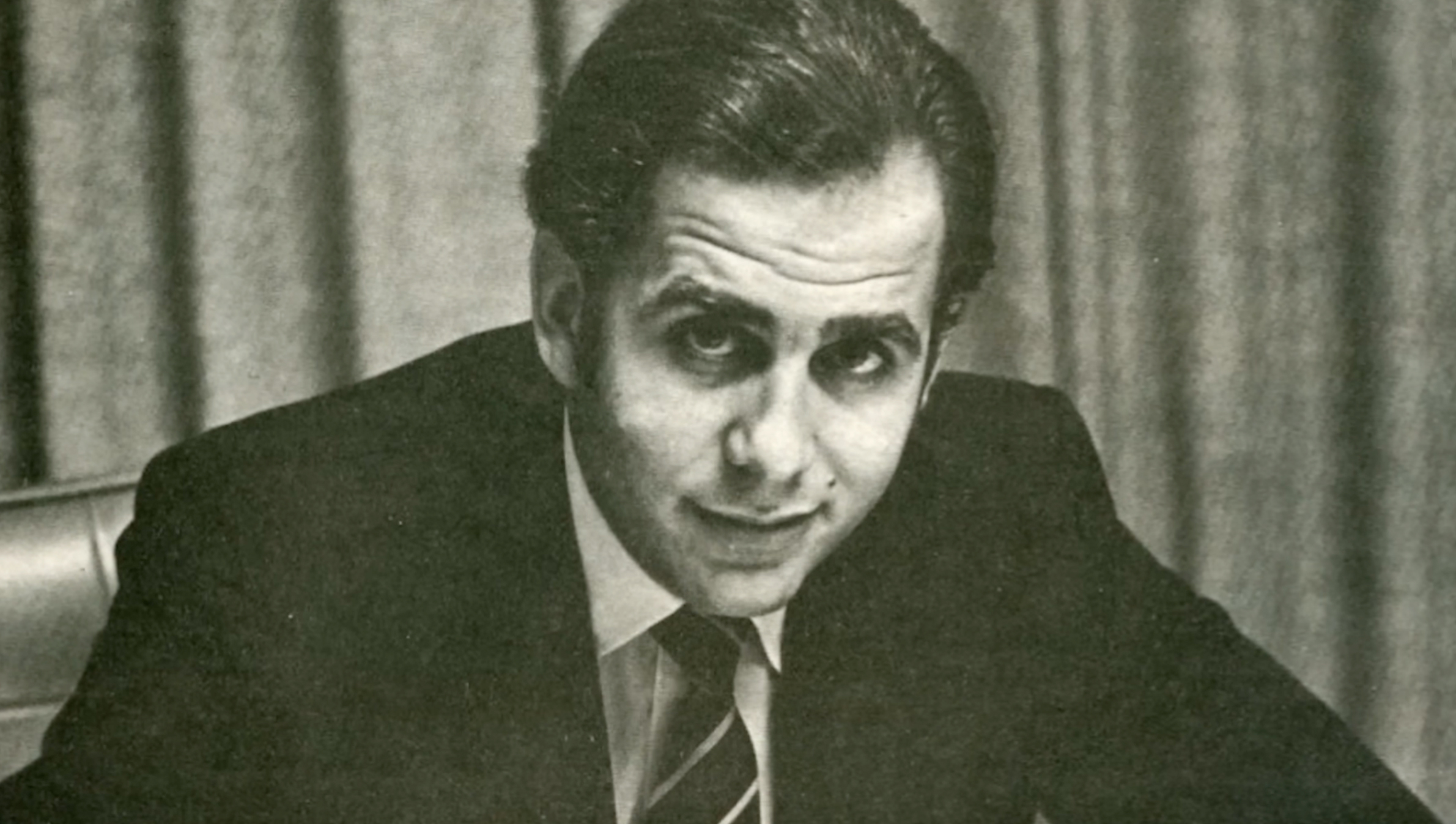 Above: Peter Rittmaster. Photo via DeepSee Visuals / Bertram Yachts.
With sales on the rise, Bertram expanded their model offerings, introducing five distinct versions of the iconic 31:
The Sports Fisherman, featuring a cabin, flybridge, and a head situated in the berth.
The Flybridge Cruiser, designed with a cabin bridge and an added rear bulkhead.
The Bahia Mar, characterized by a modest forward cabin, an elevated helm, and windscreen.
The Hard Top, which lacked a flybridge.
The Express Cruiser, sporting an enclosed cabin, a raised helm amidship, and a vast windscreen.
By the time regular production of the 31 concluded in 1983, estimates suggest around 1,800 hulls were distributed globally. Then, in 1986, an additional 23 silver anniversary 31s were crafted, adorned with oak interiors and custom helm striping. Today, after more than six decades, the allure of the Bertram 31 has intensified, coveted by boaters worldwide and achieving an unparalleled cult status within the marine sector. The 31 has always been surrounded by an aura of mystique, boasting a massive fanbase and proud, dedicated owners who cherish its distinctiveness.
Restorations And Rebuilds
For some boating enthusiasts, the restoration of a Bertram 31 is a deeply personal venture. Russell Swift is one such individual whose Bertram 31, named "Details," stands out. Russell's connection with the boat is rooted in childhood memories, when he and his father would occasionally join friends on their Bertram for fishing trips in the Long Island Sound. Though his father always wished to own a Bertram, he passed away when Russell was 13, and this dream remained unfulfilled. Later in life, Russell came across a Bertram 31 at his neighbor's place in Florida, which was in dire condition. Acquiring it, he set out on an ambitious restoration journey.
Russel Swift's "Details"
Above: The custom transom on "Details", Russell Swift's restored and highly customized Bertram 31 yacht. Photo by YachtWorld/DSV.
The boat's hull number, 1300, and its manufacturing year, 1973, coincided with his father's death when Russell was 13. This spurred Russell to ensure that the restoration was special. Drawing from his automotive industry background, he utilized the latest technology, replacing core materials, modernizing the design, and ensuring top-tier workmanship. Brian Riley of Riley Composites was instrumental in the boat's redesign. For repowering, Russell sought the expertise of Mastery Engine Center. In terms of finish work, Russell employed high-quality materials, ranging from German paints to teak. The woodwork, executed by Todd from Palm Beach Boatworks, was particularly outstanding. The boat even features luxury elements like a granite countertop, a teak floor, and an ostrich headliner.
Focused on the future, Russell also incorporated advanced tech, such as high-end Furuno electronics and a Sea Keeper 3, ensuring stability even in rough seas. The boat's name, "Details," aptly encapsulates Russell's meticulous approach, visible in custom-made elements such as polished stainless-steel rudders and drains bearing the Bertram logo. Russell's deep connection with the boat stems from his desire to honor his late father's dream. He hopes this Bertram would have made him proud.
Dr. Gerry Santiago's "Zero Cavity"
Dr. Gerry Santiago, a dentist in Naples, Florida, owns a Bertram 31 FBC. His love of the Bertram 31 design goes back to when he was a kid growing up in Puerto Rico, when the Bertram 31 was THE boat to own.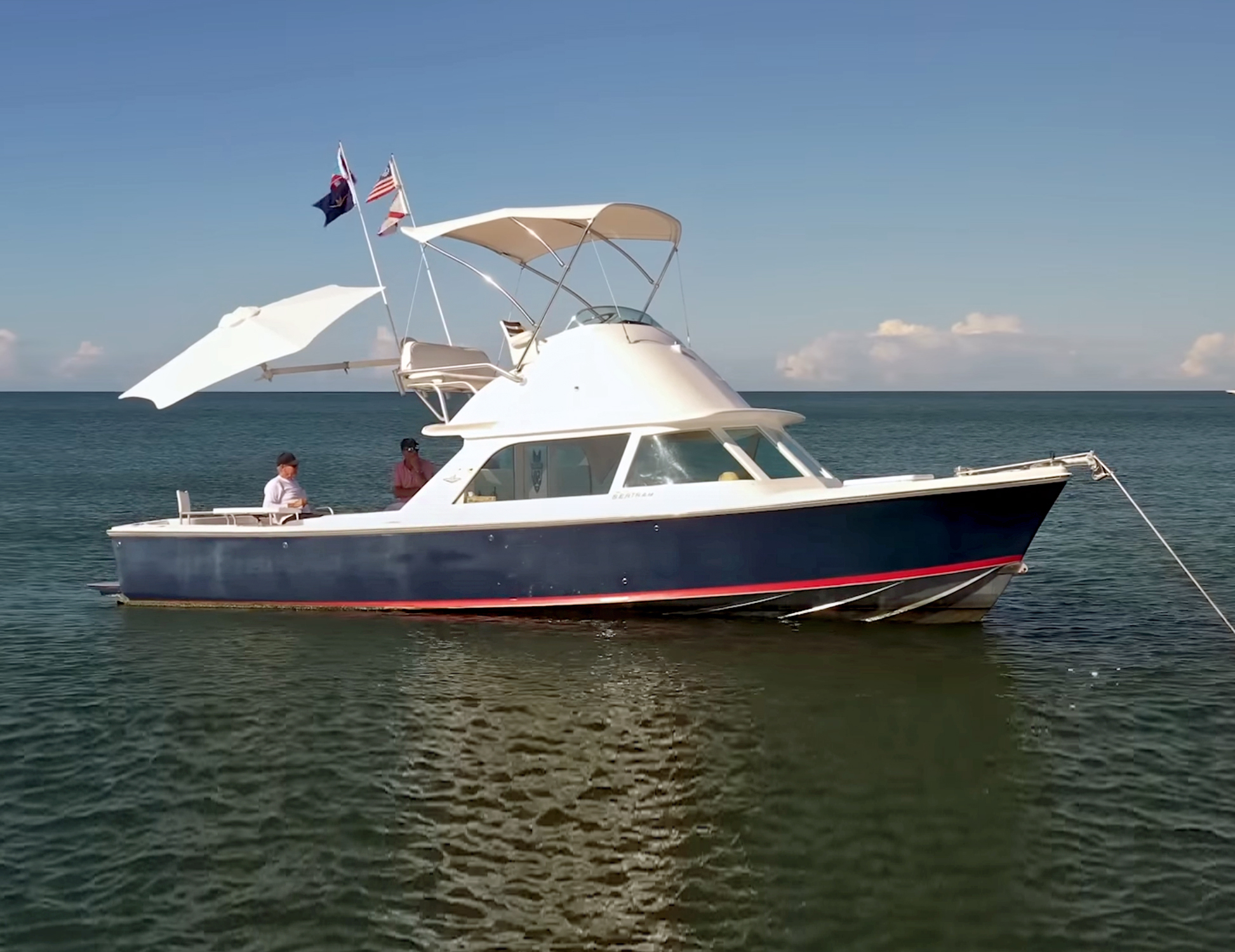 Above: Gerry Santiago's Bertram 31 "Zero Cavity". Photo by YachtWorld/DSV.
The teams at Cabrera Custom Yachts in Miami, FL. and Mastry Engine Center helped breathe life into his no-expense-spared renovation along with key guidance from Mark McManus, widely known for building and renovating performance boats. Gerry wanted a blank slate that he could turn into his dream Bertram, and two and a half years later he had want he wanted, a beautiful fully restored Bertram 31.
Hugo Peel's "Thunderstreak"
In another Bertram 31 tale, Hugo Peel, a member of the Royal Yacht Squadron, brought a Bertram full circle. Having watched Tommy Sopwith race a Bertram 31 as a child in 1963, he later acquired the same boat. In 2018, he undertook its restoration and triumphantly returned to the Cowes Torquay race, winning in 2022. This journey embodies the legacy and appeal of the Bertram 31.
Above: Hugo Peel's Bertram 31 "Thunderstreak". Photo via DeepSee Visuals/Hugo Peel.
The New Bertram 35
In 2015, the Gavio Group acquired Bertram Yachts, aiming to rejuvenate its storied legacy. What better approach than to re-envision the vessel that initiated the worldwide sensation, the Bertram 31? They collaborated with Michael Peters and Tommy Thompson to reinterpret the 31, honoring its heritage while infusing contemporary elements. The choice wasn't purely a marketing tactic; it was a genuine endeavor to reconnect with the brand's roots, beginning anew.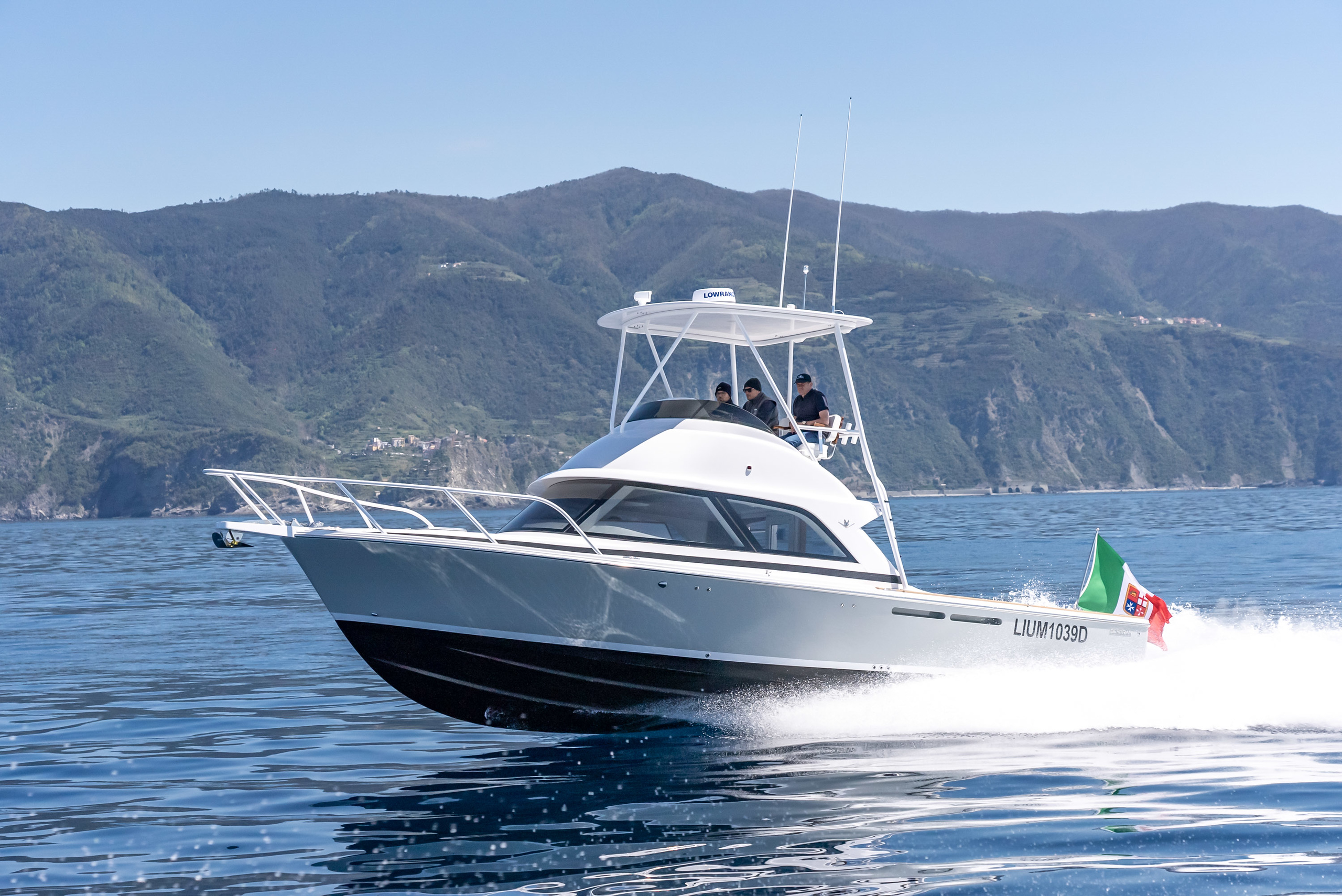 Above: The Bertram 35 FB underway on the water. Photo via Bertram Yachts.
Michael Peters contributed his unique perspective, introducing enhancements during the redesign. The culmination of their efforts is a contemporary rendition of a Bertram masterpiece. The quintessential spirit of Bertram's tradition is vividly embodied in the newer Bertram 35, released in 2016 and still in production in 2023 with numerous options available. While it draws inspiration directly from its predecessor, the boat also incorporates modern luxuries and features an expanded, elongated hull, designed to be fully equipped for fishing with luxury sleep-aboard amenities.
Bertram 31: A True "Cult Classic"
The Bertram 31 Moppie has undoubtedly garnered a cult-like following, evidenced by the significant and extensive renovations undertaken by its many owners. The Moppie's robust foundation makes it a perfect canvas for personalization. For many, customizing these becomes a life-long passion, with no expense spared to create their ideal Bertram 31. For them, it's about crafting something unique that can't simply be purchased.
For these reasons and many more, the Bertram 31 Moppie stands as a quintessential "cult classic" and Bertram Yachts itself, as a larger brand, with its continued blend of performance, beauty and durability, remains a testament to the vision and passion of Richard 'Dick' Bertram. Even today, the name Bertram stands as an iconic symbol of American craftsmanship, captivating boat enthusiasts worldwide.
Related
Ranger Tugs: The Story Of An Iconic Yacht Builder – Cult Classics 5
Episode 5 of our Cult Classics series tells the story behind Ranger Tugs and the Livingston family.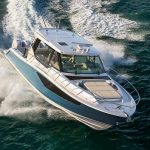 Best Family Cruisers: 7 Top Picks In 2023
Capable weekend cruisers to suit a range of needs for the whole family.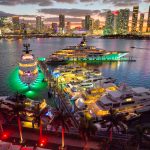 Miami F1 Grand Prix VIP Packages By IGY Marinas
IGY Marinas offers exclusive Miami F1 experiences at Island Gardens.