Boats are in high demand thanks to the pandemic that sharpened everyone's desire to recreate more and lounge less. But skyrocketing fuel prices have made powerboating expensive, so sailboats have risen in popularity, more now than in the past two decades. Of course, sailboats can be tricky to handle and pricey to berth, especially if their large, so smaller models, like the newly-introduced Beneteau Oceanis 34.1 are getting more attention. The new design from the French builder combines a family friendly cruiser with a budget friendly price which will be of interest to anyone serious about adventuring under sail.
Vessel Overview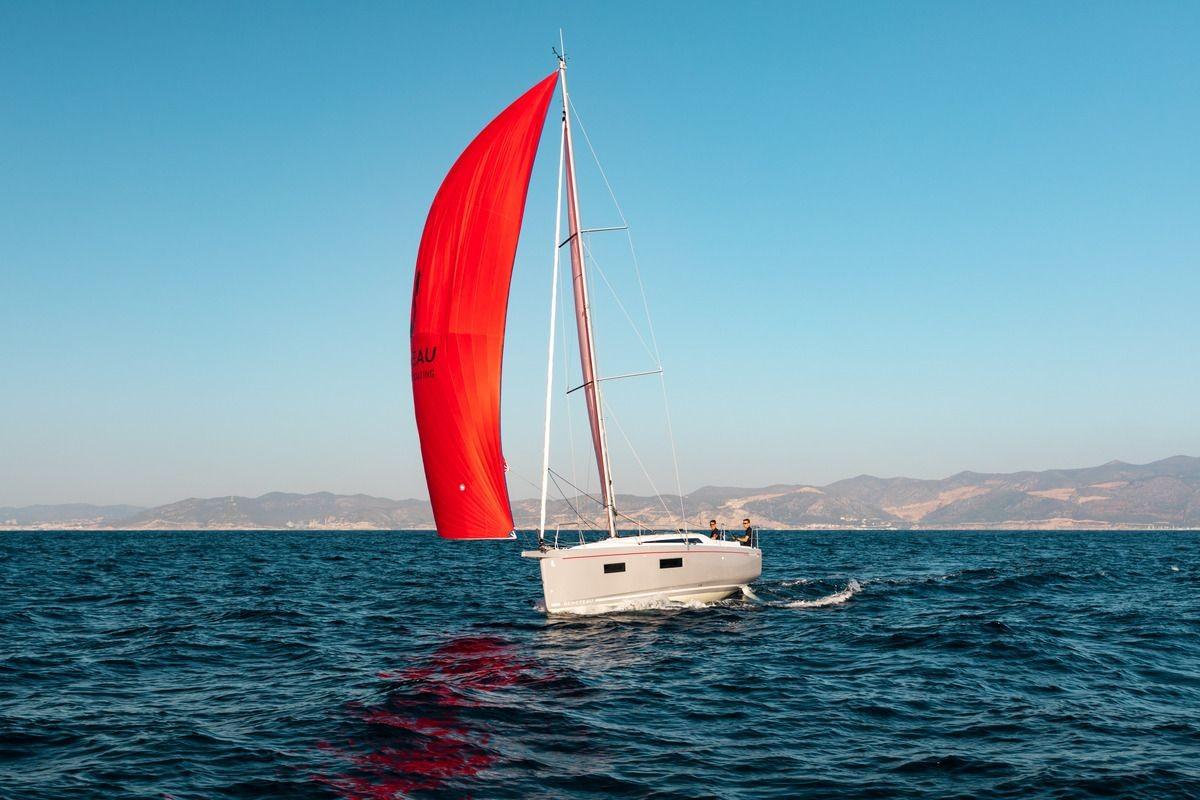 Above: A 2022 Beneteau BOceanis 34.1 sailing on the water. Photo by Signature Yachts in Seattle, WA.
The Oceanis 34.1 replaces the 35.1 and is 14 centimeters narrower and 1,000 pounds lighter. Clearly, designer Marc Lombard was looking to increase performance with this new narrower and lighter hull. Add to that up to 29% more sail area and light air sailing should be vastly improved.
Construction
The hull is built in Poland (as is the 30.1) and is made of solid fiberglass with a hard chine that runs aft from the bow. As a puff puts pressure into the sails, the hull leans on that chine and accelerates – a movement you can actually feel at the wheel. The Selden rig has twin aft-swept spreaders, a rigid vang and no backstay so you can opt for a square-top mainsail that adds 40 square feet of sail area, much of which is up high where it counts. The standard combined sail area is 531 square feet between a classic (hoisted but not square top) mainsail and a self-tacking jib. The optional 106% furling genoa adds a bit of power as well, but the self-tacking jib makes tacking easy, especially for short-handed crews. A composite bowsprit is optional but is great as the attach point for a Code 0. It also helps the hull look longer and sleeker.
Below the waterline, there are twin rudders and three keel options – shoal (4' 11"), deep draft (6' 7") and a hydraulically lifting keel (4' 1" – 8' 4" with no bulb). That last one will deliver the best performance but still let you sneak into skinny waters to find the best anchorages.
Performance
We had the chance to test hull #3 off Miami Beach in true winds of 15-20 knots and a three-foot chop. With the full traditional main and a reefed furling genoa (both from Technique Voile Sails), we zipped around in 19 knots of true wind. We made good 7.6 knots speed over ground (SOG) at 60 degrees apparent wind angle. As we eased off to a beam reach, SOG reached 8.3 knots and then fell to 7.2 knots as we ran deep at 135 degrees. In the gusts, we could really feel the effect of that chine that kept us mostly upright and all aboard remained comfortable as the boat stayed calm and manageable.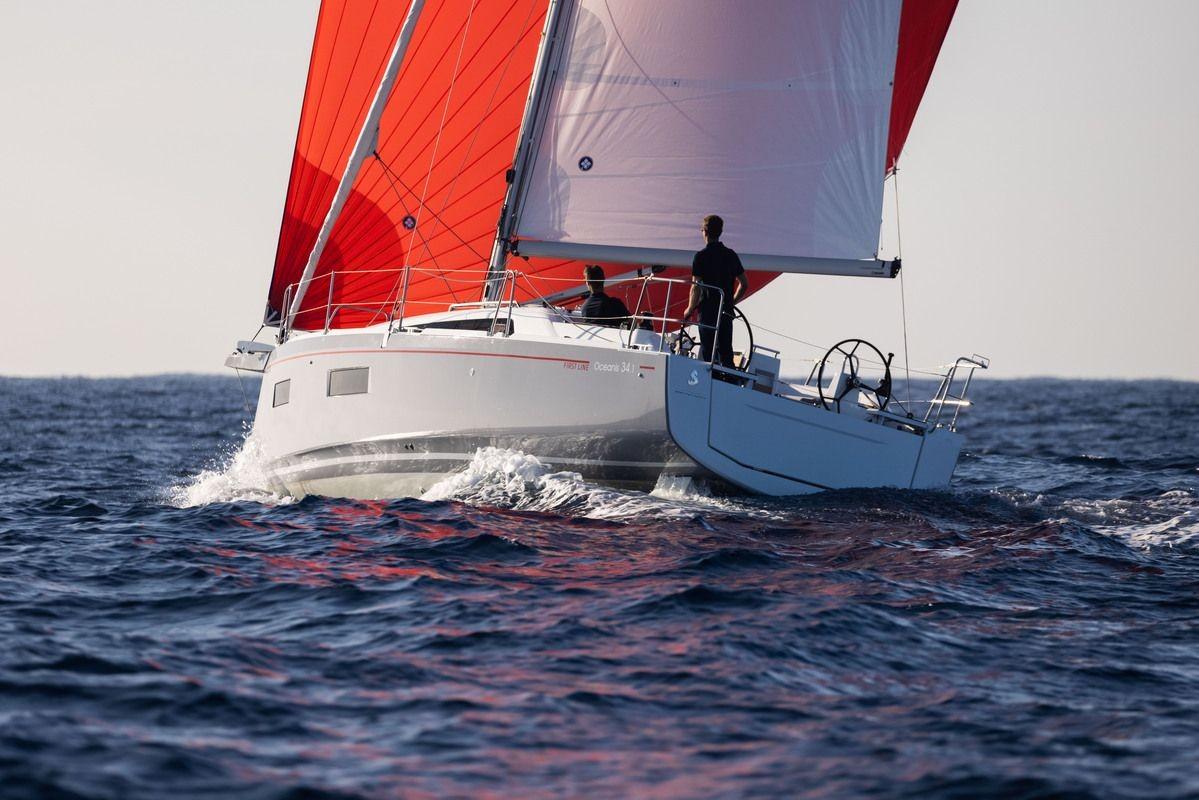 Above: A 2022 Beneteau BOceanis 34.1 sailing on the water. Photo by Signature Yachts in Seattle, WA.
Next came the motoring test where we opened-up the throttle on flat water on more protected water. The upgraded 30-hp Yanmar topped out at 8.1 knots at 2750 rpm. A better cruising speed was 7.5 knots around 2300 rpm. Standard propulsion includes a 21-hp diesel but the bigger engine provides extra power to push through head seas when you need to make tracks. A Side Power bow thruster is optional but comes in handy and would be a good choice for easier maneuvering and docking.
Topsides
The transom drops down manually to form a small swim platform. From here, you step up between two helm seats, both of which fold up and out to provide a cleaner entry space when they're not in use. The twin wheels are mounted on binnacles which are integrated into the cockpit coaming. The chartplotter is on starboard with instrument repeaters on port while twin sheet winches are close at hand for anyone driving. A large drop-leaf cockpit table sits between two well-proportioned seating benches allowing four to gather for dinner with plenty of elbow room.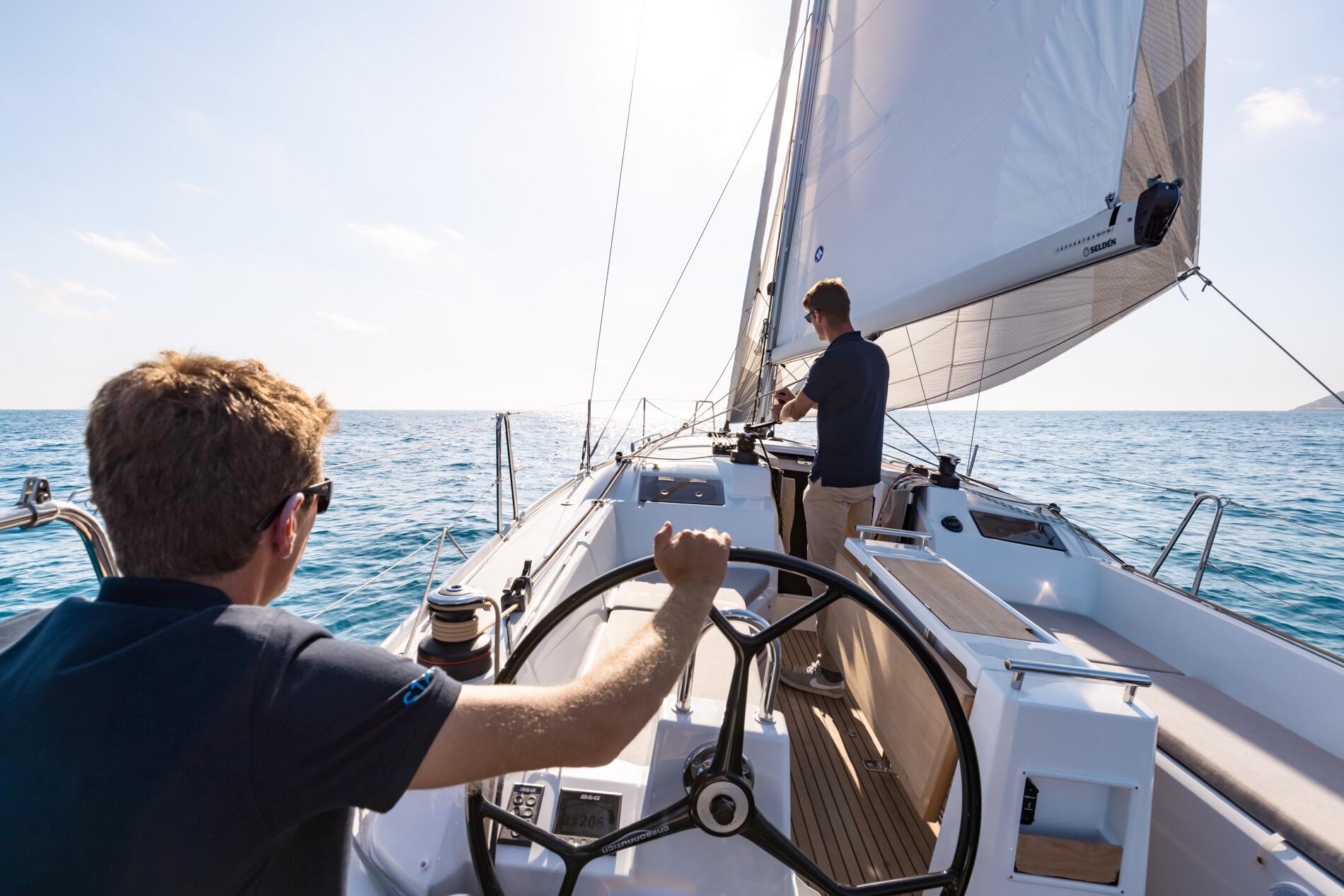 Above: Topside on the Beneteau Oceanis 34.1. sailboat. Photo by Ultra D.O.O. in Split, Croatia.
The decks are clear and the coachroof is low so the 34.1 has a profile that's pleasing and modern. Teak slatting on the swim platform and an electric halyard winch at the companionway are optional.
Onboard Living
Below, the Oceanis 34.1 looks much bigger than her LOA would suggest. In the saloon, you'll find wide settees tucked into the narrower hull. The port settee forms a seat for the aft-facing nav desk that folds up when not in use. Adding a cushion insert to the aft end of the bench creates length so the settee forms another berth. The head on port can be either a wet head in the three aft cabin version or a large bath with a separate shower stall when two cabins are spec'd. Also, when you choose two cabins, you get extra stowage space aft on port that can be accessed from the shower or from the bench hatch in the cockpit.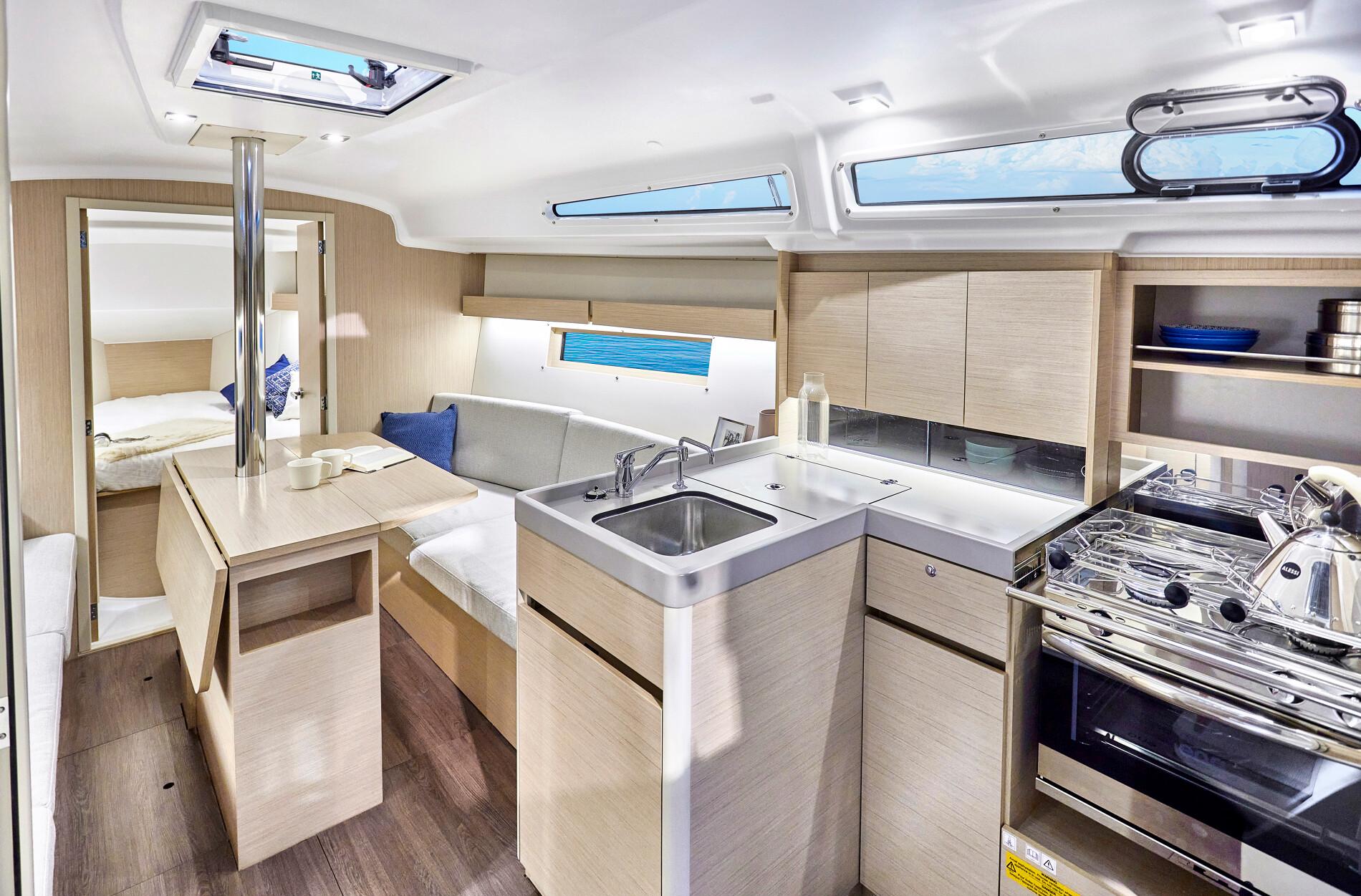 Above: Cabin interior on the Beneteau Oceanis 34.1. sailboat. Photo by Ultra D.O.O. in Split, Croatia.
The master stateroom is forward with a V-berth and an overhead hatch as well as hull windows that make the cabin bright. The entry is via a split door because the berth extends so far aft. With the door open, the boat looks longer and more spacious. With the door closed, there's not much space in the cabin to change clothes and taller sailors may opt to move the master aft to the starboard cabin for both a bigger bed and more standing space.
The L-shaped galley is to starboard with a two-burner stove, a top-loading fridge and double trash bins. A microwave and a 2000-watt inverter are optional. The standard wood choice is walnut but light oak is an option and when combined with beige and cream-colored fabrics, the interior really pops.
Smaller is Better
Beneteau offers outfitting packages including the "Easy Sail" option that comes with the self-tacking jib and may be ideal for new sailors looking for a simplified sail plan. Trim levels include "Comfort" or the fully loaded "Family" versions while electronics are offered in "Coastal" or "Offshore" combinations. There are three levels of sail outfitting including the premium "Upwind/Downwind" option which includes a Code 0, extra winches, and the bowsprit. The base price is $192,000 but as tested, the total was closer to $315,000.
The wind is your fuel and the sailing is made easy on the Beneteau Oceanis 34.1 that will fit more affordable slips. That this moderately-sized boat is also moderately priced is just a lucky bonus.
Specifications:
Designer: Marc Lombard
LOA: 35' 4"
Beam: 11' 9"
Draft: 4' 1" – 8' 4"
Air Draft: 51' 1"
Sail Area: 615 sq. ft.
Displacement: 12,046 lbs.
Water/Fuel: 61gallons / 34 gallons
Engine: 21/30 hp Yanmar with Saildrive
Price: $315,000 loaded
View Beneteau Oceanis 34.1 sailboats for sale on YachtWorld today.
Related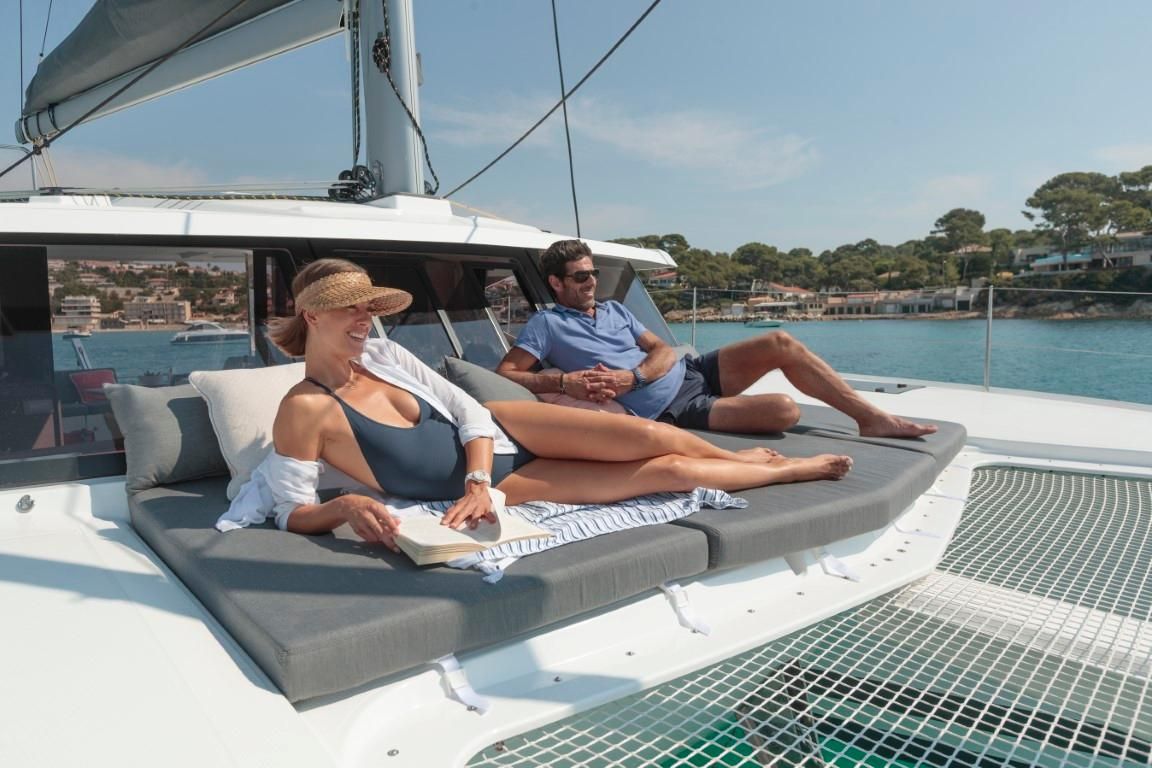 Best Sailboats of 2022: From Top To Sail
Category:
Cruising Under Sail
Are you looking for a new sailboat? We select our top five sailboats of 2022.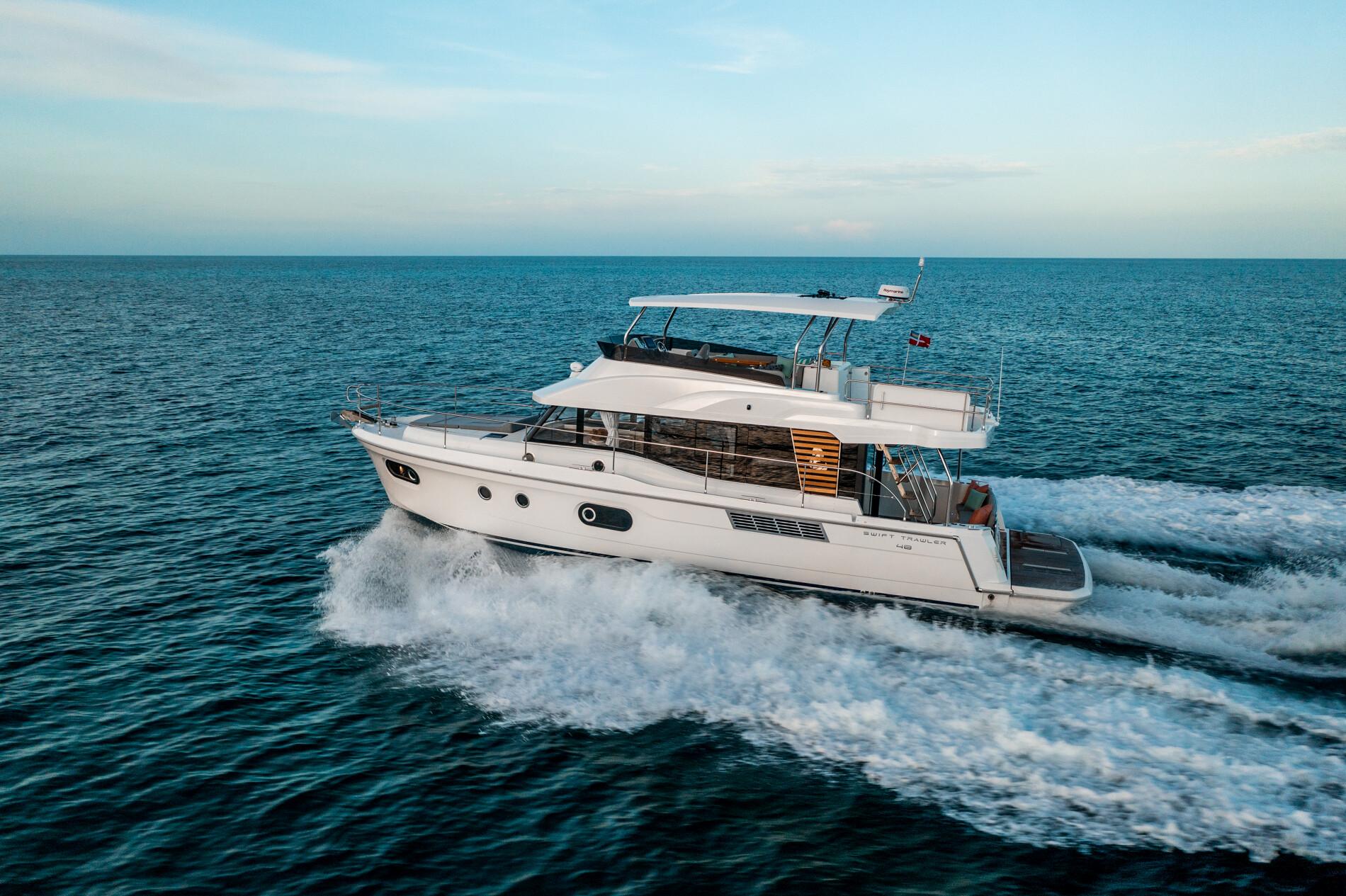 2023 Beneteau Swift 48 Review: New Fast Trawler
Beneteau's new swift trawler builds on success for even better results.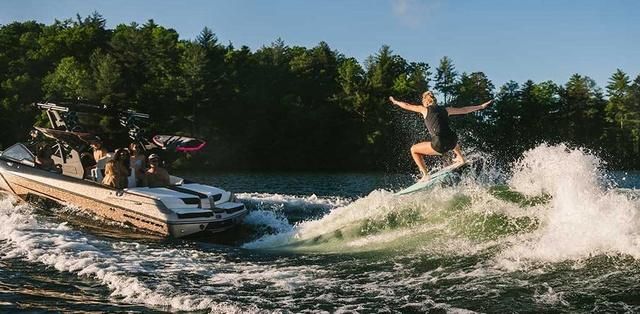 Best Wake Boats Of 2022: A Golden Lineup
These wake boats are more than just boats- they are a lifestyle choice. Read about the game-changing...