Beneteau has been expanding and enhancing their Gran Turismo line of express cruisers at a fast clip, and one of the latest to launch is the Gran Turismo 41. New for 2021, this model replaces the popular Gran Turismo 40 and brings more modern design to the second-largest Gran Turismo in the fleet.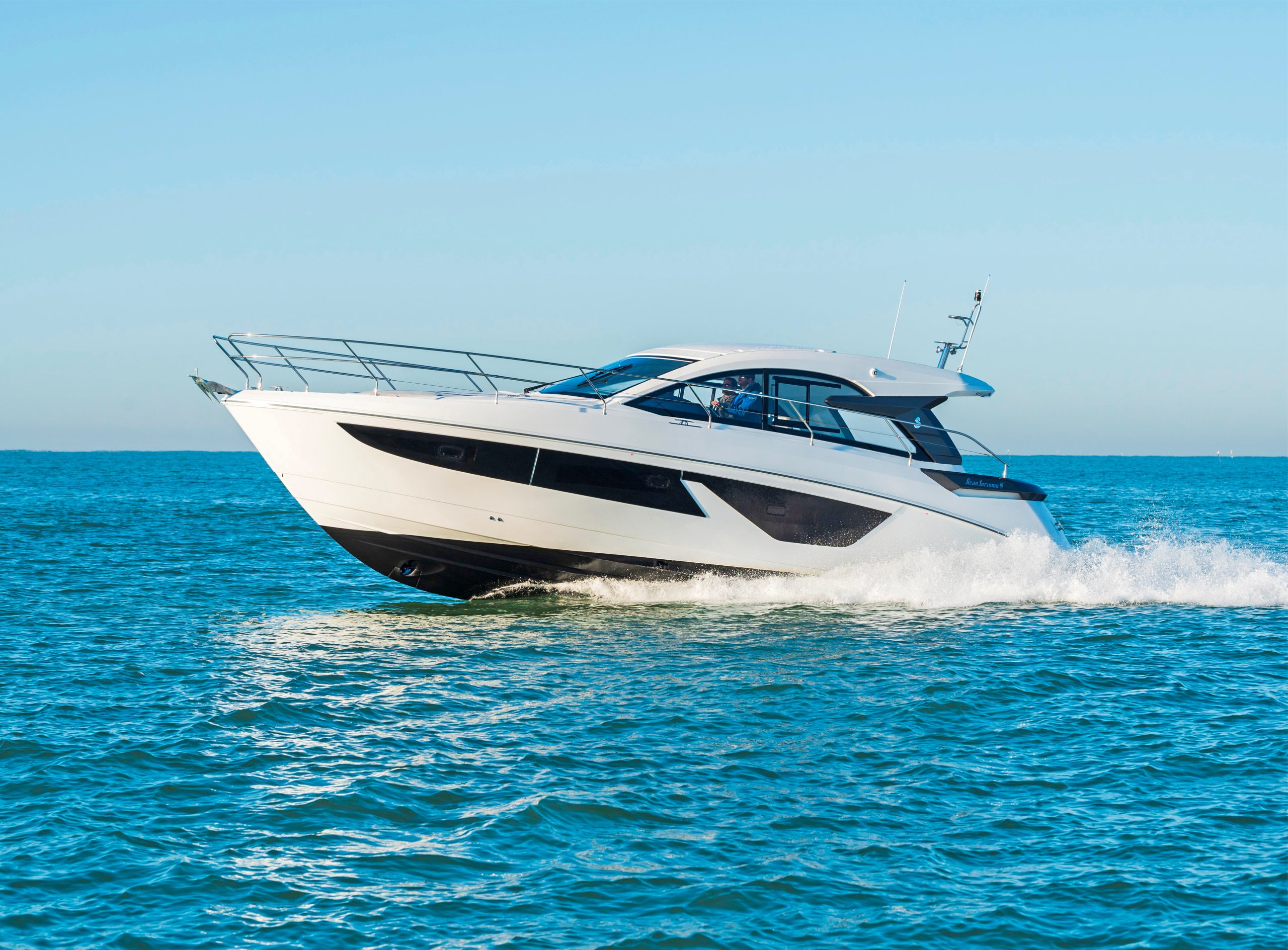 Above: The 2021 Gran Turismo 41 is the latest model in BENETEAU's express cruiser line, and she is as easy to handle as she is beautiful to behold. Photo via Ancasta International Boat Sales in Hamble, Hampshire, United Kingdom.
Vessel Overview
Walking down the dock you'll immediately see a difference between the old and new versions, before even stepping aboard. Rather than the mix of angular and round hullside ports, the new version has a single sporty-looking black panel that incorporates all the windows and ports. And there are lots of those windows and ports to bring natural lighting and fresh air belowdecks. One window runs across the dinette/lower saloon area and another on the opposite side of the boat at the galley, allowing you to swing the ports open and enjoy an oceanic cross-breeze.
Interior Cabin
The forward stateroom (with a queen pedestal berth plus a pair of hanging lockers) and the mid-cabin (featuring a pair of single berths which can slide together to convert into a double) also enjoy the benefits of windows to either side.
Bridgedeck
Despite the cabin's light, airy feel, the topsides portion of this yacht wins out for enjoying sunshine and breezes. And in a big way. The bridgedeck can be as protected from — or as open to — nature as you'd like, thanks to a monstrous opening electric hard top that slides back at the press of a button, plus opening side windows. And since there's a single-pane windshield with no mullions, visibility from the helm is just as unencumbered. Yet if you want the entire area to be sheltered, a Strataglass aft enclosure is among the optional offerings.
Aft Deck
Aft of the helm is the main entertaining area. There's a C-shaped wraparound settee with a teak dinette table to starboard, across from a wet bar to port that can be equipped with an electric grill. An optional refrigerator, or ice maker if you should so choose, is located just forward of the wet bar. Nice as it will be to lounge here, however, the prized position will be the double-wide sunpad just aft of the settee. Looking out over the huge swim platform (a submersible electric platform is optional), multiple cupholders are close at reach and this will be the prime spot for relaxing aboard.
Or, will it?
Bow Area
Many modern express cruisers offer bow lounges these days, but the Gran Turismo 41 has one that few will match and it gives that aft lounge a run for its money. Sure, you get the double-sized cushions. Yes, there are cupholders. But rather than those common flip-up backrests seen on many express cruisers that are clunky to adjust — if they have more than one position you can adjust to in the first place — the Gran Turismo 41 has ratcheting backrests that can be set in multiple positions. Even better, when the sun is beating down you won't have to abandon the spot for the air-conditioned portions of the boat because it has a flip-up mini Bimini top that pops right up from behind the lounger.
Power Options And Performance
The Gran Turismo 41 comes equipped with Volvo D4 (300 horsepower) or D6 (380 horsepower) stern drives, in both cases with joystick controls and an option for a bow thruster. Standard fare gets you a cruise in the range of 23 knots and a top-end of about 33 knots. Up the ante to the 380-hp powerplants, and you can expect a cruise of about 27 knots and a top-end around 38 knots. Like other offerings in the Gran Turismo line, the 41 gets a performance and efficiency boost from the Air Step hull design. Unlike the usual hull steps (which create an area of low pressure under the hull to draw air in via notches in the hullsides, and reduce drag as that air creates a pocket under the boat which isn't wetted surface), the Air Step system pipes air directly under the boat and introduces it at the hull's lowest point. The blanket of air flowing under the hull not only helps reduce friction, it also creates a cushioning effect as the hull races through the waves. Perhaps even more importantly it eliminates the quirky handling that plagues some stepped-hull designs, and results in perfectly predictable turns and curves.
Looking for A Sporty Express Cruiser? This One's Worth A Sea Trial
You want the latest and greatest express cruiser? We can't say the Beneteau GT 41 will be your ideal pick — that's a decision that only you can make. What we can say, however, is that it represents the latest and greatest Gran Turismo to hit the water. And if you like the idea of a cutting-edge, sophisticated sport yacht, it's almost certainly one you'll want to take for a sea trial.
Specifications:
LOA: 41'7"
Beam: 12'8"
Draft: 3'1"
Displacement: 17,547 lbs.
Fuel Capacity: 172 gallona
Water Capacity: 53 gallona
View Beneteau Gran Turismo 41 yachts for sale today.
Visit Beneteau for more information.
Related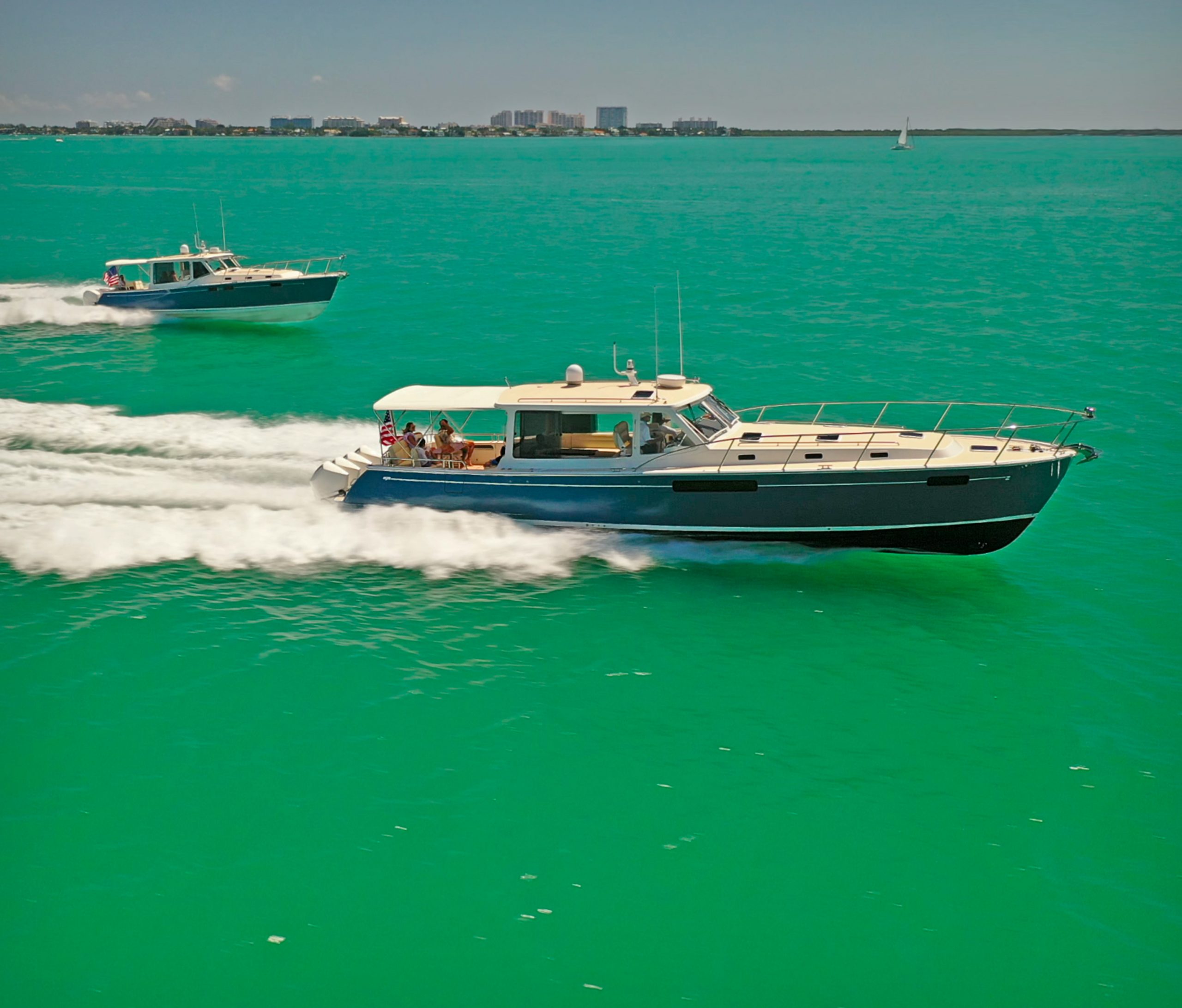 MJM Yachts Outboard Powered Express Cruisers
MJM Yachts shakes things up with a family of shallow draft, downeast-style express cruisers.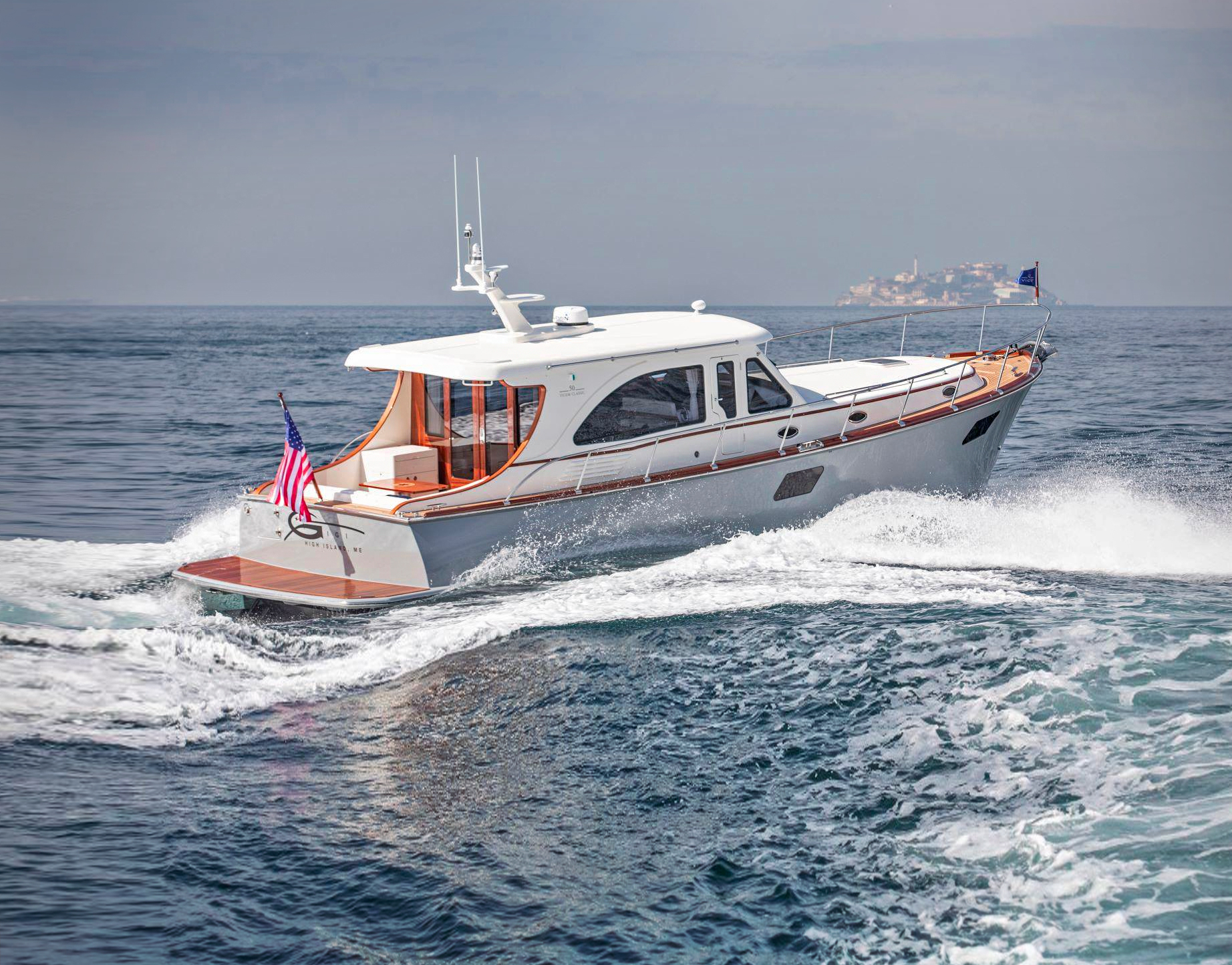 Vicem 50 Classic: A Modern Downeast Style Express Cruiser
The latest evolution from Turkish yacht builder Vicem Yachts: a composite fiberglass downeast express...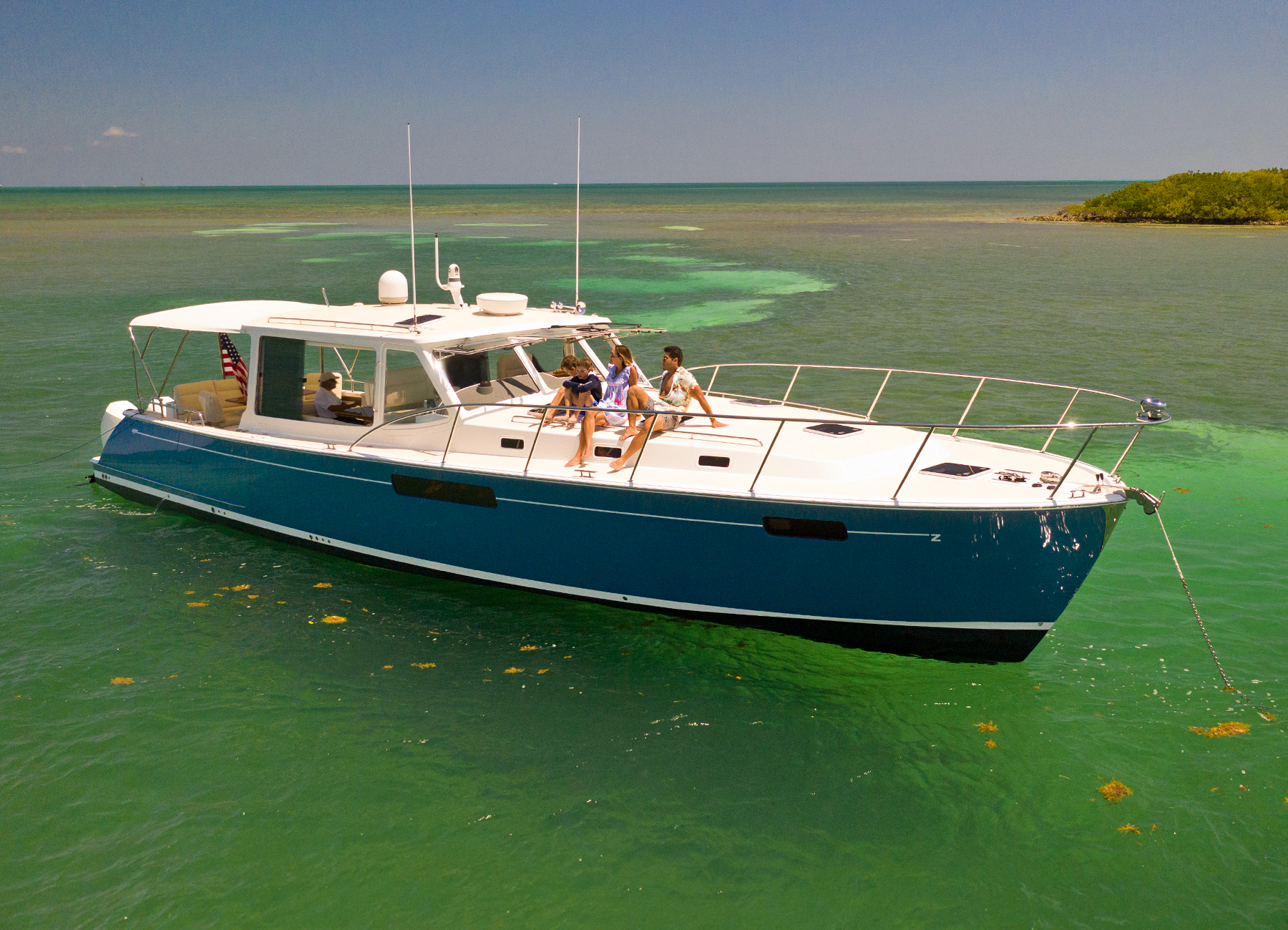 MJM Yachts 53z: World's Largest Outboard Powered Express Cruiser
Ryan McVinney reviews MJM Yachts' flagship outboard-powered express cruiser yacht.