The Beneteau 473 was created by the French design firm Groupe Finot, and built by Beneteau in both France and South Carolina between 2000 and 2005. In the world of production boats a few models always stand out, and for the 130 year-old company Beneteau, the 473 is a notable model that's much desired by cruisers who want performance, oodles of room, and a good value.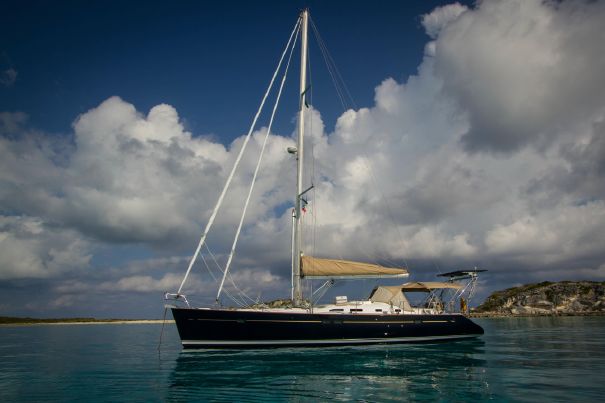 On Deck
Although considered a coastal cruiser by some, the 473 could certainly go the distance in most bluewater situations. More Beneteaus have crossed an ocean than any other brand, but of course, that could be because with its long history, Beneteau has built more hulls than any other production builder.
One differentiating feature on the 473 is its keel-stepped mast, rare on production boats today. The masthead rig with its double aft-swept spreaders also has twin backstays and a baby stay. The original genoa was spec'd at 140% for a sail plan of about 1,100 square feet. The traveler is at the companionway so there is mid-boom sheeting and the primary winches are electric, so it's all about pushbutton sailing.
The hull is solid glass with an integral grid liner and the deck is cored with balsa. The nearly plumb bow affords a waterline length just three feet shorter than her length overall. Two drafts were available and the boat is fairly wide in the backside, carrying her beam well aft. Of course, that provides it with an exceptionally comfortable cockpit with twin wheels on either side of the walkthrough, which leads from the companionway all the way aft to the swimstep. The broad stern, however, can be somewhat pushed around by following seas.
Down Below
The large galley is to starboard and has so much countertop space you could almost lounge on it. In the two cabin version, the galley got extra space and three can work simultaneously in the area provided. The freezer is top-loading and the fridge has a side door which makes looking for that lost stick of butter easy. The twin sinks are on the centerline to drain well on either tack.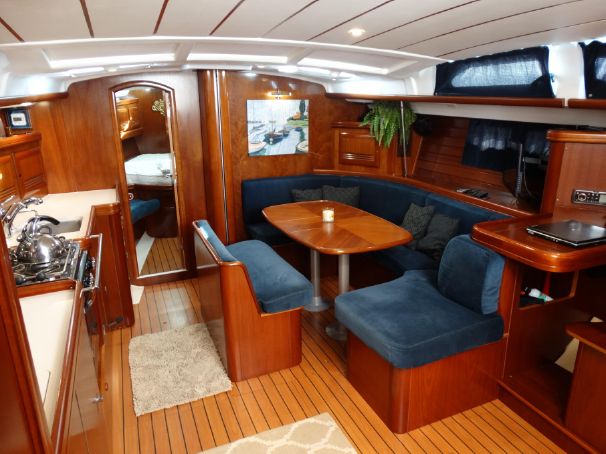 The forward-facing nav station is opposite and has a well-sized desk and plenty of bulkhead space to mount instruments. The saloon itself is immense, with a U-shaped settee and bench seat to starboard that can accommodate up to seven around a large table. A slightly curved, two-seat bench is to port. Cubbies are everywhere and there's no shortage of room for anything you'd want to take on an extended cruise.
The master stateroom forward has an island berth and a private head with electric toilet and stall shower. A second manual head is aft just ahead of the portside guest cabin, which has a bunk that could practically sleep four. While some models have a third cabin, those without it have an immense lazarette to starboard that can be accessed from the cockpit or the galley.
A 63 HP Westerbeke diesel is tucked under the companionway steps. Standard access is from the front and the sides via access panels. The engine will push the boat at over seven knots under power in flat water with minimal headwinds.
Thanks to its generous accommodations and cruising ability, the Beneteau 473 is sure to remain in demand for years to come. Fortunately there's a huge selection available right now on Yachtworld, with prices generally ranging between $200,000 and $250,000. For more information, visit Beneteau 473 listings.
LOA: 46'11" * Beam: 14'2″ * Draft: 5'7″ * Displacement: 24,227 lbs. * Sail Area: 1,076 sq. ft. * Fuel Capacity: 120 gal. * Water Capacity: 150 gal.
Related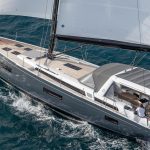 Beneteau Oceanis Yacht 60 Boat Review
French builder Beneteau introduces new flagship in their premium Oceanis line.
New or Used Boats: Which Is Right For You?
Before you decide whether you want to buy a new or used boat, make sure you know the pros and cons.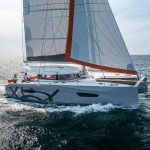 2023 Excess 14 Sailing Catamaran Boat Review
Zuzana Prochazka says the Excess 14 is a sailing cat that's turning heads.