Bavaria may be best known for their sailboats, like the popular 38 Cruiser, but in recent years their powerboat line has been making some serious waves. For 2017, they have a new 40-footer with a flybridge hitting the market. Our European reviewer Alex Smith found a new Bavaria 40 at the Cannes Boat Show, and went aboard to shoot this Quick Tour video.
The Bavaria R40 Fly is the R series introductory model, but there's also an R40 Coupe and an R55 is on the way.
Bavaria has designed in a few perks we don't usually see, which Alex wasn't able to cover in such a short video. But take note of the bow lounge, as a prime example. Most builders toss a cushion or two up here, sure. But Bavaria went the extra mile and designed in a mini-Bimini that pops up to provide shade when you've had enough sunbathing. And yes, of course there are cupholders up there. Another great example can be found in the flybridge design, which is fairly far aft and extends back over the entire cockpit, again providing shade where it normally isn't found.
Even inside the cabin, it feels like you're outdoors. The glass aft bulkhead open up to let in a breeze, and the saloon is surrounded 360-degrees by windows. Slide open that big glass door next to the helm, and enjoy a fresh cross-breeze. Belowdecks, sizable side windows (with opening ports) and overhead hatches bring in plenty of natural light. We applaud Bavaria for designing the cabin with two huge ensuite staterooms, instead of shaving down their size and trying to cram in a third stateroom as we often see on yachts of this size. The bottom line? When it comes to cruisers with flybridges, the Bavaria R40 is going to be a serious contender.
Learn more by visiting Bavaria.
See Bavaria R40 listings.
Related
Guy Harvey: Special Designs for FLIBS 2017 and Hurricane Relief
From Hurricane relief efforts to the Fort Lauderdale Boat International Boat Show, legendary designer...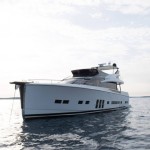 2017 Fort Lauderdale International Boat Show Preview
Check out these five hot new models, coming to the Fort Lauderdale Boat Show.
Cranchi E 52 S: Quick Video Tour
The 2017 Cranchi E 52 S made its debut in France, at the Cannes Boat Show.