Visiting Eleuthera, Bahamas is sure to be forever sketched in your memory as one of the most amazing places you've ever visited. This is home to the famous Harbour Island and its pink sand beaches, various blue holes, The Queen's Bath, amazing snorkeling/scuba and tons of untouched beaches and sandbars! The best way to access Eleuthera is of course by boat, so you can explore all the best parts of Eleuthera on your own.
Here you can discover your own private untouched beaches and sandbars, snorkel the most beautiful reefs in the world, go fishing for your dinner, dine in the best marinas, explore cliffs and caves and soak up that turquoise-blue water in its most natural and beautiful form!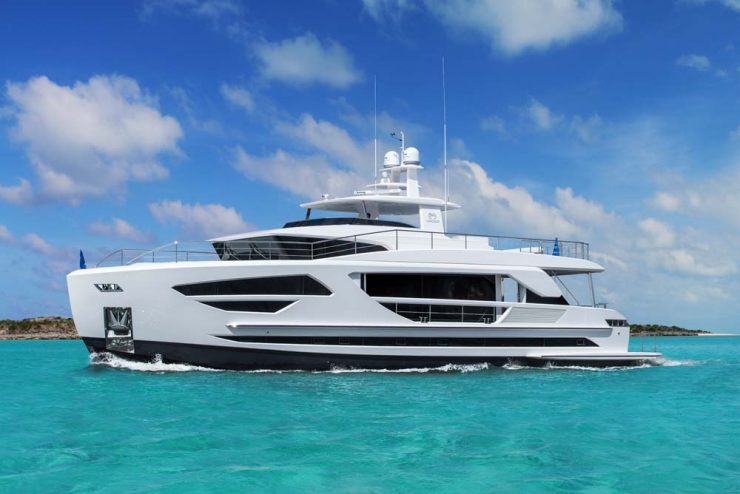 Eleuthera is one of the skinniest and longest of all the islands – a mere 2 miles wide at its widest point, and 112 miles long. If you're trekking through Eleuthera via car, you will notice there is one road, that is basically a straight shot from the North to the South. Considering it's only 55 miles from Nassau, Eleuthera makes for a very convenient travel spot for locals, especially due to the "real island vibe" you can feel as soon as you arrive.
Florida To Bahamas, Nassau and Eleuthera
If you're an experienced boat captain planning to make a trip to Eleuthera via your own yacht, then you've come to the right spot! This guide will cover how to best yacht to Eleuthera, crossing from either Fort Lauderdale, Miami or Nassau. We'll provide you with tips and tricks from the locals who've made the crossing, as well as best practices when making your boating trip through the Bahamas. Caution: The Bahamas is known for having the clearest water in the world, and it may just blow your mind!
Choosing The Best Boat For Bahamas Cruising
The ideal vessel for boating around the Bahamas is one with a shallow enough draft to navigate skinny water with confidence, yet seaworthy enough to handle rough water. You'll want to be able to access hard-to-reach, exotic beaches in comfort and with peace of mind. Of course there are many boat builders and custom yacht manufacturers who build vessels that are ideal for Bahamas cruising. For example, Leven Yachts touts their models as "the ultimate Exumas Superyacht" with a class-leading draft of only 4'6″ on a big, stable, seaworthy yacht.
Additionally you'll require adequate water and fuel storage. Other features that have clear advantages for cruising the Bahamas are: protected prop, flybridge (for elevated, 360-degree viewing, making it easy to spot sandbars and reefs) and comfortable sleeping accommodations. 30-45 feet is the ideal size for a Bahamas cruiser as it will allow you to handle different sea conditions with confidence, while also being able to access smaller marinas and docks for overnight. Also consider fuel efficiency (if you're planning to bring a motor yacht / power boat versus a sailboat), or perhaps consider an affordable Bahamas sailing cruiser as an alternative.
Navigating The Waters Of The Bahamas
First things first, if you've never driven a boat in the Bahamas, there are a few things you should automatically be cautioned about. Regardless of whether of not you're boating over from another location, or just cruising around locally, it's important to know a few tips and tricks to make your experience safer.
The Bahamas is surrounded by banks and reefs, making some points extremely shallow situated right next to a huge drop in depth. Depending on the current and weather, sand can shift, and arrive in different places that never existed before, causing extremely shallow banks. Depending on tide, reefs can be completely sticking out of water or 10 feet below the surface. With this being said, it's important to extra diligent when navigating through the water. I recommend not only relying on GPS, but also reading the water, using guidebooks and paper charts, as these waters can be very tricky.
You can study some great charts ahead of your trip over at Explore Charts.
Crossing from Fort Lauderdale/Miami to Eleuthera
Before you embark on your crossing from Fort Lauderdale or Miami to Eleuthera, you'll need to make sure to check the weather in a few places – including but not limited to, Fort Lauderdale or Miami, Bimini, Nassau and Harbour Island, Eleuthera. If the winds are blowing over 15 MPH, you'll want to consider rescheduling your trip, as a bumpy ride through The Bahamas will be tough and uncomfortable in the deep waters.
Your journey from Fort Lauderdale or Miami to Eleuthera is approximately 191 Nautical Miles and will take an estimated 7-10 hours, depending on the type of hull and engines you're working with. You'll need to bring water and food and safety equipment!
As you travel South, you'll pass through the Gulf Stream, which will be the deepest and roughest part of your journey. The strength of the Gulf Stream current should not be underestimated or treated lightly. Make sure your GPS is in good working order in case the current knocks you off course and you have to make the necessary corrections to stay on your planned route.
Next you'll find yourself near Bimini and the Bahamas Banks. Proceed with caution here, as the banks are shallow! Upon reaching Bimini, its best to clear your vessel through customs and fuel up. Fees and information regarding customs are below in this article.
Once you've passed through Bimini, you'll cross through the Berry Islands and make your way to North Eleuthera. As you approach Harbour Island, Eleuthera, you'll have to pass through the Devils Backbone in order to land in Harbour Island for the rest of your exploration. This is also a very challenging area to navigate, and thus it's highly recommended that you pick a local pilot to help you navigate through the reef, especially if it's your first time. This is actually an easy process; the pilot will come over via dinghy and help you navigate through the Backbone for about $100 each way.
The Devils Backbone
The Devils Backbone gets its name from being exactly that – the devil to all boaters that have taken on this crossing without being properly prepared! This is a shallow and treacherous reef with jagged-edges that stretches across the Northern end of Eleuthera. It has unfortunately been the demise of many other vessels.
Of course it is also a snorkeler's dream come true, where you can spot all sorts of fish species from parrotfish and angelfish to stingrays and moray eels. The Devil's Backbone has sunk so many ships, that it is now a primetime dive spot to explore more than 7 shipwrecks, dating all the way back to 1648.
Bahamas Customs And Fees
All boaters entering The Bahamas are required to pay an entry fee.
a) For boats up to 35′, the fee is $150.00
b) For boats over 35′, the fee is $300.00
The fees will cover:
1) Cruising Permit
2) Fishing Permit
3) Departure Tax for up to three (3) persons. Each additional person above three will be charged a $25 departure tax. This fee is good for a second re-entry within a 90-day period.
Nassau To Harbour Island, Eleuthera
Crossing from Nassau to North Eleuthera is a relatively quick shot. Being so close at only 63 Nautical Miles, it only takes about an hour or two to get there. Using the same caution as you would driving anywhere on your vessel and using your GPS, charts & maps will get you there quite easily. As always, when crossing to Eleuthera, make sure the wind is in your favor, any east wind blowing more than 15 MPH will give you trouble on your journey. And be cautious of the Devils Backbone.
Where To Dock Your Yacht In Eleuthera
There are many options to dock or anchor in Eleuthera. There are about 22 spots to anchor and 12 marinas to dock your vessel. Harbour Island will most likely be your first stop when arriving in Eleuthera. It is located in the most northern part of Eleuthera, just on the other side of the Mainland and Spanish Wells. Harbour Island is considered one of the most popular and desirable locations in Eleuthera, so this is a must see!
It is recommended that you plan out your route as well as where you will be docking or anchoring. You will want to inform the marinas of your arrival to ensure your slip space for the time needed on your travels! See below for a List of Anchorages and Marinas in Eleuthera.
Anchorages in Eleuthera Bahamas
Alabaster Bay
Annie Bight
Bottom Harbour
Cistern Bay North
Governers Harbour
Half Sound
Harbour Island
Hatchet Bay
James Cistern
Jeans Bay
Littler Bay
Meeks Patch
Palmetto Point
Pitman Cove
Rainbow Cay
Rock Sound
Royal Island
Sookie & Annie Bight
Spanish Wells
Tarpum Bay
Ten Bay
Winding Bay
Marinas in Eleuthera Bahamas
Gun Point Marina (North Eleuthera)
Harbour Island Club & Marina
Spanish Wells Marina
Russell Island
Windermere Yacht Club
Cape Eleuthera (Rock Sound)
Runaway Bay (Palmetto Point).
Where To Stay In Eleuthera
Explore all Eleuthera has to offer by staying at local Hotels & Airbnb's, rent a car, and explore the island by land as well as by boat! Eleuthera is known to have some of the most natural exploration sites of all the islands. Some of the top spots are the Sapphire Blue Hole, Queens Bath, Lighthouse Beach & The Glass Window Bridge.
If you are a surfer, there is also a great break (one of the only ones in the Bahamas) on the Northeast side of the island, located just outside of Gregory Town! It's best to book your accommodations in the Northern part of Eleuthera, as many of the famous beautiful spots will be more accessible and have a shorter drive! Check out my detailed Eleuthera Guide toLeven find info on the best sightseeing, restaurants, accommodations and more!
Related