Huge celebrities require huge superyachts. Boats are like honey pots to celebrities, luring even the most modest of tastes, including Steve Jobs. YachtWorld takes a look at the most prominent celebrity iceberg-sized yachts of 2020.
Venus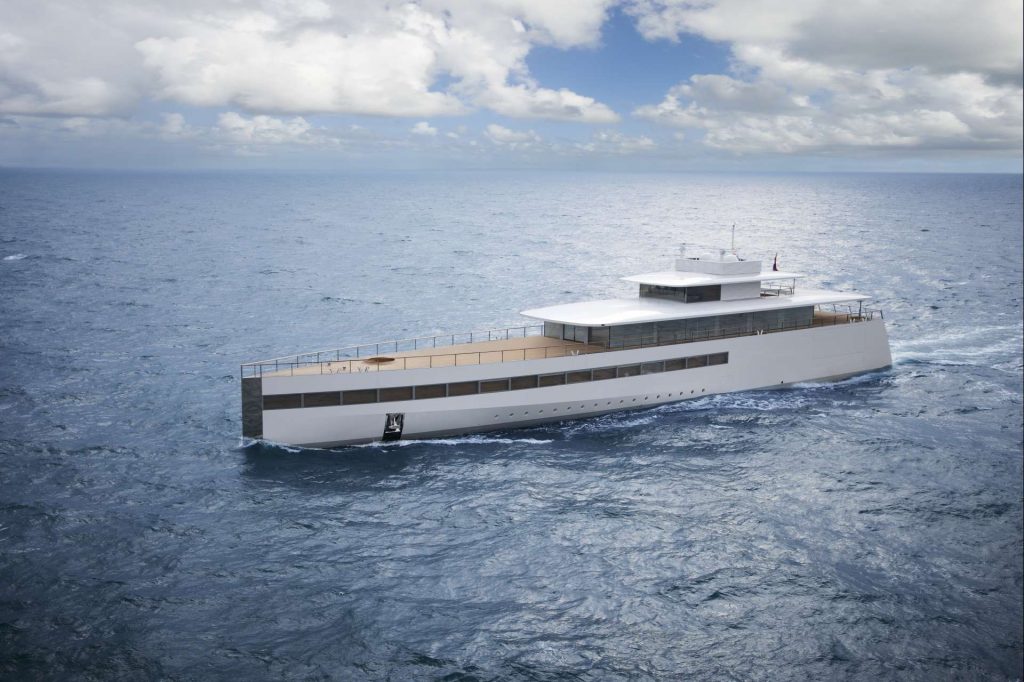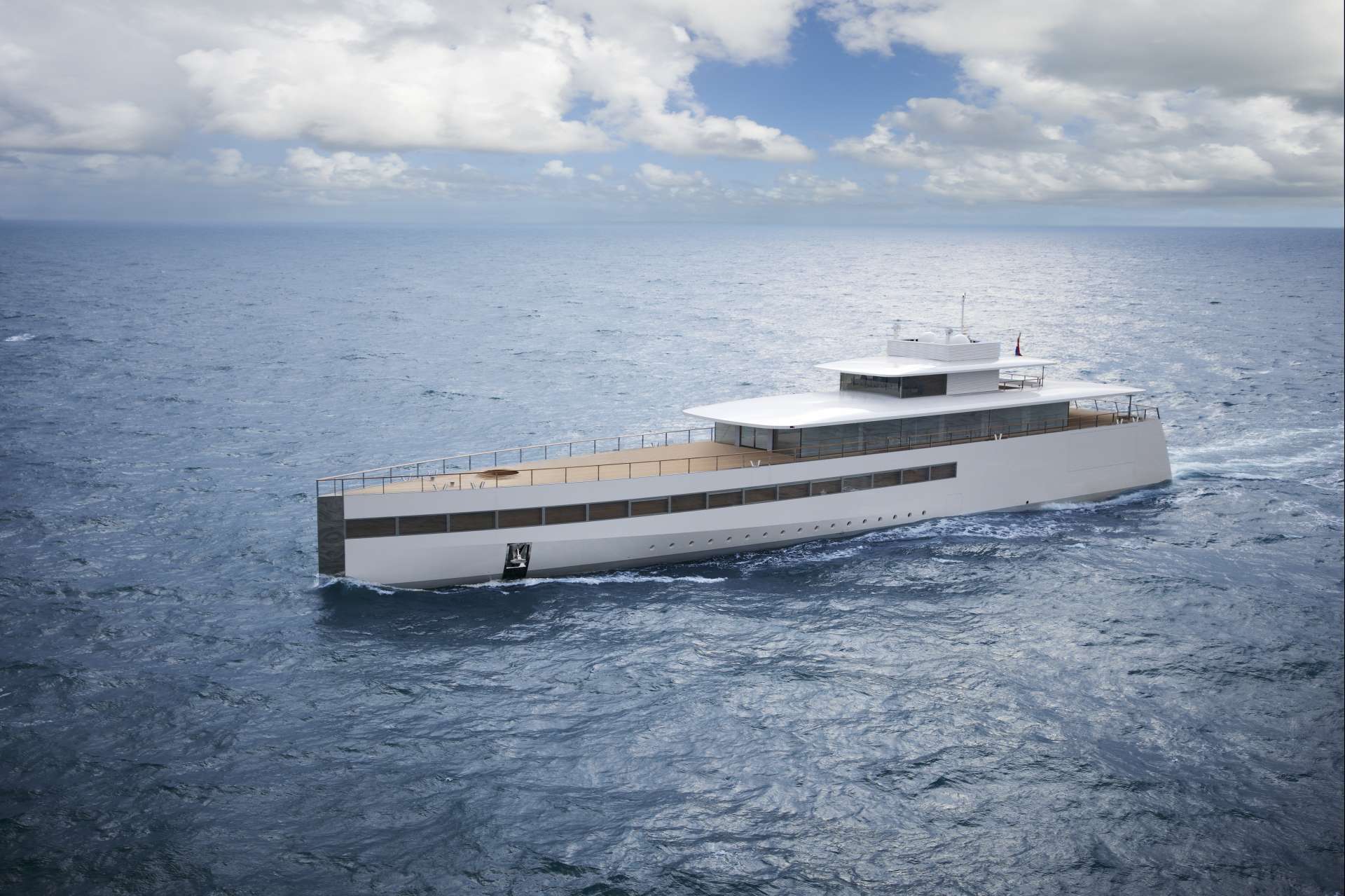 Venus is one the most elegant superyachts on the planet. Copyright : Feadship
It all started with "Would you like to make a boat?".
Venus is a superyacht created in 2008 by Philippe Starck for Steve Jobs. The two visionaries worked together to create something entirely based on the philosophy of the elegance of the minimum to approach the dematerialization. "We have reinvented marine technology through our work, it was a philosophy in action." describes Philippe Starck. A creative process that reflects both Jobs and Starck's design, with glass and aluminium exteriors providing a sleek and minimalist look. The superyacht is 260 feet long and built by Feadship and is estimated to have cost more than $118million to build.
Steve Jobs, the co-founder of Apple, commissioned Philippe Starck who already designed numerous boats and yachts amongst which the Virtuelle (1993), the Wedge II (1998), the Motor Yacht A (2004) which explores the territory of bio-design and harmony with sea and nature. Venus explores the religious philosophy of minimal. It was Starck's contemporary and innovative mind that Steve Jobs admired. Between the two, a unique creative process that Philippe refers to as 'forming a single brain with four lobes' began.
At the nucleus of the superyacht is Steve Job's insatiable appetite for function and form to merge, with perfectly executed proportions embedded with innovative technology. For example, incorporating iMac systems allows for superior manoeuvring on water. A stream-lined aluminium hull replicates the visual effect of the Apple products. Ultra-modern accommodation amenities are deeply considered in the same way that Apple products are, concealing any unnecessary functional tools. For example, the upper deck design hides communications and TV receivers. At every juncture, philosophical exploration is wedded to his compositions, and by taking just one glimpse at Venus, we can see matter entering the upper realms of transcendence.
The boat is wrapped up in mystery, and details of the interiors remain a secret, with no photos reported to exist. When you get into Steve Job's boat, there's nothing to see because it's totally minimized except that you feel the energy of absoluteness. Laurene Powell Jobs, Jobs' wife, is now the boat owner. The yacht contains six bedrooms and a system which allows communication between the children's living quarters in the front and the adult quarter in the back of the ship. Venus was planned to accommodate family spaces featuring six rooms for the family – and all are entirely identical. Steve Jobs' requirement for silence exalted every other demand, and he fixated on the power of silence. He wanted to be sure that the teenagers could be set up in front of the boat when he was at the back and vice-versa. Naturally, the vessel has seven 27-inch iMacs on board.
Steve Jobs was renowned for living a relatively simple lifestyle, except for a few toys. Such a perfectionist that he acquired no furniture in his own home and one wonders how he would have furnished the yacht. It is well documented that Steve had a strong aversion to clutter, which conflicted with a simplistic philosophy he adopted.
Sadly, Steve Jobs passed away in 2011, before the superyacht was completed in 2012. If creativity is 'Intelligence having fun' then one can imagine that before his demise, working with Philippe Starck on the project of this yacht sustained him. Unfortunately, Steve Jobs never managed to enjoy the finished product. One of the well-known creative philosophies is that the creative journey is part of the destination. Venus is a tribute to Steve Job's legacy.
Maltese Falcon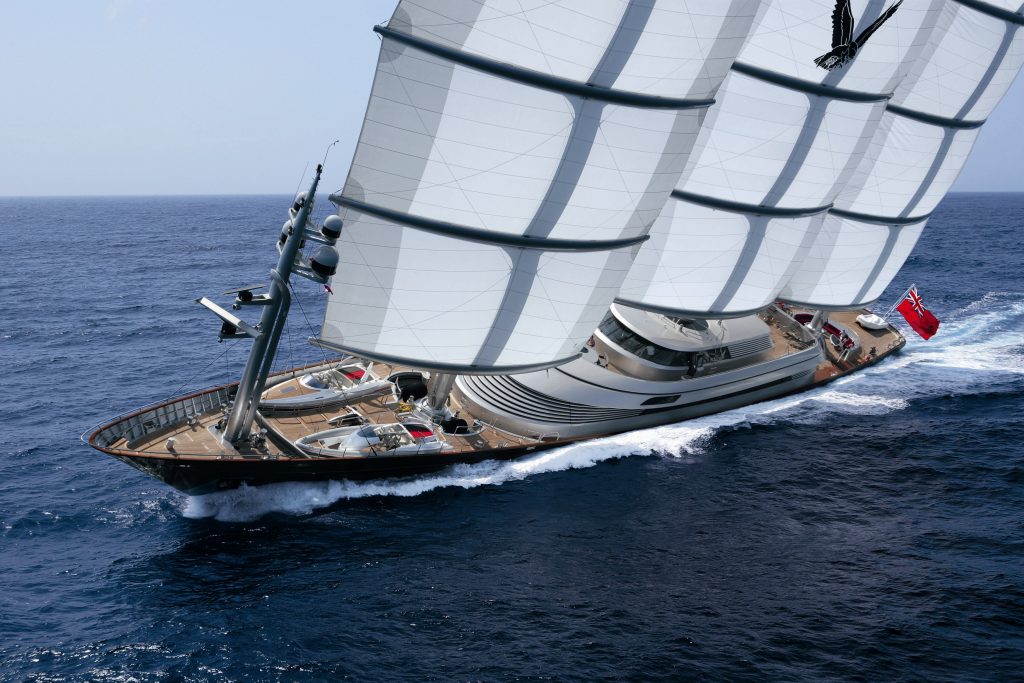 The Maltese Falcon carving through the ocean. Photo credit: Carlo Borlenghi.
The Maltese Falcon is one of the largest private sailboats in the world, measuring a staggering 289 feet in length. Three towering high white sails are tethered to 190-foot carbon fibre masts and flap in the wind like giant wings—a perfect canvas for watching a film noir. She is one of the world's most complex and largest sailing yachts at 88 m (289 ft), and commissioned by her first owner, Tom Perkins.
The furling sails are stored in the mast and can be deployed along tracks on the yards in six minutes, the same time it takes to drink your cappuccino in the morning. Perini Navi, an Italian firm, built the boat and installed the DynaRig technology that electronically trims the sails in the direction of the wind.
In 2009, Elena Ambrosiadou bought the Falcon for a reported $100 million. Elena is one of Europe's wealthiest women ensuing building an empire and she owns one of the most successful hedge funds in the world. British architect Ken Freivokh designed the yacht adopting a contemporary style. While this boat looks beautiful, she was specifically designed for sporting activities, boasting exceptional performance, manoeuvrability and speed. The driving sail power is nearly 25 knots, with a range of 4,000 nautical miles and cruising speed of 15 knots under motor power. This supersonic speed is why she is the preferred boat for regattas.
The Maltese Falcon fits up to 12 guests in five lower-deck staterooms and one upper-deck VIP cabin. The ship comes with various toys and tenders, including two motorboats, four sailboats, and jet skis.
Octopus
Octopus is is the world's largest explorer superyacht. Currently for sale through Burgess. Photo credit: Burgess.
The epic megayacht of the late Microsoft co-founder Paul Allen. Octopus is a hybrid between a yacht and a ship. The explorer's vessel is on the market for more than $300 million. Espen Oeino designed the exteriors, and Jonathan Quinn Barnett designed the interiors.
The boat is suited for exploration and long transoceanic voyages, speed and durability were at the forefront of the design brief to permit the vessel to reach the most remote and inaccessible locations. Octopus is a 414-foot (126 m). She has been put to good use and has sailed across the coast of Antarctica and the Northwest Passage. The yacht's hybrid propulsion system gives her a maximum speed of 19kn and a transoceanic range of approximately 12,500nm (nautical miles) at her economical speed of 12.5 knots.
While the yacht is functional, it is also fully equipped for entertaining, occupying 13 cabins to cater for 26 people. Guests have been able to benefit from the viewing platform to participate in polar bear spotting. On this vessel, guests can benefit from seeing rare and wild environments and wildlife.
The yacht also includes a submarine, a remote-controlled deep-sea explorer. Guests can work up a sweat using the on-deck gym located on the fifth deck, where the treadmills face the ocean. On the bridge deck, there is plenty of room for outdoor entertainment, and guests can enjoy the pool by an alfresco dining area, a bar and pizza oven.
Just beneath the bridge deck is a deck dedicated to entertainment where guests can enjoy a range of facilities including a spa, library and bar, cinema, gym, and multiple lounges including a forward-facing observation area and a basketball court on the deck below, in addition to seven tenders, two life rafts and two helicopters.
The access dock is home to a Pagoo, a submarine accommodating eight guests and two crew that can dive for up to eight hours. If the Beatles were alive, they each could have brought a friend. In addition to everything else, there is also a dive centre, hyperbaric chamber onboard, along with a beach club with a bar.
Michael Jordan's Catch 23
In true Michael Jordan style, his Viking sportfishing yacht is a tribute to the Chicago Bulls, and the No23 jersey he wore for most of his historic career. Michael does not miss the opportunity to promote the iconic Air Jordan 3 elephant print, with black panther imaging on the stern (Matching his private jet). The superyacht is estimated to be worth $80 million and is 80 feet in length. Catch 23 is the work of Viking Yachts, who engineered her, and are also responsible for the interior and exterior styling.
Jordan is a keen fisherman and competes in fishing tournaments. He also has a penchant for Cuban cigars, could there be a better platform than smoking on the deck, cruising at full throttle, overlooking the big-blue?
Related
Monaco Yacht Show 2022: Five Big Bruisers
If you couldn't be at MYS22 in person cast your eyes on these supersized yachts.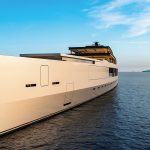 Poetry: A 424-foot Superyacht With An All-Natural Sea Pool
A brand new superyacht concept released at MYS22. Take a tour around the striking vessel.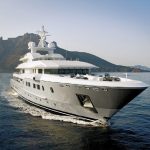 Legends Episode 5: Superyacht Kogo
Join hosts Ryan McViinney and Emma Coady as they tour around Kogo.