A Yacht Club Like No Other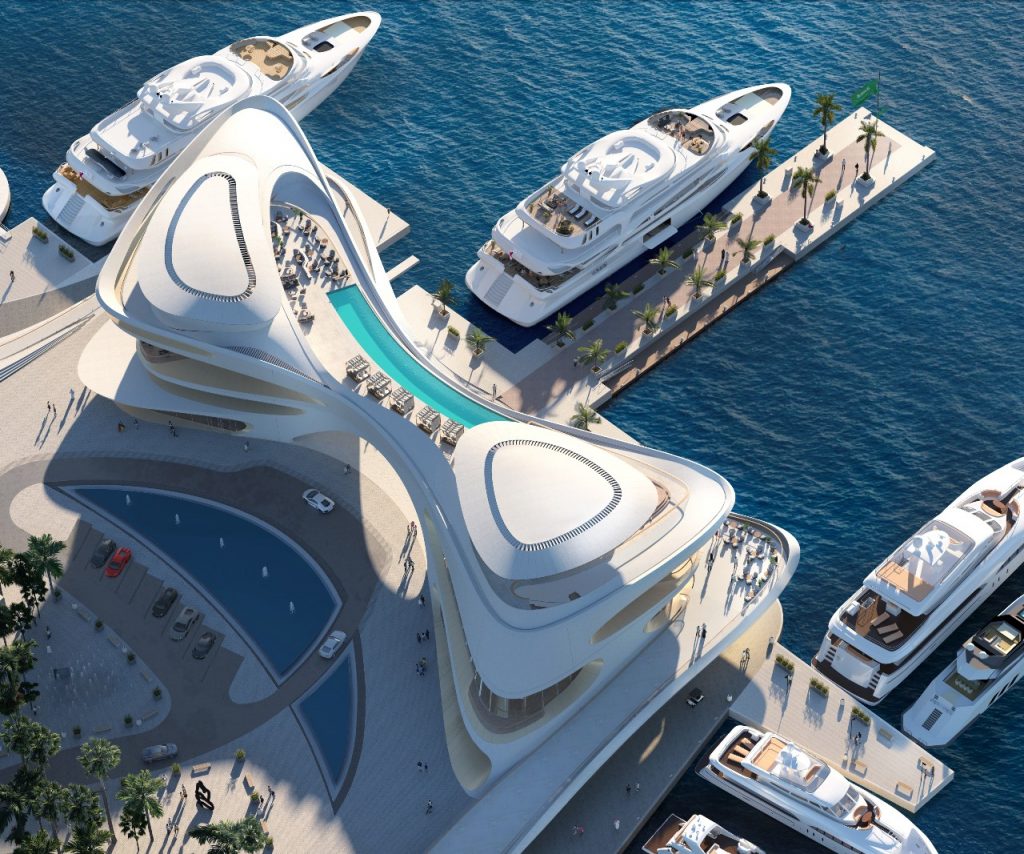 Above: Aerial view of AMAALA's Triple Bay Yacht Club. Image via Red Sea Global. 
Yacht clubs have long been associated with oppressive cherry wood paneling, and tired navy carpeted floors. So when the Red Sea Global appointed global architecture practice HKS to design a yacht club they were set on making the marina chic and contemporary. As its namesake, Triple Bay Club, infers, the marina will span along three coastal bays overlooking the Red Sea.
The marina is part of AMAALA's regeneration development scheme and is set to put Saudi Arabia's marine offering on the global map. AMAALA is core to Saudi's Vision 2030 strategy to diversify the economy by promoting the tourism sector to enable rapid growth.
The regeneration marina hopes to attract motorboats and sailors from all backgrounds, hosting annual sporting events, including annual international regattas. The 120-berth marina can accommodate yachts up to 425 ft (130m) in length. Berths are expected to average 100 ft, with room for several superyachts out the front, all of which will benefit from a dedicated tender vessel to transport guests from their yacht directly to the VIP entrance at sea level.
Triple Bay Club marina is split over four levels, covering 85,034 sf (7,900 sqm) and offers guests a unique luxury experience. The club is located opposite the Marine Life Institute dedicated to celebrating maritime heritage, alongside sports, and leisure activities on the Red Sea. Three or four ultra-luxury hotels are located on the cove adjacent to the marina. There is also a cafe, luxury retail offerings, and a public bar. Atop the third floor is a curved infinity-edged pool.
Moving 'The Med' To Red Sea During Winter
Saudi Arabia's Red Sea coast makes ideal conditions for yachting during winter, with average temperatures ranging between 66- 85 °F, and it's conveniently located for Europeans to visit between October and February when the weather is cold.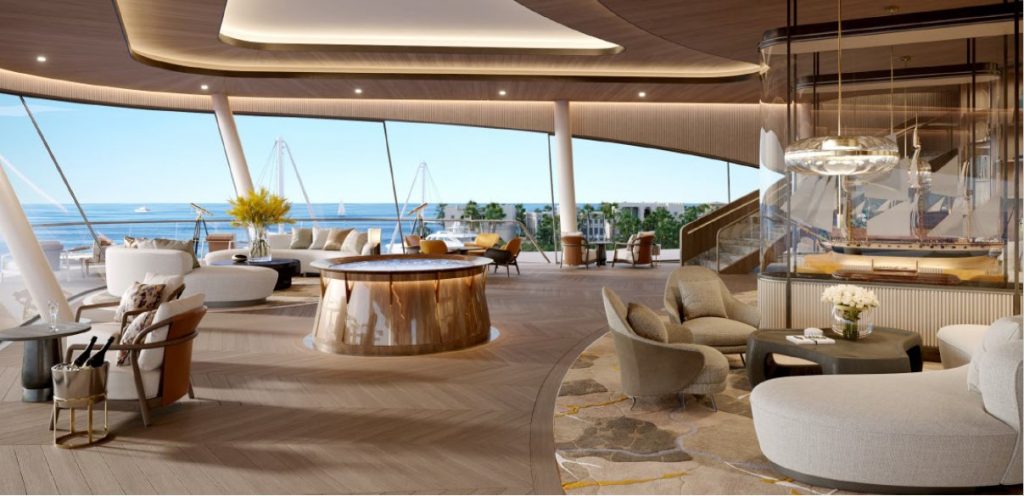 Above: AMAALA Triple Bay Club Level 2 chart and model room. Image via Red Sea Global. 
Yacht Club Design Reimagined: Tying Architecture To The Coast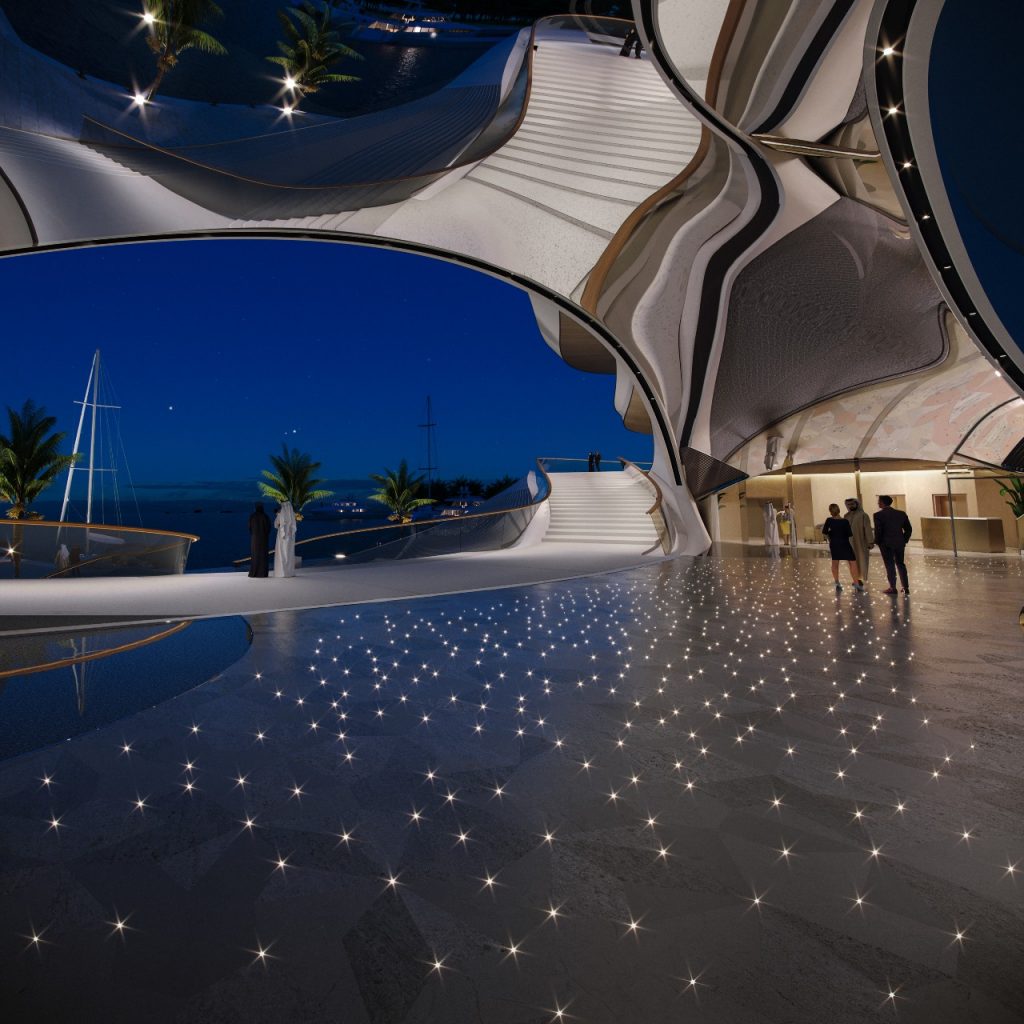 Above: Triple Bay Yacht Club marina arrival plaza by night. Image via Red Sea Global.
Global architecture practice HKS, founded in 1939 in Dallas, Texas, USA, designed a fluid superstructure representing the Red Sea coastline that once existed and has since been eroded away by wind and sea. HKS found innovative ways for people to be connected to the sea, including the lifting of the club and raising it on an arch to enable views of the sea front and back. So often seafront facing architecture saves the best views for the front of the building but HKS has optimized sea views from a 360 degree perspective.
Traditionally, the interior of a yacht club is timber-clad. HKS wanted to keep the feeling of warmth that timber evokes while being careful not to make it too overpowering. Their solution: to find a balanced layer of mixed materials using natural and locally sourced materials such as stone, timber, and leather in a natural palette to keep the overall look fresh and light to enhance the textural detailing, such as natural grains or fibrous wool.
Above: AMAALA Triple Bay Yacht Club members champagne gold lobby. Image via Red Sea Global. 
"Oceanic cues can be seen in the long sinuous lines of the dramatic cantilevers, alongside aluminum ceilings which provide a natural glow from the inside-out, rather than installing a light on the facade which reflects out," says Dan Flower, Principal and Design Director at HKS.
The marina is being carefully constructed to make a minimal impact on the natural coast. "By optimizing the floor space across the bays, occupying a minimal footprint to help preserve the natural environment." says Flower.
The unique coastal-themed architecture will serve the general public who will benefit from accessing a promenade running along the front of the marina. The lobby area has a mirrored vaulted ceiling over a star-lit floor, creating an alternative night sky. "When the lights come on in the evening it feels very dramatic, drawing people to the water's edge," says Flower.
Sustainability: Preserving The Natural Environment
The destination will be off-grid, powered solely by renewable energy and is on track to achieve a LEED Gold rating status a a globally recognized symbol of sustainability achievement awarded for the projects design and construction. The severe weather in the summer months means HKS have worked hard to reduce the cooling load. They have minimized heat gain on transparent surfaces by sloping them forward, reducing the amount of sunlight that can get to them. The terrace superstructure pushes outwards, acting as a heat defence mechanism. There are sliding doors to enable the club to turn the air conditioning units off during certain times of the year, allowing the building to ventilate naturally.
Red Sea Global has a recent partnership with The Ocean Race to drive awareness of the challenges facing our oceans to help protect the outstanding beauty of the marine ecosystems in areas such as the Red Sea.
Triple Bay Marina is due to launch in 2024. Stay posted for further details.
Are you looking to find the to find the right marina to suit your needs? Read our guide Finding A Marina For Your Boat.
Related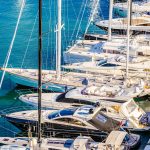 Boat Trader Research Points to Increases in Consumer Spending to Upgrade Boats
Marilyn DeMartini summarizes recent reports on the marine industry, boat prices and sales da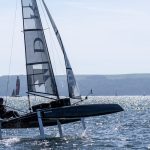 Drift Energy: Are Hydrogen-Powered Yachts In Our Future?
Drift Energy's hydrogen-powered yacht propels the marine industry into a clean-energy future.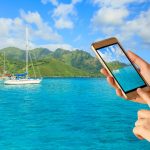 Booking Transient Slips And Mooring Reservations: Staying Tech Savvy
Tips on finding and booking anchorages, moorings and dock slips at marinas.