Albin aft cabin trawlers are ideal for snow-birds, live-aboards, and long-distance cruising, and there's a wide range of model years and sizes available on the brokerage market. So it's no wonder that today, boats over four decades old are still in demand—as are later year models.
The smallest Albin aft cabin models built, the 25 and the 27, are not, of course, ideal for full-time occupation. Yet for a single mariner or perhaps a couple, Albin's 30 Family Cruiser may represent the most compact reasonable choice available which still accommodates the possibility of living aboard a powerboat, at least on a temporary basis. With a queen berth in the aft cabin, a center cockpit, and an enclosed head, galley, and dinette/V-berth forward, there's a huge amount of room for a 30' by 10' foot-print. There's even an extra single berth which can be used for bulk stowage, aft of the galley.
More realistic for living on the water, Albin's 33' and 34' models provide significantly more room. The aft cabin has its own head (with shower). These were built in both Family Cruiser (open center cockpit) and Motoryacht (fully enclosed except for the flybridge) designs, and are powered by relatively small, fuel-efficient diesel inboards. Both twin and single engine models are available on the market today; with twin-screw versions one can expect a cruising speed of 10 to 12 knots and a top-end of about 15 knots, while the single engine trawlers generally provide a seven to eight knot cruise and a top-end of 10 or so knots.
These models were quite popular in the 70's and 80's, so the market holds a mixed-bag for used yacht buyers. It's possible to find Albin trawlers of this size for as little as $15,000, but expect them to be aged and in rough shape. An Albin in Bristol condition holds its value well, and prices in the $40,000 to $50,000 range for well-maintained boats in good shape are far more realistic.
Stepping up to the Albin 36 and 37 trawlers provides significantly more useable outdoor space, since this boat has a full walkaround, and an aft deck on top of the aft cabin. Again, living quarters are divided fore and aft with private heads for both, with a saloon, galley and dinette in the middle. Also as with the 33' and 34' both single and twin diesel powerplants were offered. Single engine models are more prevalent and are favored by many cruisers, for the fuel economy. Cruising at seven knots, the standard single Lehman (135 HP) burns just three gallons per hour, delivering a cruising range of over 700 nautical miles (with a 10-percent fuel reserve).
Tha Albin 43, though yet larger still, maintained the forward/aft stateroom split, and in this model, it makes for an ideal liveaboard. Many snow-birds and long-distance cruisers turn the forward stateroom into stowage, and since the galley is down and forward, the saloon and aft stateroom are left open and unencumbered, with a huge amount of useable space. The aft deck is also significantly larger; on many boats it's protected by a hard-top, and in some cases, the aft deck has been semi-enclosed and customized with canvass.
Prospective buyers of any of these Albin trawlers should be aware that they tend to have large amounts of teak trim as well as decking and joinery. Yes, it looks great when well maintained, and yes, it does require substantial maintenance.
Related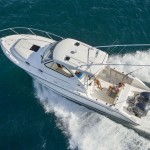 Saltwater Fishing Boats Guide
From center consoles to expresses and convertibles, which fishing boat is best for you?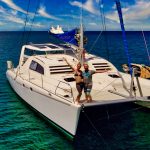 Buying A Liveaboard Sailing Yacht: A Rollercoaster Journey
Have you ever considered living on board a boat? Read about The Camerons first-hand experience.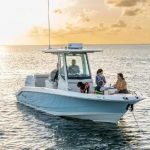 The Best Fish-and-Ski Boats: 5 Top Picks For 2023
With ski-and-fish boats you can have your cake and eat it. Satisfy multiple family needs at once.