As I stepped aboard Alaska Eagle, the 65 foot Royal Huisman-built sloop, I could feel the energy of past adventures on this offshore yacht: exhausted crewmembers frantically trimming the big sails, the helmsman fighting the wheel, spray everywhere, and commands barked from the skipper as she rolls and tears through the big waves of the Southern Ocean.
Originally named Flyer for the 1977-78 Whitbread Round the World Race for Cornelius Van Rietschoten, she has been a central part of the Orange Coast College (OCC) sailing program in Newport Beach, California, for the last 30 years. She has sailed more than 185,000 miles with student crewmembers on board, crossed the Pacific over 40 times, and completed three Atlantic crossings. She has cruised French Polynesia eight times, Hawaii 17 times, Alaska and Canada nine times.
Here's a video from the Volvo Ocean Race Legends YouTube channel about the that second Whitbread Race:
Luckily for those who sailed on her, they were not subjected to the minimal interior of a modern carbon racer. Alaska Eagle's interior is fully heated, and there are plenty of hatches and fans for the tropics. She is fitted out with a full teak interior, several cabins—not only for the skipper, but also for the navigator and crew—a full galley, a dining area, cold stores, and two heads. Each berth is equipped with a reading light, and lockers. According to Brad Avery, the Director at OCC, one of these areas was used by Cornelius to stow some scotch for ceremonial purposes, but the crew was a little ahead of him and succeeded at raiding this hidden store by tunneling through a bulkhead. Another interesting bit of history Avery shared is that, even though the boat has two heads, Cornelius made crew relieve themselves off the stern during the original Whitbread race.
Alaska Eagle is a phenomenally gorgeous boat. Well designed by Sparkman & Stephens and strongly built in aluminum, she represented the latest innovations at that time. Originally designed as a ketch, she was later modified to a sloop and entered into the third Whitbread in 1981 as Alaska Eagle. But with the rapid change in yacht architecture during this period, she was slower than some of the newer designs and could only manage ninth place.
However, the design approach that made her great for the early Whitbreads also made her perfect as a training and educational vessel. She carries a U.S. Coast Guard certificate of inspection as a sailing school vessel and also has been awarded an "all oceans" route. Both of Alaska Eagle's cockpits are well protected from the elements, with big dodgers that provide great spaces for lounging and dining. And high rails give you a sure-footed feeling around the deck—perfect for the shift changeover when the new crew has to come up on deck.
According to Brad, she needs a crew of seven to nine people to handle her well with multiple watches, with three people on deck for each watch. For handling sail changes, one of the neat features is a halyard cockpit just aft of the mast. It allows the foredeck crew to stay protected and keeping the sheets from being washed to leeward.
Alaska Eagle is lying in Newport Beach, California. She is for sale on YachtWorld.com and I could see her being a great addition to an offshore sailing program or for expedition charter. You can find more information and pictures on her YachtWorld listing.
Related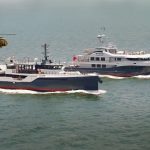 Gene Machine & Gene Chaser Superyachts: YW LEGENDS EP. 6
LEGENDS Ep. 6 features billionaire Jonathan Rothberg's superyachts Gene Machine & Gene Chaser.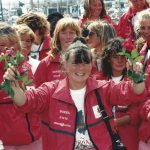 First All-Female Crew To Sail Around The World: Tracy Edwards And Maiden
Find out how a female chef on a yacht ended up being a skipper for a race that changed history forever....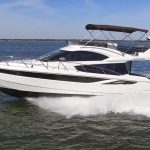 Galeon 420 Fly Full Video Walkthrough
Full walkthrough of a 2018 Galeon 420 Flybridge yacht with MarineMax Boston.