The Inside Track on Yacht Budgets and Getting Ahead
Whether you are looking for a used project boat or a brand new affordable family boat, plenty of affordable yachts are available on the market if you know where to look and how to shop for boats online. But before you invest, consider renting a range of different types of yachts to see whether you are really sure if she is 'the one'. If you want a yacht forty feet plus- we recommend chartering out a boat. You can rent out vessels through sites such as Boatsetter or our favorite Click & Boat that has a very user-friendly platform, which allows you to trial and test a range of boats with or without a captain. Once you have a shortlist, you can set up a sea trial to test the final few that top your list, and if you commission a yacht broker, they will organize this on your behalf.
For live-action footage of yachts in action on the water you can stream videos on the YachtWorld YouTube channel which can help you learn more about the type of boating and yachting you want to do.
Owning a yacht can quickly add up, from maintenance to insurance, fuel, the crew, and marina and storage fees are just a few eye-stinging expenses associated with owning a yacht. However, as any boat owner will tell you – it's not just the yacht you are paying for but the lifestyle. If you are looking for an affordable yacht or boat, remember that secondhand boats are usually the best option for first-time buyers.
Buying a Yacht: Choosing the Perfect Fit
Firstly, you will need to decide on how you intend to use your new vessel. One of the most important considerations when choosing which boat to purchase is why you are buying your boat, which will dictate the size and the design of the vessel. For example, if you intend to charter the superyacht out to offset the cost of ownership- you will want to ensure that the yacht has all of the key charter yacht features to attract charter clients. Consider all of these options carefully before you even start to browse. Choosing the right yacht length is vital because the layout and features can be adapted and changed. If you want to go on a transoceanic journey, you will need a minimum 45–50m yacht. Yachts over 30m are categorized as a superyacht. Any yacht beyond 80m is referred to as a megayacht- otherwise referred to as a gigayacht.
The Yacht Sweet Spot
The size of the boat will determine how many guests your boat will accommodate. From superyachts (vessels over 130 feet in length) to pocket yachts (trailerable boats packed with amenities you might find on a motor home) there is a range of yacht types and sizes to choose from when you're thinking about your budget, and the sweet spot for you may lie somewhere in between.
Superyacht or Pocket Yacht?
While every yacht's layout will deviate, superyachts scaling 130-150 feet will typically facilitate 8-10 guests with space for approximately four cabins and a small crew aboard.
Superyachts above 150 feet typically accommodate over 10 passengers with a dedicated team of 9 crew members onboard ready to help with nearly every need and ensure the yacht is running smoothly and safely. These vessels are large enough to provide an abundance of outside space for entertaining and many amenities that can provide a hotel-like experience.
Luxury superyachts measuring over 200 feet in length provide a superior level of luxury onboard. It will typically comprise an amalgamation of approximately seven cabins, a pool, dressing rooms, balconies, a spa, jacuzzi, sauna, and a beach club area. Guests have their every whim and desire catered for. However, there are very few ports where you can dock really large boats – Monaco, Montenegro, and Antibes have the capacity, but you will struggle to fit into several other popular sailing destinations.
On the other end of the spectrum lies "pocket yachts" that can be nimble enough to pop on a trailer and tow with a pickup truck to your home where they can sit and wait for your next family adventure when the time comes. Let's take a look at some examples of the types of affordable yachts most families and boat owners will be most interested in.
King Of Affordable Yachts
Carver has long occupied the number one spot on any boat list for best affordable yachts. The company has always made a point to build boats and yachts that are affordable and accessible to a wide variety of families in America. The C34 Coupe is the next generation of Carver Yachts, with a more modern design and sleek profile that provides a strong, yacht-worthy appeal for a fraction of the price of some of the more prominent, more expensive yacht builders. Prices start at US$ 235,000.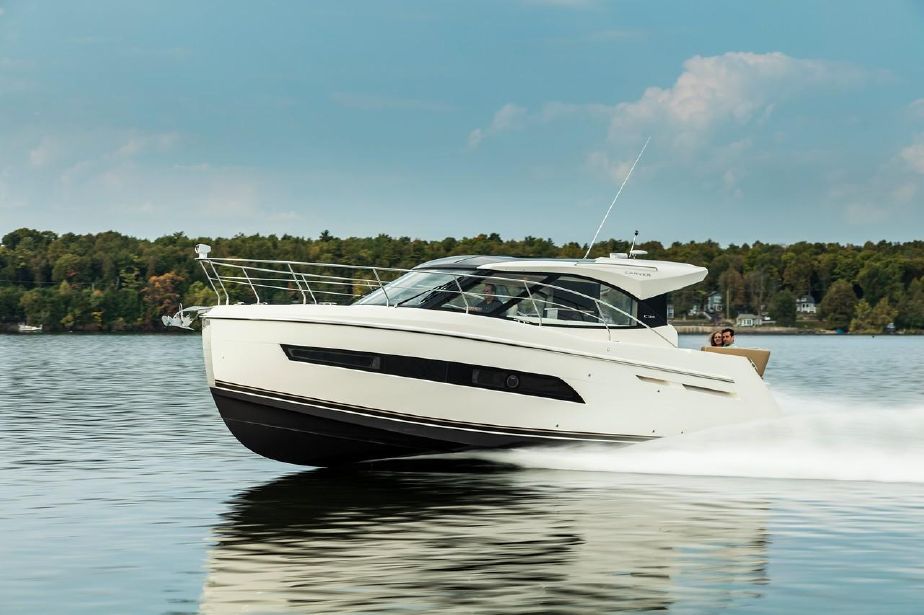 This C34 Coupe, a three-panel sliding glass door, gives access to the salon, which can be entered using a single panel, or both panels can be slid to port, opening the salon to the cockpit. Image credit: Carver
An Affordable Family Boat That Feels like A Big Yacht
Sea Ray is famous for building family cabin cruisers the whole family can enjoy. On one hand, new Sea Ray's can be quite expensive, however, there are often many used Sea Ray boats on the market priced reasonably that can be had for a modest budget (at least in boating/yachting terms). 
If you're willing to go with a used boat, you can usually find an older used Sea Ray 370 Sundancer for around $30,000 (something from the 1990s most likely). A Sundancer 370 built after 2000 is likely to bring in around $100K+. You can start your search by browsing the current used Sea Ray Sundancer 370 yachts for sale on Yacht World today and contact a seller near you to find out your options. If you want a brand new model, these boats can run upwards of $800,000 -$950,000 depending on the options, which is debatably affordable in yacht terms, but not out of this world expensive when you consider they are essentially liveaboard boats that can be used as mobile homes on the water.
The all-new 2022 Sundancer 370 OB is a crossover bowrider boat that feels like a much larger yacht while still maneuverable and easy to handle with serviceable outboard engines, making it a great family-style boat that is of a yacht-caliber, but that doesn't have the 2-3 million dollar price tag that a bigger, brand new yacht is likely to command.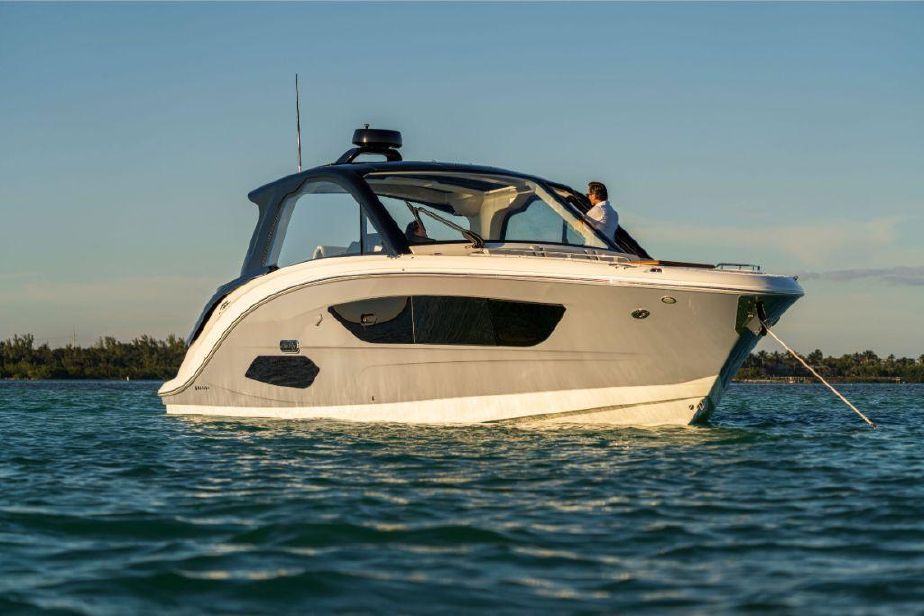 2022 Sundancer 370 OB is also available in a coupe model with a hardtop with a full windshield and electrically actuated windows. Image credit: Sea Ray
Affordable Yacht-Like Cuddy Cabins And Walkarounds
Cuddy cabins might not quite be "yachts", but the larger models in this class can certainly have some yacht-like amenities. Examples of these types of boats abound, from easily trailerable models with a length below 30 feet and a beam of less than 8.5 feet, to larger boats over 30 feet with a wider beam (that have larger interior cabins and can handle rougher waters offshore). Here are a few that stand out and are worth a look if you're in the market for this type of boat.
The Grady-White Grady-White's Adventure 208 is a 20-foot walkaround boat with a cuddy cabin that can provide owners with a stable, durable platform for fishing, cruising and family fun. The cabin has a forward v-berth and can accomodate a portable head with dedicated storage. If you're looking for a boat to introduce your family to the yachting and boating lifestyle this is a great option. Plus her modest beam (8'1″) allows her to be easily trailered and storing your boat can be as easy as parking at your home in the driveway or yard.
The 2021 Boston Whaler 285 Conquest is a comfort-minded cabin cruiser boat with amenities that enable active day cruises, serious saltwater fishing runs and impromptu overnighting with equal aplomb. The 2021 285 Conquest starts at a reasonable $252,975. 27'10" length she is a bit bigger than the Grady-White Adventure 208 and she can accommodate up to 12 passengers for a true yacht-like experience.
Yacht-Worthy Center Consoles
If you're on somewhat of a modest budget (in yacht terms) for a new center console boat but are still seeking that #yachtlife lifestyle, you may want to check out a 2022 Chris-Craft Calypso 35. This boat is dubbed "The Ultimate Entertainer" by Chris-Craft and comes complete with a small interior cabin with berth and head and a luxurious cockpit with premium plush seating and classic yacht styling. Prices start at US$ 229,000.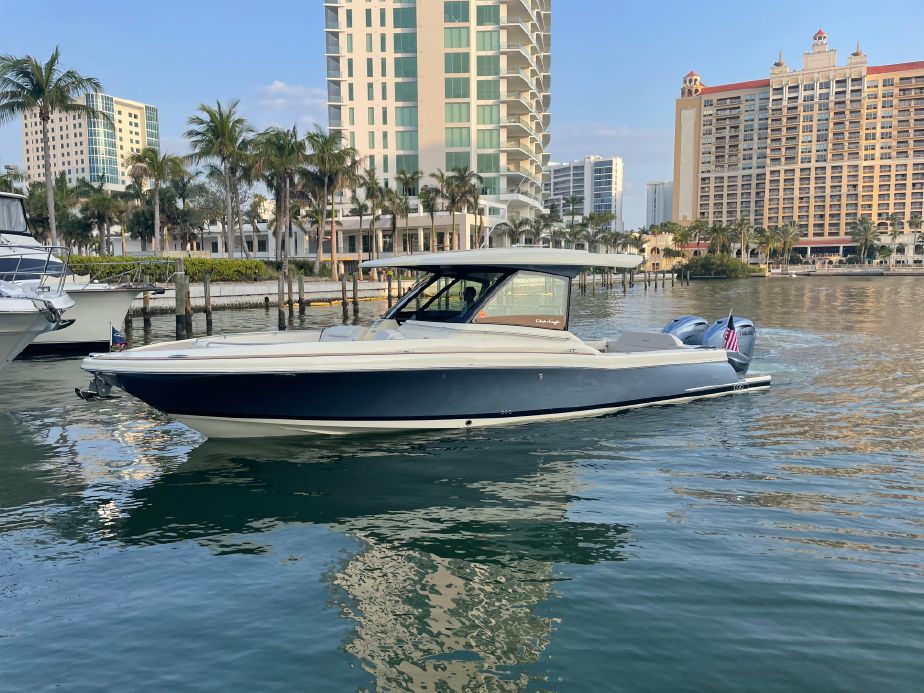 Chris-Craft Calypso 35. debuts a fully enclosed windshield with a power actuated  sliding wind door. Image credit: Calypso.
2021 Edgewater 370CC Center Console
The 2021 Edgewater 370CC Center Console A combination of luxury and superior performance the Edgewater 370CC is built using Single-Piece Infusion, or SPI, which enabled the builder to create a lighter, more efficient and more environmentally-sensitive power boat. She is designed for fishing, entertaining and cruising. Although she is a center console, her cabin is large enough for a berth, sink and head making her an option for weekending and longer cruising with a couple. Check out a full walkthrough of the Edgewater 370CC with boat reviewer Lenny Rudow below.
Cabin Cruisers Worth Every Penny
True cabin cruisers are well-suited to cruising and family weekend trips by nature, designed for island hopping and a yacht-like lifestyle that is akin to that of a much larger yacht, but in a more achievable and manageable package. When you're talking about the best prices on the market for new cabin cruisers that can deliver this kind of experience for the whole family, and enough for guests to come aboard on cruises, some of the top names include Sea Ray (check out the Sundancer 320 Coupe), Cutwater Boats (consider the C-32 Coupe) and on the higher end, Tiara Yachts (see the Tiara C39 Coupe pictured below).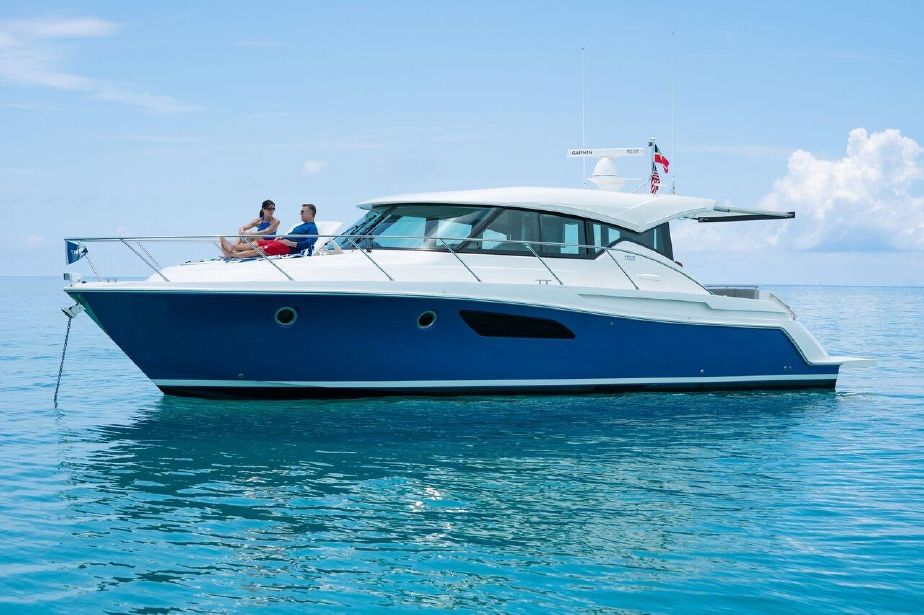 The Tiara Yachts C44 2022. Image credit: Tiara Yachts. 
Grady-White Express 330 Cabin Cruiser
Whaler and Grady often jockey for the top two positions on every boating family's dream boat list when it comes to current cabin cruiser models on the marketplace. Looking back to Grady-White again, you may consider stepping up from a cuddy cabin to something like the 2021 Express 330 Cabin boat. She is a bit larger than a cuddy cabin but with the same sort of style and layout (although she isn't a walkaround boat). This bump in size allows for a full stand up interior cabin down below, complete with a stand up head, berth and small galley. She feels more like a pocket yacht but can handle some serious offshore cruising and fishing. View our walkthrough video review of this boat with reviewer Lenny Rudow below.
Regal 33 Express Cabin Cruiser
The Regal 33 Express is a have-it-all cruiser "prepared for an unforgettable adventure". She is a perfect weekender with a refined yachting flair that provides luxurious comfort on deck and down below, with great cabin space for her size and premium amenities.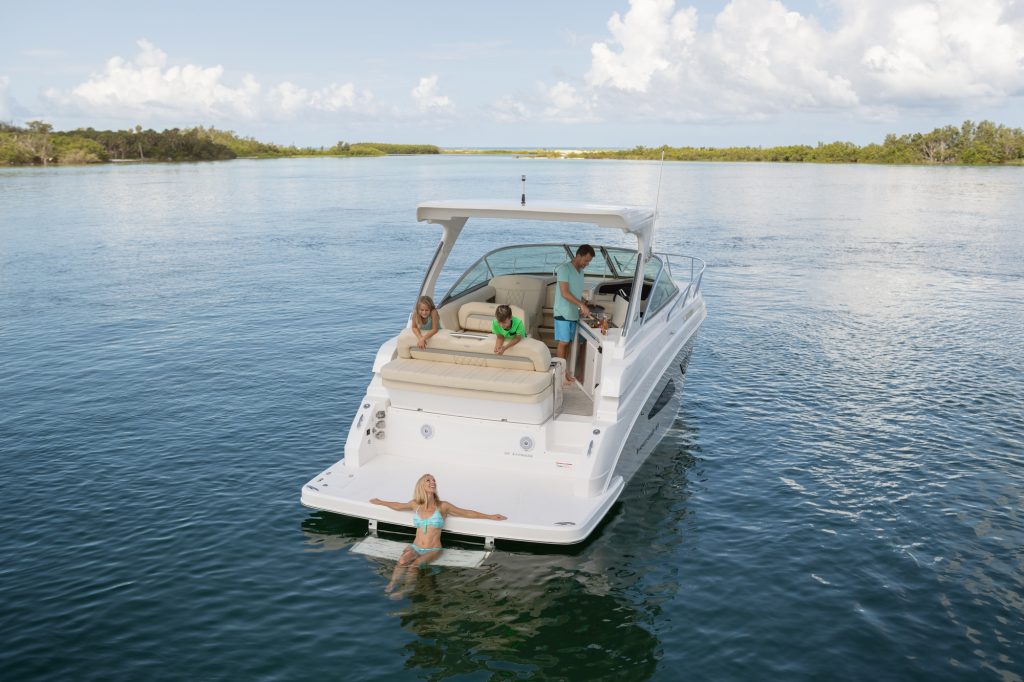 The Regal 33 express cruiser feels like being on a yacht. image credit: Regal Boats
Trailerable Trawlers
A whole genre in and of itself, the term trailerable trawlers has spawned an entire lifestyle movement, akin to the #tinyhomes and #vanlife movements and hashtag crazes in the U.S. in recent years. These are boats that can be used much the same way that RVs, motor homes and campers are on land, but can be be launched as mobile homes on the water for extended cruising with families and couples. By nature they are built to be towed on a trailer, but they feel much larger than most trailerable boats with tons of features packed into them, much like a Swiss Army Knife.
Ranger Tugs
 Ranger Tugs tops the list in terms of affordable, feature-packed "pocket yachts" that can be great family boats and longer distance cruisers, that can also be easily trailered to different locations (and even used as campers along the way at RV parks). Prices start at US$ 149,000.
2022 Ranger Tugs R31 Command Bridge. Image credit: Ranger Tugs
Where To Buy An Affordable Yacht
Generally speaking, if a yacht is hot – the price is not. Yachts are a personal investment. Unlike buying a car, the market is dynamic because boats are rare commodities, which is part of their beauty. There are lots of unique models available. If you are budget conscious, the best way to approach buying a yacht is by buying a used yacht for the best price possible. Brands like Sea Ray, Carver, Hatteras, and Bertram family-style cruisers are all good options to look out for.
How To Source A Yacht For The Best Price
Sourcing a yacht using online selling platforms provides you with a plethora of choices. While buying a boat at your local club or boat show was a personable and enjoyable experience twenty years ago, availability was relatively limited, and the buyer had little choice. Online platforms provide you with access to thousands of new and used boats for sale, and they are set up to make the buying process streamline and efficient. YachtWorld's boat marketplace has the world's largest selection of brokerage boats for sale, providing access to professional yacht brokers selling a range of new, used, sailing, power, and superyachts. Video viewings are available so that you can scope out the boat out from the safety and comfort of your living room.
Top Tips: YachtWorld's Buying Guide
A good place to start your yacht buying journey is by reading three quick tips for buying a yacht. Stuart Carruthers, Cruising Manager of the Royal Yachting Association, highlights that additional costs for keeping and maintaining a yacht will be about 10% of the vessel purchase price – which is a good rule of thumb to keep in mind.
Setting up Search Alerts on YachtWorld's online marketplace will immediately notify you if any sellers list a boat that matches your specific criteria.
Do your research. Read the NADA guide which regularly updates boats values by model and type to help you pinpoint the value of the vessels you've earmarked. The more research sources and guides you draw from, the better.
 Look out for sellers paying for storage at a boatyard who no longer want the vessel, they will keener to sell faster in order to lower their monthly costs. In this instance, they may be willing to let the boat go for much less than it's worth.
Dealers have the capacity to hold a large inventory of boats on-site, thus may not need to negotiate on price as much as a private seller.
The selling location of a boat will increase or decrease the price due to regional supply/demand differences.
You could ask your boat dealer whether it would be possible to showcase your new boat at a boat show in exchange for a worthwhile discount. Some brokers that need a boat to use for sailing demos will be prepared to pay for berthing and maintenance fees too.
Q&A
Is buying a yacht from a boat auction a good way to buy a cheap yacht?
Don't fall into the trap of buying a salvage boat or yacht at a boat auctions unless you are very good at repairs, and have checked out the boat beforehand. While auctions can be a great source to find affordable boats, whether you get a great deal or a lousy one is usually determined by a bit of luck, skill, and experience. Pre-loved boats are the most common boats for sale at auctions, however occasionally there are new boats available from local dealers. And, if you do chose to buy a boat from an auction, read more about boat buying and selling tips in auctions to improve your chances of making your buying trip a success.
Is buying a salvage boat for me?
Salvage boats either sink your money and end up costing more than the boat is worth after being repaired. However, if you have the skills, to completely mend structural repairs yourself you could end up making a profit. Consider whether you can fabricate a template to use as a hull repair? Can you fix electrical repairs? If the answer is yes, then a salvage boat may be an avenue worth pursuing.
Our advice is to be very wary of salvage boats. The vessels need to be fully surveyed before you can ascertain the value for the boat. Bear in mind that the surveyor will not necessarily be able to uncover absolutely everything that may need fixing. Some issues lay dormant until the boat is on the water. There are specialist salvage boat experts that buy and sell salvage boats. The upside is picking up boats at a fraction of the price, but the downside is that you are likely to be sitting in a boat which may not have the shine of a new boat, and it is more likely to become problematic later down the line.
Related