A Flagship Center Console Quickly Gaining Fans Across The Industry
Ear-to-ear grins spread across each face. "Incredible!" "Home Run!" "More agile than I expected!" were the accolades from some who piloted the new Everglades 455 Center Console. We were on a sea trial of the new flagship 45 as the boat arrived in South Florida for a dealer demo. Sean Hickey, Everglades Regional Sales Manager, took the boat on its maiden voyage from Destin, around the West Coast of Florida, up around the tip to Pompano Beach and Fort Lauderdale—en route to New England. Boaters just stared as we made our way out of Hillsboro Inlet—a tricky passageway to the Atlantic where a stiff headwind and 3-5' seas awaited.
Vessel Overview
The 45' hull with a tall tower and broad 13'3" beam looks big and broad, but its smooth handling belies its size. Outfitted for fishing but accommodating for family cruising, the Everglades 455CC took on the waves with no banging or crashing—its solid closed molded proprietary RAMPCAP® construction enabled a peppy course, the deep-Vee, variable deadrise hull cutting through the waves while enthusiastic young salesmen took turns at the wheel, throwing down the throttles to test her mettle. The yacht performed like a sportboat, yet was outfitted with many yacht-like touches from the Release teak cockpit and helm seats to the upholstered bow sunlounges and the cabin's private head and enclosed shower. But true to its fishing DNA, the boat also had over 45 rod holders, two live wells, multiple insulated fish boxes—including two on the aft deck—a first for Everglades. The company previously put its fish boxes forward, but for this boat, created new tooling and molds to fit the boxes into the foam core of the aft portion of the boat, providing integral insulation.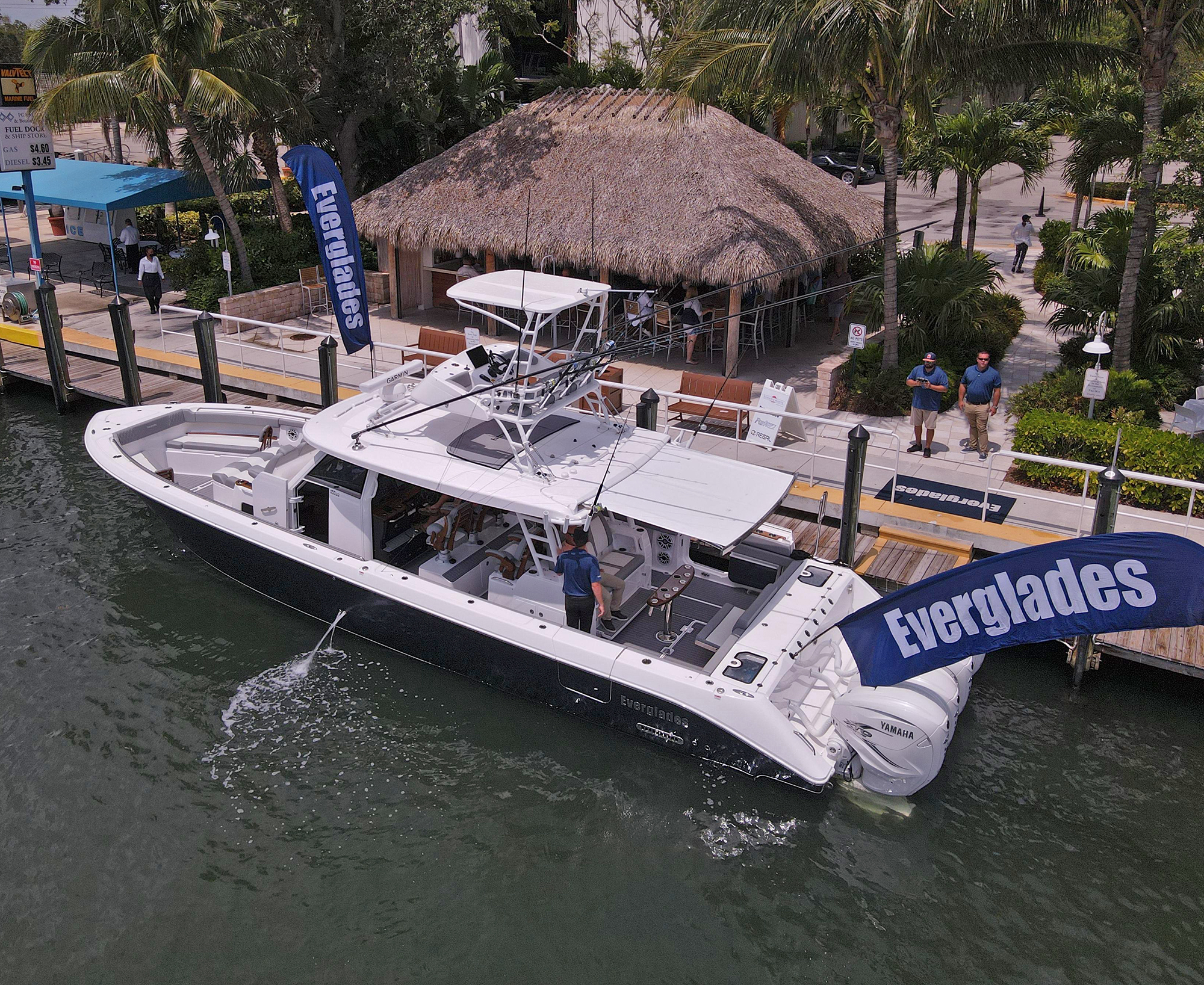 Above: A 2022 Everglades 455cc Center Console Boat for sale on YachtWorld. Photo via Sundance Marine in Jensen Beach, FL.
Hardware And Fishing Amenities
GEMLUX hardware and 22" carbon fiber outriggers, framed the fully outfitted tower; though the biggest of all Everglades towers, it still manually folds down for transport when needed. Three, fold-down aft benches can seat 10, but when folded up, open a huge fishing deck with a teak battle station and mezzanine seating above a freezer plated cooler. Dual port and starboard dive doors, with heavy duty hardware, facilitate a big catch and cup holders built into the underside of the doors' gunwales, when flipped over, offer convenient refreshment after the bite.
Another fishing amenity, along with multiple tackle stations, and dedicated trash compartment, was the electrically recessed fish fileting station. At the push of a button, the unit rises from the transom, between a live well and fishbox, and includes a sink, push button hose and cutting board that tucks under the sink, with an adjacent storage drawer. Space saving and practical, this option works for fishing or entertaining, though a full tackle station can replace the mezzanine seats if desired. Non-skid, cushioned SeaDek flooring is used throughout and the recessed handrail, bow to stern provides safety and stability–#1 priorities for Everglades.
At The Helm
Two of the helm's three-seats swivel to the side for feet-up on the gunwale relaxation or to the rear for sociability. All three seats have SHOCKWAVE shock-mitigating seats translated to comfort as the young captains took the boat through the choppy seas to speeds upwards of 58 mph. The boat coolly cruises at 30-40 mph at 4,000 rpms at .5-.6 miles per gallon and Hickey jokingly called it a "performance tank." "Really, it is like your grandfather's Caddy, but it rides like a Bentley," he added.
Engines
Outfitted with quad Yamaha XTO 425 HP outboards, the boat left a wide wake and powered the boat easily through the chop, but the deep-Vee hull shape, high freeboard and variable deadrise kept everyone dry. While equipped with Zipwake trim tabs, the joystick controls added maneuverability and the throttles with auto-speed controls made the four-engine system easy to operate. A bow thruster is optional. Garmin worked with Everglades to create a proprietary digital switching system to facilitate electronics navigation—especially with three, 22" helm screens, two 16" screens for the second-row passengers and another screen on the tower. Membrane switches provide redundancy and the computer brains and wiring are all tucked neatly above the helm in a locking hatch.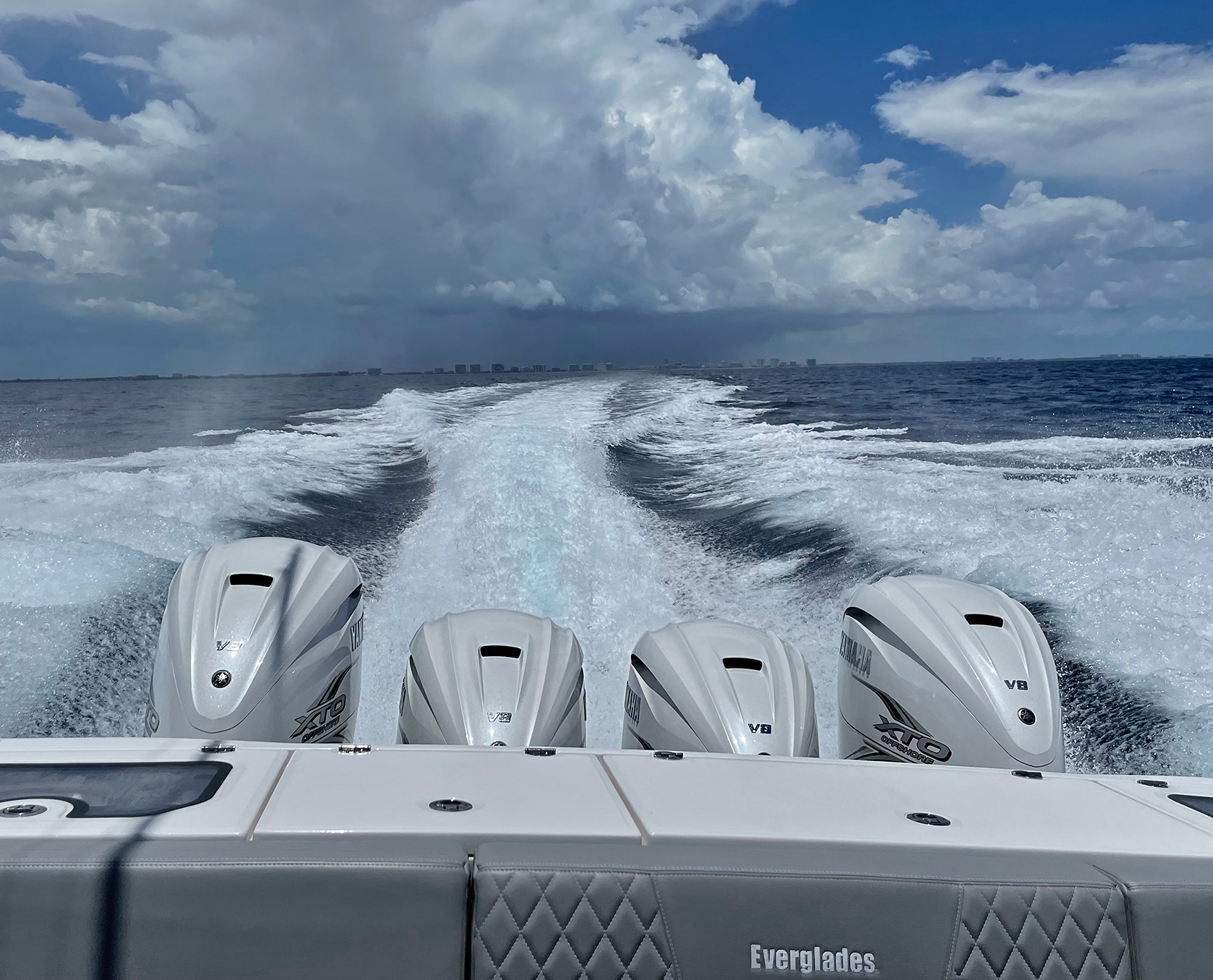 Above: Quad Yamaha 425 XTO outboard engines powering a 2022 Everglades 455cc center console boat. Photo by YachtWorld/Marilyn DeMartini.
A special feature I appreciated at 5' 4" was the slide-out, lockable helm steps that elevate we vertically challenged to new heights. I looked through the Everglades patented electric windshield and stood eye-to-eye with 6'4" Hickey, rather than balancing on tip toes or sitting up on the bolster seats. The system was taken from English-manufactured fire truck equipment and each of the three helm steps can hold up to 600 pounds. The black carbon fiber steering wheel and teak wood dash are nice aesthetic touches, as are the Garmin screen frames, made of Fenix, a durable nanotechnology material that is anti-fingerprint and thermally heals light scratches.
Bow Area
At the spacious bow, a triangular table is tucked forward to become a casting platform or padded seat. The bow cushion backrests are removable for more fishability and the windlass anchor with a fresh water washdown, operates with a remote. A large sunlounge has ample storage beneath and hatches are tucked under all the gunwales including fender, line, and gear storage. There are almost as many cup as rod holders—an additional four rods tuck under the port and starboard gunwales–and four induction-phone charging pads are divided between the helm and bow.
Interior Console Cabin
To port, a robust hinge and lock secure the cabin door; steps to the equipped galley, reveal a king size berth with a TV and a sizable standup head and separate stand-up shower. As Hickey embarked on a 3,000-mile cruise, sea trialing the boat through Everglades' key markets, he finds the cabin A/C, (the helm A/C is separate), the 15kw generator, 100-gallon freshwater tank, JL Audio system, KVH5 Satellite TV and Seakeeper 6 made the 455CC a comfortable liveaboard for his journey.
The center console carries 684 gallons of fuel, so Hickey can plan fuel stops for his east coast trek; he says the generator "sips" from the 38-gallon diesel fuel tank. While hull #1 makes its promotional tour, hull #2 is underway at the factory and will benefit from a few tweaks that are identified over the course of the sea trial. As the big and big-power center console race is in full force, Everglades has added a versatile, stiff competitor to the lineup.
Stay tuned to Yachtworld for the full video walkthrough and sea trial—coming soon!
View Everglades Boats for sale on YachtWorld today.
Related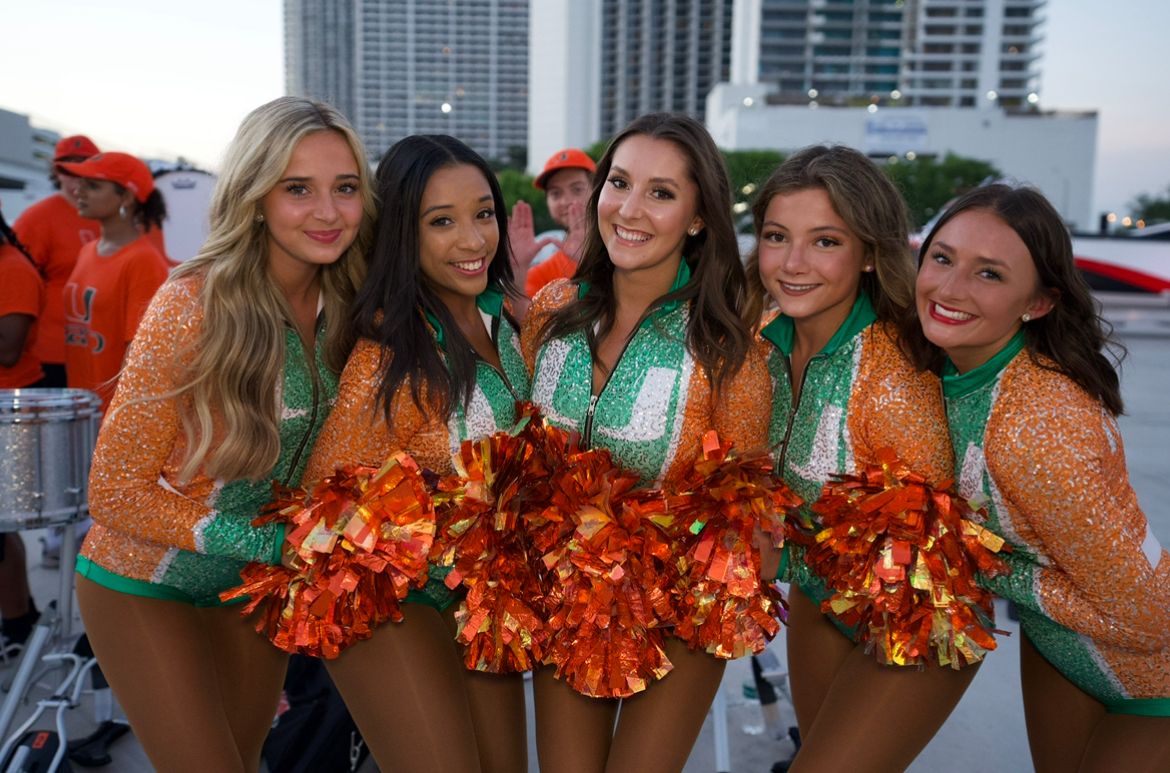 Miami F1 Grand Prix Luminsea Offshore Races
Category:
High-performance powerboats
Miami F1 action shows why the city is always a stage for drama and excitement.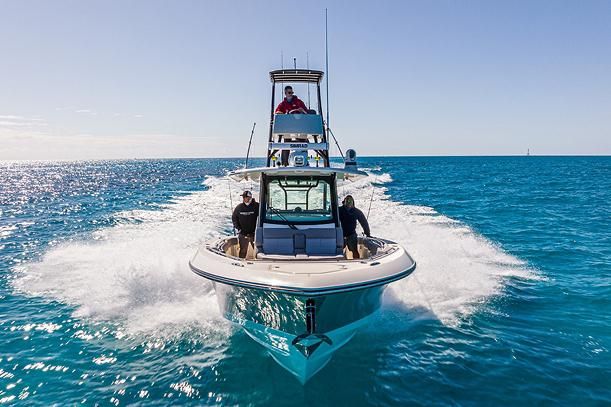 10 Best Center Console Boats Of 2022
The best center consoles to take angling in saltwater.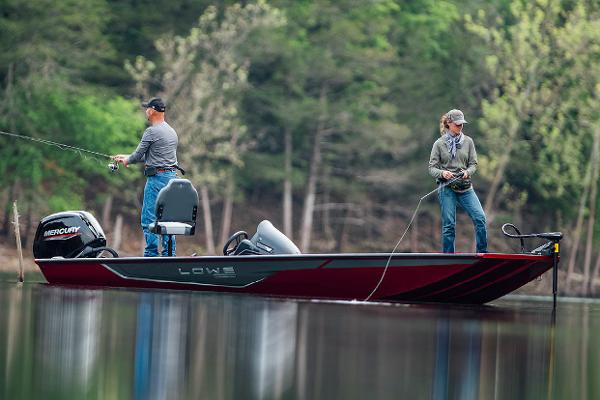 Best Bass Boats of 2022
Find out the top hottest bass boat models released in 2022.