The cat is out of the bag – quite literally. In late August of 2021 the new Sunreef 100 supercat rolled out of the factory in Gdansk, Poland and took to the water for finishing work and sea trials in the Baltic Sea. Although not the largest Sunreef to ever have been launched, (that honor goes to sailing Sunreef 114, Che) it is the largest of the current powercat lineup. The introduction of this substantial kitty is timely since the large power catamaran market is exploding and builders can't keep up with demand. Hull #1 of the model is expected to make a lot of noise and snap heads clean around. Let's take a look.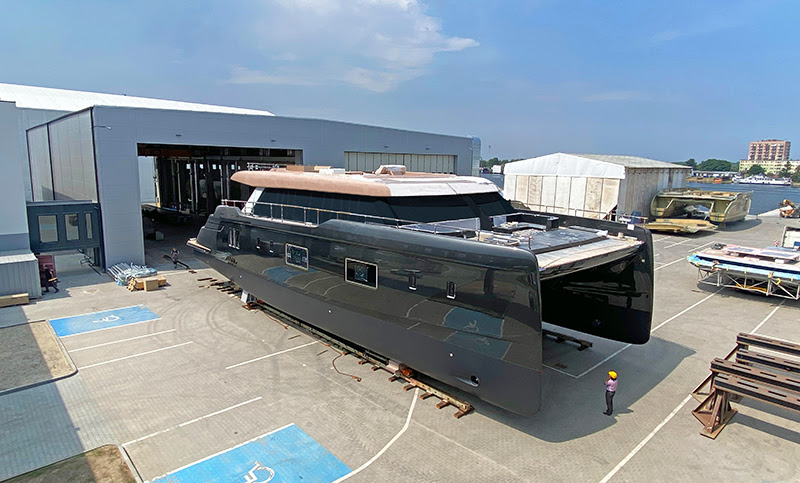 Above: The Sunreef 100 Power catamaran leaving the factory. Photo: Sunreef Yachts.
Describing a typical Sunreef yacht is somewhat futile since each one can be (and is) highly customized. No two layout arrangements or décor are the same. Hull #1 of the 100 Sunreef Power has a dark grey metallic hull with a peach-colored (call it rose gold) superstructure and flybridge Bimini. She's actually 95 feet long and 44 feet on the beam but don't take that as false advertising. A standard doubles tennis court is 76×36 feet so that gives you a perspective on this big girl.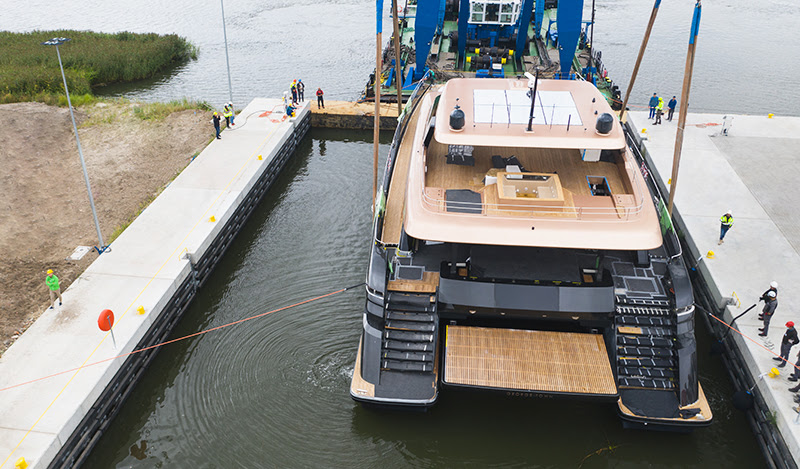 Above: Hull #1 of the 100 Sunreef Power splashes into the water for her first sea trials. Photo: Sunreef Yachts.
Vessel Walkthrough
From the aft end, you see twin staircases of eight steps each that bookend a hydraulic swim platform. This platform will serve to carry the dinghy tender (when chocks are added) and it will help launch twin PWCs and assorted toys that are stored in the dinghy garage just ahead. It'll also be an ideal teak beach or beach club where to sip a cocktail and be at one with the sunset as you swing on the hook in the trade winds.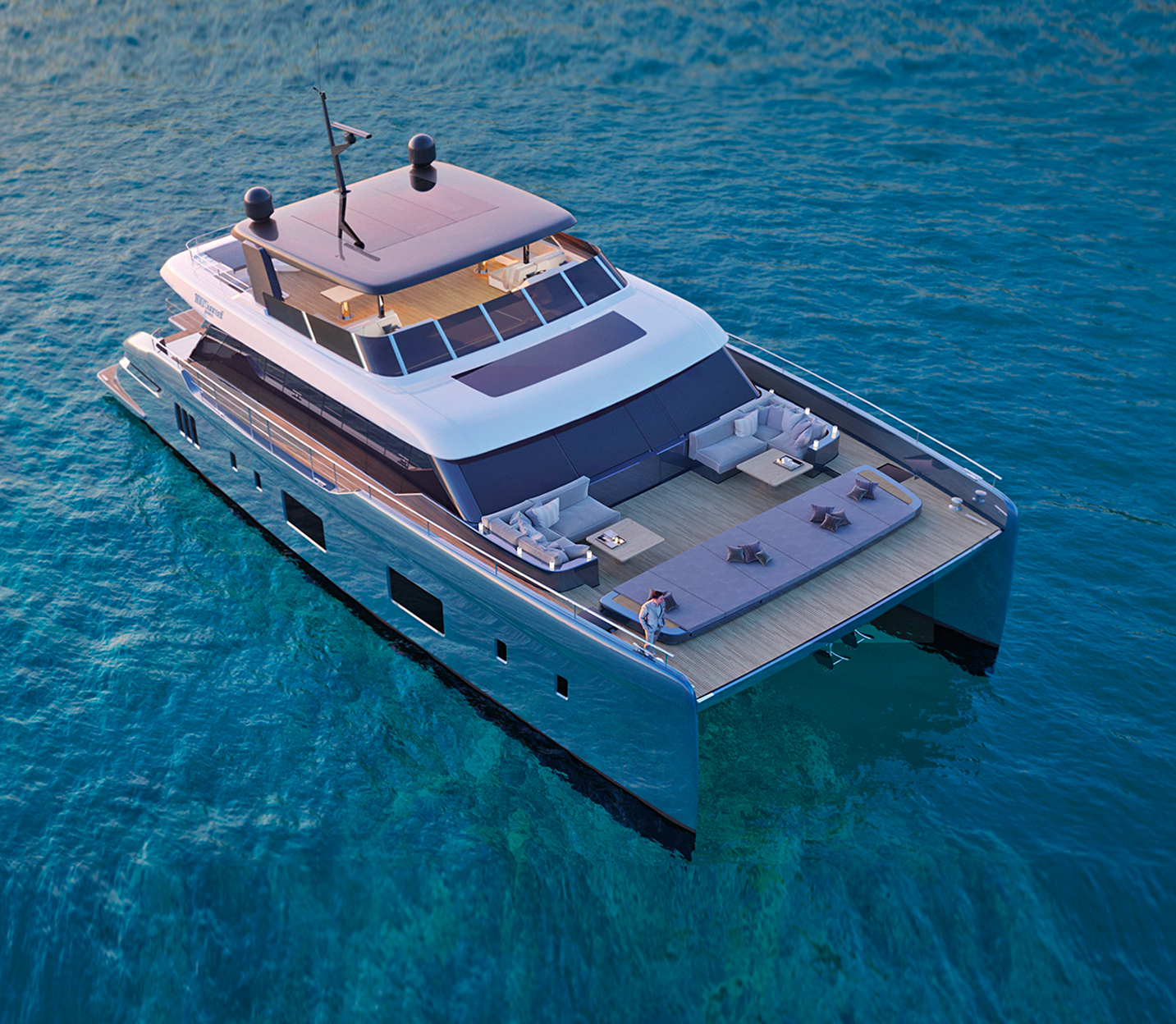 Above: The new 100 Sunreef Power catamaran superyacht has a 44-foot beam and 4,661 square feet of living space that provides luxurious accommodations for up to 12 and offers a true megayacht experience onboard. Image: Sunreef Yachts.
The aft cockpit is massive with enough room to seat eight for dinner, a bar island with four stools, a lounge and a day head to port, the staircase to the flybridge to starboard and twin L-shaped (or one straight) transom settee(s). The bow terrace has a full-beam sunken lounge with seating and tables just aft of a seemingly miles-wide sunbed where sun-worshipping guests can line up like sardines. This large lounge can be accessed directly from the salon or via the side decks. The third outdoor relaxation space is the impressive flybridge which can be fitted with twin pedestal helm stations, assorted seating arrangements most typically compiled from loose furniture for maximum flexibility, a summer galley with a fridge, sink and grill, and a jetted spa out back where the Bimini won't interfere with the view of the stars.
Cabin Interior
The interior is like origami – it can become whatever the owner desires. Accommodations are for 10 guests and four crew although three are expected to be able to manage this vessel. (The fourth crewmember may have to bunk in the port bow – ouch.)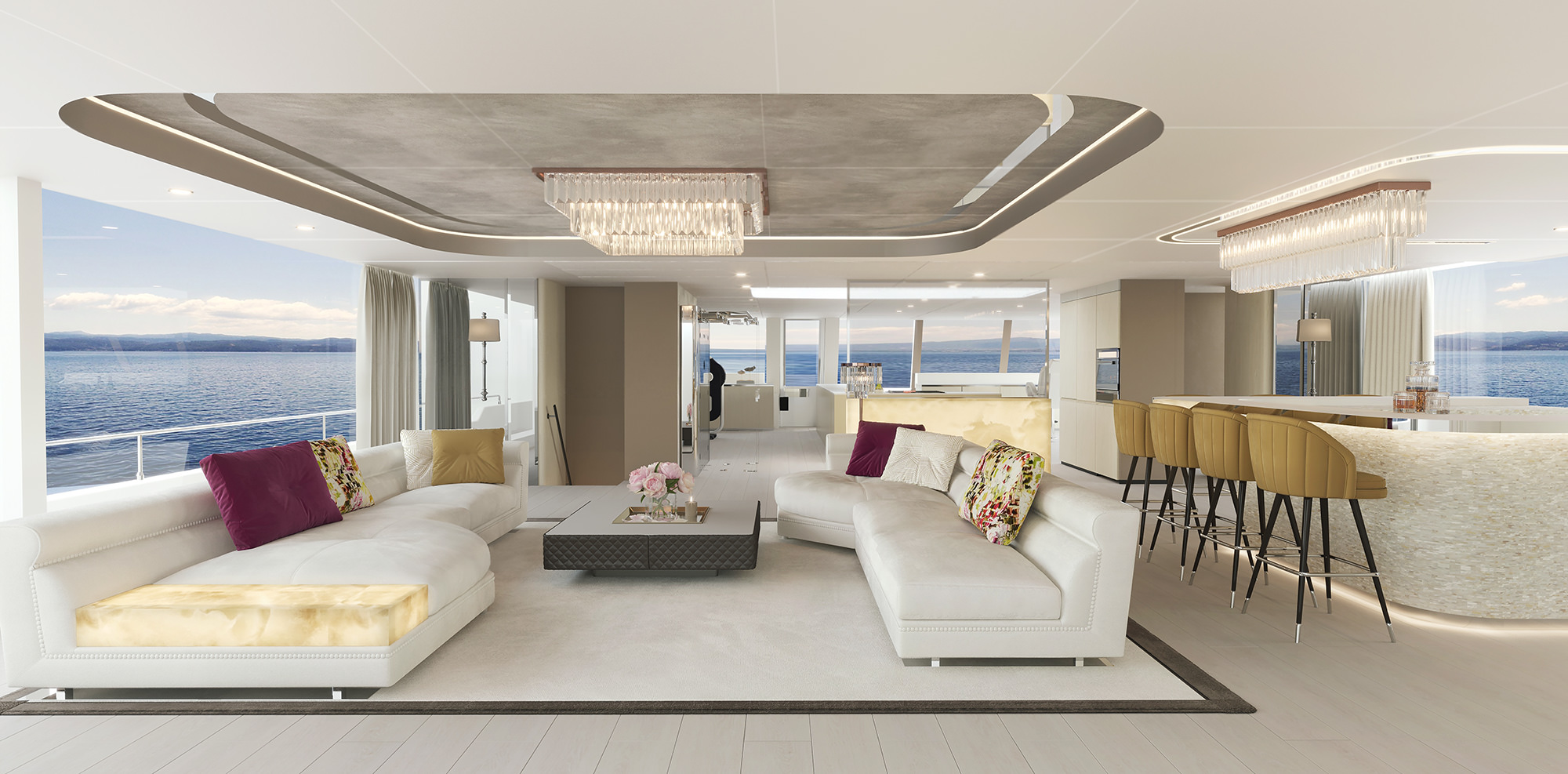 Above: The cabin interior onboard the 100 Sunreef Power Cat. Image: Sunreef Yachts.
Staterooms
The owner's stateroom will likely be in the starboard hull with its own walk-in closet and a large head that acts as a privacy buffer between that cabin and crew accommodations aft. An indoor dining room can be spec'd as well as two giant U-shaped settees that face each other. The port forward corner seems to be reserved for a bar, an office or a fitness room, depending on choice. Anything goes with a custom build. In all, the Sunreef 100 offers over 4600 square feet of living area which is more than double that of an average family home.
Engines
Propulsion is provided by twin 1,300-hp diesels that will give her a transatlantic range and make her a globe trotter. However, that's where it gets interesting. The Sunreef 100 is also expected to join the company's "Eco" range along with their 60, 70 and 80-footers. In the case of the 100, this would substitute out twin 270 kW electric motors and add 46 kWp of solar panels, lithium batteries and wind turbines along with high-efficiency DC air conditioning and reverse osmosis water generation for long-term autonomy on anchor or under way.
Eco-Friendly Sail And Power Catamarans
The eco line of Sunreef Yachts includes a patent-pending solar skin produced in-house with a design that incorporates wind generators, ultralight custom-engineered lithium batteries, nontoxic bottom paints, green composite structures as well as state-of-the-art watermakers. The company's entire solar power system was developed in-house and utilizes ultra-thin, shock resistant and highly-efficient solar cells. The panels are flush with the curved composite structures including the hull sides and masts and are being integrated not only on the power cats but the sail catamarans as well.
Sunreef Yachts History
Sunreef has an interesting (albeit not really a long) history. The company was founded by Francis Lapp who fell in love first with small cat racing and then with big cat cruising. He established a travel company based on the growing demand for large cat charter but found no builder to satisfy his needs or his clients' tastes. So, he decided to build his own and in 2002, Sunreef was launched in a city with an impressive history of shipbuilding as well as political disruption. Gdansk is the town where Lech Walesa based his Solidarity Party and kicked off the eventual fall of communism in the Eastern Bloc. This is a place that values its craftsmen and its waterfront, which are two key resources for a shipbuilder.
Sunreef set up shop near the historic downtown of Gdansk and by 2003, they launched a 74-footer. In 2010, their record hull, Che, joined the fleet and promptly won the World Superyacht Awards. Less than 20 years later, the company claims celebrities such as Rafael Nadal among its owners.
Sunreef has long been touting their in-house design team as well as housing all tradesmen and departments under one roof for quality control and better project management. A new facility that will cover nearly 900,000 square feet is nearing completion and Sunreef will move from city center to its new digs on the outskirts. Their equipment is impressive with Europe's largest CNC machine, a 300-ton floating crane and heated dry storage. Continued investment in the business has paved the way for the company to build larger and larger models with cutting edge design and technology. It's no wonder they have their eye on building the behemoths of the future that are less cats and more leviathans.
The Newest Power Cat In The Sunreef Yachts Line Up
The 100 Sunreef Power joins her powercat siblings (Sunreef 60, 70 and 80) with even bigger sisterships on the horizon. The company is already planning a 110-footer as well as the 160-foot 49M. They're also hinting at a 210 power megatrimaran with an ambitious 11,000 square feet of living space which will raise the roof for sure. For now, the Sunreef 100 is the flagship of the fleet's power range. First conceived in March 2020, she's made it through quite a bit already since her build continued throughout the pandemic. She's expected to become a force to be reckoned with and wherever she prowls, it's certain she'll roar.
Specifications
Length: 94 feet
Beam 44 feet
Engines: 1,300 HP
Fuel Capacity: 5,283
Water capacity: 634 gallons
Visit the 100 Sunreef Power page at Sunreef Yachts to learn more about this model.
View all Sunreef Yachts for sale currently on YachtWorld.
Related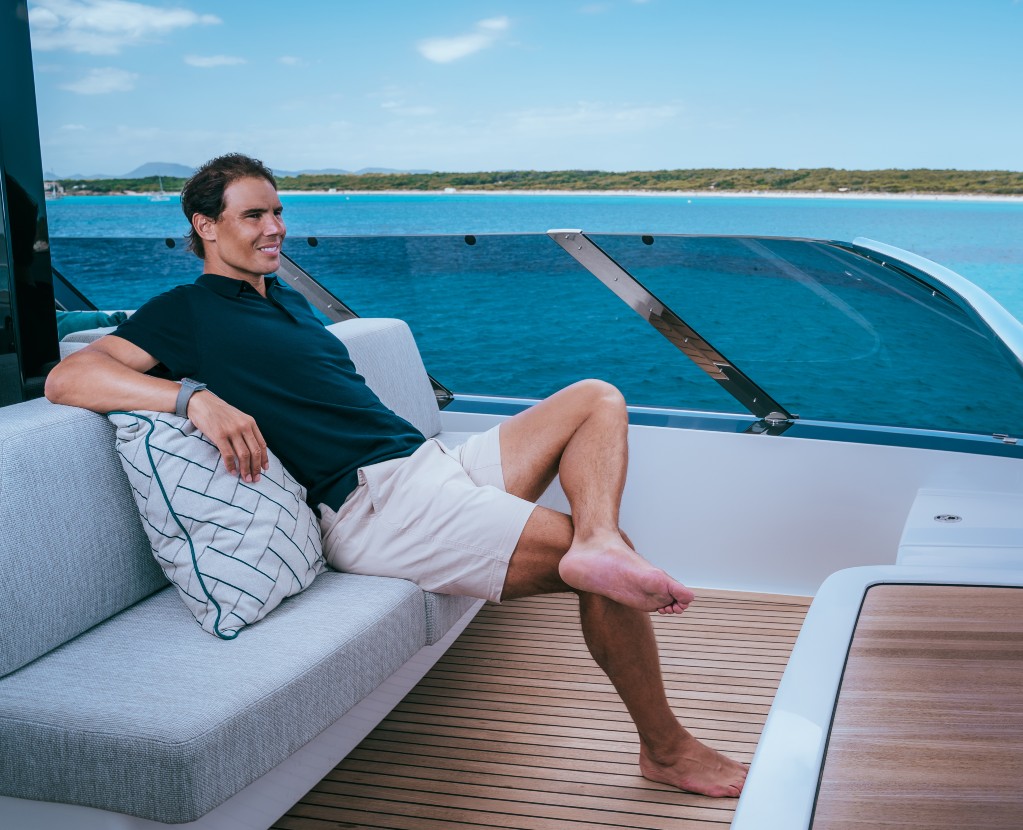 Celebrity Yachts: Step Aboard Rafael Nadal's Sunreef 80 Yacht, Great White
Rafael Nadal's Sunreef 80 Power catamaran, Great White was exclusively showcased at Monaco Yacht Show....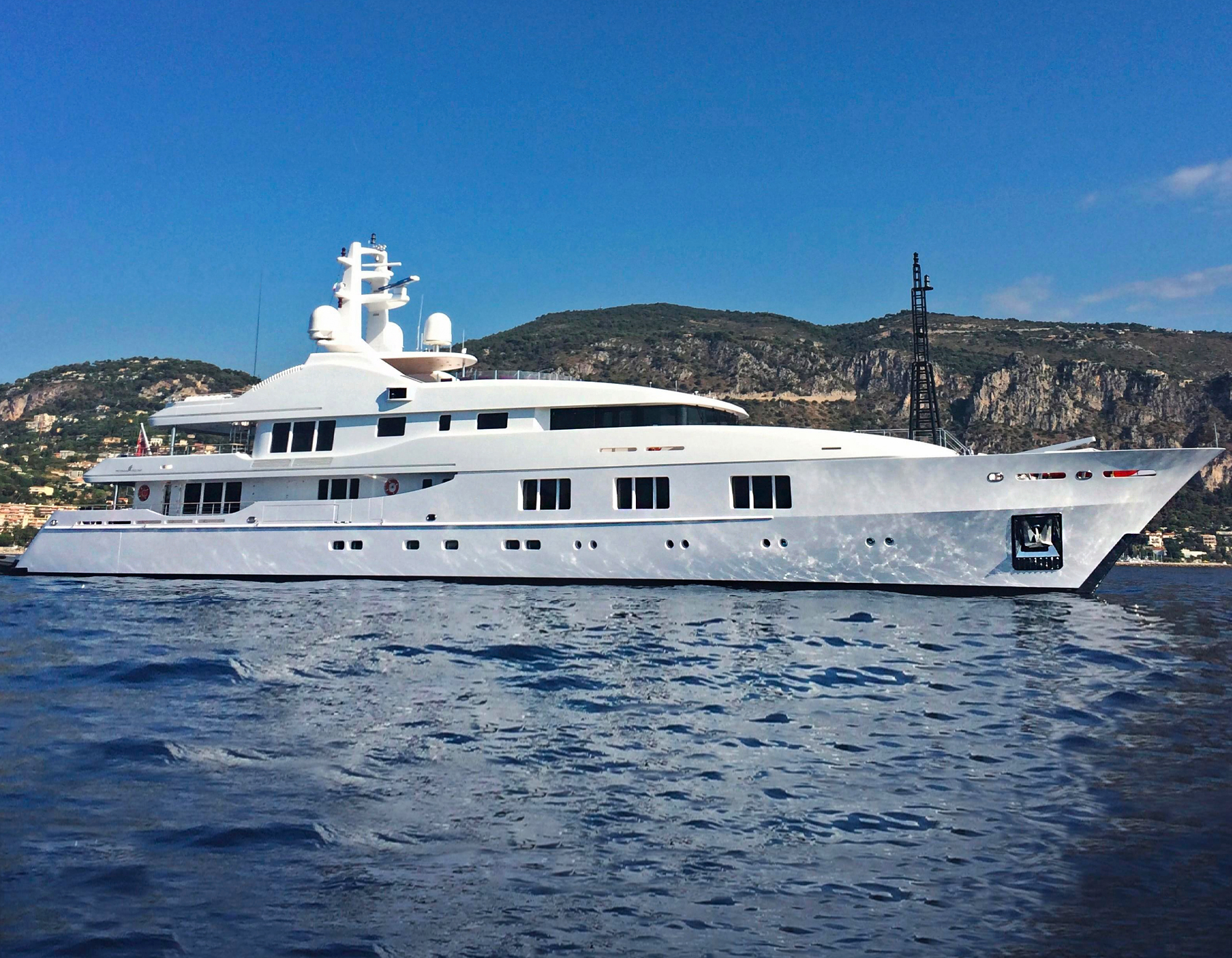 What Is A Superyacht? Is A Megayacht Bigger?
Definitions and differences between a superyacht, megayacht and gigayacht.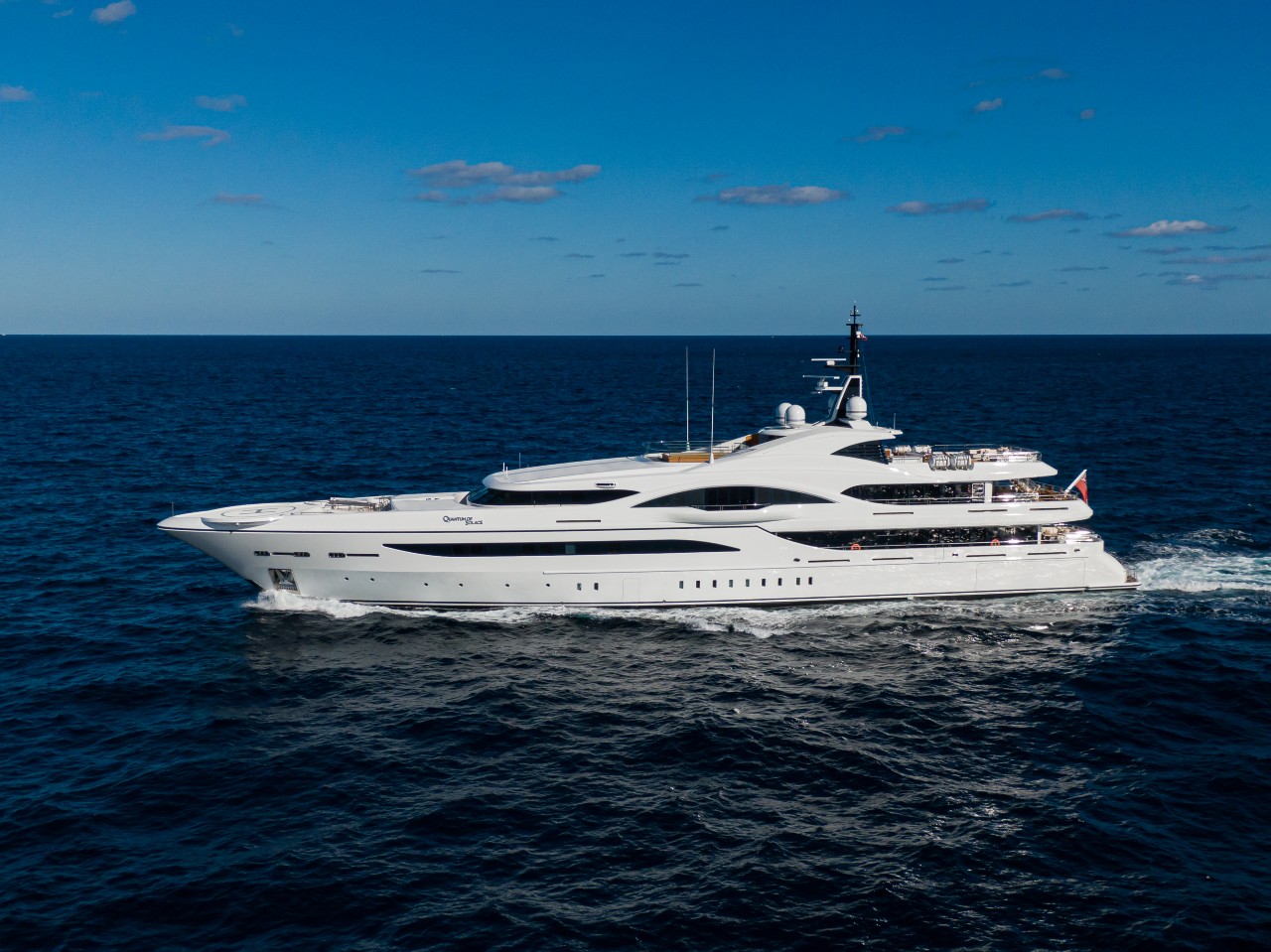 Inside The Quantum Of Solace: Monaco Yacht Show 2021
Let us show you the best spot to enjoy a martini on this spectacular superyacht.