Gift-giving season is in full swing and if you have a boater on your gift list for the holidays, you're in luck because sailors, cruisers, racers and anglers love gear and will appreciate your thoughtful attention to their passion. Here are some boating themed present ideas to get you started on your gift buying.
Revolve Boat Hook by PYI

Boat hooks have a million uses. With a boat hook you can catch a mooring line, tug on a tarp, push away from a dock, bring a fish on deck, and more. Most hooks are aluminum and some telescope but they all take up a lot of room because they're usually at least five feet long and awkward to store. That's where the new Revolve Boat Hook by PYI is different because it's the world's first rollable composite boat hook. When stored, it rolls up and can fit into a coffee can. When extended, it's six feet long. You attach the hook to one end of the pole and hold it at the other end by the neoprene grip that also makes the hook float should you drop it. This is a great compact solution for a hardworking tool.
View the Revolve Boat Hook by PYI on Amazon
Quatix7X Smartwatch by Garmin

The Garmin Quatix 7 smartwatch offers seamless integration with Garmin's boating electronics in addition to lots of other functionality. It can control lots of things including the onboard Fusion audio system, multifunction displays showing navigation information, and even the autopilot. It can be used with a touchscreen or with buttons and it has multiple versions of satellite system compatibility (GPS, GLONASS and Galileo). It also has anchor alarms and sail racing features like tack angle assist. It's water-rated to 330 feet, has an 18-day battery life in smart mode, and can track everything from your sports metrics to the quality of your sleep. Best of all, it's so versatile that your boater can also use it for hiking or remote camping with its altimeter and topographical maps. Techie boaters will love it. Even better, the solar version comes with solar charging capabilities – perfect for long days out on the water.
View the Grarmin Quatix solar powered watch on Amazon
Bivy Stick by ACR

A small, simple satellite communicator, the Bivy Stick is a two-way messenger that offers boaters and outdoorsmen a way to stay in touch or to get help in an emergency. It enables your smartphone with satellite capabilities for texting, tracking, and sharing a location. It can also access GPS maps and weather forecasts. Boaters or anyone who enjoys remote outdoor adventures can do a one-touch check-in, send an SOS, or send and receive simple text messages. The boater only needs to load the ACR app onto the phone and join with a subscription fee (various levels are available including month-to-month). It's waterproof to IP X7 standards, shockproof, small, and works anywhere on the globe with a clear view of the sky. The Bivy Stick is also available in a survival kit that comes with an ACR ResQLink floating personal locator beacon with GPS, an ACR GlobalFix V4 Cat 2 EPIRB, a C-Strobe H2O Rescue Light, a Signal Mirror Res-Q Whistle and a RapidDitch Dry Bag – making it perfect for boaters.
View the ACR Bivy Stick survival kit on Amazon
Python Sunglasses by Bolle

Boating eyes are exposed to a lot of glare from the water, deck and sails so technical eyewear is critical. Bolle's Python wraparound sunglasses deliver a solution that stands up to the tough marine environment. With polarized (100% UV protection) polycarbonate lenses, Python glasses offer a blue, grey or brown tint. The lenses are given hydrophobic and oleophobic treatments, so water spots and sunscreen smudges are minimized. The lightweight frames are nylon and come in a gloss or matte finish. A microfiber cloth for cleaning and a soft pouch for protection when they're not being worn are also included.
View Bolle Python Sunglasses on Amazon
Luci Inflatable Solar Light by Mpowerd

Help a boater light up the deck, cabin or cockpit with the inflatable Luci light by Mpowerd. Because it's inflatable, the light packs down to a disk about six inches in diameter. When inflated, it's about the size of a coffee can. Leave it out to charge during a sunny day and it'll provide light all night long. It needs no batteries and has multiple LED lights that deliver a steady or flashing light. Tie one in the rigging, hook it from the dodger, or leave it on deck to help you find your boat at night when you return via a dinghy. It's perfect for boats or hiking and camping so your boater will find lots to do with it.
View the Luci Inflatable Solar Light by Mpowerd on Amazon
Pro+ 2 Fish Finder by Deeper
The angler on your list will be tickled by a cast-able fish finder which is a sphere that floats while it monitors the depths and will return a sonar image to your phone or tablet via Wi Fi or Bluetooth. The Pro+ 2 can be used from a fishing boat, kayak, pier or shore and it's great for ice fishing too. It has three beam frequencies (wide, narrow and mid) for good target separation and excellent fish tracking. It scans to 330 feet with accuracy, has nine hours of battery life, and will work via Bluetooth around 300 feet from the angler. It also has GPS which allows you to create your own bathymetric charts (by casting and reeling it back in repeatedly) and it saves this information to the app that's loaded onto a phone or tablet.
State 2.0 Wakeboard by Hyperlite
For your tow sport boaters, check out this board that's perfect for anyone who's just learning to ride the wake. The asymmetrical State 2.0 wakeboard makes turning easier because the toe side edge is shorter, while the heel side is longer. With less material comes less friction so it's easier to turn the board whether for kids and adults. This board is durable but lightweight and there are multiple sizes for different sized riders – 135 cm for those under 155 pounds and 140 cm for those over. Beginner and intermediate riders will progress quickly on this fun board so it's the perfect gift for anyone wanting to experiment with wake riding.
View the State 2.0 Wakeboard by Hyperlite on Amazon
G2 Portable Grill by Kenyon

Entertaining aboard means cooking and more accurately, grilling, and now it can be done on just about any boat with the G2 portable grill by Kenyon. The G2 doesn't take up much room and can be used in your kitchen, on the dock, or on a boat so long as there's a source of electrical power like a generator or inverter. The one-burner grill has 35% more surface area than Kenyon's previous models and can cook at up to 550 degrees with the powerful 1800-watt element. Both the lid and the medical-grade grate are dishwasher safe for easy cleanup when your boater gets back home. The G2 has rail handles for easy transport and is made of stainless steel that's marine grade so it'll hold up in the boating environment.
View the G2 Portable Grill by Kenyon on Amazon
HD30 Cooler by Engel

A hot day aboard means your boater will need an insulated cooler for drinks, snacks and even raw dinner provisions. The HD 30 soft-sided cooler by Engel has exceptional insulation to keep foods below 40 degrees Fahrenheit for three days. The HD 30 has no stiff zippers that get stuck but rather clips at corners for easy access. With a 32-quart capacity, it's able to hold up to 48 beverage cans and will be great for the boat or for camping. The HD 30 is also durable with welded seams to keep the cool temp in, has extra handles so two people can carry it when it's loaded, and has an additional pocket and a removable bottle opener so it's ready for anything.
View the HD30 Cooler By Engel on Amazon
Click&Boat Boat Charter
Instead of a thing, gift a boating experience with a boat rental peer-to-peer platform like Click&Boat which "shares" private boats the way that AirBnB "shares" places to stay. With the app, you can find and book sailboats, towboats, center console fishing boats, and everything from kayaks to ocean-going catamarans. Click&Boat provides easy access to over 40,000 boats in more than 600 destinations globally and has one of the largest supplies of boats in Europe, with the U.S. quickly emerging as a top marketplace. Prepay a boating experience and let your boater choose when, where and what type of boat to spend a day on. Pricing depends on the booking.
Visit Click&Boat.com for more information.
Shopping for boaters is easy because there's always something they need or want. Start with the ideas above and you'll have gifts for the holidays and the rest of the year as well.
Related
Award Winning Boat Products & Tech Trends
6 products and processes worthy of cockpit conversation this off-season.
Hurricane Prep For Boaters: Protecting Your Yacht In Storm Season
Category:
Boat Maintenance & DIY
Get your boat ready for hurricane season with these tips from Captain Heather Francis.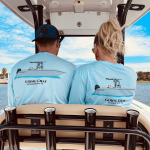 Personalized Boat Gear & Apparel: Custom Captain Interview
Have you ever considered turning your boat into a custom graphic design?