Most people in the boating community are familiar with marine surveys and marine surveyors; if you're not up to speed, try reading Surveyor: The Sleuth on Your Side or Marine Surveyors Earn Their Fee. More general information on marine surveys can be found at the websites of the Society of Accredited Marine Surveyors, or the National Association of Marine Surveyors. These are the organizations that most marine surveyors belong to, and they're full of useful information.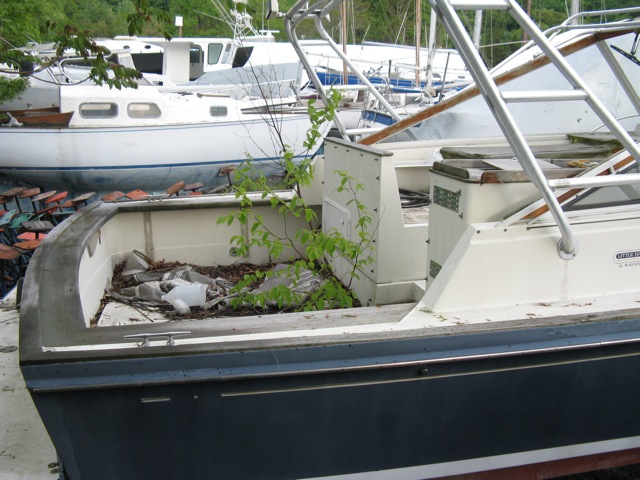 Here are 10 things to consider before your next survey.
1. Who should you hire? If you don't have personal knowledge of a marine surveyor you can start at the above mentioned websites, since both have a strict code of ethics and require members to provide work samples, testing and ongoing education to maintain membership. Both also have a list of surveyors arranged by location and particular expertise. When you contact the surveyor, remember that he or she may be in the bilge or in the middle of a sea-trial, so don't expect a reply immediately. Ask about their credentials and experience and see if they can provide a sample survey they have done on the same boat you are interested in, or a similar one. And, don't forget to ask for references.
2. Don't rush the process. All too often I get phone calls to survey a vessel "as soon as possible," but delays are often unavoidable. Most surveys are conducted outside, so weather is always a concern—moisture meters aren't much good in the rain. And the vessel may require some handling by a boatyard, to haul the boat or move other boats out of the way to launch it for a sea-trial.
3. It's a juggling act. An inspection can involves many people besides the surveyor: owner and/or owner's representative, brokers, the buyer, buyer's family members, even friends. Juggling everyone's schedules can be difficult. Rarely can I inspect the vessel and perform a sea-trial on the same day, because there are too many scheduling variables.
4. Prepare for the inspection. Most vessels are not properly prepared to be inspected. Surveyors need to have an owner or owner's representative aboard who is familiar with the vessel. Generally surveyors don't use tools to remove panels or to access areas to be inspected. The owner's representative is there to do this, and also to perform any operational tests that are necessary. Most boaters have broken a fastener or something else in the course of everyday boating activity, but if a surveyor does so s/he may be liable for the repair.
All unnecessary gear should be removed from the vessel and the vessel should be clean, including compartments and especially the bilges and machinery spaces. This part sounds obvious but it is probably the most overlooked. If the bilge is dirty and you can't see the keel bolts, how are you to evaluate them? Every once and a while I come across a boat that has the boom stored below with the sail still installed—try to work around that. Keep in mind that surveyors have to get into places most people never go, so if it's dirty they get dirty.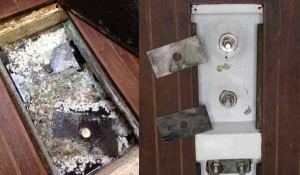 5. Attend the inspection.  I don't mind having someone look over my shoulder and I like having the ability to show a client the wet spot in the deck, or how the thud feels when tapped with a hammer in the delaminated spot. But don't overdo it; leave the kids and the dog at home.
6. Make yourself available by phone, if you can't make it in person. If a client cannot attend the inspection I ask for contact information so I can call if I find a condition that may be a "deal breaker," or to allow some time to talk about my findings on the phone before I leave the boat.
7. The sea-trial. This is all about the operation of the vessel, and not the time to see if this is the type of boat you want to buy. I try to find out ahead of time if the client is familiar with the vessel; if not, I encourage them to arrange a boat ride or charter on the same type of boat. I like to have as few people aboard as possible for the actual trial. The hatches will be up and the surveyor will be in and out of every place aboard, sometimes several times, so the less people the better.
8. Consider the use of other experts. All surveyors aren't equally qualified to properly evaluate all kinds of sails; I know I'm not and I sometimes suggest that the sails be inspected by a sailmaker. Engines and machinery have a specific category in SAMS, and if I suspect an engine may have an issue I'll suggest going to an engine surveyor or a technician who is familiar with it and certified to repair the specific product.
9. Read the report carefully, consult with the surveyor, and have patience. I'm always amazed by how few questions I usually get after I present the report. I hope that the reason for this is that all of the important issues were addressed earlier in the survey process, but if there's anything that's not clear to a client they should call or email the surveyor, and now is the time. Buyers also need time to read the report and possibly consult with the surveyor or other experts to make an informed decision on the vessel's condition. Some additional testing or results from an engine oil or core sample may also take time to process.
10. Try to leave the surveyor out of the negotiation process unless you've discussed this beforehand. Generally surveyors talk only to their clients about the survey, and to no one else unless they have been asked to do so. I have been asked by brokers how the sea-trial went, and I usually say "I always enjoy a boat ride on the bay".
Related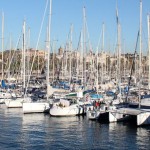 Inspecting a Yacht Prior to Sea Trial
Before you take a yacht out for a sea trial, you'll need to make a full inspection. Here's what to look...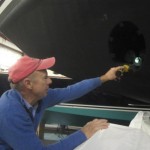 Pre-Purchase Yacht Surveys: What You Need to Know
Whether you're buying a yacht or selling one, a pre-purchase survey is a must.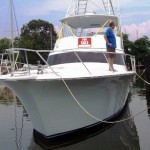 Self Survey: Looking at a Yacht Before the Professional Surveyor Arrives
Do you know what to look for in a self survey of the yacht you might buy?