Since 71 percent of the Earth is covered by water, which means there are tens of thousands of places to drop anchor. This makes picking only 10 cruising destinations a challenge. Here is a smattering of the most stunning areas to explore via the world's waterways. Here are our top ten places to drop anchor.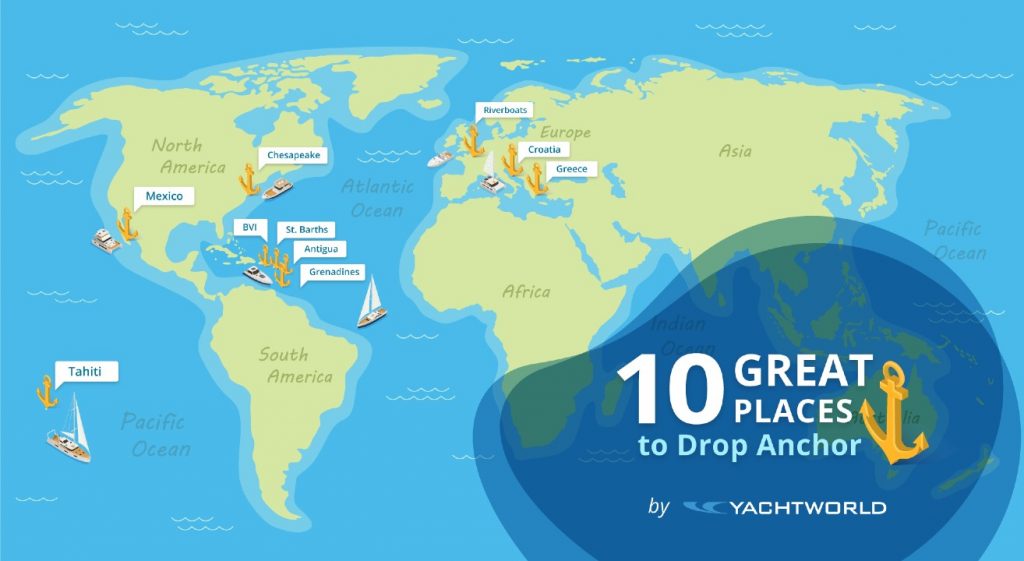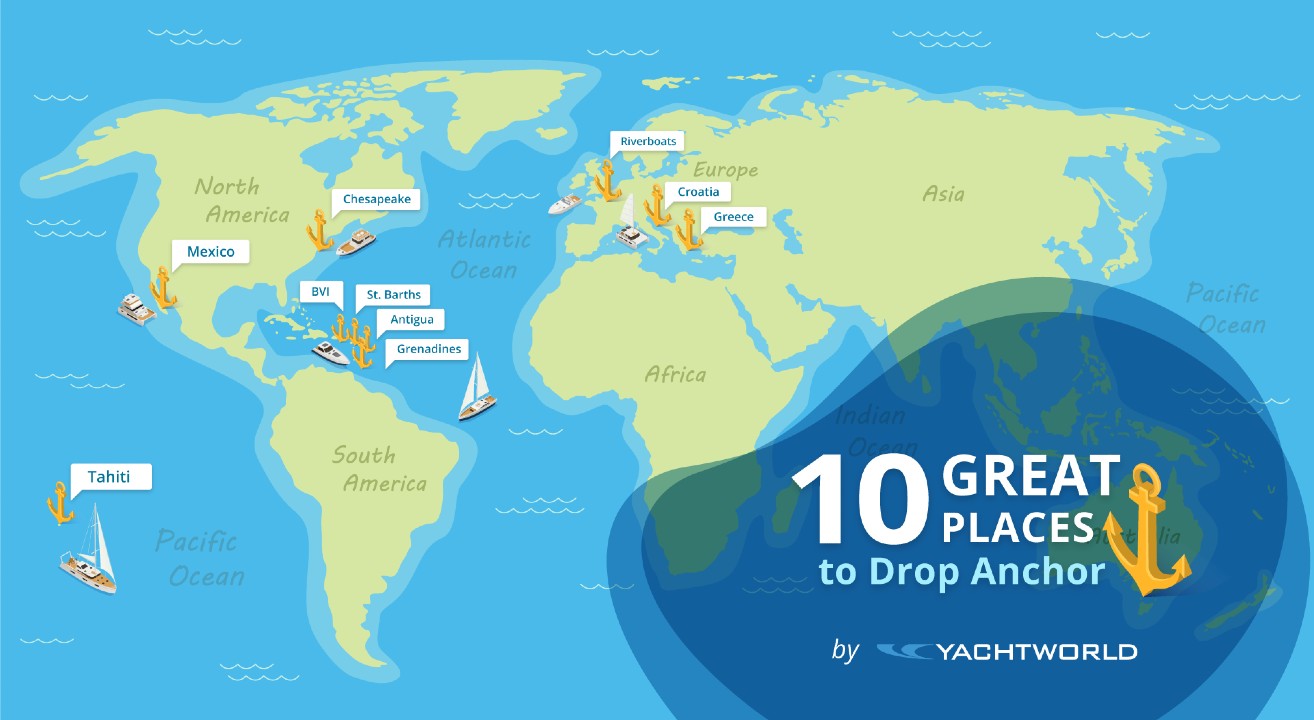 1. Croatia
Croatia is a country with one foot firmly planted in all things Eastern European and the other strolling through the laid-back vibe of the Mediterranean. And the history – it stretches for centuries from ancient Rome to tunnels created by post WWII communist partisan fighters.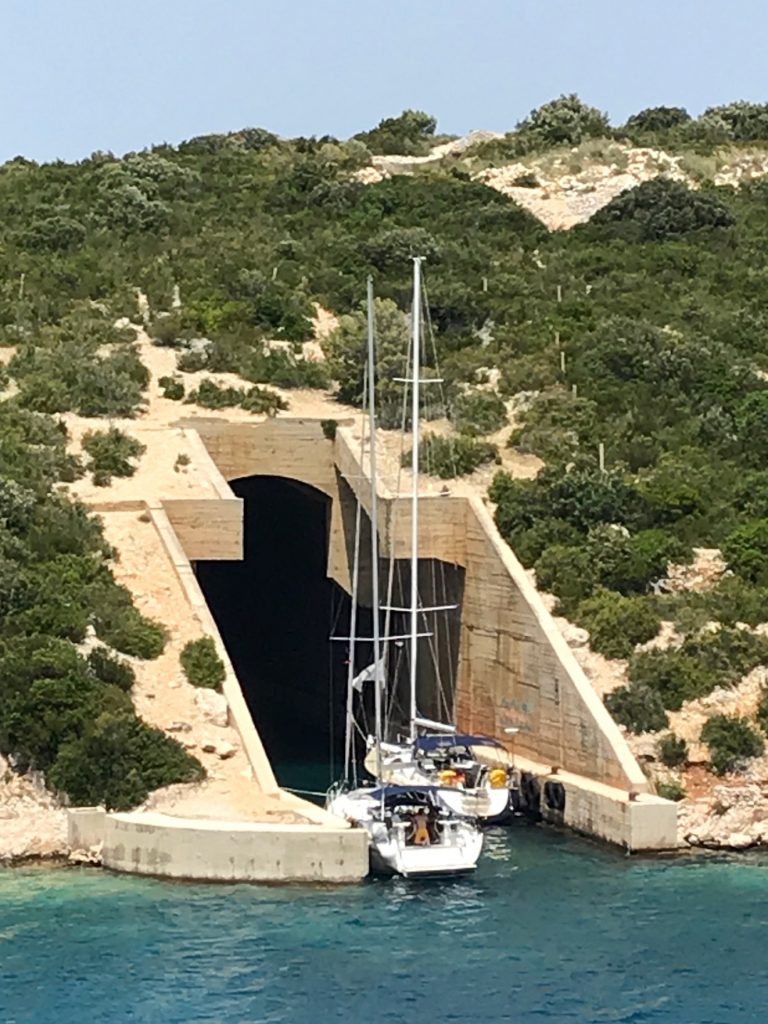 Croatia Tito tunnel. Image credit: Zuzana Prochazka
Tito's submarine tunnel in Croatia is an eerie reminder of the partisans' decades-long struggles for power in the former Yugoslavia. You don't even have to anchor – just pull up and tie up. Of course, masts won't fit inside.
Natural wonders abound too including numerous caves like Modra Spilja near the island of Vis where ambient light bounces up from the white sand below and bathes the whole cave in blue light.
Croatia Bisovo Blue Cave. Image credit: Zuzana Prochazka
You can't take your own dinghy into the Blue Cave but tourist shuttles ferry visitors inside where outboard engines are not permitted due to limited natural ventilation.
2. Greece
Visiting Greece only once is an impossible task. You explore it for a lifetime, and even then, you won't have seen it all. There are six different sections to the waters surrounding this beautiful country and each one could take up a season's worth of sailing in itself. The Cyclades spread out south of Greece with good distances to enjoy a boisterous daysail.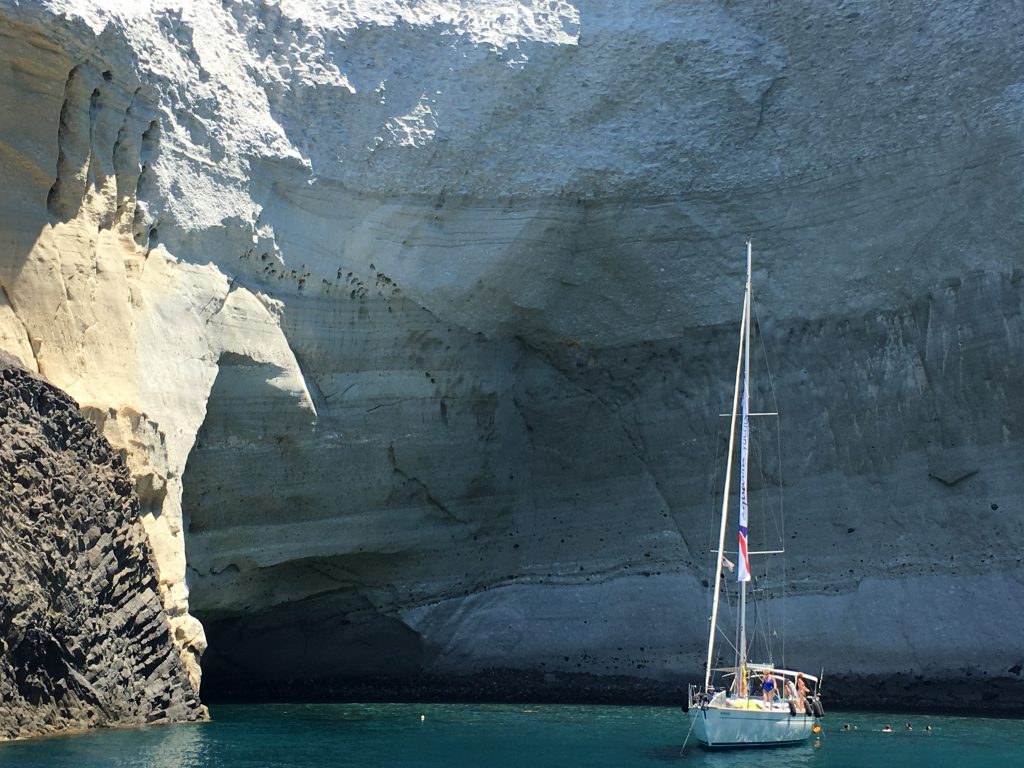 Greece Sykia. Image credit: Zuzana Prochazka
Sykia, on the southern edge of Milos in the Cyclades is breathtaking and the topless cave near this anchorage is great to explore after the tourist boats head home.
The Venus de Milo was unearthed by a farmer on the island of Milos that begs to be circumnavigated by boat. Sheer cliffs, hidden caves and stark moonscapes will keep you gazing up from the cockpit for hours.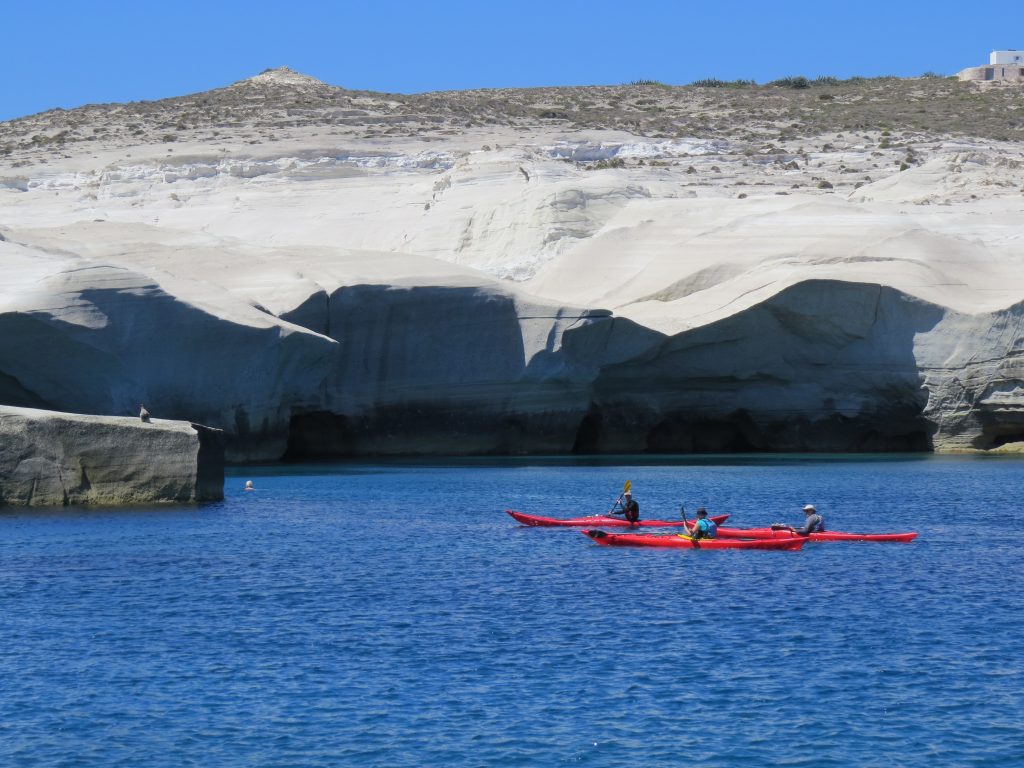 The caves around Sarakiniko on the northern side of Milos Island in the Cyclades are great to explore by kayak or dinghy. Image credit: Zuzana Prochazka
3. Riverboats of Europe
Whether in the UK, France, Germany, Italy or Ireland, a week on a riverboat is a slow-moving adventure that is an immersive experience in the food, culture and scenery of a country. Riverboats glide gently and slowly through canals and rivers so you can get out and walk alongside to stretch your legs or ride a bike through the countryside as you cruise.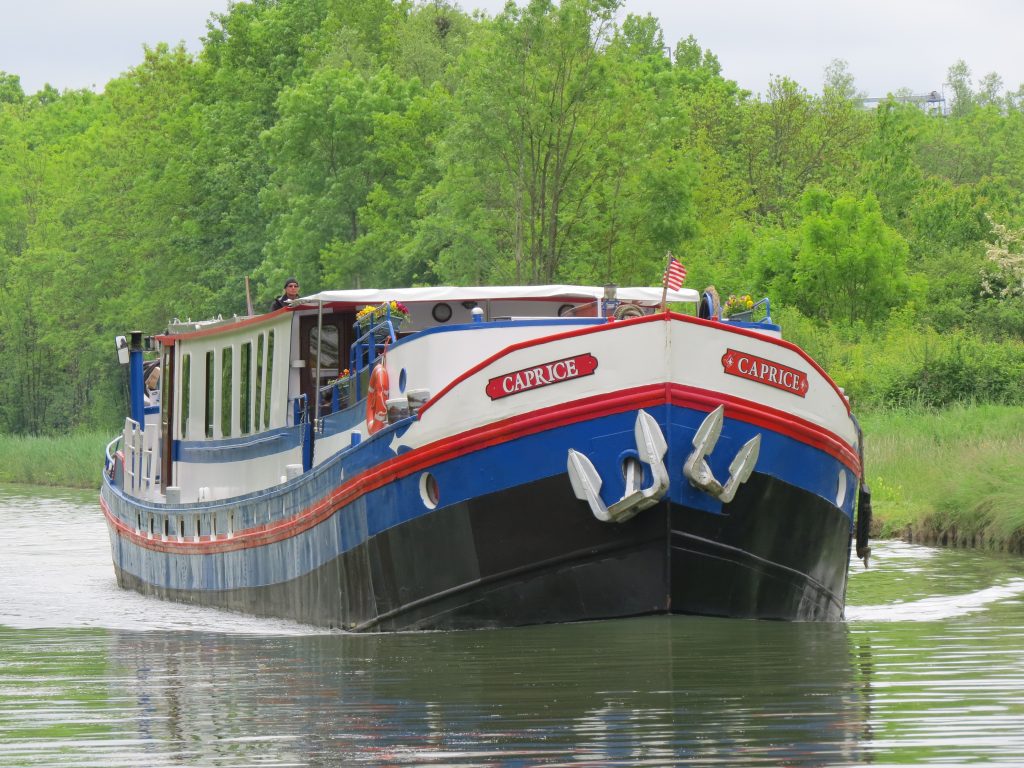 The fully-crewed vessel, Caprice, strikes a pose on a canal in Dijon, France. Image credit: Zuzana Prochazka
A great benefit for the whole family is the lack of seasickness since the cruising is on mostly calm waters. The best part is that you may never even have to anchor since you can just plant a stake into the riverbank or tie up to a dock in a small town.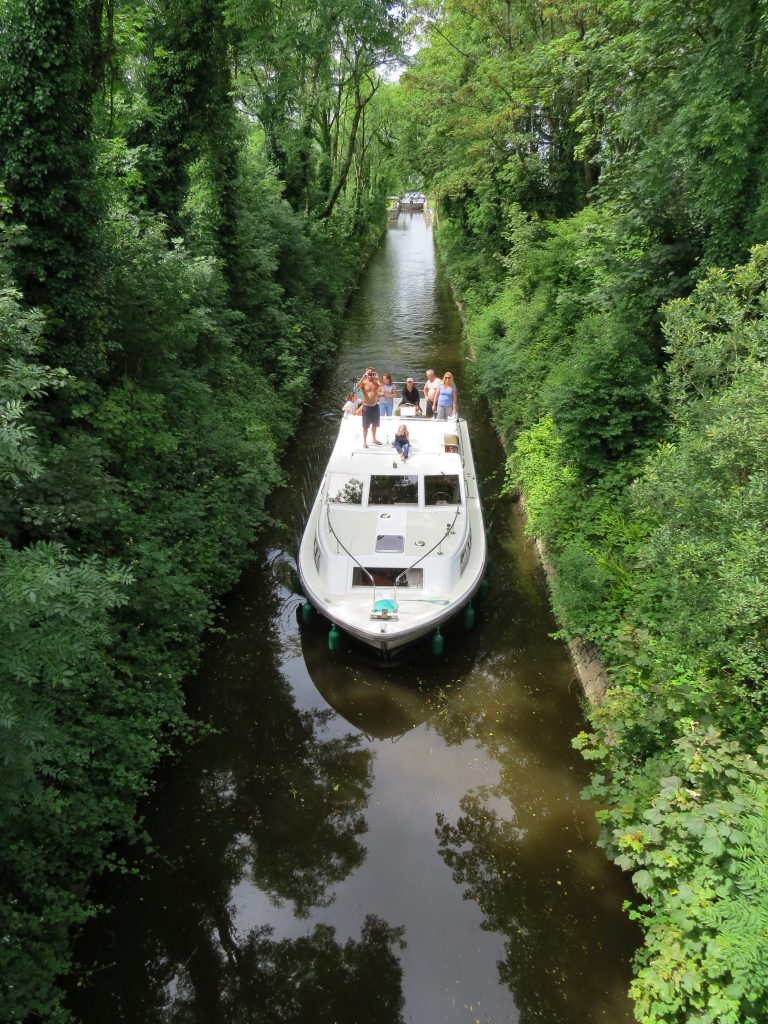 Self-driving river boats like this one in Ireland let you sneak into places where few visitors venture. Image credit: Zuzana Prochazka
4. British Virgin Islands
Possibly the world's most popular cruising grounds, the British Virgin Islands (BVI) in the Caribbean draws hundreds of thousands of annual visitors. Besides Croatia, you won't find more charter companies clustered anywhere else in the world. There are possibly more eateries and bars to explore in this tiny cluster of islands than anywhere outside of Mykonos, Greece.
Sunsets in the cove in front of the Soggy Dollar Bar are rewarding enough as you lounge aboard your powercat. Image credit: Zuzana Prochazka
Book a power or sailboat, unplug and get your life back. Some people love this area so much, they buy a boat and retire here – now that's something to aspire to.
Dinghies stack up at the dock at the remote island of Anegada in the BVI – an escapist fantasy if there ever was one. Image credit: Zuzana Prochazka
5. Grenadines
The Grenadines are a crescent-shaped string of islands south of St. Vincent and north of Grenada in the Caribbean Sea. At approximately 12 degrees north latitude, the sun is hot, the waters are turquoise and hurricanes hardly ever happen.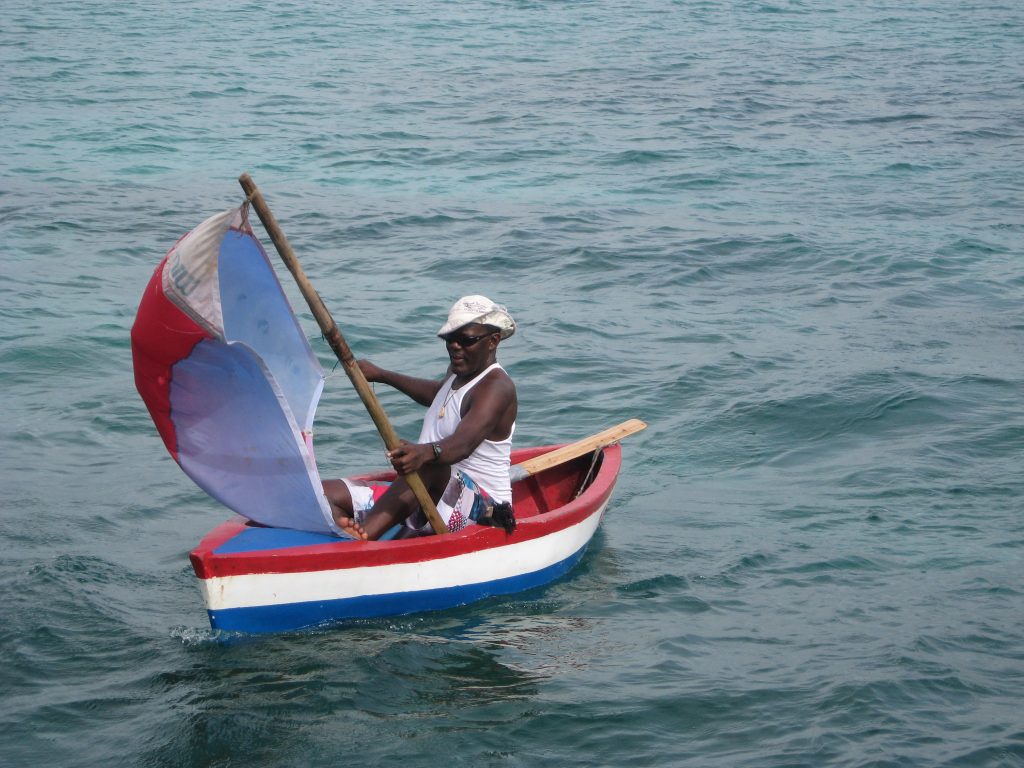 Bequia has a "Boat Boy" culture which comprises enterprising men and women who sail or paddle their craft to you, bringing everything from handmade jewelry to T-shirts. Image credit: Zuzana Prochazka
Each island has its own vibe,, and you don't want to miss even one activity. Failing that, you can just lounge in the cockpit and take in a smashing sunset.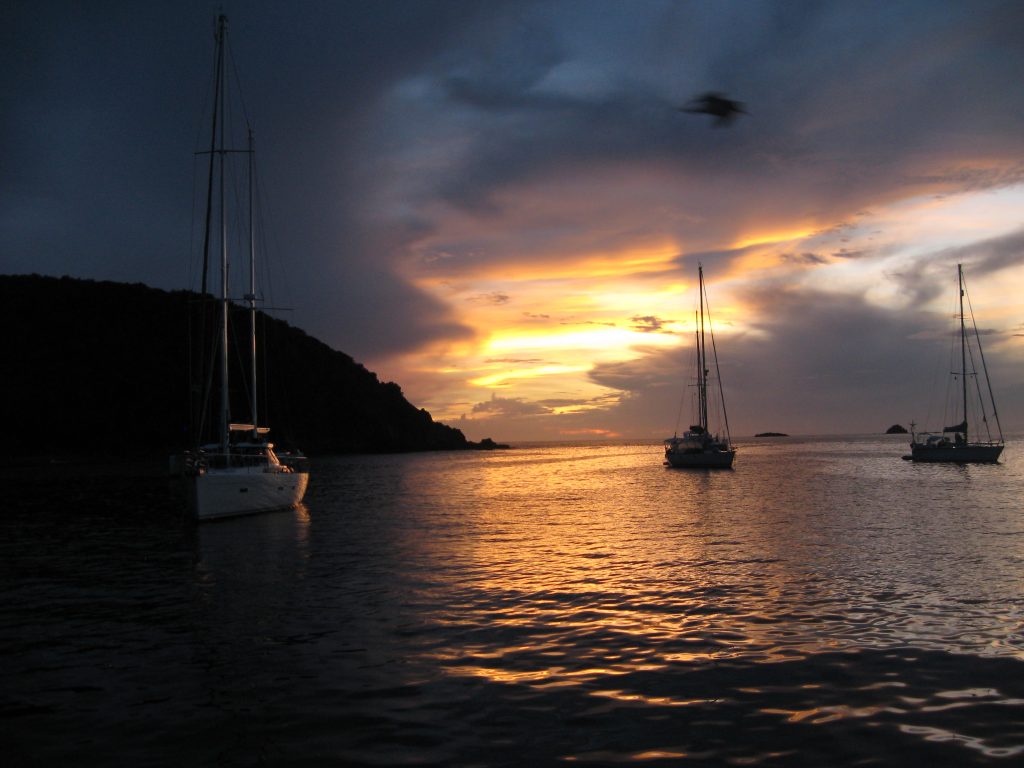 Sunset from the island of Mayreau in the Grenadines is postcard perfect. Image credit: Zuzana Prochazka
6. St. Barths
When you visit the island of St. Martin, you're just a hop away from St. Barths, a French-speaking isle in the Caribbean that is like an oasis for well-to-do yachties. Each March, superyachts of all types come to participate in or watch the St. Barths Bucket Regatta and the parties go on for a week. For those who'd rather steer clear of the hub of activity in the main town of Gustavia, a delightful anchorage can be found at Colombier Beach.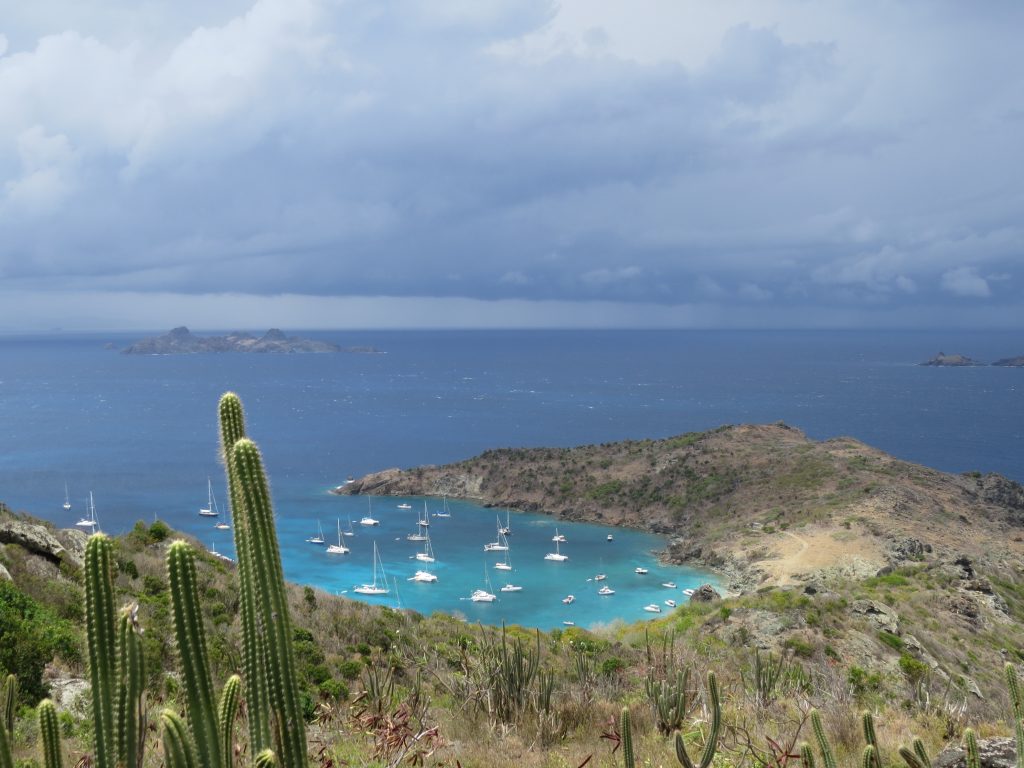 Colombier Beach is on the northern side of St. Barths just 15 miles from St. Martin but it's a world away in terms of feel. Image credit: Zuzana Prochazka
Upmarket boutiques dot the waterfront for couture shopping and local restaurants serve up the best of Franco-Caribbean fare to indulge your taste buds. Or, you can create your own feast aboard and watch Mother Nature's show at sunset.
Purple sunsets are a regular and dazzling occurrence near St. Barths –as if the island's uber-wealthy patrons paid extra for the colors. Image credit: Zuzana Prochazka
7. Antigua
Antigua is steeped in history dating back centuries. Antigua's English Harbour is a well-protected anchorage and is the site of Nelson's Dockyard, a former British Navy Base dating from the 1700s and once commanded by Horatio Nelson. The surrounding anchorages are surrounded by delightful bars where you can enjoy lunch and a cocktail overlooking your boat.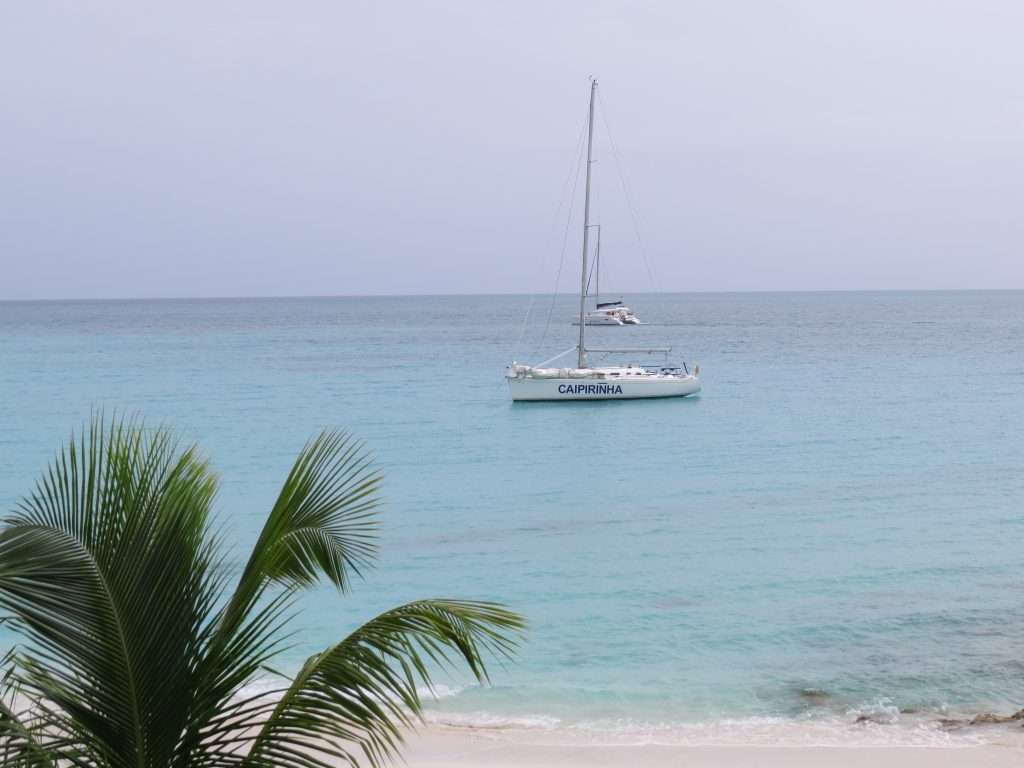 The view from one of the many Antigua establishments where you can watch the waves and toast your boat. Image credit: Zuzana Prochazka
In the spring, boats of all sizes and ages gather for Antigua Sailing Week to meet, race and party. The culmination is a celebration at Nelson's Dockyard that goes late into the night.
The racing gets exciting at Antigua Sailing Week, but the partying is even more serious. Image credit: Zuzana Prochazka
8. Chesapeake
With 11,000 miles of shoreline, Chesapeake Bay can take a lifetime to explore. Lovely small towns, great crab cookouts and thousands of tucked away anchorages, make the Bay a place where boaters lose themselves for years.
A Cheasapeake sunrise is worth rising early for as can be seen from many unretouched photographs. Image credit: Zuzana Prochazka
When you boat on the Chesapeake, you can go from quiet anchorages to urban cruising and even take in the Tall ships festival in Baltimore, a boater friendly city.
A screwpile lighthouse and a tallship make a wonderful sight on the Baltimore waterfront. Image credit: Zuzana Prochazka
9. Mexico
Along the eastern side of Baja California, you'll find the incomparable Sea of Cortez, described by Jacques Cousteau as the "Aquarium of the World." Mexico offers wonderfully stark scenery, great food and the friendly and helpful locals.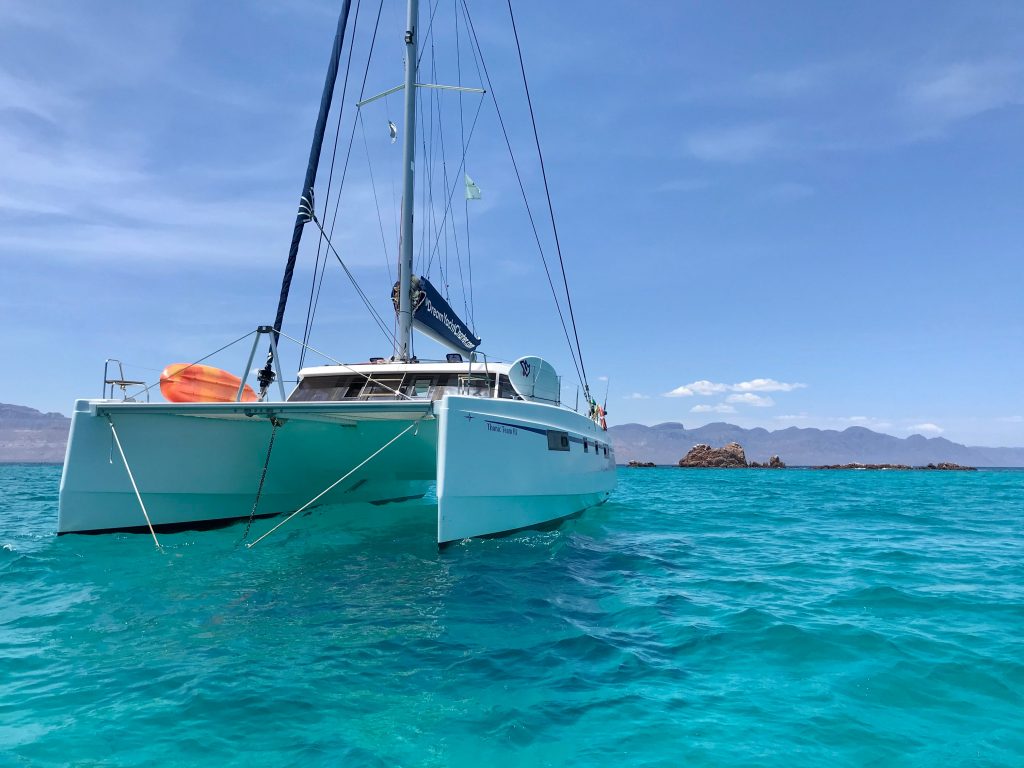 Anchored by Isla El Coyote, this cat enjoys clear waters over a spectacular reef. Image credit: Zuzana Prochazka
Mexico has its share of visiting superyachts so you'll meet every kind of vessel on the Sea from a simple local panga to an enormous luxury yacht. On shore, everyone seems equal so long as they have a cold cerveza (beer) in hand.
A superyacht rests at anchor near Balandra Beach, home of the famous Mushroom Rock. Image credit: Zuzana Prochazka
10. Tahiti
Tahiti can't take a bad picture no matter how or where you point your camera. It is easy to catch the phenomenal colors of the water washing over the reefs, or the spectacular sunsets which provide entertainment as your boat swings on anchor in the easterly trade winds.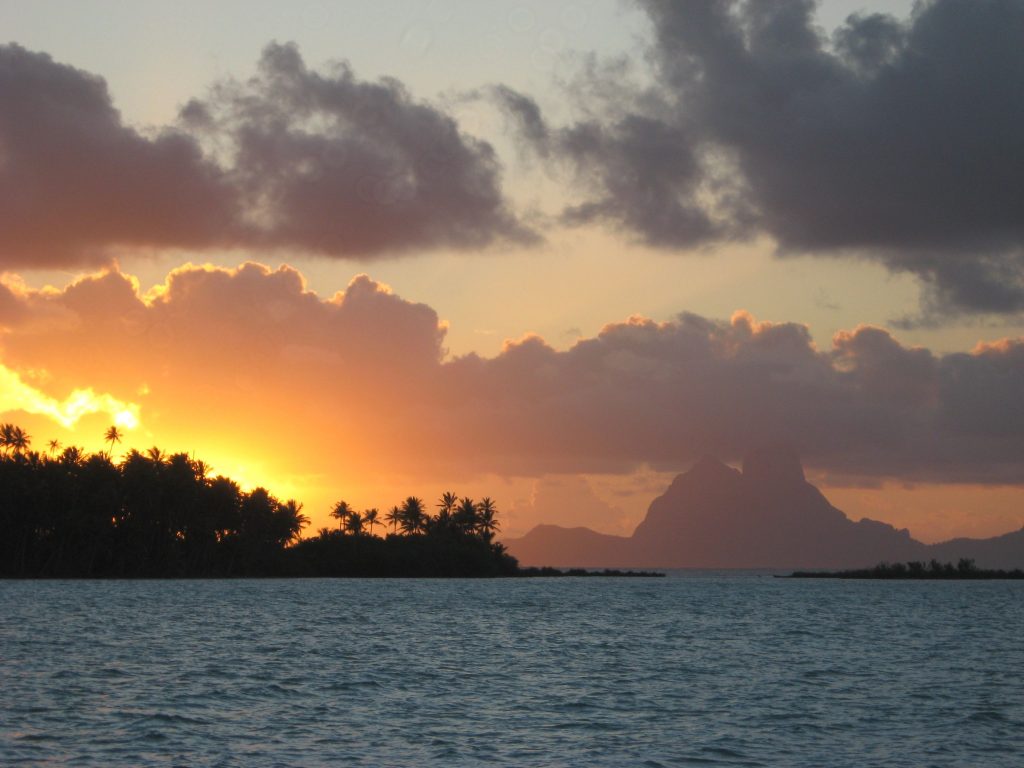 Looking out from the cockpit in an anchorage in Tahaa with Bora Bora in the distance, views like this take your breath away. Image credit: Zuzana Prochazka
Every July kicks off the Heiva, a festival that lasts a month and includes dancing and singing competitions, canoe races and a general party atmosphere.
In Spring, buff locals glide by in their pirogues and either draft or race your boat as part of their training for the summer competitions and celebrations. Image credit: Zuzana Prochazka
Picture perfect. The clear azure waters of Tahiti Huahine Vista. Image credit: Zuzana Prochazka
Bucket lists are created so you can check off one experience at a time. Drop anchor in some of the places above and you're bound to be crossing off line items one after the other.
Related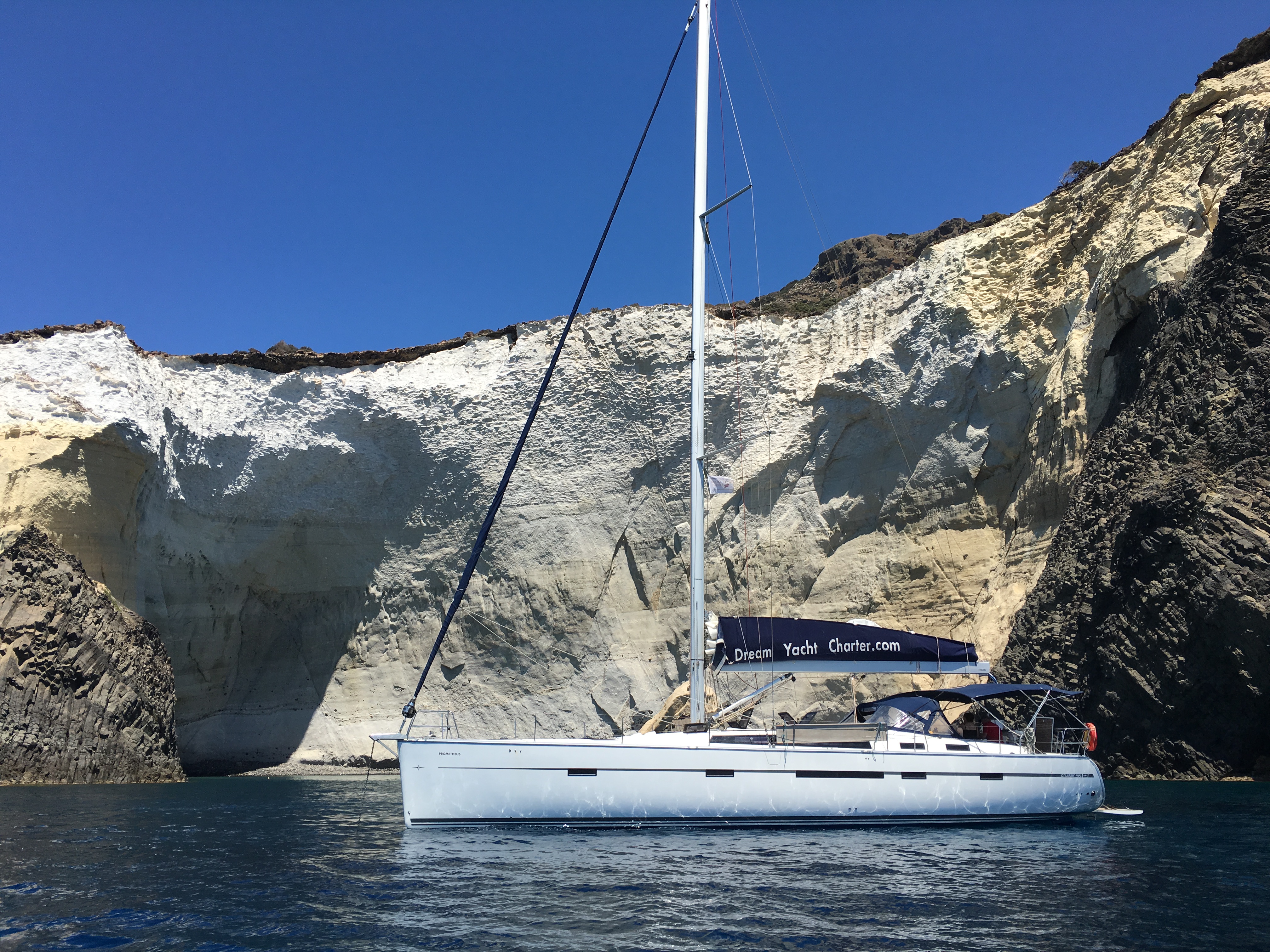 Cruising Focus: Milos Island
Zuzana Prochazka reports on her cruise around the Greek Islands, namely Milos Island, a Greek gem set...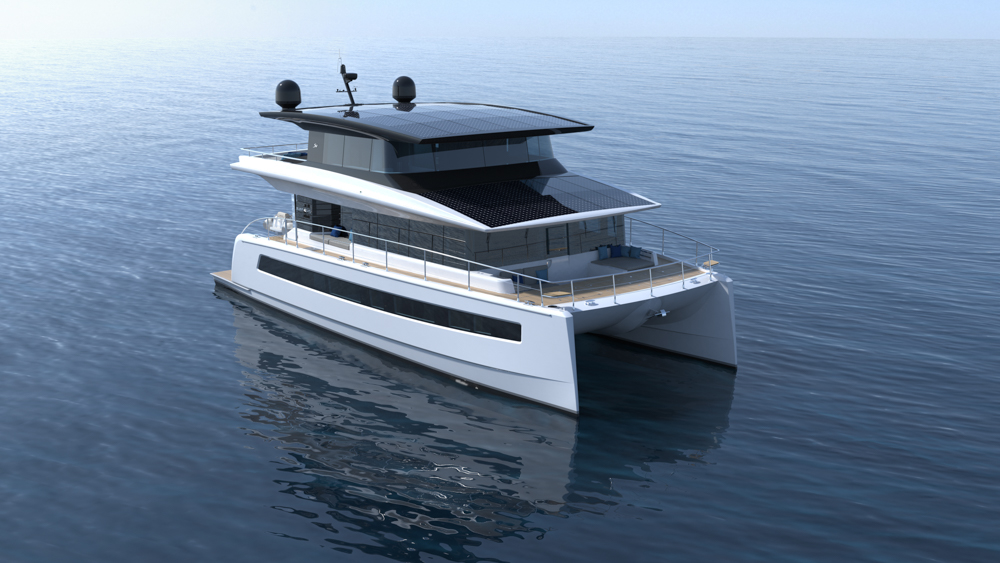 The Silent 62: A Self-Sufficient Electric Catamaran
Emma Coady talks to Franz Boese about the launch of the all new SILENT 62 3-deck.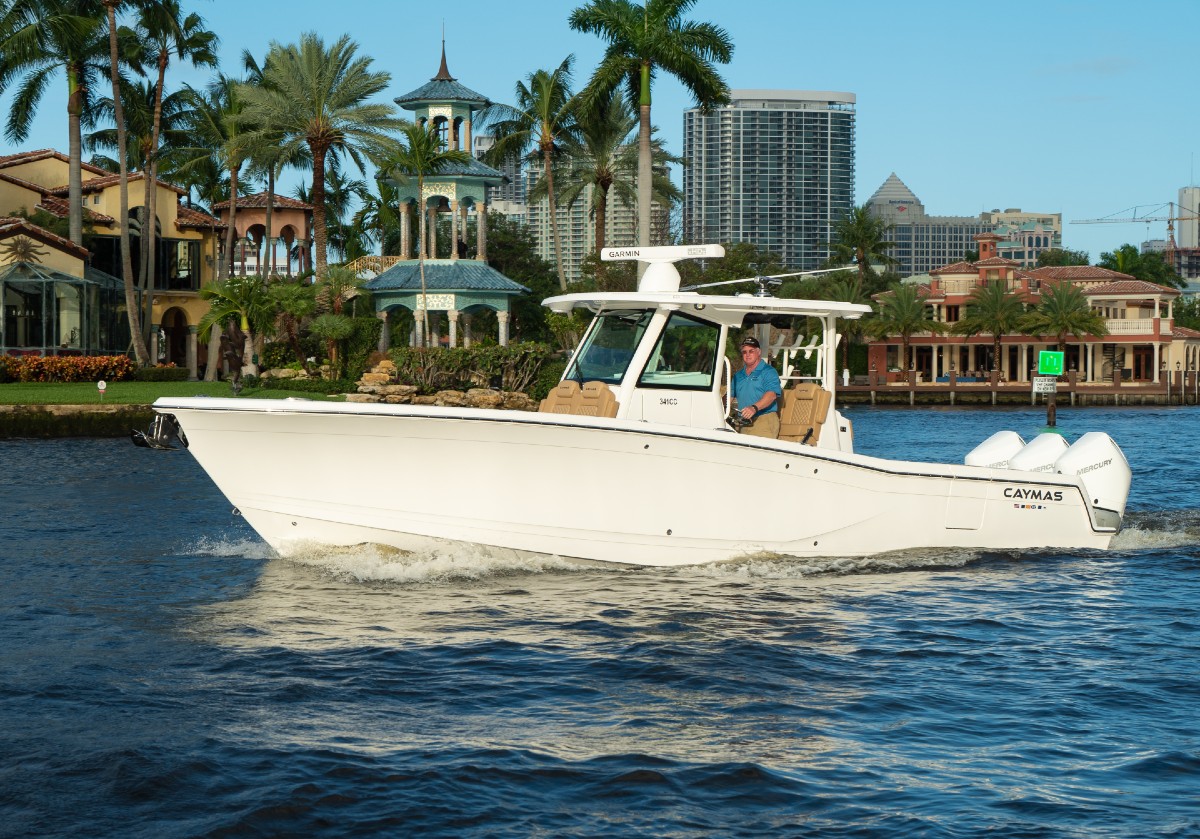 6 Top Sport Fishing Boats For 2021
Six contenders for the greatest sportfishing yachts in 2021 and beyond.