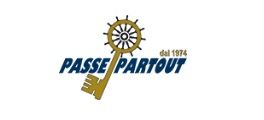 Welcome to Passepartout Sarl





La Passepartout è in attività dal 1974 come tour operator su Estremo Oriente, già agente generale della Singapore Airlines in Italia e con propri uffici a Singapore.
Dal 1981 opera come importatore e distributore esclusivo di prestigiose imbarcazioni per l'Italia e Paesi limitrofi, anche tramite i marchi Diporto e Giaroli.
Per oltre 36 anni importatore dei Grand Banks (con riconoscimenti frequenti di top dealer mondiale e propri uffici anche in Francia e Croazia), cantiere che ora gestisce direttamente le vendite; ai marchi finlandesi Nauticat e Targa si è di recente affiancato Ocean Alexander, prestigioso cantiere con sedi produttive in Taiwan ed USA e produzione orientata nella fascia alta di mercato oltre i 21 metri, e posizioni sempre tra i primi 4-5 cantieri al mondo per unità vendute.
La Passepartout ha di recente aperto una sede in Svizzera ed opera anche con una filiale a Singapore; gli uffici di Orbetello e Cala Galera dispongono di un network di service points e collaboratori di provata efficienza e possono garantire le consegne ovunque nel Mediterraneo con piena soddisfazione del Cliente.








Passepartout has been in business since 1974 as tour operator for Far East with own offices in Singapore and also having been for 15 years general sales agent of Singapore Airlines.
Since 1981 is exclusive importer and distributor of prestigious yachts for Italy and neighboring countries, sometimes advertised as Diporto and Giaroli.
As Grand Banks importer for 36 years Passepartout has achieved many award for worldwide top sales and own offices in France and Croatia; Grand Banks now sells directly to customers and Passepartout continues to operate also as official distributor of Nauticat and Targa from Finland and recently Ocean Alexander with shipyards in Taiwan and USA; they produce and sell succesfully yacht over 21 mt.and are amongst the top 4-5 boat builders worldwide.
Passepartout recently opened an office in Switzerland and can count on a branch in Singapore as well; the italian offices of Orbetello and Cala Galera have a proven efficiency service network and staff able to guarantee deliveries anywhere in the Mediterranean with full customer satisfaction.