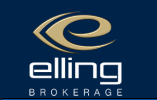 Welcome To Elling Brokerage



The first Elling was delivered in 1998. Before that, it took 5 years to engineer this unique concept. At this moment more than 250 Ellings are built.
This unique model, with the room of a small apartment and is capable to go slow and can also reach 17/18 knots. Built under CE Catergory A, the safest category, A class of its own! In 1998 the first Elling E3 with the dimensions of 13,20 x 4,25 (43 ft length and 3ft width) was delivered. The first boats where delivered with a 'garage' on the aft, meant as storage. (or bikes) and most of the Ellings did had a sliding roof and double glazed windows. The 'garage' was also the entry to the main switches and generator / heating compartment. A well thought out solution but a few Elling owners needed more space. The first Elling E4, 48ft, was delivered in 2003. An excisting owner of an Elling E3 came with a new suggestion to make a model where there was more space on the aft deck and a separate bathroom in the ownerscabin. The E4 was born and the 'garage' was history! The space that was created was enough to fit a bathroom with a sink, shower and even a toilet! A new succesmodel was made. There where almost 100 Ellings built in 2003 and it was time to change the mouled of the E3.
---