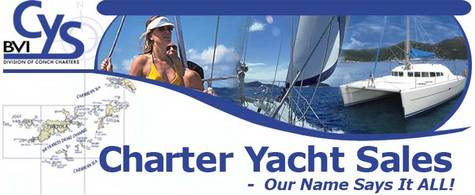 Welcome to Charter Yacht Sales
As a division of Conch Charters (one of the most successful charter companies in the Caribbean with over 28 years of operation) Charter Yacht Sales combines the integrity, commitment, professionalism and excellence in personal service that you are used to in order to make your dream - the perfect charter yacht in Paradise – come true! We specialise in helping you find the yacht of your dreams for you to charter here in the Caribbean or to help you sell your charter boat and find the buyer who is out there waiting to snap it up.

The yacht charter industry is consistently and increasingly competitive. More and more yachts are being bought for placement in the various charter management fleets. Through a resulting passage of time there is now emerging a sales market for charter yachts reaching the end of their commercial life. Charter Yacht Sales has been formed to create a platform from which to assist owners who no longer desire to own their yacht get the best value possible when selling it on. We are also in a prime position to assist prospective charter yacht owners to find the most suitable boat to place in charter management.

Through a closely maintained association with the yacht charter industry, Charter Yacht Sales has extensive in-depth and technical knowledge of the yachts within this market. This, along with successful long-term experience in a competitive, sales-driven environment, means Charter Yacht Sales is perfectly positioned and qualified to manage the sale and purchase of yachts within the charter industry.

Charter some of our listings! Any yachts for sale currently still on charter with Conch Charters – you can sail them here in Paradise.