2020 Sessa Marine KEY LARGO 40 NEW MODEL
Description
View Full Specifications
Year:

2020

Length:

39'

Engine/Fuel Type:

/
Located In:

Toscana, Italy

Hull Material:

Fiberglass

YW#:

78043-3646628
Current Price:

EUR 242,000 (US$ 273,484)
Evoluzione dell'attuale Key Largo 36, ecco il nuovo portabandiera della gamma, il nuovo Key Largo 40 di Sessa Marine con il design di Centrosile Design. La nuova barca spicca per il look sportivo e per materiali di lusso impiegati nella sua realizzazione.
Il nuovo Key Largo 40 offre una zona cockpit modulare, con divani convertibili e balconi laterali a movimento elettro-idraulico, che permettono di usufruire di spazi ancora grandi e vivibili, direttamente a contatto con il mare. Le ampie vetrate laterali panoramiche sullo scafo permettono di avere una bella luce naturale sotto coperta con una vista invidiabile: una vera e propria finestra sul mare. Un tocco di ulteriore aggressività al look è dato dal T top sortivo in fibra di carbonio, più leggero e rigido.

NEW MODEL 2020, NUOVO FATTURABILE + IVA, CONSEGNA 2020, MOTORI ESCLUSI, SI VALUTANO PERMUTE
PAKAGE SPECIALI CON MOTORI MERCURY

INTERNI
DINETTE:
Divano dinette trasformabile in letto matrimoniale con schienali in tessuto e sedute in similpelle - tavolo telescopico con top tappezzato e bordo laccato - mobile in rovere con top tappezzato e bordo laccato - armadio in rovere - casse stereo - ampi gavoni di dinette - pavimento in rovere - oblò in acciaio inox - faretti alogeni.
ZONA INGRESSO:
Mobile in rovere con top tappezzato - pensile in rovere con quadro elettrico e radio CD con ingresso aux frontale con casse stereo - tientibene in acciaio inox tappezzato - scala ingresso cabina in acciaio inox laccata con gradini in rovere e luci led di cortesia.
CABINA POPPA:
Doppio letto trasformabile in matrimoniale - finestre laterali panoramiche con oblò in acciaio inox - armadio in rovere - testata e fasce laterali tappezzate - luci di lettura - faretti alogeni - presa di corrente - pavimento in rovere.
BAGNO:
Mobile in rovere con top laccato - lavello in ceramica con miscelatore - Wc marino elettrico con risciacquo acqua dolce - oblò in acciaio inox - doccia con carabottino in teak, saliscendi, miscelatore e diffussore - pensili laccati - specchiera - faretti alogeni stagni - tenda veneziana in legno - accessori bagno.

STRUMENTAZIONE
IMPIANTISTICA:
nr. 2 batteria servizi 100 Ah/12 V - impianto antincendio - staccabatterie elettrici con comando manuale d'emergenza - caricabatterie automatico - impianto alimentazione carburante con serbatoio 1096 l - pompe di sentina elettriche ad azionamento manuale/automatico - radio CD con 4 altoparlanti esterni e 2 interni - impianto acqua dolce con serbatoio 230 l - pompa autoclave - boiler acqua calda 20 l - pompa doccia con vaschetta di raccolta acque grigie - impianto acque nere con serbatoio 95 l - pompa di scarico - flaps elettrici.

ARMAMENTO
POZZETTO:
Rivestimento in teak - cuscineria esterna completa, anti UV e resistente all'acqua - divano pozzetto a L con ampi gavoni sottostanti, panca laterale e tavolo telescopico con top raddoppiabile in teak, porta bicchieri e tientibene - portello accesso vani impianti di poppa - gavone laterale con scaletta bagno a scomparsa - trincarini in teak - tasca porta oggetti in teak - mobile stand up in teak con tientibene in acciaio inox e coperchio in vetroresina, top in acciaio inox, lavello con miscelatore caldo/freddo, tagliere in teak, frigorifero a cassetto 105 l - 3 sedili guida/passeggeri tappezzati bicolore - luci led di cortesia - casse stereo - albero segnali in acciaio inox con tromba e luci di navigazione - parabrezza con profilo acciaio inox - prendisole di prua con altoparlanti e porta bicchieri - gavone di prua porta parabordi - musone di prua - verricello salpancora elettrico - ancora e catena - cavetto di sicurezza catena - gavone raccolta catena - pulpito in acciaio inox con gradino in teak - bitte a prua, centro barca e poppa in acciaio inox - cancelletto di poppa in acciaio inox.
PLANCETTA:
Vasca per alloggiamento tubi motori fuoribordo - scaletta bagno a scomparsa - doccetta a scomparsa acqua calda/fredda.
CONSOLLE:
Pannello cruscotto tridimensionale verniciato champagne con palpebra tappezzata - vano porta oggetti con coperchio in plexiglass - comandi flaps elettrici con display a led - presa 12 V - bussola - timoneria idraulica servoassistita - volante coordinato con la cuscineria - poggiapiedi in teak per pilota e passeggero centrale e in acciaio inox a scomparsa per terzo passeggero - tientibene in acciaio inox tappezzato.
Note sul prezzo: IVA Esclusa - NEW MODEL 2020, NUOVO FATTURABILE + IVA, CONSEGNA 2020, MOTORI ESCLUSI, SI VALUTANO PERMUTE
English
Evolution of the current Key Largo 36, here is the new standard-bearer of the range, the new Key Largo 40 by Sessa Marine with the design of Centrosile Design. The new boat stands out for the sporty look and luxury materials used in its realization.
The new Key Largo 40 offers a modular cockpit area, with convertible sofas and electro-hydraulic side balconies, which allow you to take advantage of still large and livable spaces, directly in contact with the sea. The large panoramic side windows on the hull allow you to have a beautiful natural light under deck with an enviable view: a real window on the sea. A touch of additional aggressiveness to the look is given by the T top sortive carbon fiber, lighter and stiffer.

NEW MODEL 2020, NEW BILLABLES , VAT, DELIVERY 2020, EXCLUDING ENGINES, ARE VALUED PERMUTE
SPECIAL PAKAGE WITH MERCURY ENGINES

Interior
Dinette:
Dinette sofa convertible into a double bed with fabric backs and leather-like seating - telescopic table with carpeted top and lacquered edge - oak cabinet with upholstered top and lacquered edge - oak cabinet - oak cabinet - stereo crates - wide dinette sheaves - oak floor - stainless steel portholes - halogen besets.
INGRESSO AREA:
Rover furniture with upholstered top - oak roof with electric panel and CD radio with front entrance with stereo speakers - stainless steel tints - stainless steel entrance staircase lacquered steel with oak steps and courtesy LED lights.
STERN CABIN:
Double bed that can be transformed into a double - panoramic side windows with stainless steel portholes - oak cabinet - headboard and carpeted side bands - reading lights - halogen spotlights - power outlet - oak floor.
Bathroom:
Rover furniture with lacquered top - ceramic sink with mixer - Electric marine toilet with fresh water rinse - stainless steel portholes - shower with teak carabottino, salts, mixer and diffussor - lacquered hanging roofs - mirror - waterlogen sunwater - Venetian wooden tent - bathroom accessories.

Instrumentation
Plant:
Nr. 2 service battery 100 Ah/12 V - fire-fighting system - electric detacher with emergency manual control - automatic charger - fuel supply system with 1096 l tank - electric manual/automatic bilge pumps - CD radio with 4 external speakers and 2 interior - fresh water system with 230 l tank - autoclave pump - hot water boiler 20 l - shower pump with gray water collection tray - black water plant with tank 95 l - exhaust pump - electric flaps.

Armament
Cockpit:
Teak upholstery - full external, UV-resistant and water-resistant cushioning - L-side cockpit sofa with large sheaves below, Side bench and telescopic table with double teak top, glass holder and tientibene - dooraccess compartments aft plants - side locker with retractable bathroom ladder - teak trincars - teak item pocket - teak stand-up cabinet with stainless steel tientibene and fiberglass lid, stainless steel top, hot-mixer drawer 105 l - 3 two-tone guide/passenger seats/ upholstered passengers - courtesy LED lights - stereo speakers - stainless steel signals shaft with trumpet and navigation lights - windscreen windshield - bow sundress with speakers and glass holder - forward door locker - pru muson a - electric salpt winch - still and chain - chain safety cable - chain collection locker - stainless steel pulpit with teak step - bow bitte, boat center and stainless steel stern - stainless steel stern gate.
Plancetta:
Outboard motor tube housing tub - retractable bathroom ladder - retractable hot/cold water shower.
Console:
Three-dimensional dashboard panel painted champagne with carpeted eyelid - object compartment with plexiglass lid - electric flaps controls with LED display - 12 V socket - compass - servo-assisted hydraulic wheelhouse - steering wheel coordinated with the bearing - teak footrest for pilot and central passenger and retractable stainless steel for third passenger - tientibene in plastered steel.
Française
Evolution de l'actuel Key Largo 36, voici le nouveau porte-étendard de la gamme, le nouveau Key Largo 40 de Sessa Marine avec la conception de Centrosile Design. Le nouveau bateau se distingue par le look sportif et les matériaux de luxe utilisés dans sa réalisation.
Le nouveau Key Largo 40 offre un cockpit modulaire, avec des canapés convertibles et des balcons latéraux électro-hydrauliques, qui vous permettent de profiter d'espaces encore grands et habitables, directement en contact avec la mer. Les grandes fenêtres latérales panoramiques sur la coque vous permettent d'avoir une belle lumière naturelle sous le pont avec une vue enviable: une véritable fenêtre sur la mer. Une touche d'agressivité supplémentaire à l'apparence est donnée par la fibre de carbone T sortieve sortieve, plus léger et plus rigide.

NOUVEAU MODEL 2020, NOUVEAU BILLABLES , TVA, DELIVERY 2020, EXCLUDING ENGINES, ARE VALUED PERMUTE
PAKAGE SPÉCIAL AVEC MOTEURS MERCURY

Intérieur
Dinette:
Canapé Dinette décapotable dans un lit double avec dos en tissu et sièges en cuir - table télescopique avec dessus tapissé et bord laqué - armoire en chêne avec dessus rembourré et bord laqué - armoire en chêne - armoire en chêne - caisses stéréo - larges gerbes de dinette - plancher de chêne - hublots en acier inoxydable - besets halogènes.
INGRESSO AREA:
Meubles Rover avec dessus rembourré - toit en chêne avec panneau électrique et radio CD avec entrée avant avec haut-parleurs stéréo - teintes en acier inoxydable - escalier d'entrée en acier inoxydable laqué en acier avec des marches en chêne et des lumières LED de courtoisie.
CABINE STERN:
Lit double qui peut être transformé en un double - fenêtres latérales panoramiques avec hublots en acier inoxydable - armoire en chêne - tête de lit et bandes latérales tapissées - lumières de lecture - projecteurs halogènes - prise de courant - plancher de chêne.
salle de Bains:
Meubles Rover avec haut laqué - évier en céramique avec mélangeur - toilettemarine électrique avec rinçage à l'eau douce - hublots en acier inoxydable - douche avec carabottino en teck, sels, mélangeur et diffuseur - toits suspendus laqués - miroir - eau de soleil - tente en bois vénitien - accessoires de salle de bains.

Instrumentation
Plante:
Nr. 2 batterie de service 100 Ah/12 V - système de lutte contre l'incendie - detacher électrique avec commande manuelle d'urgence - chargeur automatique - système d'alimentation en carburant avec réservoir de 1096 l - pompes manuelles/automatiques de cale électrique - radio CD avec 4 haut-parleurs externes et 2 intérieurs - système d'eau douce avec réservoir de 230 l - pompe automatique - chaudière à eau chaude 20 l - pompe de douche avec plateau de collecte d'eau grise - usine d'eau noire avec réservoir 95 l - pompe d'échappement - volets électriques.

Armement
Cockpit:
Tapisserie en teck - plein externe, Amorti résistant aux UV et à l'eau - canapé de cockpit côté L avec de grandes gerbes ci-dessous, banc latéral et table télescopique avec haut en teck double, support en verre et tientibene - compartiments d'accès à la porte à l'arrière des plantes - casier latéral avec échelle de salle de bains rétractable - trincars en teck - poche en teck avec teck en acier inoxydable tientibene et couvercle en fibre de verre, haut en acier inoxydable tiroir 105 l - 3 deux-tonalitéguide/sièges passagers/ passagers rembourrés - lumières LED courtoisie - haut-parleurs stéréo - arbre de signaux en acier inoxydable avec trompette et feux de navigation - pare-brise - sundress d'arc avec haut-parleurs et support en verre - casier de porte avant - pru muson a - treuil de salpt électrique - encore et chaîne - câble de sécurité de chaîne - casier de collecte de chaîne - pulpe en acier inoxydable avec le teck centre de bateau et poupe en acier inoxydable - porte arrière en acier inoxydable.
Plancetta:
Tub de logement de tube de moteur extérieur - échelle rétractable de salle de bains - douche d'eau chaude/froide rétractable.
Console:
Panneau de tableau de bord tridimensionnel peint champagne avec paupière tapissée - compartiment objet avec couvercle en plexiglas - commandes à volets électriques avec écran LED - 12 V socket - boussole - roue hydraulique assistée par servo - volant coordonné avec le roulement - serre-pieds en teck pour pilote et passager central et acier inoxydable rétractable pour le troisième passager - tenuibene en acier plâtré.
Deutsch
Evolution des aktuellen Key Largo 36, hier ist der neue Standard-Träger der Serie, der neue Key Largo 40 von Sessa Marine mit dem Design von Centrosile Design. Das neue Boot zeichnet sich durch den sportlichen Look und die luxuriösen Materialien aus, die bei der Realisierung verwendet werden.
Der neue Key Largo 40 bietet einen modularen Cockpitbereich mit konvertierbaren Sofas und elektrohydraulischen Seitenbalkonen, mit denen Sie die vorteile der noch großen und lebenswerten Räume direkt in Kontakt mit dem Meer nutzen können. Die großen Panorama-Seitenfenster auf dem Rumpf ermöglichen es Ihnen, ein schönes natürliches Licht unter Deck mit einem beneidenswerten Blick zu haben: ein echtes Fenster auf dem Meer. Ein Hauch von zusätzlicher Aggressivität im Look wird durch die T Top sortive Kohlefaser gegeben, leichter und steifer.

NEUE MODELL 2020, NEUE BILLABLES , MWSt., DELIVERY 2020, EXCLUDING ENGINES, SIND WERT PERMUTE
SPEZIELLE PAKAGE MIT MERCURY ENGINES

Innere
Essecke:
Dinette Sofa wandelbar in ein Doppelbett mit Stoffrücken und lederähnlichen Sitzgelegenheiten - Teleskoptisch mit Teppichplatte und lackiertem Rand - Eichenschrank mit gepolsterter Platte und lackiertem Rand - Eichenschrank - Eichenschrank - Stereokisten - breite Essbecken - Eichenboden - Edelstahl-Bullen - Halogenbesetten.
INGRESSO AREA:
Rover-Möbel mit gepolsterter Platte - Eichendach mit elektrischer Platte und CD-Radio mit Fronteingang mit Stereo-Lautsprechern - Edelstahl-Farbton - Edelstahl Eingangstreppe lackiertstahl mit Eichentreppen und Höflichkeit LED-Leuchten.
STERN KABINE:
Doppelbett, das in ein Doppel - Panorama Seitenfenster mit Edelstahl-Bullen - Eichenschrank - Kopfteil und Teppich Seitenbänder umgewandelt werden kann - Leselampen - Halogen-Strahler - Steckdose - Eichenboden.
Badezimmer:
Rover Möbel mit lackiertem Oberteil - Keramikspüle mit Mischer - Elektrische Marinetoilette mit Frischwasserspülung - Edelstahl-Bullenlöcher - Dusche mit Teakcarabottino, Salze, Mixer und Diffussor - lackierte Hängedächer - Spiegel - Wasserlogen-Sonnenwasser - Venezianisches Holzzelt - Badezimmerzubehör.

Instrumentation
Pflanze:
Nr. 2 Servicebatterie 100 Ah/12 V - Löschsystem - elektrischer Ableiter mit Notsteuerung - automatisches Ladegerät - Kraftstoffversorgungssystem mit 1096 l Tank - elektrische manuelle/automatische Bilgenpumpen - CD-Radio mit 4 Außenlautsprechern und 2 Innen- - Frischwassersystem mit 230 l Tank - Autoklavenpumpe - Warmwasserkessel 20 l - Duschpumpe mit Grauwassersammelwanne - Schwarzwasseranlage mit Tank 95 l - Abluftpumpe - elektrische Klappe.

Bewaffnung
Cockpit:
Teakholzpolsterung - voll äußere, UV-beständige und wasserabweisende Dämpfung - L-seitiges Cockpitsofa mit großen Garben unten, Seitenbank und Teleskoptisch mit Doppelteak-Top, Glashalter und Tientibene - Türzugangsfächer achter Anlagen - Seitenschließfach mit versenkbarer Badezimmerleiter - Teaktrincars - Teak-Artikeltasche - Teak-Stand-up-Schrank mit Edelstahl-Tienti Schublade 105 l - 3 Zwei-Ton-Führung / Beifahrersitze / gepolsterte Passagiere - mit freundlicher Genehmigung LED-Leuchten - Stereo-Lautsprecher - Edelstahl-Signalschacht mit Trompete und Navigationslichter - Windschutzscheibe - Bug-Sonnenschutz mit Lautsprechern und Glashalter - vorwärts TürSchließfach - pru muson a - elektrische Salpt Winde - Stand und Kette - Kettenschutzseil - Kettensammelschrank - Edelstahl Kanzel mit Teak-Schritt - Bogen bitte, Boot-Mitte und Edelstahl-Heck.
Plancetta:
Außenbordmotorrohr Gehäuse wann - versenkbare BadLeiter - versenkbare Warm-/Kaltwasserdusche.
Konsole:
Dreidimensionale Armaturenbrett-Panel lackiert Champagner mit Teppich-Augenlid - Objektfach mit Plexiglasdeckel - elektrische Klappen Steuerungen mit LED-Anzeige - 12 V-Buchse - Kompass - servounterstütztes hydraulisches Steuerhaus - Lenkrad mit dem Lager abgestimmt - TeakFußstütze für Pilot und Zentralpassagier und versenkbarer Edelstahl für dritte Beifahrer - Tientiben aus gipsigem Stahl.
Español
Evolución del actual Key Largo 36, aquí está el nuevo abanderado de la gama, el nuevo Key Largo 40 de Sessa Marine con el diseño de Centrosile Design. El nuevo barco destaca por su aspecto deportivo y materiales de lujo utilizados en su realización.
El nuevo Key Largo 40 ofrece una zona modular de cabina, con sofás convertibles y balcones laterales electrohidráulicos, que le permiten aprovechar espacios todavía grandes y habitables, directamente en contacto con el mar. Las grandes ventanas laterales panorámicas en el casco le permiten tener una hermosa luz natural bajo cubierta con una vista envidiable: una ventana real en el mar. Un toque de agresividad adicional al look es dado por la fibra de carbono t superior sortiva, más ligero y más rígido.

NUEVO MODELO 2020, NUEVOS BILLABLES , IVA, ENTREGA 2020, EXCLUYENDO ENGINES, SE VALORAN PERMUTE
PAKAGE ESPECIAL CON ENGINES DE MERCURY

Interior
Comedor:
Sofá Dinette convertible en una cama doble con respaldos de tela y asientos de cuero - mesa telescópica con tapa alfombrada y borde lacado - armario de roble con tapa tapizada y borde lacado - armario de roble - armario de roble - cajas estéreo - áavesas dinette anchas - suelo de roble - portholes de acero inoxidable - abetos halógenos.
ZONA DE INGRESSO:
Muebles Rover con tapa tapizada - techo de roble con panel eléctrico y radio CD con entrada frontal con altavoces estéreo - tintes de acero inoxidable - acero lacado escalera de entrada de acero inoxidable con escalones de roble y luces LED de cortesía.
CABINA STERN:
Cama doble que se puede transformar en una doble - ventanas laterales panorámicas con portholes de acero inoxidable - armario de roble - cabecero y bandas laterales alfombradas - luces de lectura - proyectores halógenos - toma de corriente - suelo de roble.
Baño:
Muebles Rover con tapa lacada - fregadero cerámico con mezclador - Aseo marino eléctrico con enjuague de agua dulce - portholes de acero inoxidable - ducha con carabottino de teca, sales, batidora y difusor - tejados colgantes lacados - espejo - agua solar waterlogen - tienda de madera veneciana - accesorios de baño.

Instrumentación
Planta:
Nr. 2 batería de servicio 100 Ah/12 V - sistema de extinción de incendios - detacher eléctrico con control manual de emergencia - cargador automático - sistema de suministro de combustible con tanque de 1096 l - bombas eléctricas manuales/automáticas de sentina - radio CD con 4 altavoces externos y 2 interiores - sistema de agua dulce con tanque de 230 l - bomba de autoclave - caldera de agua caliente 20 l - bomba de ducha con bandeja de recogida de agua gris - planta de escape de agua negra con tanque de agua negra 95 l - bomba eléctrica.

Armamento
Cabina:
Tapicería de teca - exterior completo, Acolchado resistente a los rayos UV y resistente al agua - Sofá de cabina del lado L con gavillas grandes debajo, Banco lateral y mesa telescópica con tapa de teca doble, soporte de vidrio y tientibeno - compartimentos de acceso a la puerta plantas de popa - casillero lateral con escalera de baño retráctil - trincars de teca - bolsillo de artículos de teca - armario de pie de teca con tientibeno de acero inoxidable y tapa de fibra de vidrio, cajón 105 l - 3 asientos de guía/pasajero de dos tonos/ pasajeros tapizados - luces LED de cortesía - altavoces estéreo - eje de señales de acero inoxidable con trompeta y luces de navegación - parabrisas - vestido de sol con altavoces y soporte de vidrio - casillero de puerta delantera - morón de moco eléctrico - todavía y cadena - cable de cadena de seguridad - casillero de colección de cadenas - púlpito de acero inoxidable con paso de teca centro de barco sin popa de acero inoxidable - puerta de popa de acero inoxidable.
Plancetta:
Bañera de la carcasa del tubo del motor fueraborda - escalera de baño retráctil - ducha de agua fría/caliente retráctil.
Consola:
Panel de tablero tridimensional pintado de champán con párpado alfombrado - compartimiento de objetos con tapa de plexiglás - controles de solapas eléctricas con pantalla LED - 12 V socket - brújula - casa de ruedas hidráulica servoasistida - volante coordinado con el rodamiento - reposapiés de teca para piloto y pasajero central y acero inoxidable retráctil para tercer pasajero - tientibene en acero enyeso.
Россию
Эволюция текущего Key Largo 36, вот новый знаменосец диапазона, новый Key Largo 40 по Sessa морской с дизайном Centrosile Дизайн. Новая лодка выделяется спортивный вид и роскошные материалы, используемые в его реализации.
Новый Key Largo 40 предлагает модульную область кабины, с кабриолет диваны и электро-гидравлические боковые балконы, которые позволяют воспользоваться еще большие и пригодные для жизни пространства, непосредственно в контакте с морем. Большие панорамные боковые окна на корпусе позволяют иметь красивый естественный свет под палубой с завидным видом: настоящее окно на море. Прикосновение дополнительной агрессивности к взгляду дается T верхней сортировоченого углеродного волокна, легче и жестче.

NEW MODEL 2020, NEW BILLABLES , НДС, DELIVERY 2020, EXCLUDING ENGINES, ARE VALUED PERMUTE
SPECIAL PAKAGE WITH MERCURY ENGINES

Интерьер
Динетт:
Диван Dinette кабриолет в двуспальную кровать с тканью спинки и кожано-как сидения - телескопический стол с ковровой верхней и лакированной кромкой - дубовый шкаф с мягкой верхней и лакированной кромкой - дубовый шкаф - дубовый шкаф - стерео ящики - широкие стрижки динетта - дубовый пол - ортоусы из нержавенной стали - галогенные пределокки.
INGRESSO AREA:
Rover мебель с мягкой верхней - дубовая крыша с электрической панелью и CD-радио с парадным входом со стереодинамиками - нержавеющей стали тона - нержавеющей стали входная лестница лакированная сталь с дубовыми ступенями и любезность светодиодные фонари.
ШТЕРН КАБИНА:
Двуспальная кровать, которая может быть преобразована в двойной - панорамные боковые окна с нержавеющей стали иллюминаторы - дубовый шкаф - изголовье и ковровые боковые полосы - чтение огней - галогенные прожекторы - розетка - дубовый пол.
Ванная комната:
Мебель Rover с лакированной верхней частью - керамическая раковина с миксером - Электрический морской туалет с пресной водой промыть - иллюминаторы из нержавеющей стали - душ с тиком carabottino, соли, смеситель и диффусор - лакированные висячие крыши - зеркало - waterlogen sunwater - венецианская деревянная палатка - аксессуары для ванной комнаты.

Инструментария
Завод:
Nr. 2 служебная батарея 100 Ah/12 V - противопожарная система - электрический отдел с аварийным ручным управлением - автоматическое зарядное устройство - система подачи топлива с 1096 л бака - электрический ручной/автоматический насос bilge - CD-радио с 4 внешними динамиками и 2 интерьера - система пресной воды с 230 л баком - автоклавный насос - котел горячей воды 20 л - душевой насос с серым водоотвочным подносом .

Вооружения
Кабины:
Обивка тика - полная внешняя, УФ-резистентная и водонепроницаемая амортизация - L-сторона кабины диван с большими снопами ниже, Боковая скамейка и телескопический стол с двойным тиковым верхом, стеклянным держателем и tientibene - отсеками для дверного доступа - боковой шкафчик с выдвижной лестницей ванной комнаты - тик-тринкт-карман - тиковый шкаф с тиковой сталью ящик 105 л - 3 двухцветных гида / пассажирских сидений / мягких пассажиров - courtesy LED lights - стереодинамики - нержавеющей стали сигналы вал с трубой и навигационные огни - лобовое стекло лобовое стекло - лук овый сарай с динамиками и стеклянный держатель - передняя дверная дверь шкафчик - pru muson a - электрический salpt лебедка - еще и цепь - цепная безопасность кабельная кабель лодочный центр и корма из нержавеющей стали - кормовые ворота из нержавеющей стали.
Планчетта:
Outboard автотрубка жилищной ванны - выдвижной лестнице ванной - выдвижной горячей / холодной воды душ.
Консоли:
Трехмерная панель приборной панели окрашена шампанское с ковровым веком - объект отсека с крышкой плексигласа - электрические заслонки управления со светодиодным дисплеем - 12 V розетка - компас - сервоприводом гидравлической рулевой рубки - рулевое колесо координируется с подшипником - тик подножки для пилота и центрального пассажира и выдвижной нержавенной стали для третьего пассажира - tientibene в штукатуре стали.


Marina Yacht Sales nasce dalla volontà del suo fondatore Angelo Bacci. L'obiettivo è quello di fornire un servizio, il più completo possibile, ad? altissimo livello che spazia dalla compravendita di imbarcazioni e navi, al ?charter, alla consulenza finanziaria e assicurativa, e infine al management a livello internazionale. Inoltre lo sforzo e l'esperienza decennale nel settore viene applicata a tutte le fasi della vita di un diportista, con l'obiettivo principale di far vivere l'esperienza della nautica come un'esperienza rilassante e di vero svago. Rimessaggio, assistenza tecnica, tutto quello che coinvolge a 360° la vostra esperienza nautica. Per rendere questa esperienza la più positiva possibile, lo sforzo della Marina Yacht Sales è stato quello di dare assistenza completa sia tecnica che commerciale in tutto il territorio Italiano e nei punti più rilevanti situati fuori del bacino del Mediterraneo. In questi anni lo sviluppo commerciale ha portato alla creazione di un TEAM di colleghi e professionisti che hanno tutti l'obbiettivo della massima soddisfazione del cliente. Infatti la rete commerciale copre, con la relativa assistenza buona parte del mediterraneo. Gli uffici sono dislocati con una sede principale Rosignano Solvay presso il porto Cala dè Medici, Piombino presso il Marina di Salivoli, la sede secondaria a Salerno, Gaeta presso il Porto Flavio Gioia, Punta Ala, Cagliari e Malta. In questi uffici oltre a dare supporto qualificato commerciale è possibile avere assistenza tecnica professionale, rimessaggio invernale sia al coperto che su piazzale, posti barca, guardianaggio e assistenza a terra. Per questo motivo oggi si può dire che Marina Yacht Sales è partner ideale per lo sviluppo dei business per i dealer e affidabile amico del diportista.

Please contact Angelo Bacci at +39 339 5672579
Visit Website
*This price is based on today's currency conversion rate.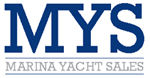 Email Us
Please enter a valid name!
Please enter a valid email address!
RE: Sessa Marine KEY LARGO 40 NEW MODEL, Toscana, Italy