2020 Sessa Marine KEY LARGO 34 FB
Description
View Full Specifications
Year:

2020

Length:

37'

Engine/Fuel Type:

/
Located In:

Toscana, Italy

Hull Material:

Other

YW#:

78043-3584598
Current Price:

EUR 166,000 (US$ 196,146)
Il KL 34 rivela nelle sue forme morbide e vellutate ma, allo stesso tempo, decise e incisive, la sua natura di « fuoriserie». Dotato di un grande prendisole di prua, di un T-top rigido, di una zona relax-cocktail a poppa con cucina in teak e lavello, grill, frigo, ice-maker e tavolo sdoppiabile, di una scaletta laterale che scompare completamente all'interno della barca e, per la prima volta su un fuori bordo, della passerella idraulica, rappresenta la barca ideale per un armatore amante del mare, del sole e delle sensazioni forti, che non vuole passare inosservato.

PREZZO DI LISTINO, NUOVO FATTURABILE + IVA, CONSEGNA 2020, MOTORI ESCLUSI, SI VALUTANO PERMUTE

INTERNI
DINETTE:
scala di accesso con gradini in noce - Divano dinette in tessuto trasformabile in letto matrimoniale - tavolo telescopico con top tappezzato - mobile basso in noce con top tappezzato e dotato di portaoggetti incassato - pannello quadro elettrico - radio CD con ingresso aux frontale con casse stereo - armadio in noce - faretti a led - prese di corrente - ampie finestrature panoramiche sulle murate - oblò in acciaio inox - pavimento in moquette.
CABINA POPPA:
doppio letto trasformabile in matrimoniale - oblò in acciaio inox - portaoggetti in acciaio inox tappezzati - testata e fasce laterali tappezzate - luci di lettura - faretti a led - presa di corrente - vani portaoggetti in noce - pavimento in moquette.
BAGNO:
mobile in noce con top laccato - lavello in ceramica con miscelatore - WC marino elettrico - doccia con carabottino in teak, saliscendi, diffusore e miscelatore - tenda paraspruzzi - specchiera - oblò in acciaio inox - tenda veneziana in legno - illuminazione a led - presa di corrente - accessori bagno.

STRUMENTAZIONE
IMPIANTISTICA:
1 batteria servizi 100Ah-12V - impianto antincendio con estinguente non asfissiante - stacca batterie elettrici automatici con comando manuale di emergenza - caricabatterie automatico - impianto alimentazione carburante con serbatoio da 1097 l - pompe di sentina elettriche a comando automatico/ manuale - radio con 2 altoparlanti interni e 2 esterni - impianto acqua dolce con serbatoio da 215 l - pompa autoclave - pompa doccia con vaschetta di raccolta - impianto acque nere con serbatoio da 83 l, pompa di scarico e presa aspirazione da banchina - flaps elettrici.

ARMAMENTO
POZZETTO:
cuscineria esterna completa, anti UV e resistente all'acqua - divano pozzetto a L con ampi gavoni sottostanti, tavolo telescopico con top raddoppiabile in teak, porta bicchieri e tientibene - portello di accesso vano impianti di poppa con scala in acciaio inox - gavone laterale con scaletta bagno a scomparsa - mobile standup in teak con ripiani, tientibene acciaio inox e coperchio in vetroresina, lavello in acciaio inox con miscelatore caldo/freddo, tagliere in teak - sedili pilota e copilota tappezzati bicolore - vano portaoggetti tra i sedili - luci led di cortesia - casse stereo - luci di navigazione/fonda - parabrezza con profilo in acciaio inox - prendisole di prua- gavone di prua porta parabordi - cubia ancora in acciaio inox - verricello salpancora elettrico - ancora e catena - cavetto di sicurezza catena - gavone raccolta catena - doccetta caldo/freddo di poppa - pulpito in acciaio inox con gradino in teak - bitte a prua, centro barca e poppa in acciaio inox - cancelletto di poppa in acciaio inox.
CONSOLLE:
pannello cruscotto verniciato champagne con palpebra tappezzata - comandi flap elettrici con display a led - presa 12V - bussola -timoneria idraulica servoassistita - volante coordinato con la cuscineria - poggiapiedi in teak - centralina allarme acustico pompa sentina.
Note sul prezzo: IVA Esclusa - PREZZO DI LISTINO, NUOVO FATTURABILE + IVA, CONSEGNA 2020, MOTORI ESCLUSI, SI VALUTANO PERMUTE
English
The KL 34 reveals in its soft and velvety forms but, at the same time, decisive and incisive, its nature of "out-of-series". Featuring a large forward sundress, a stiff T-top, a relaxation-cocktail area at the stern with teak kitchen and sink, grill, fridge, ice-maker and double-par table, a side ladder that disappears completely inside the boat and, for the first time on a overboard, of the hydraulic walkway, is the ideal boat for a shipowner who loves the sea, the sun and the strong sensations, which does not want to go unnoticed.

LIST PRICE, NEW BILLABLES , VAT, DELIVERY 2020, EXCLUDING ENGINES, YOU EVALUATE PERMUTE

Interior
Dinette:
Access staircase with walnut steps - Dinette dinette in fabric convertible into double bed - telescopic table with carpeted top - low walnut cabinet with upholstered top and equipped with cashed-up storage - electric panel panel - CD radio with aux entrance front with stereo speakers - walnut cabinet - LED pendass - power outlets - large panoramic windows on the walls - stainless steel portholes - carpeted floor.
STERN CABIN:
double bed that can be transformed into a double - stainless steel portholes - plastered steel glove box - headboard and carpeted side bands - reading lights - LED spotlights - power outlet - walnut storage compartments - carpeted floor.
Bathroom:
walnut cabinet with lacquered top - ceramic sink with mixer - electric marine toilet - shower with teak carabottino, ups and downs, diffuser and mixer - curtain sprays - mirror - stainless steel portholes - Venetian wooden curtain - LED lighting - outlet Current - bathroom accessories.

Instrumentation
systems engineering:
1 battery services 100Ah-12V - fire-fighting system with non-asphyxiating extinguisher - detaches automatic electric batteries with emergency manual control - automatic charger - fuel supply system with 1097 l tank - bilge pumps Automatic/manual electrics - radio with 2 internal and 2 external speakers - fresh water system with 215 l tank - autoclave pump - shower pump with collection tray - black water system with 83 l tank, exhaust pump and suction outlet from b anchina - electric flaps.

Armament
Cockpit:
Full, uv-resistant and water-resistant exterior bearing - L-side cockpit sofa with large sheaves below, telescopic table with double teak top, glass holder and tientibene - access hatch compartment aft plants with stainless steel scale - sheaves side with retractable bathroom ladder - teak standup cabinet with shelves, stainless steel tientibene and fiberglass lid, stainless steel sink with hot/cold mixer, teak chopping board - pilot and co-pilot seats two-tone upholstery - glove compartment between the seats - courtesy LED lights - stereo speakers - navigation lights/bottoms - windscreen with stainless steel profile - sunscreen of bow- forward door-to-door slots - cube still stainless steel - winch still electric sauce - still and chain - safety cable Chain - chain collection locker - hot/cold aft shower - stainless steel pulpit with teak step - bow bitte, boat center and stainless steel stern - stainless steel stern gate.
Console:
Champagne painted dashboard panel with carpeted eyelid - electric flap controls with LED display - 12V socket - compass - servo-assisted hydraulic wheelhouse - steering wheel coordinated with the bearing - teak footrest - pump acoustic alarm switchboard Bilge.
Française
Le KL 34 révèle dans ses formes douces et veloutés mais, en même temps, décisifs et incisifs, sa nature de « hors série ». Doté d'une grande robe de soleil avant, un t-top rigide, un espace détente-cocktail à l'arrière avec cuisine en teck et évier, gril, réfrigérateur, machine à glace et table à double par, une échelle latérale qui disparaît complètement à l'intérieur du bateau et, pour la première fois sur un par-dessus bord, de la passerelle hydraulique, est le bateau idéal pour un armateur qui aime la mer, le soleil et les sensations fortes, qui ne veut pas passer inaperçu.

LIST PRICE, NEW BILLABLES , TVA, DELIVERY 2020, EXCLUDING ENGINES, YOU EVALUATE PERMUTE

l'intérieur
Dinette:
Escalier d'accès avec marches en noyer - Dinette dinette en tissu convertible en lit double - table télescopique avec dessus tapissé - armoire en noyer basse avec dessus rembourré et équipé d'un rangement encaissé - panneau électrique - radio CD avec entrée avant avec haut-parleurs stéréo - armoire en noyer - PENdass LED - prises de courant - grandes fenêtres panoramiques sur les murs - hublots en acier inoxydable - plancher tapissé.
CABINE STERN:
lit double qui peut être transformé en un double - hublots en acier inoxydable - boîte à gants en acier plâtré - tête de lit et bandes latérales tapissées - lumières de lecture - projecteurs LED - prise de courant - compartiments de rangement en noyer - plancher tapissé.
salle de Bains:
armoire en noyer avec haut laqué - évier en céramique avec mélangeur - toilettemarine électrique - douche avec carabottino de teck, hauts et bas, diffuseur et mélangeur - pulvérisations de rideau - miroir - hublots en acier inoxydable - rideau en bois vénitien - éclairage LED - sortie Courant - accessoires de salle de bains.

Instrumentation
ingénierie des systèmes :
1 services de batterie 100Ah-12V - système de lutte contre l'incendie avec extincteur non asphyxiant - détache les batteries électriques automatiques avec commande manuelle d'urgence - chargeur automatique - système d'approvisionnement en carburant avec réservoir de 1097 l - pompes de cale Électrique automatique/manuelle - radio avec 2 haut-parleurs internes et 2 externe - système d'eau douce avec réservoir de 215 l - pompe automatique - pompe de douche avec plateau de collecte - système d'eau noire avec réservoir de 83 l, pompe d'échappement et prise d'aspiration de b anchina - volets électriques.

armement
poste de pilotage:
Roulement extérieur complet, résistant aux uv et résistant à l'eau - canapé de cockpit côté L avec de grandes gerbes en dessous, table télescopique avec haut en teck double, support en verre et tenuibene - compartiment d'écoutille d'accès à l'arrière des usines à l'échelle en acier inoxydable - gerbes côté avec échelle de salle de bains rétractable - coffret de standde de teck avec des étagères, le couvercle en acier inoxydable et le couvercle en fibre de verre, évier en acier inoxydable avec mélangeur chaud/froid, planche à découper de teck - siège de pilote et de co-pilote selletisserie de deux tonalités - compartiment à gants entre les sièges - lumières LED courtoisie - haut-parleurs stéréo - feux de navigation / bas - pare-brise avec profil en acier inoxydable - écran solaire de l'arc-avant porte-à-porte fentes - cube encore en acier inoxydable - treuil encore sauce électrique - encore et chaîne - câble de sécurité Chaîne - casier de collecte de chaîne - douche arrière chaude/froide - chaire en acier inoxydable avec étape de teck - d'arc, centre de bateau et poupe en acier inoxydable - porte arrière en acier inoxydable.
consoler:
Panneau de tableau de bord peint au champagne avec paupière tapissée - commandes de volets électriques avec écran LED - 12V prise - boussole - timonerie hydraulique assistée par servo - volant coordonné avec le roulement - repose-pieds en teck - tableau d'alarme acoustique de pompe fond.
Deutsch
Der KL 34 offenbart in seinen weichen und samtigen Formen, aber gleichzeitig entscheidend und prägnant, seine Natur des "Out-of-series". Mit einem großen vorderen Sonnenkleid, einem steifen T-Top, einem Entspannungs-Cocktail-Bereich am Heck mit Teak-Küche und Spüle, Grill, Kühlschrank, Eismaschine und Doppel-Par-Tisch, einer Seitenleiter, die vollständig im Boot verschwindet und zum ersten Mal auf einem über Bord, des hydraulischen Gehwegs, ist das ideale Boot für einen Reeder, der das Meer, die Sonne und die starken Empfindungen liebt, der nicht unbemerkt bleiben will.

LISTE PREIS, NEUE BILLABLES , MwSt., DELIVERY 2020, EXCLUDING ENGINES, YOU EVALUATE PERMUTE

innen-
Essecke:
Zugangstreppe mit Walnusstreppe - Dinette Dinette aus Stoff in Doppelbett umwandelbar - Teleskoptisch mit Teppichplatte - niedrig nussiger Schrank mit gepolsterter Platte und ausgestattet mit abkassiertem Stauraum - elektrische Panel-Panel - CD-Radio mit Aux-Eingang Vorderseite mit Stereo-Lautsprechern - Nussbaumschrank - LED-Pendass - Steckdosen - große Panoramafenster an den Wänden - Edelstahl-Bullen - Teppichboden.
STERN KABINE:
Doppelbett, das in ein Doppel - Edelstahl-Bullenlöcher - verputzter Stahlhandschuh-Box - Kopfteil und Teppich-Seitenbänder - Leselampen - LED-Strahler - Steckdose - Nussbaum-Staufächer - Teppichboden umgewandelt werden kann.
badezimmer:
Nussbaumschrank mit lackiertem Oberteil - Keramikspülbecken mit Mischer - elektrische Marinetoilette - Dusche mit Teakcarabottino, Höhen und Tiefen, Diffusor und Mixer - Vorhangsprays - Spiegel - Edelstahl-Bullen - venezianischer Holzvorhang - LED-Beleuchtung - Auslass Aktuell - Badezimmer-Zubehör.

instrumentation
anlagenbau:
1 Batterieservice 100Ah-12V - Brandbekämpfungssystem mit nicht erstickendem Feuerlöscher - löst elektrische Batterien mit Notsteuerung - automatisches Ladegerät - Kraftstoffversorgungssystem mit 1097 l Tank - Bilgenpumpen Automatik-/Handelektrik - Radio mit 2 Innen- und 2 Außenlautsprechern - Frischwassersystem mit 215 l Tank - Autoklavenpumpe - Duschpumpe mit Sammelwannen - Schwarzwassersystem mit 83 l Tank, Abluftpumpe und Saugauslass von b anchina - elektrische Klappen.

waffen
cockpit:
Volles, uv-beständiges und wasserabweisendes Außenlager - L-seitiges Cockpitsofa mit großen Garben unten, Teleskoptisch mit Doppelteakholzplatte, Glashalter und Tientibene - Zugangsklappenfach Achteranlagen mit Edelstahlwaage - Garben Seite mit versenkbarer Badezimmerleiter - Teakholz-Standup-Schrank mit Regalen, Edelstahl-Tientiben- und Fiberglasdeckel, Edelstahlspüle mit Warm-/Kaltmischer, Teakholz-Schneidebrett - Pilot- und Co-Pilot-Sitze zweifarbige Polsterung - Handschuhfach zwischen den Sitzen - mit freundlicher Genehmigung LED-Leuchten - Stereo-Lautsprecher - Navigationsleuchten /böden - Windschutzscheibe mit Edelstahlprofil - Sonnenschutzmittel aus Bug- vorwärts Tür-zu-Tür-Schlitze - Würfel noch Edelstahl - Winde noch elektrische Soße - stand und kette - Sicherheitskabel Kette - Kettenkollektion Schließfach - warm/kalte Achterdusche - Edelstahl Kanzel mit Teak-Schritt - Bogen bitte, Bootsmitte und Edelstahl Heck - Edelstahl Hecktor.
trösten:
Champagner lackiert Eiter-Panel mit Teppich-Augenlid - elektrische Klappensteuerungen mit LED-Anzeige - 12V-Buchse - Kompass - servounterstütztes hydraulisches Steuerhaus - Lenkrad mit dem Lager abgestimmt - Teak Fußstütze - Pumpe akustische Alarmzentrale Bilge.
Español
El KL 34 revela en sus formas suaves y aterciopeladas pero, al mismo tiempo, decisiva e incisiva, su naturaleza de "fuera de serie". Con un gran vestido de sol delantero, una t-top rígida, una zona de relajación-cóctel en la popa con cocina de teca y fregadero, parrilla, nevera, máquina de hielo y mesa de doble par, una escalera lateral que desaparece completamente dentro del barco y, por primera vez en un por la borda, de la pasarela hidráulica, es el barco ideal para un armador que ama el mar, el sol y las fuertes sensaciones, que no quiere pasar desapercibido.

PRECIO DE LISTA, NUEVOS BILLABLES , IVA, ENTREGA 2020, EXCLUYENDO MOTORES, USTED EVALUA PERMUTE

Interior
Comedor:
Escalera de acceso con escalones de nogal - Dinette dinette en tejido convertible en cama doble - mesa telescópica con tapa alfombrada - armario de nogal bajo con tapa tapizada y equipado con almacenamiento de caja - panel eléctrico - radio CD con entrada auxiliar frente con altavoces estéreo - gabinete de nogal - pendass LED - tomas de corriente - grandes ventanas panorámicas en las paredes - agujeros de acero inoxidable - suelo de moqueta.
CABINA STERN:
cama doble que se puede transformar en un doble - agujeros de acero inoxidable - guantera de acero enlucido - cabecera y bandas laterales alfombradas - luces de lectura - proyectores LED - toma de corriente - compartimentos de almacenamiento de nogal - suelo alfombrado.
Baño:
Armario de nogal con tapa lacada - fregadero cerámico con mezclador - wceléctrico eléctrico - ducha con teak carabottino, altibajos, difusor y mezclador - aerosoles de cortina - espejo - portholes de acero inoxidable - cortina de madera veneciana - iluminación LED - salida Corriente - accesorios de baño.

Instrumentación
ingeniería de sistemas:
1 servicios de batería 100Ah-12V - sistema de extinción de incendios con extintor no asfixiante - separa las baterías eléctricas automáticas con control manual de emergencia - cargador automático - sistema de suministro de combustible con tanque de 1097 l - bombas de sentina Eléctricas automáticas/manuales - radio con 2 altavoces internos y 2 externos - sistema de agua dulce con tanque de 215 l - bomba de autoclave - bomba de ducha con bandeja de recogida - sistema de agua negra con tanque de 83 l, bomba de escape y salida de aspiración de b anchina - aletas eléctricas.

Armamento
Cabina:
Cojinete exterior completo, resistente a los rayos UV y resistente al agua - Sofá de cabina del lado L con grandes gavillas debajo, mesa telescópica con tapa de doble teca, soporte de vidrio y tientibeno - plantas de popa con compartimento de escotilla de acceso con escala de acero inoxidable - poleas lado con escalera de baño retráctil - armario de pie de teca con estantes, tientibeno de acero inoxidable y tapa de fibra de vidrio, fregadero de acero inoxidable con mezclador caliente / frío, tabla de cortar teca - piloto y co-piloto asientos tapicería bicolor - guantera entre los asientos - luces LED de cortesía - altavoces estéreo - luces de navegación / fondos - parabrisas con perfil de acero inoxidable - protector solar de ranuras de puerta a puerta hacia adelante - cubo de acero inoxidable - cabrestante todavía salsa eléctrica - quieto y cadena - cable de seguridad Cadena - cadena de colección casillero - ducha de popa caliente / fría - púlpito de acero inoxidable con paso de teca - mordida de proa, centro de barco y popa de acero inoxidable - puerta de popa de acero inoxidable.
Consola:
Panel de tablero pintado con champán con párpado alfombrado - controles de solapa eléctrica con pantalla LED - toma de 12V - brújula - casa de ruedas hidráulica servoasistida - volante coordinado con el rodamiento - reposapiés de teca - centralita de alarma acústica de la bomba Sentina.
Россию
KL 34 раскрывает в своих мягких и бархатистых формах, но, в то же время, решительный и острый, его характер "вне серии". FEATURING большой вперед сарафан, жесткая T-топ, релаксации-коктейль области на корме с тик овой кухней и раковиной, гриль, холодильник, ледоруб и двойной пар стол, боковая лестница, которая исчезает полностью внутри лодки и, в первый раз на за бортом, гидравлической дорожки, является идеальной лодкой для судовладельца, который любит море, солнце и сильные ощущения, которые не хотят остаться незамеченными.

LIST PRICE, NEW BILLABLES , НДС, DELIVERY 2020, EXCLUDING ENGINES, YOU EVALUATE PERMUTE

Интерьер
Динетт:
Доступ лестницы с грецким орехом шаги - Dinette dinette в ткани кабриолет в двуспальную кровать - телескопический стол с ковровой верхней - низкий шкаф грецкого ореха с мягкой верхней и оснащен обналиченной до хранения - электрическая панель панели - CD радио с aux вход фронт со стереодинамиками - шкаф грецкого ореха - светодиодный кулон - розетки - большие панорамные окна на стенах - иллюминаторы из нержавеющей стали - ковровой пол.
ШТЕРН КАБИНА:
двуспальная кровать, которая может быть преобразована в двойной - нержавеющей стали иллюминаторы - оштукатуренный стальной перчаточный ящик - изголовье и ковровые боковые полосы - чтение фары - светодиодные прожекторы - розетки - отсеки для хранения грецкого ореха - ковровой пол.
Ванная комната:
шкаф грецкого ореха с лакированным верхом - керамическая раковина с миксером - электрический морской туалет - душ с тиком carabottino, взлеты и падения, диффузор и смеситель - занавес спреи - зеркало - нержавеющей стали иллюминаторы - венецианский деревянный занавес - светодиодное освещение - розетка Ток - аксессуары для ванной комнаты.

Инструментария
системная инженерия:
1 батарея 100Ah-12V - противопожарная система с неудушающим огнетушителем - отсоединяет автоматические электрические батареи с аварийным ручным управлением - автоматическое зарядное устройство - система подачи топлива с 1097 л бак - насосы bilge Автоматическая/ручная электрика - радио с 2 внутренними и 2 внешними динамиками - система пресной воды с баком 215 л - автоклавный насос - душевой насос с подносом для сбора - черная система воды с 83 л баком, выхлопным насосом и выходом всасывания от b анчина - электрические закрылки.

Вооружения
Кабины:
Полный, уф-устойчивый и водонепроницаемый внешний подшипник - L-сторона кабины диван с большими снопами ниже, телескопический стол с двойным тиковым верхом, стеклянный держатель и tientibene - доступ люк отсеккорма кормовых растений с нержавеющей стали масштаба - снопы сторона с выдвижной лестницей ванной комнаты - тик стендап кабинет с полками, нержавеющей стали tientibene и стекловолокна крышкой, нержавеющей стали раковина с горячей / холодной смеситель, тик разделочная доска - пилот и второй пилот мест двухцветный обивка - перчаточный отсек между сиденьями - любезно светодиодные фонари - стереодинамики - навигационные фонари / днища - лобовое стекло с профилем из нержавеющей стали - солнцезащитный крем из лука-передняя дверь-к-двери слоты - куб еще нержавеющая сталь - лебедка еще электрический соус - еще и цепи - кабель безопасности Цепь - цепной шкафчик коллекции - горячий /холодный кормовой душ - кафедра из нержавеющей стали с шагом тика - лук bitte, центр шлюпки и корма из нержавеющей стали - кормовые ворота из нержавеющей стали.
Консоли:
Шампанское окрашены приборной панели с ковровым веком - электрический лоскут управления со светодиодным дисплеем - 12V розетка - компас - сервопривод-помощь гидравлической рулевой рубки - рулевое колесо координируется с подшипником - тик подножия - насос акустической сигнализации коммутатор Бильге.


Marina Yacht Sales nasce dalla volontà del suo fondatore Angelo Bacci. L'obiettivo è quello di fornire un servizio, il più completo possibile, ad? altissimo livello che spazia dalla compravendita di imbarcazioni e navi, al ?charter, alla consulenza finanziaria e assicurativa, e infine al management a livello internazionale. Inoltre lo sforzo e l'esperienza decennale nel settore viene applicata a tutte le fasi della vita di un diportista, con l'obiettivo principale di far vivere l'esperienza della nautica come un'esperienza rilassante e di vero svago. Rimessaggio, assistenza tecnica, tutto quello che coinvolge a 360° la vostra esperienza nautica. Per rendere questa esperienza la più positiva possibile, lo sforzo della Marina Yacht Sales è stato quello di dare assistenza completa sia tecnica che commerciale in tutto il territorio Italiano e nei punti più rilevanti situati fuori del bacino del Mediterraneo. In questi anni lo sviluppo commerciale ha portato alla creazione di un TEAM di colleghi e professionisti che hanno tutti l'obbiettivo della massima soddisfazione del cliente. Infatti la rete commerciale copre, con la relativa assistenza buona parte del mediterraneo. Gli uffici sono dislocati con una sede principale Rosignano Solvay presso il porto Cala dè Medici, Piombino presso il Marina di Salivoli, la sede secondaria a Salerno, Gaeta presso il Porto Flavio Gioia, Punta Ala, Cagliari e Malta. In questi uffici oltre a dare supporto qualificato commerciale è possibile avere assistenza tecnica professionale, rimessaggio invernale sia al coperto che su piazzale, posti barca, guardianaggio e assistenza a terra. Per questo motivo oggi si può dire che Marina Yacht Sales è partner ideale per lo sviluppo dei business per i dealer e affidabile amico del diportista.

Please contact Angelo Bacci at +39 339 5672579
Visit Website
*This price is based on today's currency conversion rate.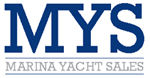 Email Us
Please enter a valid name!
Please enter a valid email address!
RE: Sessa Marine KEY LARGO 34 FB, Toscana, Italy