2020 Sessa Marine Key Largo 27 FB
Description
View Full Specifications
Year:

2020

Length:

26'

Engine/Fuel Type:

/
Located In:

Toscana, Italy

Hull Material:

Fiberglass

YW#:

78043-3663433
Current Price:

EUR 58,700 (US$ 66,278)
Vocazione giovane e allo stesso tempo elegante e raffinata per il nuovo KL 27, l'open di 8 mt che stravolge le regole del gioco. Il muso quadrato e le fincate sinuose evocano l'eleganza dello squalo. Comodità e relax nel pozzetto grazie all'ampio divano ad "L" riconfigurabile in un prendisole di poppa e al piano di lavoro con lavello, piastre di cottura e frigo, sotto i sedili pilota. Sottocoperta un unico imperativo: massima fruibilità. Il bagno separato con wc e lavabo rendono unica questa imbarcazione nella sua categoria.

PREZZO DI LISTINO, NUOVO FATTURABILE + IVA, CONSEGNA 2020, MOTORI ESCLUSI, SI VALUTANO PERMUTE

INTERNI
CABINA:
Divano trasformabile in letto matrimoniale con gavone e alloggiamento tavolo - mobile con predisposizione alloggiamento frigorifero - cabina bagno con lavello e oblò - interni in rovere - parquet in rovere - rete portaoggetti.

STRUMENTAZIONE
IMPIANTISTICA:
Luci di via - pompa sentina automatica - serbatoio carburante 500 l in polietilene con sonda carburante - serbatoio acqua dolce Lt. 45 in polietilene - timoneria idraulica Sea Star per singola e doppia motorizzazione con cilindro - tromba elettrica - flaps elettrici - interruttore staccabatterie - filtro motore con valvola di intercettazione carburante.

ARMAMENTO
POZZETTO:
Cuscineria esterna completa, anti UV e resistente all'acqua - musone di prua - puntale ancora - predisposizione per montaggio asta sci nautico - scaletta bagno - tavolo asportabile - tasca laterale portaoggetti con doccetta - gavone laterale portacanne - tendalino parasole a scomparsa - gavone ancora in teak - divanetto con accesso al vano impianti di poppa e gavone laterale.
CONSOLLE:
Pannello cruscotto tridimensionale color champagne - bussola - volante in pelle/acciaio - sedili guida sportivi separati per pilota e copilota - presa corrente 12 V.
Note sul prezzo: IVA Esclusa - PREZZO DI LISTINO, NUOVO FATTURABILE + IVA, CONSEGNA 2020, MOTORI ESCLUSI, SI VALUTANO PERMUTE
English
Young vocation and at the same time elegant and refined for the new KL 27, the open 8 meters that distorts the rules of the game. The square snout and sinuous fincates evoke the elegance of the shark. Convenience and relaxation in the cockpit thanks to the large "L" sofa reconfigurable in a sundeck and worktop with sink, cooking plates and fridge, under the pilot seats. Underneath one imperative: maximum usability. The separate bathroom with toilet and sink make this boat unique in its category.

LIST PRICE, NEW BILLABLES , VAT, DELIVERY 2020, EXCLUDING ENGINES, YOU EVALUATE PERMUTE

Interior
Cabin:
Sofa can be transformed into a double bed with a locker and table housing - furniture with pre-arrangement refrigerator housing - bathroom cabin with sink and portholes - oak interior - oak parquet - storage net.

Instrumentation
systems engineering:
Street lights - automatic bilge pump - 500 l fuel tank in polyethylene with fuel probe - freshwater tank Lt. 45 polyethylene - Sea Star hydraulic wheelhouse for single and double engine with cylinder - electric trumpet - electric flaps - Battery switch - engine filter with fuel interception valve.

Armament
Cockpit:
Full external cushion, anti-UV and water resistant - bow muson - tip anchor - predisposition for mounting water ski rod - bathroom ladder - removable table - side pocket glove with shower - side canabin locker - awning Retractable sunshade - still teak locker - sofa with access to the aft and side locker compartment.
Console:
Champagne-colored three-dimensional dashboard panel - compass - leather/steel steering wheel - separate sports driver seats for pilot and copilot - 12 V current socket.
Française
Jeune vocation et en même temps élégant et raffiné pour le nouveau KL 27, l'ouverture de 8 mètres qui déforme les règles du jeu. Le museau carré et les finitions sinueuses évoquent l'élégance du requin. Commodité et détente dans le cockpit grâce au grand canapé "L" reconfigurable dans une terrasse et un plan de travail avec évier, plaques de cuisson et réfrigérateur, sous les sièges du pilote. Sous un impératif : la convivialité maximale. La salle de bains séparée avec toilettes et évier rendre ce bateau unique dans sa catégorie.

LIST PRICE, NEW BILLABLES , TVA, DELIVERY 2020, EXCLUDING ENGINES, YOU EVALUATE PERMUTE

l'intérieur
cabane:
Le canapé peut être transformé en lit double avec un casier et un boîtier de table - meubles avec réfrigérateur pré-arrangement - cabine de salle de bains avec évier et hublots - intérieur en chêne - parquet en chêne - filet de rangement.

Instrumentation
ingénierie des systèmes :
Lampadaires - pompe de cale automatique - réservoir de carburant de 500 l en polyéthylène avec sonde de carburant - réservoir d'eau douce Lt 45 polyéthylène - cuillerée hydraulique Sea Star pour moteur simple et double avec cylindre - trompette électrique - volets électriques - Commutateur de batterie - filtre moteur avec soupape d'interception de carburant.

armement
poste de pilotage:
Coussin externe complet, anti-UV et résistant à l'eau - moumous d'arc - ancre de pointe - prédisposition pour monter la tige de ski d'eau - échelle de salle de bains - table amovible - gant de poche latéral avec douche - casier de canabin latéral - auvent Sunshade rétractable - encore casier en teck - canapé avec accès à l'arrière et compartiment de casier latéral.
consoler:
Panneau de tableau de bord tridimensionnel couleur Champagne - boussole - volant en cuir/acier - sièges de conducteur de sport séparés pour pilote et copilote - prise actuelle de 12 V.
Deutsch
Junge Berufung und gleichzeitig elegant und raffiniert für den neuen KL 27, die offenen 8 Meter, die die Spielregeln verzerrt. Die quadratische Schnis und die gewundenen Finkate erinnern an die Eleganz des Hais. Komfort und Entspannung im Cockpit dank des großen "L" Sofas, rekonfigurierbar in einem Sonnendeck und Arbeitsplatte mit Waschbecken, Kochplatten und Kühlschrank, unter den Pilotensitzen. Unter einem Imperativ: maximale Benutzerfreundlichkeit. Das separate Badezimmer mit WC und Waschbecken machen dieses Boot einzigartig in seiner Kategorie.

LISTE PREIS, NEUE BILLABLES , MwSt., DELIVERY 2020, EXCLUDING ENGINES, YOU EVALUATE PERMUTE

innen-
häuschen:
Sofa kann in ein Doppelbett mit einem Spind und Tischgehäuse umgewandelt werden - Möbel mit Vor-Anordnung Kühlschrankgehäuse - Badezimmerkabine mit Waschbecken und Bullaugen - Eiche Interieur - Eiche Parkett - Speichernetz.

instrumentation
anlagenbau:
Straßenlaternen - automatische Bilgenpumpe - 500 l Kraftstofftank aus Polyethylen mit Kraftstoffsonde - Süßwassertank Lt. 45 Polyethylen - Sea Star Hydraulikradhaus für Ein- und Doppelmotor mit Zylinder - elektrische Trompete - elektrische Klappen - Batterieschalter - Motorfilter mit Kraftstoffabfangventil.

waffen
cockpit:
Volles Außenkissen, Anti-UV und wasserdicht - Bugmuson - Spitzenanker - Veranlagung für die Montage von Wasserskistange - Badezimmerleiter - abnehmbarer Tisch - Seitentasche Handschuh mit Dusche - SeitlichCanabin Spind - Markise Einziehbarer Sonnenschirm - noch Teak-Spind - Sofa mit Zugang zum achter und seitlichen Schließfach.
trösten:
Champagnerfarbenes dreidimensionales Armaturenbrett - Kompass - Leder/Stahllenkrad - separate Sportfahrersitze für Pilot und Copilot - 12 V Stromsteckdose.
Español
Joven vocación y al mismo tiempo elegante y refinado para el nuevo KL 27, los 8 metros abiertos que distorsionan las reglas del juego. El hocico cuadrado y los fincados sinuosos evocan la elegancia del tiburón. Comodidad y relajación en la cabina gracias al gran sofá "L" reconfigurable en una terraza y encimera con fregadero, placas de cocción y nevera, debajo de los asientos del piloto. Debajo de un imperativo: la máxima usabilidad. El baño independiente con aseo y lavabo hacen de este barco único en su categoría.

PRECIO DE LISTA, NUEVOS BILLABLES , IVA, ENTREGA 2020, EXCLUYENDO MOTORES, USTED EVALUA PERMUTE

Interior
Cabina:
Sofá se puede transformar en una cama doble con taquilla y mesa - muebles con carcasa de refrigerador pre-disposición - cabina de baño con fregadero y ojales - interior de roble - parquet de roble - red de almacenamiento.

Instrumentación
ingeniería de sistemas:
Luces de calle - bomba de sentina automática - tanque de combustible de 500 l en polietileno con sonda de combustible - tanque de agua dulce Lt. 45 polietileno - casa de ruedas hidráulica Sea Star para motor simple y doble con cilindro - trompeta eléctrica - flaps eléctricos - Interruptor de batería - filtro del motor con válvula de intercepción de combustible.

Armamento
Cabina:
Cojín externo completo, anti-UV y resistente al agua - musón de arco - ancla de la punta - predisposición para el montaje de la barra de esquí de agua - escalera de baño - mesa extraíble - guante de bolsillo lateral con ducha - casillero de canabin lateral - toldo Sombrilla retráctil - todavía armario de teca - sofá con acceso a la popa y compartimento lateral de la taquilla.
Consola:
Panel de tablero tridimensional de color champán - brújula - volante de cuero/acero - asientos de conductor deportivo separados para piloto y copiloto - toma de corriente de 12 V.
Россию
Молодое призвание и в то же время элегантное и изысканное для нового KL 27, открытое 8 метров, которое искажает правила игры. Квадратная морда и извивательные fincates вызывают элегантность акулы. Удобство и релаксация в кабине благодаря большому дивану "L" перенастраивается в палубе и столешницы с раковиной, кухонные тарелки и холодильник, под пилотных сидений. Под одним императивом: максимальная удобство использования. Отдельная ванная комната с туалетом и раковиной делает эту лодку уникальной в своей категории.

LIST PRICE, NEW BILLABLES , НДС, DELIVERY 2020, EXCLUDING ENGINES, YOU EVALUATE PERMUTE

Интерьер
Кабина:
Диван можно превратить в двуспальную кровать с шкафчиком и столовым корпусом - мебель с предварительной обустройством холодильника - ванная кабина с раковиной и иллюминаторы - дубовый интерьер - дубовый паркет - сетка для хранения.

Инструментария
системная инженерия:
Уличные фонари - автоматический топливный бак bilge - 500 л топливного бака в полиэтилене с топливным зондом - пресноводный резервуар Lt. 45 полиэтилена - Гидравлическая рулевая рубка Sea Star для одного и двойного двигателя с цилиндром - электрическая труба - электрические закрылки - Выключатель аккумулятора - фильтр двигателя с клапаном перехвата топлива.

Вооружения
Кабины:
Полная внешняя подушка, анти-УФ и водонепроницаемый - лук muson - кончик якорь - предрасположенность к монтажу воды лыжный стержень - ванная лестница - съемный стол - боковый карман перчатки с душем - боковой шкафчик canabin - тент Выдвижной sunshade - еще тик шкафчик - диван с доступом к корме и боковой шкафчик отсека.
Консоли:
Шампанское цвета трехмерной панели приборной панели - компас - кожа / стальрущая рулевое колесо - отдельные спортивные сиденья водителя для пилота и второго пилота - 12 V ток розетки.


Marina Yacht Sales nasce dalla volontà del suo fondatore Angelo Bacci. L'obiettivo è quello di fornire un servizio, il più completo possibile, ad? altissimo livello che spazia dalla compravendita di imbarcazioni e navi, al ?charter, alla consulenza finanziaria e assicurativa, e infine al management a livello internazionale. Inoltre lo sforzo e l'esperienza decennale nel settore viene applicata a tutte le fasi della vita di un diportista, con l'obiettivo principale di far vivere l'esperienza della nautica come un'esperienza rilassante e di vero svago. Rimessaggio, assistenza tecnica, tutto quello che coinvolge a 360° la vostra esperienza nautica. Per rendere questa esperienza la più positiva possibile, lo sforzo della Marina Yacht Sales è stato quello di dare assistenza completa sia tecnica che commerciale in tutto il territorio Italiano e nei punti più rilevanti situati fuori del bacino del Mediterraneo. In questi anni lo sviluppo commerciale ha portato alla creazione di un TEAM di colleghi e professionisti che hanno tutti l'obbiettivo della massima soddisfazione del cliente. Infatti la rete commerciale copre, con la relativa assistenza buona parte del mediterraneo. Gli uffici sono dislocati con una sede principale Rosignano Solvay presso il porto Cala dè Medici, Piombino presso il Marina di Salivoli, la sede secondaria a Salerno, Gaeta presso il Porto Flavio Gioia, Punta Ala, Cagliari e Malta. In questi uffici oltre a dare supporto qualificato commerciale è possibile avere assistenza tecnica professionale, rimessaggio invernale sia al coperto che su piazzale, posti barca, guardianaggio e assistenza a terra. Per questo motivo oggi si può dire che Marina Yacht Sales è partner ideale per lo sviluppo dei business per i dealer e affidabile amico del diportista.

Please contact Angelo Bacci at +39 339 5672579
Visit Website
*This price is based on today's currency conversion rate.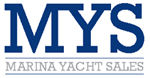 Email Us
Please enter a valid name!
Please enter a valid email address!
RE: Sessa Marine Key Largo 27 FB, Toscana, Italy