2020 Sessa Marine KEY LARGO 24 IB
Description
View Full Specifications
Year:

2020

Length:

26'

Engine/Fuel Type:

Single / Gas/Petrol
Located In:

Toscana, Italy

Hull Material:

Fiberglass

YW#:

78043-3663439
Current Price:

EUR 66,300 (US$ 73,626)
Con il suo nuovo KL 24 IB, SESSA MARINE vince una nuova sfida offrendo al mercato un piccolo open dai grandi spazi adatto a chi vuole godere di ogni comfort senza rinunciare al design. Il Key largo 24 IB rappresenta un vero e proprio concentrato di comfort in soli 7 metri offrendo un'organizzazione del ponte estremamente completa ed innovativa per un'imbarcazione di queste dimensioni, tra cui: un prendisole di poppa estendibile, un grande tendalino a scomparsa facilmente armabile e rimuovibile in un pratico alloggiamento e un ampio prendisole di prua completo di chaise longue, porta oggetti e gavone per stivare i parabordi. Sottocoperta dispone di una cabina con mobile bar predisposta per frigo da 42 lt, di un letto doppio e della predisposizione per il wc elettrico a scomparsa.

PREZZO DI LISTINO, NUOVO FATTURABILE + IVA, CONSEGNA 2020, SI VALUTANO PERMUTE

INTERNI
CABINA:
Interni in rovere e parquet in rovere - oblò - letto matrimoniale con gavoni e alloggiamento tavolo - vano per installazione Wc marino - mobile con alloggiamento frigo - rete portaoggetti.

STRUMENTAZIONE
IMPIANTISTICA:
Luci di via - pompa sentina automatica - serbatoio carburante 270 l in polietilene con sonda carburante - serbatoio acqua dolce 45 l in polietilene - tromba elettrica - flaps elettrici - interruttore staccabatterie - filtro motore con valvola di intercettazione carburante - Pompa sentina automatica - impianto antincendio - batteria.
BATTERIA MOTORE
100Ah-12V and batteria servizi 100Ah-12V

ARMAMENTO
POZZETTO:
Musone di prua - puntale ancora - gavone ancora in teak - cuscineria esterna completa, anti UV e resistente all'acqua - panca con accesso alla sala macchine - seduta poppa trasformabile in prendisole - scaletta bagno - tasca laterale portaoggetti con doccetta - gavone laterale portacanne - tendalino parasole a scomparsa - anello traino sci
CONSOLLE:
Pannello cruscotto tridimensionale color champagne - bussola - volante in acciaio/pelle - sedili guida sportivi separati per pilota e copilota.
Note sul prezzo: IVA Esclusa - PREZZO DI LISTINO, NUOVO FATTURABILE + IVA, CONSEGNA 2020, SI VALUTANO PERMUTE
English
With its new KL 24 IB, SESSA MARINE wins a new challenge by offering the market a small open from the large spaces suitable for those who want to enjoy every comfort without giving up the design. The 24 IB wide Key represents a real concentration of comfort in just 7 meters offering an extremely complete and innovative bridge organization for a boat of this size, including: an extensible stern sundress, a large awning Disappear easily armable and removeable in a practical housing and a large bow sundress complete with chaise longue, door objects and locker to stow the racks. Below deck has a cabin with mobile bar prepared for 42 lt fridge, a double bed and a predisposition for retractable electric toilet.

LIST PRICE, NEW BILLABLES , VAT, DELIVERY 2020, ARE VALUED AT PERMUTE

Interior
Cabin:
Oak and oak interiors - portholes - double bed with sheaves and table housing - marine toilet installation compartment - mobile with refrigerated housing - storage net.

Instrumentation
systems engineering:
Street lights - automatic bilge pump - fuel tank 270 l in polyethylene with fuel probe - soft water tank 45 l in polyethylene - electric trumpet - electric flaps - switch disconnects batteries - engine filter with interception valve Fuel - Automatic bilge pump - fire-fighting system - battery.
BATTERY ENGINE
100Ah-12V and battery services 100Ah-12V

Armament
Cockpit:
Bow muson - tip still - still teak - full external cushion, anti-UV and water resistant - bench with access to the engine room - astern seat convertible into sundeck - bathroom ladder - side pocket glove with shower - gavone side rod holder - retractable parasol awning - ski towing ring
Console:
Champagne-colored three-dimensional dashboard panel - compass - steel/leather steering wheel - separate sports driver seats for pilot and co-pilot.
Française
Avec son nouveau KL 24 IB, SESSA MARINE remporte un nouveau défi en offrant au marché un petit ouvert des grands espaces adaptés à ceux qui veulent profiter de tout confort sans renoncer à la conception. La clé 24 large de l'IB représente une réelle concentration de confort en seulement 7 mètres offrant une organisation de pont extrêmement complète et innovante pour un bateau de cette taille, y compris: une robe de soleil arrière extensible, un grand auvent Disparaître facilement armable et removeable dans un boîtier pratique et une grande robe de soleil arc avec chaise longue, objets de porte et casier pour ranger les racks. Sous le pont dispose d'une cabine avec bar mobile préparé pour 42 lt réfrigérateur, un lit double et une prédisposition pour les toilettes électriques rétractables.

LIST PRICE, NEW BILLABLES , TVA, DELIVERY 2020, ARE VALUED AT PERMUTE

l'intérieur
cabane:
Intérieurs en chêne et chêne - hublots - lit double avec gerbes et maisons de table - compartiment d'installation de toilettes marines - mobile avec logement frigorifique - filet de rangement.

Instrumentation
ingénierie des systèmes :
Lampadaires - pompe de cale automatique - réservoir de carburant 270 l en polyéthylène avec sonde de carburant - réservoir d'eau douce 45 l en polyéthylène - trompette électrique - volets électriques - commutateur déconnecte les batteries - filtre moteur avec soupape d'interception Carburant - Pompe de cale automatique - système de lutte contre l'incendie - batterie.
MOTEUR DE BATTERIE
100Ah-12V et services de batterie 100Ah-12V

armement
poste de pilotage:
Bow muson - pointe encore - encore teck - coussin extérieur complet, anti-UV et résistant à l'eau - banc avec accès à la salle des machines - cabriolet siège arrière en terrasse - échelle de salle de bains - gant de poche côté avec douche - gavone porte-tige latérale - auvent parasol rétractable - anneau de remorquage de ski
consoler:
Panneau de tableau de bord tridimensionnel couleur Champagne - boussole - volant en acier/cuir - sièges de conducteur de sport séparés pour pilote et copilote.
Deutsch
Mit dem neuen KL 24 IB gewinnt SESSA MARINE eine neue Herausforderung, indem es dem Markt einen kleinen Freiraum aus den großen Räumen bietet, die für diejenigen geeignet sind, die jeden Komfort genießen möchten, ohne auf das Design zu verzichten. Der 24 IB Wide Key stellt eine echte Konzentration von Komfort in nur 7 Metern dar und bietet eine äußerst vollständige und innovative Brückenorganisation für ein Boot dieser Größe, einschließlich: ein erweiterbares Heck-Sonnenkleid, eine große Markise Verschwinden Sie leicht bewaffnbar und abnehmbar in einem praktischen Gehäuse und einem großen Bug-Sonnenkleid komplett mit Chaiselongue, Türobjekten und Schließfach, um die Regale zu verstauen. Unter Deck hat eine Kabine mit mobiler Bar für 42 lt Kühlschrank vorbereitet, ein Doppelbett und eine Veranlagung für versenkbare elektrische Toilette.

LISTE PREIS, NEUE BILLABLES , MwSt., DELIVERY 2020, SIND WERT BEI PERMUTE

innen-
häuschen:
Eichen- und Eicheninnenräume - Bullaugen - Doppelbett mit Garben und Tischgehäuse - Marine-Toiletten-Installationsfach - mobil mit Kühlgehäuse - Speichernetz.

instrumentation
anlagenbau:
Straßenlaternen - automatische Bilgenpumpe - Kraftstofftank 270 l in Polyethylen mit Kraftstoffsonde - Weicher Wassertank 45 l in Polyethylen - elektrische Trompete - elektrische Klappen - Schalter trennt Batterien - Motorfilter mit Abfangventil Kraftstoff - Automatische Bilgenpumpe - Brandbekämpfungssystem - Batterie.
BATTERIEMOTOR
100Ah-12V und Batteriedienste 100Ah-12V

waffen
cockpit:
Bogenmuson - Spitze noch - noch Teakholz - voll externes Kissen, Anti-UV und wasserdicht - Bank mit Zugang zum Maschinenraum - Asternsitz in Sonnendeck umwandelbar - Badezimmerleiter - Seitentaschenhandschuh mit Dusche - gavone Seitenstangenhalter - versenkbare Sonnenschirm Markise - Ski-Abschleppring
trösten:
Champagnerfarbenes dreidimensionales Armaturenbrett - Kompass - Stahl/LederLenkrad - separate Sportfahrersitze für Pilot und Co-Pilot.
Español
Con su nuevo KL 24 IB, SESSA MARINE gana un nuevo reto ofreciendo al mercado una pequeña apertura desde los grandes espacios aptos para aquellos que quieren disfrutar de todas las comodidades sin renunciar al diseño. La llave de 24 IB de ancho representa una verdadera concentración de confort en sólo 7 metros que ofrece una organización de puente extremadamente completa e innovadora para un barco de este tamaño, incluyendo: un vestido de sol de popa extensible, un toldo grande Desaparece fácilmente armable y retobible en una práctica carcasa y un gran vestido de sol de proa completo con chaise longue, objetos de puerta y casillero para esmolcar los estantes. Debajo de la cubierta tiene una cabina con barra móvil preparada para nevera de 42 lt, una cama doble y una predisposición para el inodoro eléctrico retráctil.

PRECIO DE LISTA, NUEVOS BILLABLES , IVA, ENTREGA 2020, SE VALORAN EN PERMUTE

Interior
Cabina:
Interiores de roble y roble - ojales - cama doble con poleas y carcasa de mesa - compartimento de instalación de inodoro marino - móvil con carcasa refrigerada - red de almacenamiento.

Instrumentación
ingeniería de sistemas:
Luces de calle - bomba de sentina automática - depósito de combustible 270 l en polietileno con sonda de combustible - tanque de agua blanda 45 l en polietileno - trompeta eléctrica - aletas eléctricas - interruptor desconecta las baterías - filtro del motor con válvula de intercepción Combustible - Bomba de sentina automática - sistema de extinción de incendios - batería.
MOTOR DE BATERÍA
100Ah-12V y servicios de batería 100Ah-12V

Armamento
Cabina:
Moño de arco - punta todavía - todavía teca - cojín externo completo, anti-UV y resistente al agua - banco con acceso a la sala de máquinas - asiento de popa convertible en terraza - escalera de baño - guante de bolsillo lateral con ducha - gavone soporte de varilla lateral - toldo de sombrilla retráctil - anillo de remolque de esquí
Consola:
Panel de tablero tridimensional de color champán - brújula - volante de acero / cuero - asientos de conductor deportivo separados para piloto y copiloto.
Россию
С его новым KL 24 IB, SESSA MARINE выигрывает новый вызов, предлагая рынку небольшой открытый от больших пространств, подходящих для тех, кто хочет наслаждаться каждым комфортом, не отказываясь от дизайна. 24 IB широкий ключ представляет собой реальную концентрацию комфорта всего в 7 метров, предлагая чрезвычайно полную и инновационную организацию моста для лодки такого размера, в том числе: расширяемый кормовой сарафан, большой тент Исчезают легко вооружимый и removeable в практических жилья и большой сарафан лук в комплекте с шезлонг, дверные предметы и шкафчик, чтобы утонуть стеллажи. Под палубой есть каюта с передвижным баром, подготовленным для 42-lt холодильника, двуспальная кровать и предрасположенность к выдвижной электрический туалет.

LIST PRICE, NEW BILLABLES , НДС, DELIVERY 2020, ARE ценится AT PERMUTE

Интерьер
Кабина:
Дуб и дуб интерьеры - иллюминаторы - двуспальная кровать с снопами и столовое жилье - морской туалет установки отсека - мобильный с холодильным жильем - сетка хранения.

Инструментария
системная инженерия:
Уличные фонари - автоматический насос bilge - топливный бак 270 л в полиэтилене с топливным зондом - мягкий резервуар для воды 45 л в полиэтилене - электрическая труба - электрические закрылки - переключатель отключает батареи - фильтр двигателя с перехватным клапаном Топливо - Автоматический насос bilge - противопожарная система - батарея.
АККУМУЛЯТОРНЫЙ ДВИГАТЕЛЬ
100Ah-12V и аккумуляторные услуги 100Ah-12V

Вооружения
Кабины:
Bow muson - наконечник еще - еще тик - полная внешняя подушка, анти-УФ и водонепроницаемый - скамейка с доступом к машинное отделение - кормовое сиденье кабриолет в sundeck - ванная лестница - боковый карман перчатки с душем - гавон держатель бокового стержня - выдвижной зонтик навес - лыжное буксировочное кольцо
Консоли:
Шампанское цвета трехмерной панели приборной панели - компас - сталь / кожа рулевого колеса - отдельные спортивные сиденья водителя для пилота и второго пилота.


Marina Yacht Sales nasce dalla volontà del suo fondatore Angelo Bacci. L'obiettivo è quello di fornire un servizio, il più completo possibile, ad? altissimo livello che spazia dalla compravendita di imbarcazioni e navi, al ?charter, alla consulenza finanziaria e assicurativa, e infine al management a livello internazionale. Inoltre lo sforzo e l'esperienza decennale nel settore viene applicata a tutte le fasi della vita di un diportista, con l'obiettivo principale di far vivere l'esperienza della nautica come un'esperienza rilassante e di vero svago. Rimessaggio, assistenza tecnica, tutto quello che coinvolge a 360° la vostra esperienza nautica. Per rendere questa esperienza la più positiva possibile, lo sforzo della Marina Yacht Sales è stato quello di dare assistenza completa sia tecnica che commerciale in tutto il territorio Italiano e nei punti più rilevanti situati fuori del bacino del Mediterraneo. In questi anni lo sviluppo commerciale ha portato alla creazione di un TEAM di colleghi e professionisti che hanno tutti l'obbiettivo della massima soddisfazione del cliente. Infatti la rete commerciale copre, con la relativa assistenza buona parte del mediterraneo. Gli uffici sono dislocati con una sede principale Rosignano Solvay presso il porto Cala dè Medici, Piombino presso il Marina di Salivoli, la sede secondaria a Salerno, Gaeta presso il Porto Flavio Gioia, Punta Ala, Cagliari e Malta. In questi uffici oltre a dare supporto qualificato commerciale è possibile avere assistenza tecnica professionale, rimessaggio invernale sia al coperto che su piazzale, posti barca, guardianaggio e assistenza a terra. Per questo motivo oggi si può dire che Marina Yacht Sales è partner ideale per lo sviluppo dei business per i dealer e affidabile amico del diportista.

Please contact Angelo Bacci at +39 339 5672579
Visit Website
*This price is based on today's currency conversion rate.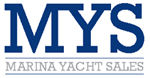 Email Us
Please enter a valid name!
Please enter a valid email address!
RE: Sessa Marine KEY LARGO 24 IB, Toscana, Italy