2020 Sessa Marine Key Largo 24 FB
Description
View Full Specifications
Year:

2020

Length:

23'

Engine/Fuel Type:

/
Located In:

Toscana, Italy

Hull Material:

Fiberglass

YW#:

78043-3663436
Current Price:

EUR 42,300 (US$ 46,974)
Key Largo 24, una barca piccola, ma completa, veloce e che vuole farsi notare; anche attraverso nuove colorazioni della carena, non scontatamente "nautiche", come le nuove livree "corallo", 'ocra , bronzo. Key largo 24 si propone come barca carrellabile dai grandi spazi e dalle grandi soluzioni riprendendo ed ampliando le doti di abitabilità e comfort dei precedenti Key Largo; basti citare l'ampio prendisole prodiero, completo di chaise longue in consolle e la cuscineria a cellule chiuse.

PREZZO DI LISTINO, NUOVO FATTURABILE + IVA, CONSEGNA 2020, MOTORI ESCLUSI, SI VALUTANO PERMUTE

INTERNI
CABINA:
Interni in rovere e parquet in rovere - oblò - letto matrimoniale con gavoni e alloggiamento tavolo - vano per installazione Wc marino - mobile con alloggiamento frigo - rete portaoggetti.

STRUMENTAZIONE
IMPIANTISTICA:
Luci di via a led - timoneria idraulica (cilindro incluso) - tromba elettrica - serbatoio carburante 270 l in polietilene con sonda e indicatore livello carburante - serbatoio acqua dolce 45 l in polietilene - pompa sentina automatica - filtro motore con valvola di intercettazione carburante - interruttore stacca batteria.

ARMAMENTO
POZZETTO:
Musone di prua - puntale ancora - gavone ancora in teak - cuscineria esterna completa, anti UV e resistente all'acqua - panca con accesso al vano impianti di poppa - scaletta bagno - tasca laterale portaoggetti con doccetta - gavone laterale portacanne - tendalino parasole a scomparsa.
CONSOLLE:
Pannello cruscotto tridimensionale color champagne - bussola - volante in acciaio/pelle - sedili guida sportivi separati per pilota e copilota.
Note sul prezzo: IVA Esclusa - PREZZO DI LISTINO, NUOVO FATTURABILE + IVA, CONSEGNA 2020, MOTORI ESCLUSI, SI VALUTANO PERMUTE
English
Key Largo 24, a small but complete boat, fast and that wants to get noticed; also through new hull colors, not discounted "nautical", such as the new liveries "coral", 'ochre , bronze. Key 24 wide proposes itself as a boat that can be run by the large spaces and the great solutions, resuming and expanding the habitability and comfort of the previous Key Largo; just mention the large prodiero sundress, complete with chaise longue in the consul and the closed cell cushion.

LIST PRICE, NEW BILLABLES , VAT, DELIVERY 2020, EXCLUDING ENGINES, YOU EVALUATE PERMUTE

Interior
Cabin:
Oak and oak interiors - portholes - double bed with sheaves and table housing - marine toilet installation compartment - mobile with refrigerated housing - storage net.

Instrumentation
systems engineering:
LED street lights - hydraulic wheelhouse (cylinder included) - electric trumpet - fuel tank 270 l in polyethylene with probe and fuel level indicator - fresh water tank 45 l in polyethylene - automatic bilge pump - motor filter with valve of Fuel interception - switch detaches battery.

Armament
Cockpit:
Bow muson - tip still - still teak - full external cushion, anti-UV and water resistant - bench with access to the aft plant compartment - bathroom ladder - side pocket glove with shower - side-portable locker - parasol curtain to Disappearance.
Console:
Champagne-colored three-dimensional dashboard panel - compass - steel/leather steering wheel - separate sports driver seats for pilot and co-pilot.
Française
Key Largo 24, un petit mais complet bateau, rapide et qui veut se faire remarquer; aussi à travers de nouvelles couleurs de coque, non actualisés "nautique", tels que les nouveaux spectacles "coral", 'ocre , bronze. Key 24 large se propose comme un bateau qui peut être géré par les grands espaces et les grandes solutions, la reprise et l'expansion de l'habitabilité et le confort de l'ancien Key Largo; il suffit de mentionner la grande robe de soleil prodiero, avec chaise longue dans le consul et le coussin de cellule fermée.

LIST PRICE, NEW BILLABLES , TVA, DELIVERY 2020, EXCLUDING ENGINES, YOU EVALUATE PERMUTE

l'intérieur
cabane:
Intérieurs en chêne et chêne - hublots - lit double avec gerbes et maisons de table - compartiment d'installation de toilettes marines - mobile avec logement frigorifique - filet de rangement.

Instrumentation
ingénierie des systèmes :
Lampadaires LED - timonerie hydraulique (cylindre inclus) - trompette électrique - réservoir de carburant 270 l en polyéthylène avec sonde et indicateur de niveau de carburant - réservoir d'eau douce 45 l en polyéthylène - pompe automatique de cale - filtre à moteur avec valve de Interception de carburant - commutateur détache la batterie.

armement
poste de pilotage:
Bow muson - pointe encore - encore teck - coussin extérieur complet, anti-UV et résistant à l'eau - banc avec accès à la compartiment de l'usine arrière - échelle de salle de bains - gant de poche côté avec douche - casier latéral-portable - rideau de parasol à disparition.
consoler:
Panneau de tableau de bord tridimensionnel couleur Champagne - boussole - volant en acier/cuir - sièges de conducteur de sport séparés pour pilote et copilote.
Deutsch
Key Largo 24, ein kleines, aber komplettes Boot, schnell und das will bemerkt werden; auch durch neue Rumpffarben, nicht diskontiert "nautisch", wie die neuen Lackierungen "Koralle", "ocker, bronze. Key 24 wide schlägt sich als ein Boot vor, das von den großen Räumen und den großartigen Lösungen geführt werden kann, indem es die Bewohnbarkeit und den Komfort des vorherigen Key Largo wieder aufnimmt und erweitert; erwähnen Sie nur das große Prodiero-Sonnenkleid, komplett mit Chaiselongue im Konsul und dem geschlossenen Zellkissen.

LISTE PREIS, NEUE BILLABLES , MwSt., DELIVERY 2020, EXCLUDING ENGINES, YOU EVALUATE PERMUTE

innen-
häuschen:
Eichen- und Eicheninnenräume - Bullaugen - Doppelbett mit Garben und Tischgehäuse - Marine-Toiletten-Installationsfach - mobil mit Kühlgehäuse - Speichernetz.

instrumentation
anlagenbau:
LED Straßenlaternen - hydraulisches Steuerhaus (Zylinder enthalten) - elektrische Trompete - Kraftstofftank 270 l in Polyethylen mit Sonde und Kraftstoffstandanzeige - Frischwassertank 45 l in Polyethylen - automatische Bilgenpumpe - Motorfilter mit Ventil von Kraftstoffabfangen - Schalter löst Batterie.

waffen
cockpit:
Bogenmuson - Spitze noch - noch Teakholz - voll externes Kissen, Anti-UV und wasserdicht - Bank mit Zugang zum Achter-Pflanzenabteil - Badezimmerleiter - Seitentaschenhandschuh mit Dusche - seitlich tragbare Sanula - Sonnenschirm Vorhang zu verschwinden.
trösten:
Champagnerfarbenes dreidimensionales Armaturenbrett - Kompass - Stahl/LederLenkrad - separate Sportfahrersitze für Pilot und Co-Pilot.
Español
Key Largo 24, un barco pequeño pero completo, rápido y que quiere hacerse notar; también a través de nuevos colores del casco, no con descuento "náutico", como las nuevas libreas "coral", 'ochre, bronce. Key 24 wide se propone como un barco que puede ser dirigido por los grandes espacios y las grandes soluciones, retomando y ampliando la habitabilidad y comodidad del anterior Key Largo; sólo tiene que mencionar el gran vestido de sol prodiero, completo con chaise longue en el cónsul y el cojín de celda cerrado.

PRECIO DE LISTA, NUEVOS BILLABLES , IVA, ENTREGA 2020, EXCLUYENDO MOTORES, USTED EVALUA PERMUTE

Interior
Cabina:
Interiores de roble y roble - ojales - cama doble con poleas y carcasa de mesa - compartimento de instalación de inodoro marino - móvil con carcasa refrigerada - red de almacenamiento.

Instrumentación
ingeniería de sistemas:
Faros LED - timón hidráulico (cilindro incluido) - trompeta eléctrica - depósito de combustible 270 l en polietileno con sonda e indicador de nivel de combustible - tanque de agua dulce 45 l en polietileno - bomba de sentina automática - filtro de motor con válvula de Intercepción de combustible: el interruptor separa la batería.

Armamento
Cabina:
Moño de arco - punta todavía - todavía teca - cojín externo completo, anti-UV y resistente al agua - banco con acceso al compartimiento de la planta de popa - escalera de baño - guante de bolsillo lateral con ducha - casillero portátil lateral - cortina de sombrilla para Desaparición.
Consola:
Panel de tablero tridimensional de color champán - brújula - volante de acero / cuero - asientos de conductor deportivo separados para piloto y copiloto.
Россию
Key Largo 24, небольшая, но полная лодка, быстро и хочет, чтобы его заметили; также через новые цвета корпуса, не дисконтированные "морские", такие как новые ливреи "коралл", "охра, бронза. Key 24 wide предлагает себя в качестве лодки, которая может управляться большими пространствами и отличными решениями, возобновляя и расширяя обитаемость и комфорт предыдущего Key Largo; просто упомянуть большой сарафан prodiero, в комплекте с шезлонгом в консула и закрытой подушке ячейки.

LIST PRICE, NEW BILLABLES , НДС, DELIVERY 2020, EXCLUDING ENGINES, YOU EVALUATE PERMUTE

Интерьер
Кабина:
Дуб и дуб интерьеры - иллюминаторы - двуспальная кровать с снопами и столовое жилье - морской туалет установки отсека - мобильный с холодильным жильем - сетка хранения.

Инструментария
системная инженерия:
Светодиодные уличные фонари - гидравлическая рулевая рубка (в комплекте цилиндр) - электрическая труба - топливный бак 270 л в полиэтилене с зондом и индикатором уровня топлива - резервуар для пресной воды 45 л в полиэтилене - автоматический насос bilge - моторный фильтр с клапаном Перехват топлива - переключатель отсоединяет батарею.

Вооружения
Кабины:
Bow muson - наконечник еще - еще тик - полная внешняя подушка, анти-УФ и водонепроницаемый - скамейка с доступом к кормовой отсек завода - ванная лестница - боковая карманная перчатка с душем - боковой портативный шкафчик - зонтик занавес к Исчезновения.
Консоли:
Шампанское цвета трехмерной панели приборной панели - компас - сталь / кожа рулевого колеса - отдельные спортивные сиденья водителя для пилота и второго пилота.


Marina Yacht Sales nasce dalla volontà del suo fondatore Angelo Bacci. L'obiettivo è quello di fornire un servizio, il più completo possibile, ad? altissimo livello che spazia dalla compravendita di imbarcazioni e navi, al ?charter, alla consulenza finanziaria e assicurativa, e infine al management a livello internazionale. Inoltre lo sforzo e l'esperienza decennale nel settore viene applicata a tutte le fasi della vita di un diportista, con l'obiettivo principale di far vivere l'esperienza della nautica come un'esperienza rilassante e di vero svago. Rimessaggio, assistenza tecnica, tutto quello che coinvolge a 360° la vostra esperienza nautica. Per rendere questa esperienza la più positiva possibile, lo sforzo della Marina Yacht Sales è stato quello di dare assistenza completa sia tecnica che commerciale in tutto il territorio Italiano e nei punti più rilevanti situati fuori del bacino del Mediterraneo. In questi anni lo sviluppo commerciale ha portato alla creazione di un TEAM di colleghi e professionisti che hanno tutti l'obbiettivo della massima soddisfazione del cliente. Infatti la rete commerciale copre, con la relativa assistenza buona parte del mediterraneo. Gli uffici sono dislocati con una sede principale Rosignano Solvay presso il porto Cala dè Medici, Piombino presso il Marina di Salivoli, la sede secondaria a Salerno, Gaeta presso il Porto Flavio Gioia, Punta Ala, Cagliari e Malta. In questi uffici oltre a dare supporto qualificato commerciale è possibile avere assistenza tecnica professionale, rimessaggio invernale sia al coperto che su piazzale, posti barca, guardianaggio e assistenza a terra. Per questo motivo oggi si può dire che Marina Yacht Sales è partner ideale per lo sviluppo dei business per i dealer e affidabile amico del diportista.

Please contact Angelo Bacci at +39 339 5672579
Visit Website
*This price is based on today's currency conversion rate.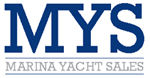 Email Us
Please enter a valid name!
Please enter a valid email address!
RE: Sessa Marine Key Largo 24 FB, Toscana, Italy