Description
View Full Specifications
Year:

2013

Length:

33'

Engine/Fuel Type:

Twin / diesel
Located In:

Mar Tirreno, Italy

Hull Material:

Fiberglass

YW#:

78043-3691192
Current Price:

EUR 109,000 Tax Paid (US$ 129,132)
"Vismara ci ha da sempre abituati a yacht anticonvenzionali, dall'aspetto che ricorda spesso imbarcazioni di stampo militare con linee tese e spigoli vivi. Con il nuovo idroplano 34 si apre ora la strada per un piccolo runabout; piccolo solo nei numeri ma grande nelle prestazioni e nel comfort di bordo di cui è capace. Forte del successo riscontrato con il mas 28 "water car" Vismara propone infatti un'imbarcazione che sa coniugare il design retrò di un runabout del 1930 con tutta la sua tecnologia nell'utilizzo di materiali innovativi e studio idrodinamico. Lo stile è pulitissimo, nessun orpello inutile, ma design al 100% con in più la possibilità di numerose personalizzazioni. A testimoniare ancora una volta lo spirito dedito alla leggerezza l'intera costruzione è realizzata in fibra di vetro unidirezionale e biassiale con resina epossidica, mentre gli stampi sono stati progettati a controllo numerico per avere la massima precisione.

OTTIME CONDIZIONI GENERALI, PRONTA ALLA BOA, SI VALUTANO PERMUTE, AFFARE!!!

INTERNI
4 posti letto, 1 bagno
Nonostante i suoi 9.95 non si fa mancare nulla;
Troviamo infatti quattro posti letto nella dinette, cucina completa di Frigo, lavello e fuochi
Bagno separato con wc, lavello e doccia.

STRUMENTAZIONE
Bussola
GPS
Pilota automatico
Ecoscandaglio
Salpa Ancore Elettrico
Indicatori Flaps
Flaps elettrici
VHF
Faro orientabile
Presa 220V banchina
Caricabatterie
Prese interne 12v
Prese interne 220v
Altoparlanti
Radio AM/FM
Stereo
Autoclave
Boiler per l'acqua calda
Aria condizionata
Clima reversibile
Passerella idraulica a scomparsa
Portello vano motori apribile elettricamente

ARMAMENTO
Ancora a scomparsa
Tendalino
Telo copriconsolle
Telo coprisedile
Cuscineria di poppa
Tavolo pozzetto
Doccia esterna
Piattaforma
Garage per tender
Scaletta da bagno
Tagliandi motore e carena appena fatta
Note sul prezzo: OTTIME CONDIZIONI GENERALI, PRONTA ALLA BOA, SI VALUTANO PERMUTE, AFFARE!!!
English
"Vismara has always accustomed us to unconventional yachts, with an appearance that often resembles military-style boats with taut lines and sharp edges. With the new hydroplane 34 now opens the way for a small runabout; small only in numbers but great in the performance and comfort on board of which it is capable. Thanks to the success found with the mas 28 "water car" Vismara proposes a boat that knows how to combine the retro design of a runabout of 1930 with all its technology in the use of innovative materials and hydrodynamic study. The style is spotless, no useless tinsel, but 100% design with the possibility of numerous customizations. Once again, the spirit devoted to lightness is once again the entire construction is made of one-way fiberglass and biaxial with epoxy, while the molds have been designed numerically to have maximum precision.

GREAT GENERAL CONDITIONS, READY TO BUOY, PERMUTE, DEAL!!!

Interior
4 beds, 1 bathroom
Despite its 9.95, nothing is missing;
In fact, we find four beds in the dinette, complete kitchen of Frigo, sink and fires
Separate bathroom with toilet, sink and shower.

Instrumentation
Compass
Gps
Autopilot
Sounder
Electric Anchor Set
Flaps Indicators
Electric flaps
Vhf
Orientable lighthouse
Outlet 220V quay
Charger
Internal sockets 12v
Internal sockets 220v
Speakers
Radio AM/FM
Stereo
Autoclave
Boiler for hot water
Air conditioning
Reversible climate
Retractable hydraulic walkway
Electrically openable engine compartment hatch

Armament
Still in disappearance
Awning
Console cover
Cloth cover
Stern Cuscineria
Cockpit table
Outdoor shower
Platform
Garage for tender
Bathroom ladder
Freshly made motor and hull cutters
Française
« vismara nous a toujours habitués à des yachts non conventionnels, avec une apparence qui ressemble souvent à des bateaux de style militaire avec des lignes tendues et des bords tranchants. Avec le nouvel hydroplane 34 ouvre maintenant la voie à un petit runabout; petit seulement en nombre mais grand dans la performance et le confort à bord dont il est capable. Grâce au succès rencontré avec le mas 28 « voiture d'eau » Vismara propose un bateau qui sait combiner la conception rétro d'un runabout de 1930 avec toute sa technologie dans l'utilisation de matériaux innovants et l'étude hydrodynamique. Le style est impeccable, pas de tinsel inutile, mais 100% de conception avec la possibilité de nombreuses personnalisations. Une fois de plus, l'esprit consacré à la légèreté est une fois de plus l'ensemble de la construction est faite de fibre de verre à sens unique et biaxial avec époxy, tandis que les moules ont été conçus numériquement pour avoir une précision maximale.

GRANDES CONDITIONS GÉNÉRALES, PRÊT À LA BOUÉE, PERMUTE, DEAL!!!

Intérieur
4 lits, 1 salle de bain
Malgré son 9,95, rien ne manque;
En fait, nous trouvons quatre lits dans la dinette, cuisine complète de Frigo, évier et feux
Salle de bains séparée avec toilettes, évier et douche.

Instrumentation
Boussole
Gps
Pilote automatique
Sirène
Ensemble d'ancrage électrique
Indicateurs des volets
Volets électriques
Vhf
Phare orientable
Sortie 220V quai
Chargeur
Prises internes 12v
Prises internes 220v
Haut-parleurs
Radio AM/FM
Stéréo
Autoclave
Chaudière pour eau chaude
Climatisation
Climat réversible
Passerelle hydraulique rétractable
Trappe de compartiment moteur électriquement ouverte

Armement
Toujours en disparition
Auvent
Couverture de la console
Couverture en tissu
Stern Cuscineria
Table de cockpit
Douche extérieure
Plate-forme
Garage pour appel d'offres
Échelle de salle de bains
Coupe-moteur et coque fraîchement faits
Deutsch
"Vismara hat uns schon immer an unkonventionelle Yachten gewöhnt, mit einem Aussehen, das oft an Boote im militärischen Stil mit straffen Linien und scharfen Kanten erinnert. Mit dem neuen Wasserflugzeug 34 öffnet sich nun der Weg für einen kleinen Runabout; klein nur in Zahlen, aber groß in der Leistung und Komfort an Bord, zu denen es fähig ist. Dank des Erfolgs mit dem mas 28 "Wasserauto" Vismara schlägt ein Boot, das weiß, wie man das Retro-Design eines Runabout von 1930 mit all seiner Technologie in der Verwendung von innovativen Materialien und hydrodynamische Studie zu kombinieren. Der Stil ist makellos, keine nutzlose Insel, aber 100% Design mit der Möglichkeit von zahlreichen Anpassungen. Wieder einmal ist der Geist, der der Leichtigkeit gewidmet ist, wieder die gesamte Konstruktion aus Einweg-Glasfaser und biaxial mit Epoxid, während die Formen numerisch so konzipiert wurden, dass sie maximale Präzision haben.

GREAT ALLGEMEINE BEDINGUNGEN, BEREIT ZU BUOY, PERMUTE, DEAL!!!

Innere
4 Betten, 1 Badezimmer
Trotz seiner 9,95 fehlt nichts;
In der Tat finden wir vier Betten in der Essecke, komplette Küche von Frigo, Waschbecken und Brände
Separates Badezimmer mit WC, Waschbecken und Dusche.

Instrumentation
Kompass
Gps
Autopilot
Echolot
Elektrische Anker-Set
Klappen-Indikatoren
Elektrische Klappen
Vhf
Orientable Leuchtturm
Ausgang 220V Kai
Ladegerät
Interne Buchsen 12v
Interne Buchsen 220v
Lautsprecher
Radio AM/FM
Stereo
Autoklaven
Kessel für Warmwasser
Klimaanlage
Reversibles Klima
Einziehbarer hydraulischer Gehweg
Elektrisch aufklappbare Motorraumluke

Bewaffnung
Immer noch im Verschwinden
Markise
Konsolenabdeckung
Stoffbezug
Stern Cuscineria
Cockpittisch
Außendusche
Plattform
Garage zur Ausschreibung
Badezimmerleiter
Frisch gefertigte Motor- und Rumpfschneider
Español
"Vismara siempre nos ha acostumbrado a los yates poco convencionales, con una apariencia que a menudo se asemeja a barcos de estilo militar con líneas tensas y bordes afilados. Con el nuevo hidroplano 34 ahora abre el camino para un pequeño transbordador; pequeño sólo en números, pero grande en el rendimiento y la comodidad a bordo de la que es capaz. Gracias al éxito encontrado con el mas 28 "coche de agua" Vismara propone un barco que sabe combinar el diseño retro de un transbordador de 1930 con toda su tecnología en el uso de materiales innovadores y estudio hidrodinámico. El estilo es impecable, no hay tinsel inútil, pero 100% diseño con la posibilidad de numerosas personalizaciones. Una vez más, el espíritu dedicado a la ligereza es una vez más toda la construcción está hecha de fibra de vidrio unidireccional y biaxial con epoxi, mientras que los moldes han sido diseñados numéricamente para tener la máxima precisión.

GRANDES CONDICIONES GENERALES, LISTAS PARA BUOY, PERMUTE, DEAL!!!

Interior
4 camas, 1 baño
A pesar de su 9,95, no falta nada;
De hecho, encontramos cuatro camas en la dinette, cocina completa de Frigo, fregadero e incendios
Baño independiente con aseo, lavabo y ducha.

Instrumentación
Brújula
Gps
Piloto automático
Sonda
Conjunto de anclaje eléctrico
Indicadores Flaps
Aletas eléctricas
Vhf
Faro orientable
Outlet 220V quay
Cargador
Tomas internas 12v
Tomas internas 220v
Altavoces
Radio AM/FM
Estéreo
Autoclave
Caldera para agua caliente
Aire acondicionado
Clima reversible
Pasarela hidráulica retráctil
Escotilla del compartimiento del motor eléctricamente abierta

Armamento
Sigue en desaparición
Toldo
Cubierta de consola
Cubierta de tela
Stern Cuscineria
Tabla de cabina
Ducha al aire libre
Plataforma
Garaje para licitación
Escalera de baño
Cortadores de motor y casco recién hechos
Россию
«Висмара всегда приучил нас к нетрадиционным яхтам, с внешним видом, который часто напоминает лодки военного стиля с натянутыми линиями и острыми краями. С новым гидропланом 34 теперь открывается путь для небольшого катера; небольшой только в цифрах, но большой в производительности и комфорта на борту, на который он способен. Благодаря успеху, найденного с mas 28 "водный автомобиль" Висмара предлагает лодку, которая знает, как объединить ретро дизайн катера 1930 года со всеми его технологии в использовании инновационных материалов и гидродинамических исследований. Стиль безупречный, не бесполезная мишура, но 100% дизайн с возможностью многочисленных настроен. Еще раз, дух, посвященный легкости еще раз вся конструкция сделана из одностороннего стекловолокна и биаксиальной с эпоксидной смолой, в то время как формы были разработаны численно иметь максимальную точность.

ОТЛИЧНЫЕ ОБЩИЕ УСЛОВИЯ, ГОТОВЫЕ К БУЮ, ПЕРМУТУ, СДЕЛКЕ!!!

Интерьер
4 кровати, 1 ванная комната
Несмотря на 9.95, ничего не пропало;
В самом деле, мы находим четыре кровати в столовой, полная кухня Фриго, раковина и пожары
Отдельная ванная комната с туалетом, раковиной и душем.

Инструментария
Компас
Gps
Автопилоте
Эхолот
Электрический якорь набор
Индикаторы закрылков
Электрические закрылки
Vhf
Ориентируемый маяк
Выход 220V набережная
Зарядное устройство
Внутренние розетки 12v
Внутренние розетки 220v
Динамики
Радио AM/FM
Стерео
Автоклаве
Котел для горячей воды
Кондиционер
Обратный климат
Выдвижная гидравлическая дорожка
Электрически открытый люк моторного отсека

Вооружения
Все еще в исчезновении
Тент
Консольная крышка
Ткань крышка
Стерн Касцинерия
Таблица кокпита
Открытый душ
Платформы
Гараж на тендер
Лестница в ванной комнате
Свежеприготовленные моторы и резцы корпуса


Marina Yacht Sales nasce dalla volontà del suo fondatore Angelo Bacci. L'obiettivo è quello di fornire un servizio, il più completo possibile, ad? altissimo livello che spazia dalla compravendita di imbarcazioni e navi, al ?charter, alla consulenza finanziaria e assicurativa, e infine al management a livello internazionale. Inoltre lo sforzo e l'esperienza decennale nel settore viene applicata a tutte le fasi della vita di un diportista, con l'obiettivo principale di far vivere l'esperienza della nautica come un'esperienza rilassante e di vero svago. Rimessaggio, assistenza tecnica, tutto quello che coinvolge a 360° la vostra esperienza nautica. Per rendere questa esperienza la più positiva possibile, lo sforzo della Marina Yacht Sales è stato quello di dare assistenza completa sia tecnica che commerciale in tutto il territorio Italiano e nei punti più rilevanti situati fuori del bacino del Mediterraneo. In questi anni lo sviluppo commerciale ha portato alla creazione di un TEAM di colleghi e professionisti che hanno tutti l'obbiettivo della massima soddisfazione del cliente. Infatti la rete commerciale copre, con la relativa assistenza buona parte del mediterraneo. Gli uffici sono dislocati con una sede principale Rosignano Solvay presso il porto Cala dè Medici, Piombino presso il Marina di Salivoli, la sede secondaria a Salerno, Gaeta presso il Porto Flavio Gioia, Punta Ala, Cagliari e Malta. In questi uffici oltre a dare supporto qualificato commerciale è possibile avere assistenza tecnica professionale, rimessaggio invernale sia al coperto che su piazzale, posti barca, guardianaggio e assistenza a terra. Per questo motivo oggi si può dire che Marina Yacht Sales è partner ideale per lo sviluppo dei business per i dealer e affidabile amico del diportista.

Please contact Angelo Bacci at +39 339 5672579
Visit Website
*This price is based on today's currency conversion rate.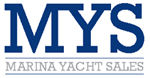 Email Us
Please enter a valid name!
Please enter a valid email address!
RE: Vismara 34 Cantoni, Mar Tirreno, Italy