New Boat Trailers For Sale
CALIFORNIA COASTER

Big Boat Trailers For Sale
Heavy-duty saltwater boat trailers designed for boats weighing up to 15,800 lbs!
Your west coast boat trailer dealer in San Diego serving Newport Beach, Dana Point, Long Beach, Huntington Beach, Los Angeles,
Oxnard, Santa Barbara and throughout the west coast.
In Stock for Immediate Delivery with Wholesale Pricing to the Public!
Call Us at (619) 222-3620 x 1 or  Email Us  
** We do not sell used boat trailers due to repair cost and liability**
---
California Coaster 18KHD 3-Axle 
The premium California Coaster heavy-duty boat trailers are designed specifically for the west coast trailer boater. Each trailer is built from the highest quality materials to ensure durability in salt water, and safety over the road. Their unique, adjustable design provides a universal fit for a wide range of makes and models from 27' to 35' LOA.  With a GVWR 18,000 lbs, it will carry boats weighing up to 15,800 lbs.  They are engineered and constructed from the highest quality materials to ensure durability over the toughest roads.
California Coaster 18KHD Specifications
GVWR: 18,000 lbs. (boat and trailer)
Carrying load capacity: 15,800 lbs.
Three axles
Brakes on all axles
Heavy-duty structural aluminum I-beam frame
Heavy-duty galvanized steel and structural aluminum cross members
Fully adjustable bunks allow you to use your trailer for multiple boats
Adjustable bow stop with safety cable
Adjustable loading guides for easy alignment at the ramp
Adjustable pressure treated bow bunks
Adjustable pressure treated main bunks thru-bolted to brackets
Commercial grade, carpeted bunks
Aluminum diamond plate fenders
Durable plastic covers over bow board for painted hulls
Emergency brake lanyard
Galvanized steel hardware & u-bolts
Galvanized steel torsion axles
Galvanized steel wheels
Heavy-duty drop-leg adjustable tongue jack
Heavy-duty winch with adjustable stand and safety cable
Heavy-duty front safety chains (2) at coupler
LED sealed submersible lighting
Open disc brakes on all axles
Radial tires
Surge brake actuator with emergency brake lanyard
2 5/16″ ball size
Retail Price: $14,750.00
Our Wholesale Price to the Public is Just $9,980.00*
Call Us at (619) 222-3620 x 1 or  Email Us  
Optional Equipment
Spare tire(s)
Spare tire mount(s)
Spare hub(s) assembly
Stainless steel fasteners & U-bolt kit
Electric over hydraulic brakes system
Baja Endurance Package
* Plus factory destination ($295) and sale tax (if and when applicable).  Seller discloses and Buyer acknowledges that boat trailers may need adjustment or modified prior to use to meet all road transport laws and assure safe use.
** We do not sell used boat trailers due to repair cost and liability**
California Coaster Boat Trailer Photos
18KHD 3-Axle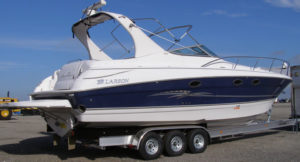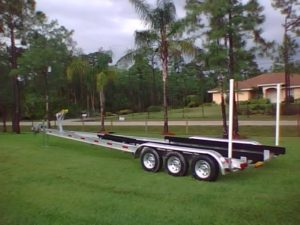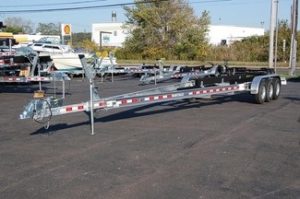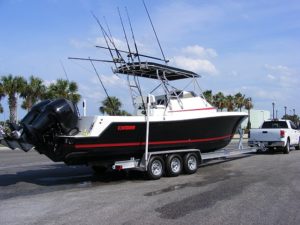 We also offer other boat trailer brands including:
Load Master
McClain
King Trailers
Wesco Trailers
Magic Tilt Boat
Continental Boat Trailers
EZ Loader Boat Trailers
Load-Rite Boat Trailers
Road King Boat Trailers
FE Trailers San Diego
Venture Trailers
Aros Trailers For Boat
Float-On
Karavan Trailers
Load Rite Trailers
Loadmaster Trailers
Road King Boat Trailers
Rocket Trailers
Shoreland'r Boat Trailers