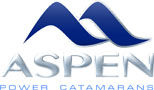 Welcome



The Aspen Story
Quality above and below the surface.
Aspen Power Catamarans are meticulously designed and crafted to give flawless performance on demand. To do so, they must hold up to the incredible demands of a harsh environment. To withstand the powerful forces of nature, catamarans require the strongest, highest quality construction. Aspen delivers every inch of the way.
The beauty of Aspen's exceptional strength and durability goes beyond the materials. Aspen is especially committed to design, construction, and quality craftsmanship; due to the performance demands and specifications of our owners. Each Hull is custom built to order, and is hand crafted with a special attention to all details. This contributes to the fact that none of their boats have been returned for defects covered by warranties.
All cross beams, bulkheads, transoms, and stringers are constructed from CNC cut Coosa composite ranging in thickness from ¾" to 2 ½", guaranteed for life. Coosa is a polyurethane and fiberglass reinforced panel that is 45% lighter than plywood, it is waterproof and cannot decay. The uniquely engineered integrated rib, stinger, bulkhead system is solidly fiber glassed in place to carry a catamaran's unique loads. A hand lay-up process utilizes a combination of premium knitted fiberglass materials yielding the maximum strength with the least amount weight.
Hull lamination starts with 22 mils of the best UV stabilized gelcoat. CCP's, Armorcote 991 Isophthalic-NPG gelcoat, this provides superior UV resistance that displays the high gloss quality seen in their boats. Higher gloss combined with a deeper, richer color, provides an enhanced cosmetic appearance, while being resistant to water blistering. This is followed by a skin of 2 oz. mat with vinyl ester resin. This resin is 20% stronger, and is a complete water barrier. It eliminates any possible blistering below the waterline. The following lamination is with high strength Isothalic Polyester resin and includes layers of 18 oz. Roving (long fibers that go the entire length of hull), and: 1.5 oz. Mat. Then in specific areas 3mil- 6mil Coremat, knitted bi-axial fiberglass fabric, ¾" PVC Divinycell closed cell foam, and Kevlar. This is used to develop strength and structure as needed. The bottom of the hull is reinforced by 3 additional layers of mat and roving, along with a double layer of Divinycell. Total thickness of the bottom is just over 2 ½"and is double bottomed! The entire hull and deck are bonded with aircraft grade, cross linked urethane, then fastened with 316 SS fasteners every 6". Finally, the inside of deck-hull joint is then fiber glassed with 1708 Nytex; where accessible.
Aspen is NMMA certified, but clearly their build quality goes above and beyond the minimum of industry standards. Great pride is taken in the system installations, wiring is Cobra, class K tinned copper wire, manufactured in Michigan. All plumbing and wiring runs are clearly labeled, installation is done with pride, to perfection; as if works of art.
Aspen's incredible Proa hull design is the result of the accumulative knowledge from Larry Graf's experience with Glacier Bay Catamarans (founder/president 1987-2007). The patented hull has 78% more roll stability, 70% more fuel efficiency, and has the softest ride know in the boating world. Coupled with the safety and reliability of an inboard diesel, this only means hours of comfort and fun on the water. When other boaters are taking a pounding, Aspen owners are smiling. If you appreciate quality at every level, as well as, the performance payoff from investing in the very best, there is only one place to look; Aspen Power Catamarans!



Featured Boat
40' Aspen Power Catamarans C120 Flybridge
2020 US$ 795,000

Aspen's C120 is a special design that combines every boaters dreams for the perfect boat. Built in the Pacific Northwest by local craftsmen with every detail carefully considered for style, ease of use and longevity. If your perfect boat includes a hull design that slices heavy seas effortlessly with 70% more roll stability and 50% less carbon impact. Think Aspen.

The C120 (42'6"/12/6 meters LOA) is a breath of fresh air for this size category. She is fast and maintains the much sought after efficiency. She also includes grand sized areas in the salon, staterooms, heads and cockpit. It is the first boat in this category with 600 sq. ft. of deck and living space.

The C120 uses Aspen's patented award winning hull design for ideal performance with a state of the art Volvo D6. Design cruise speeds are 16-18 kts with a top speed of 20-23 kts, depending on the power (370-435hp). Fuel economy with the single 435 is 10 gph at 16 kts; 50-60% less than competitive boats. Your fun cruising range just doubled in a day!

The modern design starts in the salon with an amazing open window layout that brings the grand outdoors right to you. Enjoy Mother Nature in all of her glory with a 360 degree view from every seat! Each hull has a first class head with a shower and large vanity. Below the dinette is a queen size guest stateroom, complete with hanging locker, portlights, and reading lights. Below the galley is a 2nd guest stateroom with a twin bed, portlights, and reading lights. Forward is the absolutely grand, full width, King Island Master stateroom; unheard of in a 40'er. This stateroom includes port & starboard hanging lockers, drawer sets, starboard vanity.

Aspen C120 owners and guests can coastal cruise in complete comfort for weeks or months, effortlessly.