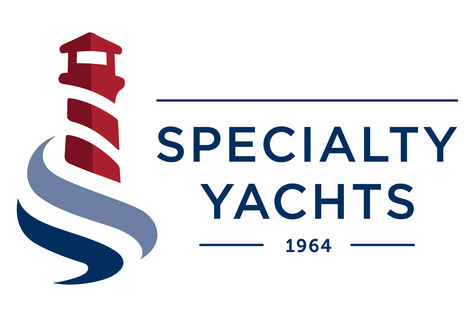 Testimonials
What our customers have to say:
"We first met Lawrence and the SYS team at the Mosquito Creek boat show, and from that moment on he has been courteous and helpful in our quest to find a new yacht. Having only moved to British Columbia 18 months ago, it was important for us to buy a boat from someone we felt we could trust to navigate us through the boat buying process. Lawrence has given us that confidence, and we've ended up with a quality boat at great value. It's been clear throughout that SYS aren't just trying to sell you a product, their commitment to making sure you end up with a boat that fits your lifestyle and their ongoing support since buying our boat has been first class. We look forward to joining them all on the SYS Hunter rally next summer!"

Dr. Adam and Emma Thompson and sons William and Ben
New owners of a 38 foot Hunter


"We owned a Gulfstar 50 for 27 years and sold it four years ago, thinking that, at our age, it was time to "retire" to a power boat. After spending many months looking at, comparing and conducting sea trials on many beautiful power boats, we came to the realization that what we really missed was sailing, just for the pleasure of turning off that motor and listening to the wind, the waves and the power of the boat itself.

We looked at a number of sailboats before deciding on a Hunter. Our final choice was a Hunter 466, purchased from Lawrence Fronczek of Specialty Yachts in Vancouver, B.C. Although we live in Olympia, Washington, we traveled to Vancouver no less than six times before completing our sale and sailing Solo Vento to her new home.

We have dealt with many salespeople over the course of our lives, and we must say, without any reservation, Lawrence Fronczek is without a doubt the most outstanding salesperson we have ever dealt with. On not one, but several occasions during the course of our negotiations, Lawrence displayed integrity, concern and outright pleasure in taking care of our concerns, going the extra mile with us, all with a sense of humor and a refusal to settle for the mediocre.

We will not hesitate to recommend him to our friends and acquaintances in our boating world, and will always hold him as the gold standard of boat brokers. Thank you, Lawrence.

Tony and Isobel Cairone, Proud new owners of a Hunter 466 "Solo Vento"
As long term boaters and having bought and sold several yachts, Lawrence and his staff at Specialty Yachts has provided outstanding professional service above and beyond our level of expectation. The prompt attention to the SMALL details has made "THE BIG DIFFERENCE"! Thank-you so much!

From Veda, Lyle and Chelsea Hanna
Proud new owners of a Hunter 42 Passage "Discovery Passage"
"I recently bought a new 2012 Hunter 50AC from Specialty Yachts. This is the second Hunter I have purchased from Specialty, my first was a Hunter 44ds. I had several things that I wanted done a certain way to meet my own specific use and taste. Lawrence Fronczek made the entire experience very positive and enjoyable.

Since arrival of my new yacht, Lawrence, Sarah and all the staff at Specialty Yachts have worked very hard to ensure all my requirements were met expeditiously and efficiently. The after delivery support by Specialty's team, headed by Sarah White, is exceptional.

I would recommend that any prospective yacht owner consider consider purchasing a Hunter through Lawrence Fronczek and his team at Specialty Yachts. You will not be disappointed."

The proud new owner of "To The Point"
"Lawrence I want to write a testimonial to tell you this: We purchased our Hunter 45cc center cockpit on July 3rd through Lawrence Fronczek of Specialty Yachts in Granville Island, BC. Lawrence is an amazing professional yacht broker with unbelievable attention to detail and exceptional customer service skills. The purchase process and registration through ships registry was seamless and transparent. Lawrence truly understands the importance of a positive customer experience -- he made us feel like we were the most important customer at Specialty Yachts and we commend him for his caring attitude to ensure we were completely satisfied with both the sales and the service throughout the entire process. Lawrence, you and your team are amazing. We are very fortunate to have you as our broker and to have the extended Specialty Yachts team to service our boat for years to come.

THANK YOU!!!

Ron & Denise Lepchuk, Proud owners of Mystic Sky, Nanaimo, BC"
"Hi Lawrence,

Just wanted to say thanks to you and Specialty Yachts for all your help and exceptional service on our recent purchase of the Hunter 356. My dad and I had been looking for many months to replace his older sailboat and had never come across such a personable and knowledgeable broker, nor a firm that offered such great pre-, and post-sale service. You were generous with your time and always tremendously helpful in answering questions about the vessel or demonstrating its extensive gear.

The day of the sea trial was gusty and choppy, potentially a bit intimidating to us with a new boat but you were great in showing how well the boat performed. The smiles on our faces in the pictures you took are a true record of the thrill we had that day.

We were particularly impressed with the high level of after-sale service Specialty Yachts provided. The full day of orientation to the vessel was truly exceptional. We now have video files of much of the teaching session offered by Sarah, which we'll keep handy should we need a reference guide later on.

Dad truly hasn't stopped grinning since he first set foot on the boat. He's now either dockside aboard Spindrift, or under sail, getting the feel of this great boat. I'm afraid we'll see much less of him in the months and years ahead unless we're prepared to join him on board! Thanks again for making a couple of old salts so happy."

-Dr. David Hadley
"We had been considering the possibility of a newer sailboat for sometime when Pacific Yachting featured the new Hunter 33 in its April 2012 edition. After an initial email, Lawrence Fonczek met us on board the 33 at the Victoria Boat Show. His enthusiasm, professionalism and knowledge of the Hunter brand and this boat in particular convinced us we definitely needed a second look. This lead us to Vancouver where after an awesome "sea trial" we purchased the 33! Lawrence and his team at Specialty Yacht Sales, although very busy that day, patiently answered our many questions and concerns. They took the necessary steps to insure we were completely satisfied with the options that were available to make this new boat ours. We look forward to working with our new friends at Specialty Yacht Sales as our boat is commissioned. As someone who has worked in the retail sales environment for over 25 years, I understand the importance of innovation and customer service. Specialty Yacht Sales excels in both!

Thanks,

Judi & Len Pringle
S/V Sea Sparrow"
"After looking at beautiful Hunters for sale online, we took the plunge and stopped in at Specialty Yachts. We were warmly greeted by Ian Libke and Lawrence Fronczek and immediately felt like we were in the company of new friends. No sales pressure here at all – instead, a courteous and friendly approach that made us feel right at home. Additionally, their knowledge of sailing and their products really impressed us – but it was their approach that made it so enjoyable. What could have been a stressful experience was, instead, truly enjoyable. It didn't stop there though – the after-sales service has been fabulous. Sarah White runs an excellent service department and the full day she spent providing us with an orientation to our new boat "Loch Moigh" was both enjoyable and extremely helpful. We couldn't have asked for a better experience in buying a new boat and we're delighted to recommend Hunter and Specialty.

Sincerely,

Ian and Leila MacIntosh"

Hunter 39 - SV "Loch Moigh
"Dear Lawrence,
I would like to take this opportunity to thank you and your staff of Specialty Yachts for the way in which you all helped in putting me into a new boat.

My first experience, a few years ago, was one of openness and honesty which led to me buying a Hunter 28. The boat turned out to be superb, giving me many hours of trouble free day sailing and weekend cruising over the next few years. Like all avid sailers I contracted the dreaded disease of footitis and did not hesitate to contact Specialty Yachts again, to the exclusion of even looking elsewhere, something that is really against my nature!! I was not sorry. After looking at a few Hunters that were listed I purchased a Hunter 33. During the negotiations there were many questions and concerns, all of which were answered and addressed to my complete satisfaction. Upon taking delivery I was given excellent instruction and advice on all aspects of the various systems installed on my new boat which certainly did much to allay the trepidation I was feeling. Subsequent to taking delivery I emailed Sarah in service department and had an extremely prompt and informative reply. With this in mind I have no hesitation in recommending Specialty Yachts to act on your behalf whether you are buying or selling a boat.

I suspect I will be contacting them again in a couple of years for a 45 footer!!"

Stephen Lapin
West Vancouver, BC
February 2012
"The Hunter line has always intrigued us and 10 years ago when we bought our C&C we knew what we really wanted was a Hunter. We recently were walking the docks on Granville Island and the gleam and majesty of the Hunter 41 Deck Salon caught our attention. Following a few visits and many phone calls and emails with Specialty's Ian Libke, our dream came true. Ian, always so friendly, professional and service-oriented, helped us sell our boat and buy our new Hunter "Masada". The expertise and support of the Specialty team – Ian, Lawrence and John – ensured a smooth transition and experience that could have, otherwise, been stressful. They were there to help us every step of the way. John even looked after our pug, Olive, while we were loading supplies onto our new boat. That's customer service!

We are looking forward to continuing our relationship with all the folks at Specialty Yacht sales, and consider them more than just boat brokers; we consider them friends."

Noel, Fearn and Olive Edmonds
SV "Masada"
"My wife and I had the pleasure this fall of purchasing a new 2012 Hunter 50ac from Specialty Yachts. Every aspect of this acquisition has been enjoyable and made more so by Specialty Yachts.

The service we have received from Specialty Yachts has been exemplary in many ways. We were surprised and very happy that they took the time to find for the moorage we required; moorage that would allow our two Golden Retrievers to enter and exit the boat easily. We were given sound advice on the extras to puirchase and all were installed and their operation explained in a forthright and understandable manner. Sea Trials were carried out without a hitch presumably due to both the sound design of the boat and the sound preparation and assembly carried out by Specialty Yachts. Docking of the boat in its moorage was well demonstrated by Specialty Yachts personnel allowing us to follow their example with ease. All in all it has been a pleasant experience making us feel an important part of a family business – the customer we look forward to the annual gathering in early June.

Regards
Graham Dickson"
"We recommend Lawrence Fronczek and his team at Specialty Yacht Sales to anyone interesting in purchasing a sail or power boat. Our first experience with Specialty was in 2002 at the Vancouver International Boat Show at BC Place Stadium, where we bought our first Hunter, a 356 model. Since that time, Specialty Yachts and Lawrence have acted for us on the purchase of three other vessels, and have at all times been completely efficient and businesslike in the transactions. We have come to rely on Lawrence for all things "maritime"; he is always willing to share his first-hand experience and knowledge and knows no boundaries when it comes to service. The staff too are friendly, capable and knowledgeable of the boating market in BC and Western Canada. I also can't say enough about Sarah White and her service department. They are experts at commissioning a vessel, and able to accommodate all servicing requests with quiet efficiency.

Les Morton & Janis Ostling"
"This is the second new boat we bought from Specialty Yachts.

We found Lawrence Fronczek and the rest of the Specialty Yachts staff very knowledgeable about sailboats and, more importantly, they focus on a long term relationship with their customers and gaining customer satisfaction.

Specialty Yachts is an organization that is oriented towards relationships rather than transactional sales. This aligns their business interests with the customer's desire to have a great boating experience.

With Specialty's help, buyers can concentrate on getting the boat setup the way they wanted it without worrying about corners being cut for short term interests.

Sarah White in Service is excellent in supporting the sales team with proper execution in fitting out the boat as well as follow up service after the sale.

Overall, a great experience.
Oliver and Marion Hung"
"We recently purchased our Hunter 50ac from Specialty Yachts in Vancouver and are very pleased with how the team handled the sale and subsequent support. Sales associate Ian Libke, who introduced us to the boat, was a pleasure to deal with and continues to follow-up to ensure our continued satisfaction. Owner, Lawrence Fronczek, and the service team, headed by Sarah White, showed a genuine interest in caring for our particular needs and handled the entire process with professionalism. We have sailed our new boat several times now and are extremely pleased with the ease of use and performance. The configuration of the vessel lends itself to easy handling.

We look forward to a long and pleasant relationship with the team at Specialty Yachts and of course our sailboat, Maria Serafina.

Wally and Carla Protsack"
"Always offering a quality product whether in new, or used boats, the people at Specialty Yachts have guided us through, first, the purchase of a new Mainship 390 Trawler almost ten years previous, and now to our new sailboat, a Hunter 49. The thoughtful dedication to minute detail, service and careful and accurate explanation of the equipment, and various add ons to customize a boat to your particular needs, (we have young children just learning to sail) starting with Lawrence Fonczek, and the team at Speciality, (of course Sarah was relentless in her pursuit of delivering a fully operational vessel) allowed us the satisfaction of a very happy purchasing experience. Having owned several boats over thirty plus years of sailing, we have our eccentricities which were accommodated at every mention. Kudos and many thanks to the team at Specialty."

-Howard, Teresa, Jenna and Kayla Louie
"Dear Lawrence,
Glenda and I have now had the opportunity to spend many wonderful days on our beautiful new Hunter 49 "Winterlude" and wanted to express to you and your staff how pleased we are, not only with the boat, but with the experience with Specialty Yachts. From our first contact with your firm the quality of the information and the level of service we received in detailing the build of the boat was very helpful. Our visit to the factory and our use of the boat for the last 10 months has convinced us that the choice of a Hunter was the correct one. The level of support that we received from your staff and sub trades in commissioning the boat and in particular selecting all the right components to make this a true offshore passage maker was invaluable. Our experience with Specialty Yachts is a true testament to the longevity of your firm in Vancouver. I am so pleased with Specialty Yachts I would recommend them to my friends... and I do"

-Laird O'Conner
"Every year in early June, Specialty Yachts hosts the annual Hunter Rendezvous at Telegraph Harbour Marina on Thetis Island. We mark the dates in our Calendar a year in advance and consider it to be one of the highlights of our sailing season.

Lawrence and his team put together a first class affair with the emphasis on social interaction and having fun. All sizes and ages of Hunter sailboats and owners gather to share their experiences and to learn from quality seminars that are held on site. Specialty always manages to bring experts on maintenance, engines, rigging and sailing to impart valuable knowledge. All of this is done without comprising the true focus of the weekend-camaraderie, good food, good wine, good people and lots of laughter.

Saturday evening culminates with a spectacular lamb and pig roast. The hard work of the Specialty crew and its volunteers puts the finishing touches on a great evening. Sunday sees a fine buffet prepared by the marina staff, many goodbyes and a trek back to home port wherever that might be. Ah yes, it's the memories of last year and the anticipation of the new ones to come that keep us returning."

-George & Suzanne Malysheff
"Finding the right yacht broker makes all the difference when buying a sailboat. The team at Specialty took time to understand our needs, helped us assess the merits of different boats, and worked with us to conclude our purchase. The team consistently demonstrated integrity, diligence, and perseverance - qualities that are so important in business today.

We arranged to have Specialty undertake some refurbishing work on the boat prior to delivery, and Lawrence Fronczek's team of professionals completed this work to the highest standards.

Specialty Yachts exceeded our expectations in all respects."

-Doug Hubbins & Owen Pawson, took delivery Feb. 2011