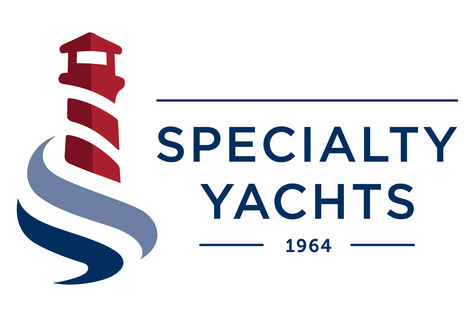 Thank you to our customers for making Specialty Yachts a world leader. Specialty Yachts was awarded "Worldwide Dealer of the Year" by Marlow Hunter at the Annapolis Boat Show this past October. Recognized for its volume of sales and customer service, this year Specialty Yachts exceeded its previous Top 10 placements in these categories to become #1 and #3 respectively.
STRATEGIC LOCATION Voted as North America's best neighbourhood in 2004 by Project for Public Spaces, Granville Island is a magical place in the middle of downtown Vancouver. Once on the Island, our most highly visible location in Broker Alley puts Specialty Yachts in the spotlight 24/7, and makes it so easy and pleasant to view boats.

SUPERIOR SERVICE Since 1964, sailors from all over the West Coast have been coming to Specialty Yachts for service and care for their boats. Our service department in 2012 was awarded the Number 3 service center in the world from Marlow Hunter! With over 140 dealerships worldwide that is quite an accomplishment. Sarah and her team have a well-developed reputation for going above and beyond. Our crew works to ABYC standards and is professionally trained and here to serve your every boating need. Drop in or call if you have a question or concern about your boat, and you will always find a cheery and knowledgeable person to provide an answer or solution for you.

AT YOUR SERVICE For information on selling or buying a boat, or to learn about boats not listed on our web site, please contact us or drop by the office on Granville Island; we are at your service 7 days a week.



We invite you to browse through the site for our full listings of quality brokerage boats, useful links, and other valuable information that may help you make your dream a reality. Hope to see you soon!
Featured Boat
40' Hunter 40
2015 Call for Price

The fast-paced lifestyle of today leaves few sanctuaries of solitude.

Whether you are a day sailor or serious cruiser, the new Hunter 40 is designed to please. Her superior sailing characteristics are honed from her 65 predecessors to emerge from our design center. Built in the United States, she is crafted by people who understand and respect the sea. We chose to launch the new H40 on our fortieth anniversary with the desire to create a sailing vessel that exceeded the expectations of the past forty years. Come experience the new H40 with her dual helm control, fold-down transom, chined hull and dual heads. Our hand-crafted interiors are made to fit each boat, not the other way around. The result is an interior fit and finish that is as functional as it is beautiful.

They say life begins at 40. Begin your sailing life with a Hunter 40.