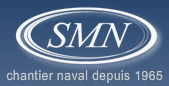 Welcome to - Bienvenue chez SMN - Port Grimaud
The Nautical Handling and Maintenance Company at Port Grimaud,
in the heart of the Gulf of St Tropez.




Since the creation of the seaside city of Port Grimaud in 1970, SMN has seen its traditional activities of maintenance, painting, polyester, careening and dry docking expand, and by the end of the 1980s the creation of services and sales of sailing brands such as X-Yachts Added to these services came carpentry, mechanical, electrics and electronics, hardware, deck repairs, rigging, as well as mooring, maintenance, service, a complete range of services unequalled to this day in the region.


Your requirements demand an individual response, to match your specific needs. SMN has built up a considerable experience with a large number of owners who have put their trust in us over the past 30 years.


Precise understanding of specific needs

Replies most adapted to the programme you have established

Tracking the construction work on the shipyard to ensure your best interests

Get in touch with us now. Our team of 32 persons is ready to help you throughout the year.

SMN, your reliable and trusted partner

We represent the following ship brands: X-Yachts and Princess. We provide after-sales service and sales of their spare parts.



---
Featured Boat
40' asterie ASTERIE 40
2009 €245,000

L'Astérie 40 et un très beau "day boat" parfaitement adapté à la Méditerranée où l'on privilégie l'espace de vie extérieur. En effet, le cockpit utilise presque 2/3 de la longueur du bateau permettant une ergonomie et un circulation unique pour cette taille de bateau.

Sa carène typée "Bertram" permet un passage tout en douceur dans la mer courte. Equipé de 2 moteurs de 480 Cv avec lignes d'arbre, vous aurez une vitesse de croisière de 30 kts et une vitesse maxi de 43 kts.