Thanks from Customers
5/10/14 From Owners who sold their C-36 and purchase a brockerage C-42....

John,
Got the check today.. thanks.. so I guess that is kinda the official end of the process that started back last September.If your goal is to leave a customer happily satisfied in all aspects of the process then count it up as another success on your end. I went through a broker when I bought my C 30 but that experience might have not even existed when compared to our working relationship with Sail Annapolis and your self.

Your knowledge of the business, the Catalina boat, understanding of the needs of the buyer and seller, being available 24/ 7 for any question big or small and your ability navigate all the twists and turns of the process was all exceptional . Sue and I always felt you had our best interest as your main concern but yet you were honest and straight forward in your advice when decisions had to be made. This was the case as you worked with us in selling the C 36 and when purchasing the C 42. Most important was that you operated in all aspects with a high degree of integrity and professionalism and always kept things in perspective.

So .." thanks " doesn't quite seem enough. It was quite the ride and we are completely satisfied with the new boat. I hope you don't mind if I still pick your brain as Catalina questions come up.

Thanks again for the quality service

Dave & Sue S.

Pooches gracias. John,
Just wanted to thank you for all your help and advice - you certainly made sure we were doing what we needed in order to start out right. We appreciate all you did to make things less confusing. She is in her slip and we can hardly wait to have some fun.
Thanks,
Mike and Jackie H.

Dear John,
We are coming to the end of our first boating season with our new boat and we want to thank you and Sail Annapolis for helping to make it great!
We purchased our beautiful pre-owned Catalina 400 from you in April; you made this process so simple for us from the price negotiation to the overseeing of every pre-closing repair and equipment installation. Your business ethics were always beyond reproach, and since we had had a previously bad experience with an Annapolis yacht dealer some years back we were on the alert for "fast dealing". Sail Annapolis, through you, treated us with respect, honesty, and complete professionalism. It is because of this we are very proud to use all the practical appreciation gifts you presented to us at the closing. The Sail Annapolis logo on them occasionally brings a "what's that?" to which we are pleased to say "Sail Annapolis is our Catalina Dealer and we are proud to recommend them!"
We are looking forward to the boat show in a couple of weeks and will definitely stop by to say "hi!" John, please feel free to use this letter, our name and phone number for referral in any way you choose.
Sincerely,
Jim & Lee Hoffman
_____________________________________________________________________________________________

Letter to Frank Butler
Catalina Yachts, CC to Sail Annapolis
Dear Mr. Butler,
.....When things go bad you are the first to hear about it. We belive that when things go right then you should be the first to hear about that too. All too often the customer will only take the time to address negative issues. We are glad to inform you that our purchase and experience thus far with our new Catalina 36 has been very favorable.
The main reason that our purchase has gone so well is because John Middleton has been very good to work with. John has gone out of his way to make sure that we received the type of boat and equipment we needed for our sailing purposes. John helped us during the purchase and has continued to help with making decisions on special equipment and add-ons (even in cases where he might have lost a few dollars). He has made every effort to be available to meet with us and has made sure that the delivery and on-site installs have gone well. In short, John Middleton - Sail Annapolis has proven to be the person and place to buy a Catalina sailing vessel.
Sincerely,
Ray and Carolyn N.

Letter to Frank Butler, Catalina Yachts
cc: John Middleton
Dear Mr. Butler,
This letter is complimentary. My wife Cam and I recently took possession of our new C-34 MkII, purchased from John R. Middleton at Sail Annapolis. From the signing of the contract, delays in shipping because of snow storms along the route, mast stepping, splashdown and through the commissioning process, John kept us informed and, at times, bordered on being as excited as we were.
John and his Chief Boat Engineer, Jeff Palmer, never waivered to complete all punch list items, to properly install all local equipment, to make sure all systems worked until we were completely satisfied with our purchase and to instill our strong confidence in Catalina Yachts.
I met John Middleton at the Catalina Rendezvous last June in the Solomons. Several boaters at our table told stories about John and how they were so completely satisfied with his fairness in their purchase. Even though it meant a 200 nautical mile sail to our home in North Carolina, we chose Sail Annapolis. We are pleased we did.
Our pleasant experience with Sail Annapolis as a Catalina Dealer reflects your commitment to quality and value.
Sincerely,
Marc R.

_________________________________________________________________________________________

Letter to Jeff Palmer, Chief Service Tech - Sail Annapolis
Dear Jeff,
Cam and I are believers in complimenting strong efforts. In preparing our Catalina 34, MkII for delivery, you remained focused to be sure all systems and equipment worked to our complete satisfaction.
..........Jeff, we love our new boat, thanks in large part to you. You worked hard to please us. You are a good representative of Sail Annapolis and Catalina Yachts.
Thank you for your effort. We really appreciate it.
Sincerely,
Marc and Cam R.
___________________________________________________________________________________________

Dear John,
Having just completed our first full month with the newest member of our family, I wanted to take and moment and thank you, Diane, and Jeff for everything you all have done to help make our sailboat purchase a reality. There are some things I particularly want to comment on.
As we were finalizing our purchase decision we had arrowed our field down to two manufacturers across three dealers.

On deciding on a Catalina, we were down to two sources from which to choose. There was no challenge in making that decision. You were clearly the most articulate on every aspect of the boat, as well as the host of alternatives/options that were at our disposal. You conveyed a consumate sense of professionalism in meeting every one of my questions with an authoratative answer, and when appropriate some additional considerations for me to review. This was on top of the fact that whenver I had a question you were ready to answer it...without pushing. I had absolute confidence that I was always getting the straight scoop, and that is what 'sold' the boat to me. I thank you for all the personal time you spent with us before and following our purchase decision.
I'd also like to formally acknowledge the equally outstanding assistance we received from Diane Ilg and Jeff Palmer for 'completing' the quality purchase package for which you set the tone. Both were invaluable in allowing us to transition to getting under way with confidence. You have quite a team and I would recommend Sail Annapolis to anyone who was inquiring about a boat purchase. Please don't hesitate to use me as a reference and/or point to Ever After as one of your quality products. Thanks for everything.
Sincerely,
C.S. Vogan, Jr.
________________________________________________________________________________________

Dear Kirsten,
Thank you for the check in final settlement of the purchase of Sea Hawk. I very much appreciate all you efforts in the course of this transaction. You have been unfailingly prompt, professional and pleasant throughout. I've really enjoyed working with you.
My very best regards,
Pontus J.
_________________________________________________________________________________________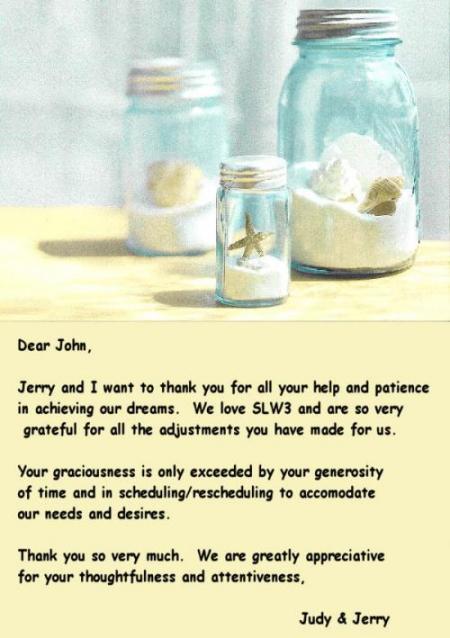 Notes from the C-380 sailnet list..... List, For those who are interested. My 3100 furling was fixed by my dealer, John Middleton of Sail Annapolis, after three years. The foils were too long to insert the missing set pin. The dealer shortened the foils. He also noticed some gelcoat cracking in the companionway that he will try to get fixed by Catalina. When we took delivery of the boat, John said that he would be with me after the factory waranty ran out. I did not quite believe him then, but now I do.
Duane M.
Reply... John is one of the good guys, He's always gone out of his way for me.
Ron M.
Reply 2... I too am a customer of Sail Annapolis and can say nothing but good things about John and his staff. Several years and hundreds of miles from my purchase, they continue to offer great support and service. If you're in the market for an East Coast Catalina, Sail Annapolis should be on your list.
Tom D.
Reply 3... I will second that. John Middleton is a great Catalina dealer and person to boot. We met him at the 1999 Boat Show at Atlantic City. With his help we closed a deal for a 380. We use to sail out of Lake Erie which is where the boat was being delivered but John still helped us and he had nothing to gain.
Tom and Barb L.
_____________________________________________________________________________________

Hey John,

Thank goodness we're not boatless anymore! Just a quick note to say a big thanks to you, Diane and Jeff. It's a pleasure to deal with folks who truly enjoy what they do and who truly believe in their product.

Our experience in dealing with boat dealers previously pales in comparison to our contacts with you. Your vast knowledge, willingness to share information, attention to detail and warm friendliness puts you head and shoulders above them all. Again a sincere thank-you.

P.S. Thanks for all the neat goodies! What a treat.

With warm regards,
Ed & Ruth B.


__________________________________________________________________________________________


A thank you email from an owner we helped out at the 2002 Solomon's Rendezvous..... John,

I had to write and tell you how very much I appreciate you and your fine mechanic, Jeff,gave us last Friday with our generator. It was a brutally hot day and I know you had other commitments, but you took the time to diagnose the problem, make the necessary repairs and stuck with it 'til the generator was running properly. This was extraordinary service! Sail Annapolis is my boat dealer forever.

Thanks again,
Russ Tibbetts
_______________________________________________________________________________________________


John & Jeff,

I just wanted to thank you again for your help with our halyard. It was really nice of both of you to take the time right away to help us.

Guess you help define "Customer Service"

Thanks again,
Vic P.
________________________________________________________________________________


John,

I just received a call from Jeff informing me that he stopped by the marina and took care of the spider cracking. I very much appreciate the service you provided and understand that the cause was questionable and in most likelihood, not a warranty item confirming what I already knew; you and your team are great people.

Thank you,
Allan R.




________________________________________________________________________________




Thanks to everyone at Sail Annapolis for providing such a great boat and all the talent to customize her.

You do a super job.

Have a fun and prosperous year.

Best regards,
Rick


John,

I wanted to pass along both Carol and my satisfaction with Sail Annapolis sales and service. We have been impressed by you and every member of your staff since we have made our intital introductions on a winter day in January. You are truly a professional group that provides friendly and courteous attention to our needs. We look forward to a continued relationship and you can be assured that you and your business are highly recommended to our friends. Please plass on our thanks to Diane, Kirsten and Jeff. I'm sure there are others behind the scenes as well that make your organization successful.

Tom S.
____________________________________________________________________________________

Hi John,
Thank you so much for the video tape. As a buyer (of a brokerage boat) I can tell you that receiving such a detailed recording is reassuring and extremely valuable in the consumation of a purchase like this. ....
John, I want to thank you again for the superb job you have done for me in this transaction. I have purchased fourteen boats in my lifetime. You have been the best Yacht Broker I have worked with, by far. I hope Mr. B.(seller) is happy, too. If I were a seller I would appreciate having you working for me too.
Tony
_______________________________________________________________________________

Email... Just wanted to say thank you and well done regarding the prompt repair of the stereo. I was pleasantly surprised to see your technician installing it when we arrived to take the boat out for a few days. It was a welcome sight, and I do appreciate it. Sadly these days, it's an all too rare occurence to find people making more than the bare minimum effort, so kudos to all of you for going above and beyond, and happy sailing.
Barry S.
_________________________________________________________________________________________

Dear John,
nancy and I wanted to express our sincere thanks to you for making our purchase of the Catalina 309 such a wonderful experience. It all started with your approach to fair market value for our Catalina 270 and continued throughout the remaining order, delivery and orientation portions of the process. Your guidance,know-how and counsel were extremely valuable in every step of this journey.

I continue to learn something each time we work together and appreciate your patience in dealing with this semi-rookie sailor. This new boat certainly continues our learning process. You, Jeff and Diane have always been very supportive and responsive to our ever evolving needs. or someone who doesn't keep a boat in the immediate Annapolis area, that support provides a great deal of comfort, thank you.

Bob S.
________________________________________________________________________

Sail Annapolis, Inc.
303 Second Street, Suite C
Annapolis, MD 21403, United States

Tel (410) 280-8878
Fax (410) 280-8879
Email Us

http://sailannapolis.com
---