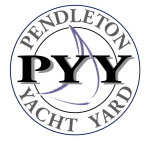 DSC CUSTOM 43
DSC CUSTOM 43

A 43' Salon Cruiser

The hull was built by the Donelle Yard in Canada under the supervision of the owners' agent. The boat is based on the highly successful Donelle 43, of which over eighty have been built. Most of these hulls work the Canadian offshore fishing industry. Built to rugged work boat standards the hull is solid hand laid fiberglass. The solid bottom is nearly one inch thick at the turn of the keel. The topsides laminate is designed around solid construction then 1 1/4" Core Cell foam is added against the inside skin for noise and thermal insulation.

The superstructure and fitting out was done by Pendleton Yacht Yard of Islesboro, ME; York Marine of Rockport, ME and the Frankfort Boat Works of Frankfort, ME. The owner worked closely with the C. W. Paine Yacht Design group of Camden, ME with Mark Fitzgerald in charge. The designing group created the conceptualization, engineering, substructure and interior layout of the vessel.

The deck and superstructure are built of high-tech lightweight cores and stitched fabrics to achieve good strength to weight ratios. The lightweight superstructure assures a lower center of gravity and a stable hull. All deck openings and windows meet the new EC standards for water tightness and strength.

The interior features a more live aboard layout than most cruisers of this size. The salon is 10' x12' with integrated piloting and navigation consoles. Below there is an open galley with Corian countertops, stainless steel fixtures, and a full height home refrigerator. To port is the head, which includes a stand-up custom stall shower. Forward is the owner's cabin with berths 6'9" long, two hanging lockers and deep drawers below the berths with storage under them. The cockpit is 12' long and features a swim platform, transom door, transom seat, hot and cold shower, and covered settee on the bulkhead. The interior joiner work is of select North Carolina cherry and the cabin sole is teak and holly.

All mechanical systems are installed per ABYC standards and laid out for minimal maintenance. The engine is accessed through a huge 4'x7' deck hatch in the salon, which is opened on hydraulic cylinders. Electrical work is also done to ABYC standards. The sewage and waste systems meet the no discharge standards now going into affect in southern New England. All systems are designed for long term reliable ocean cruising.

The large diesel tanks (460 gallons) will provide a cruising range, with the single Cummins QSM-11 650 horsepower engine, of 400 nautical miles at a cruising speed of 20 knots.

CONCLUSION- The DSC 43 is a "no-nonsense" boat designed to carry its occupants not only on extended ocean cruises and deep sea fishing trips, but also on leisurely Intra coastal Waterway cruises and is equally versatile as a picnic boat.